We were finally on our way to Moab. We broke camp, stopped in Cortez at the city park to fill our water tanks for free, did our last round of shopping at Wal-Mart and rolled north. We passed through Moab and continued north of town quite a ways to our destination–a 14-day FREE site on the BLM with an amazing view.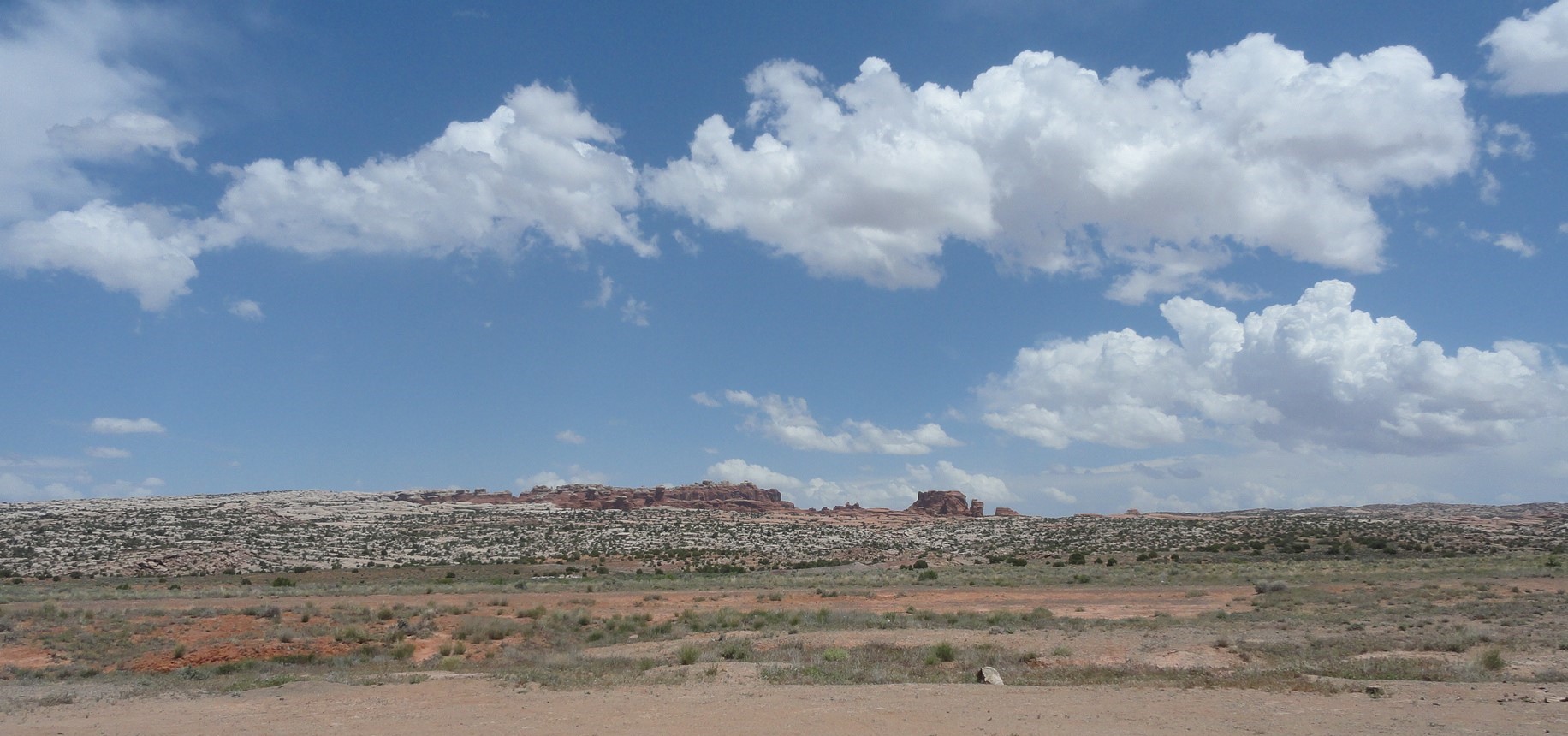 We passed a few spots which were nice enough but they were exposed and the wind was seriously kicking it–we had to stop a few times because the visibility with so much dust in the air was zero. This spot where we are now is down in a valley with a large hill blocking the wind–at least for now.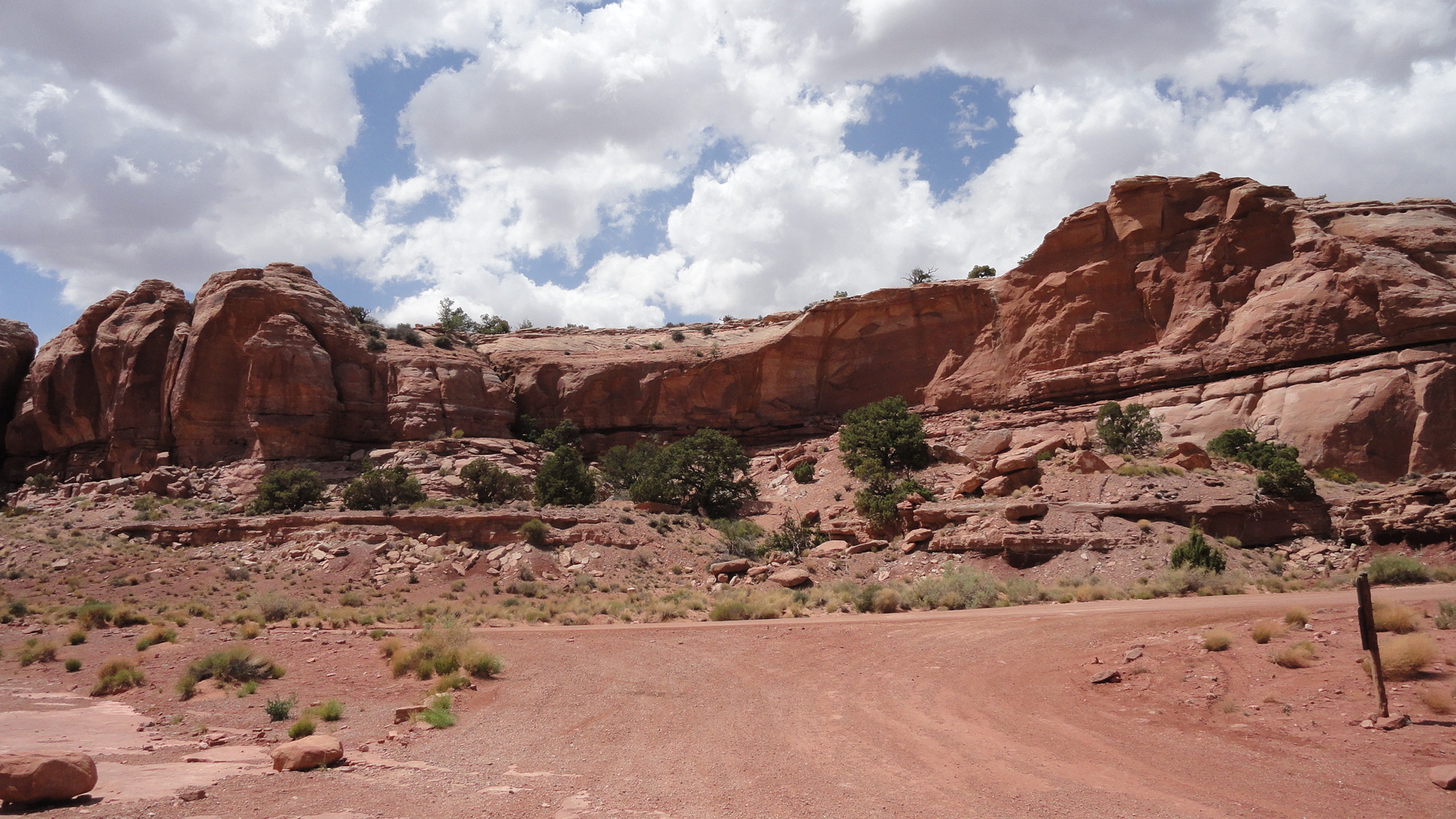 Squalls of rain just move through like waves but we don't have to roll out of here for six days = plenty of time to get some good weather in the mix. If anyone is looking for a job around here, McDonalds is hiring = 12 bucks an hour to start right out there on their reader board–never thought I'd see that. Looks like everyone here is hiring to gear up for the big summer season . . . and then the population dwindles back down to the hardy souls who live here year 'round. We're seeing tons of new construction as well–lots of changes since my last visit here more than 10 years ago.
Where we are this evening is very quiet and I think we're past the trailhead for all the mountain bikers too so there shouldn't be much *extra* traffic–just the crazy folks who are parked even further out than us for a change. On any travel day, we're usually anxious to get situated before dark. We can always move later if we find a spot we like better.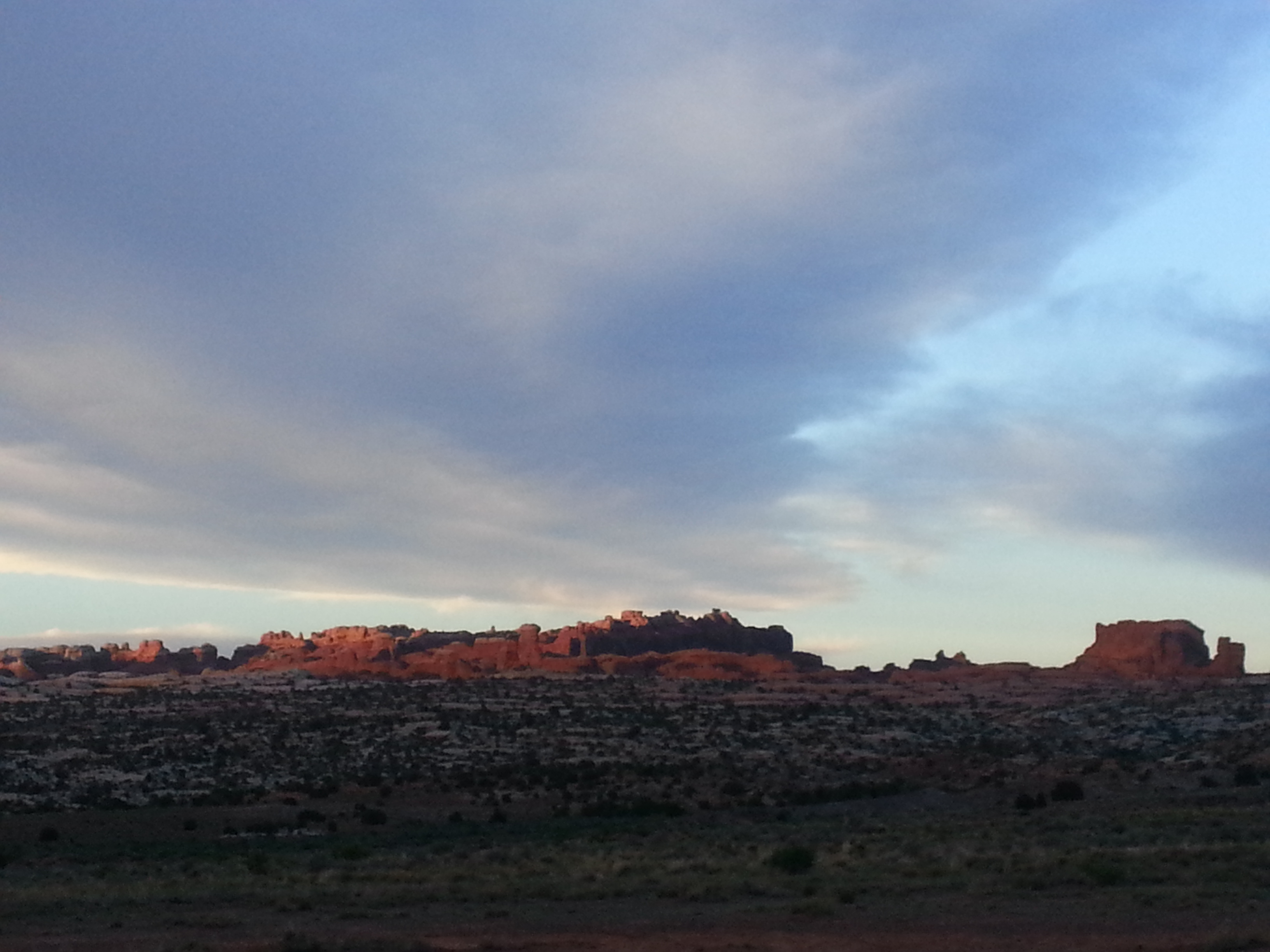 Canyonlands NP was closest to our camp so we went there first. It's a huge place (527 square miles) divided by the Green River and the Colorado River into three areas = Island in the Sky, The Needles, and The Maze. On this–our first day–we didn't make it past the Visitor's Center and decided to take a "short" no-permit-required 4WD road from there to Potash where the extremely gnarly dirt road turns into a paved road back to civilization. Many of the hairpin turns were so tight and so steep, we'd have to approach the abyss as close as we dared–with the front tires sliding a bit in the dirt near the edge–then put the truck in reverse and back it up (in low range 4WD) as much as we dared and then continue our turn. To keep our braking to a minimum, we did most of this "road" in low range and 1st gear. Imagine my dismay in learning that after four hours of rather stressful driving (for both of us) we had only gone 19 miles!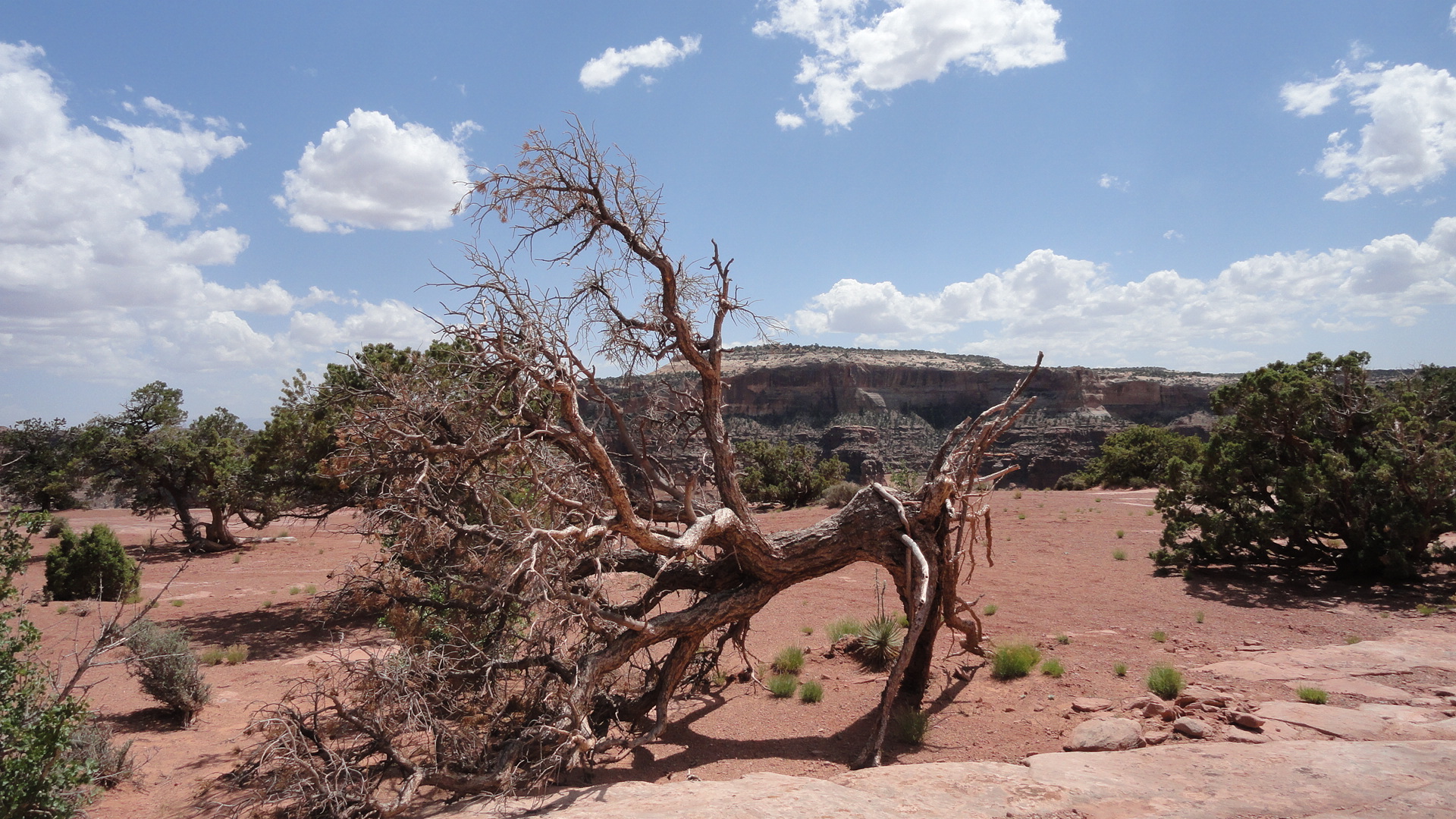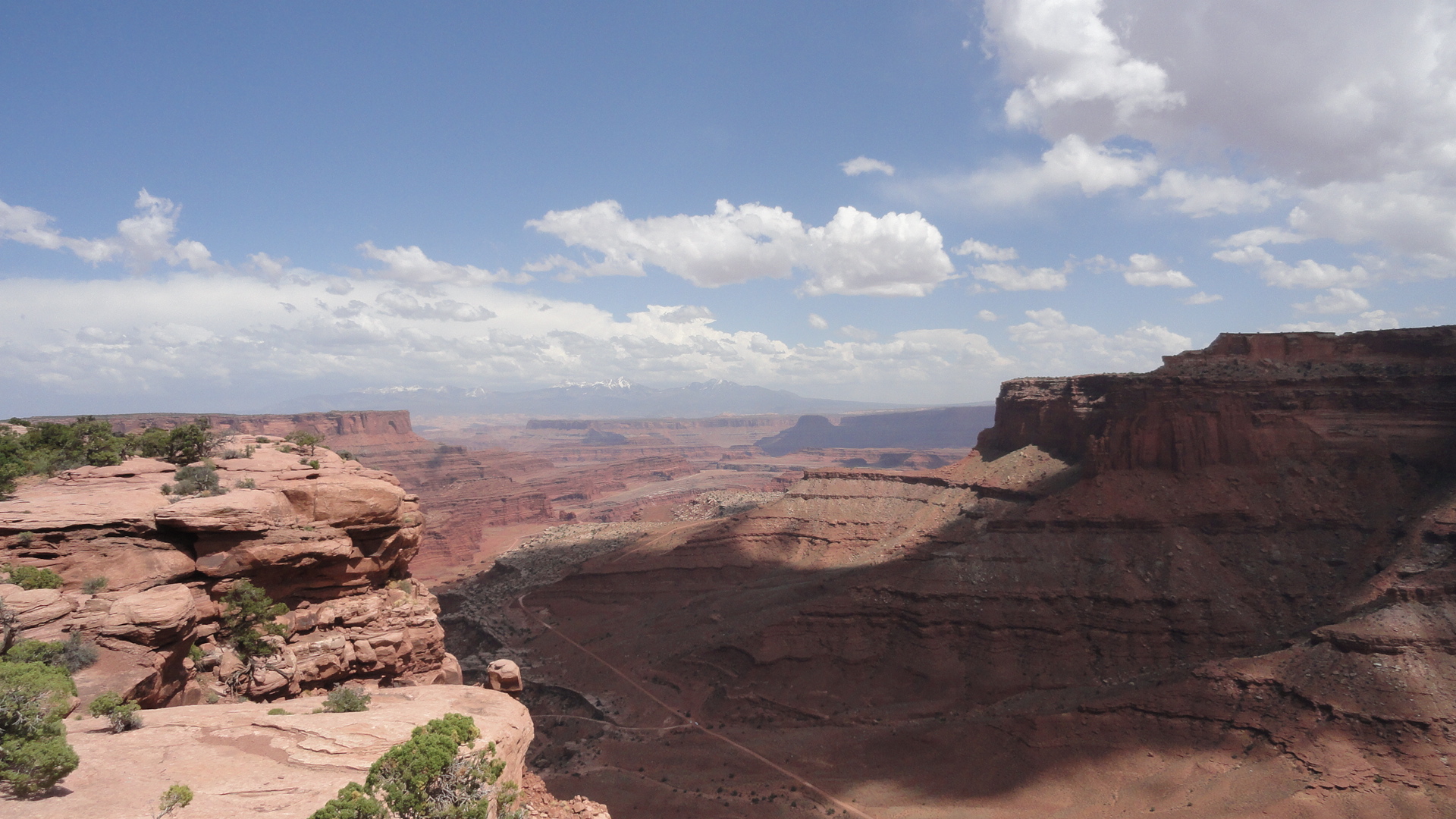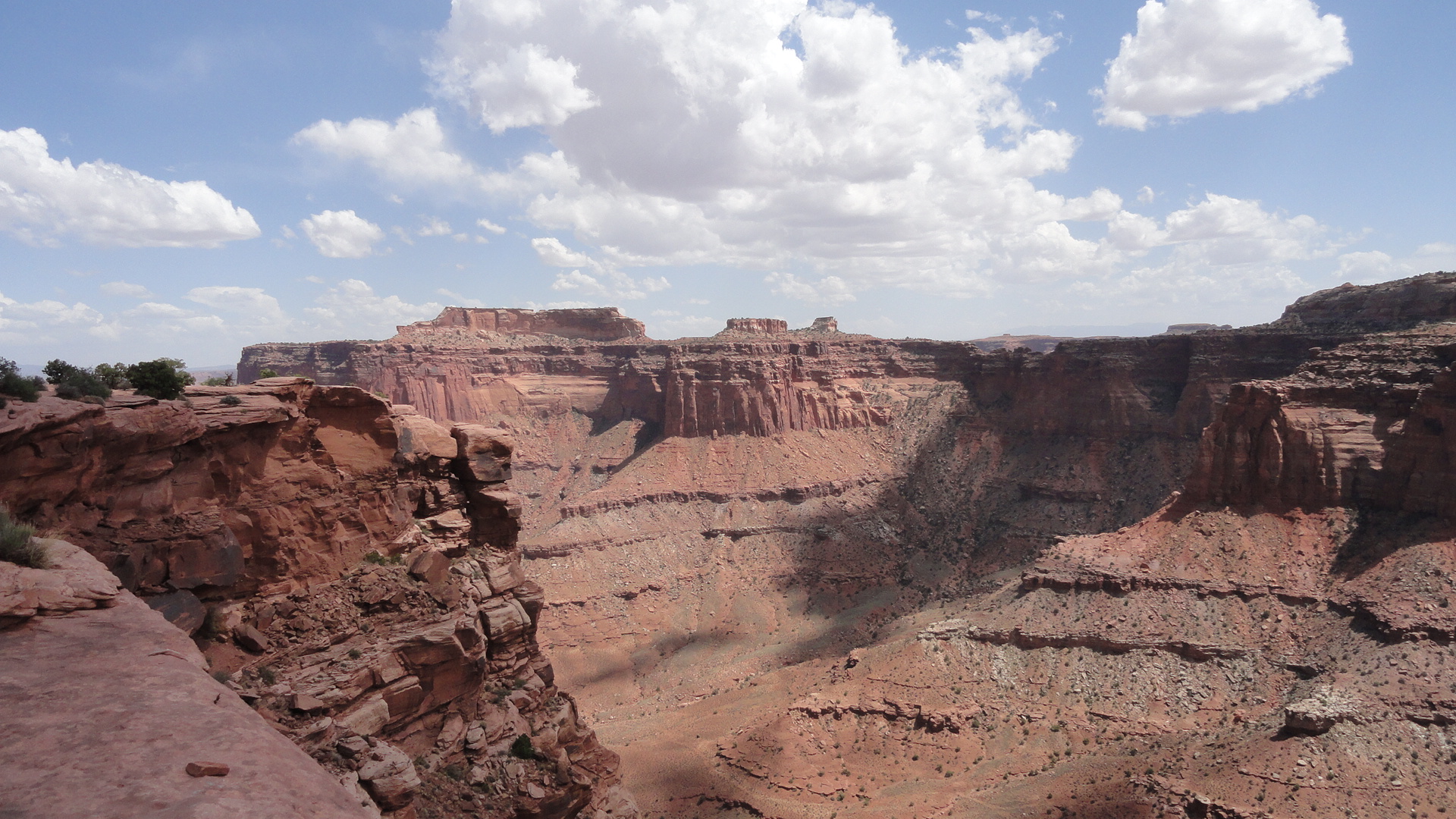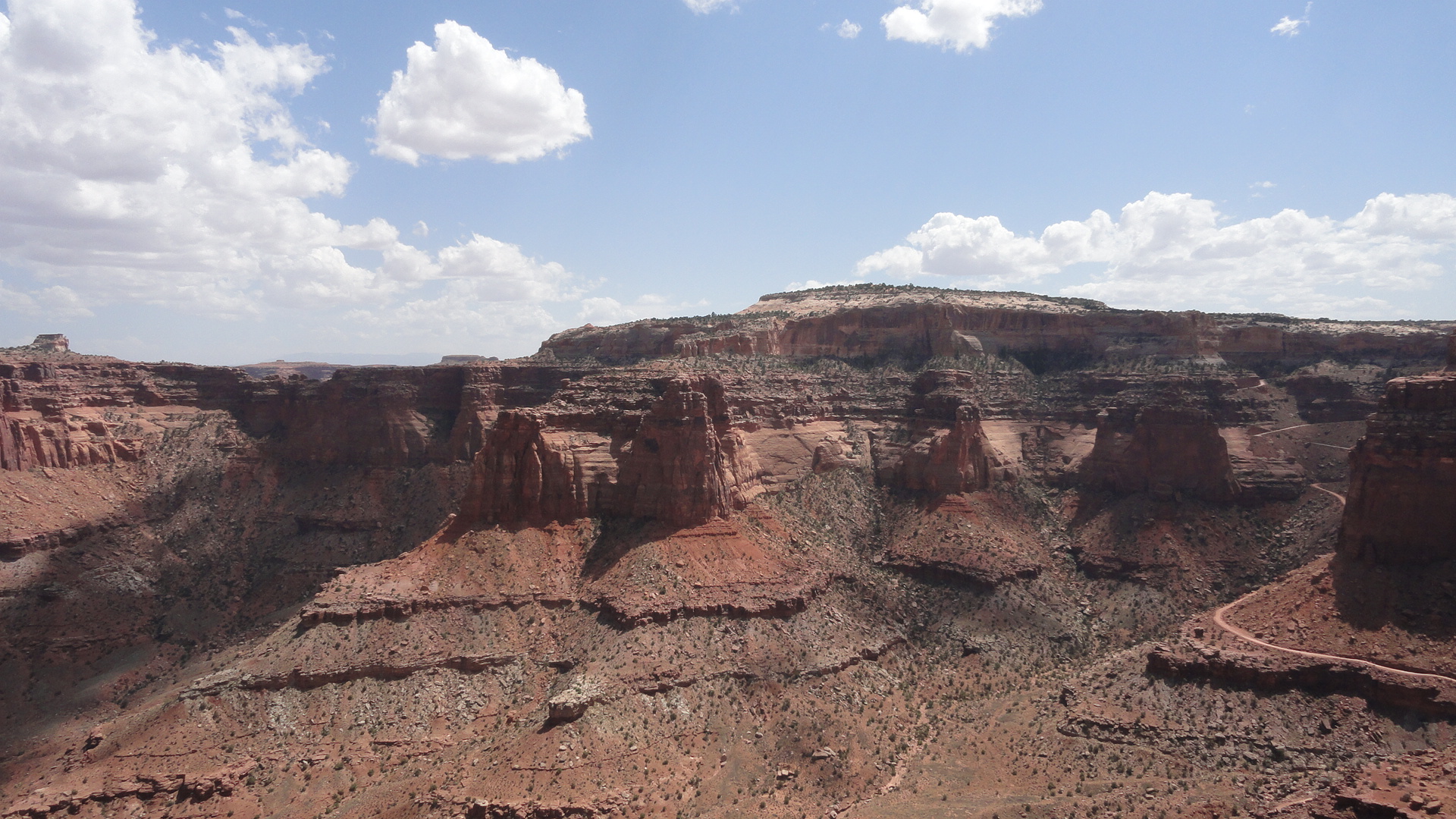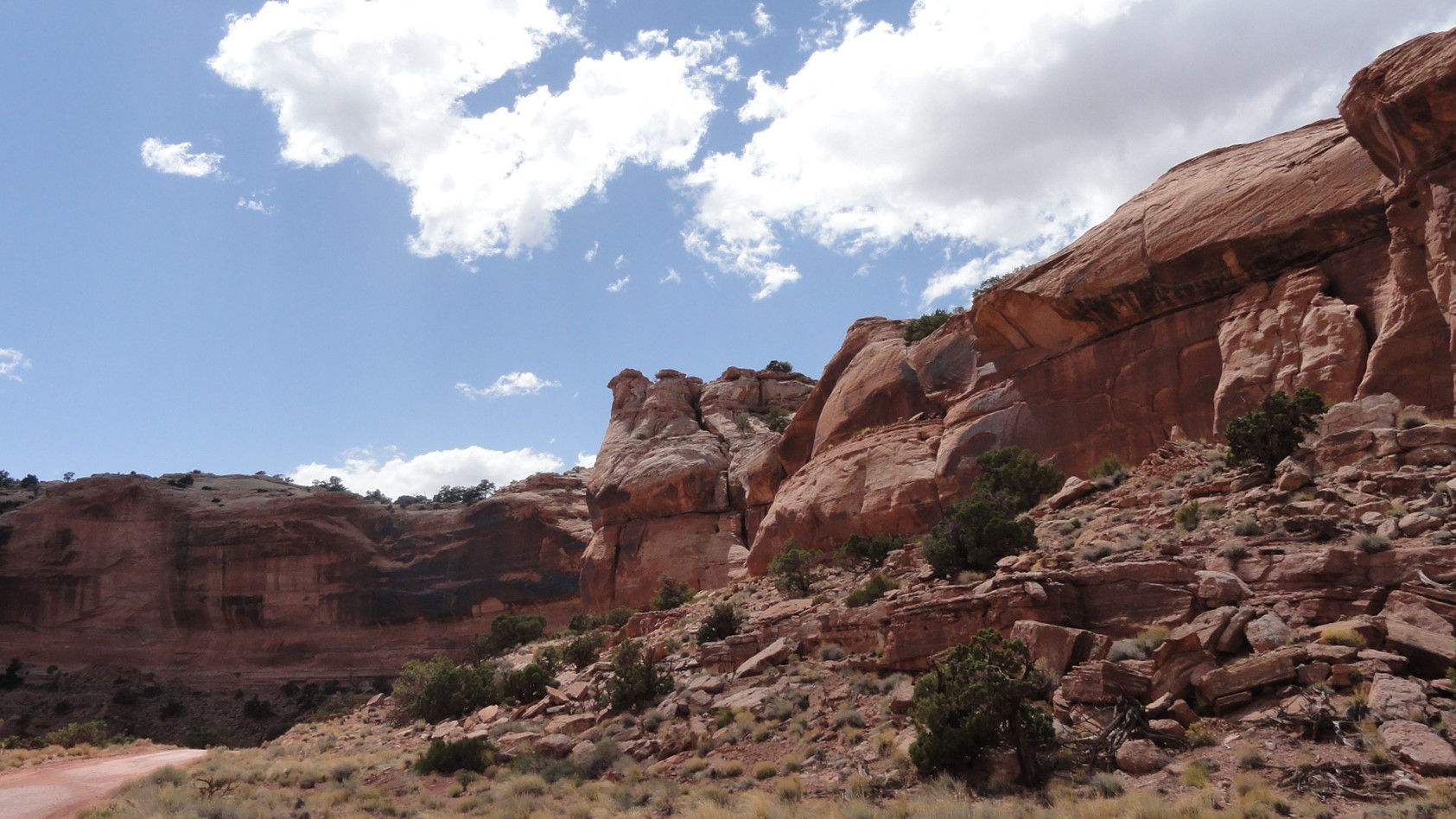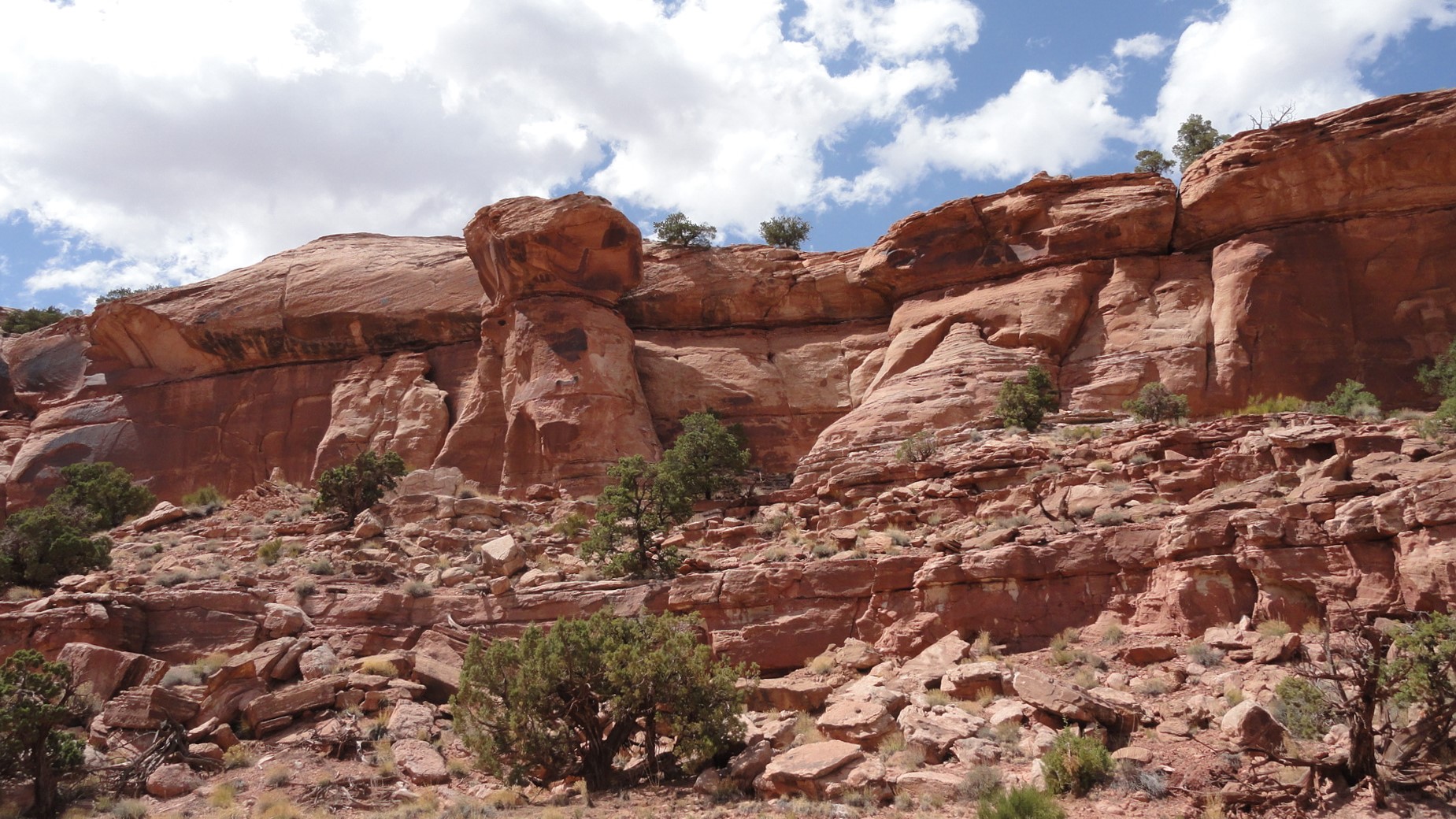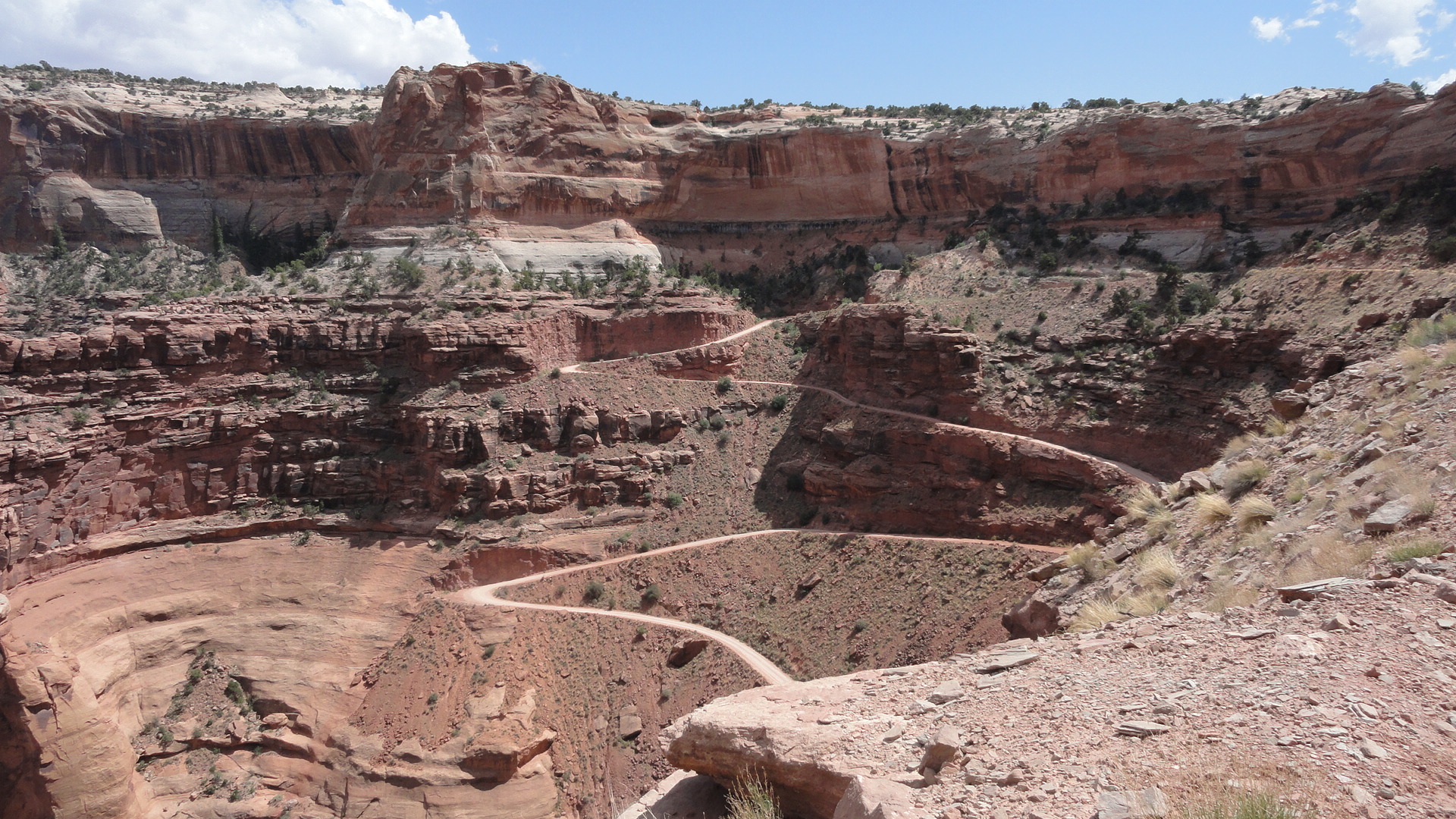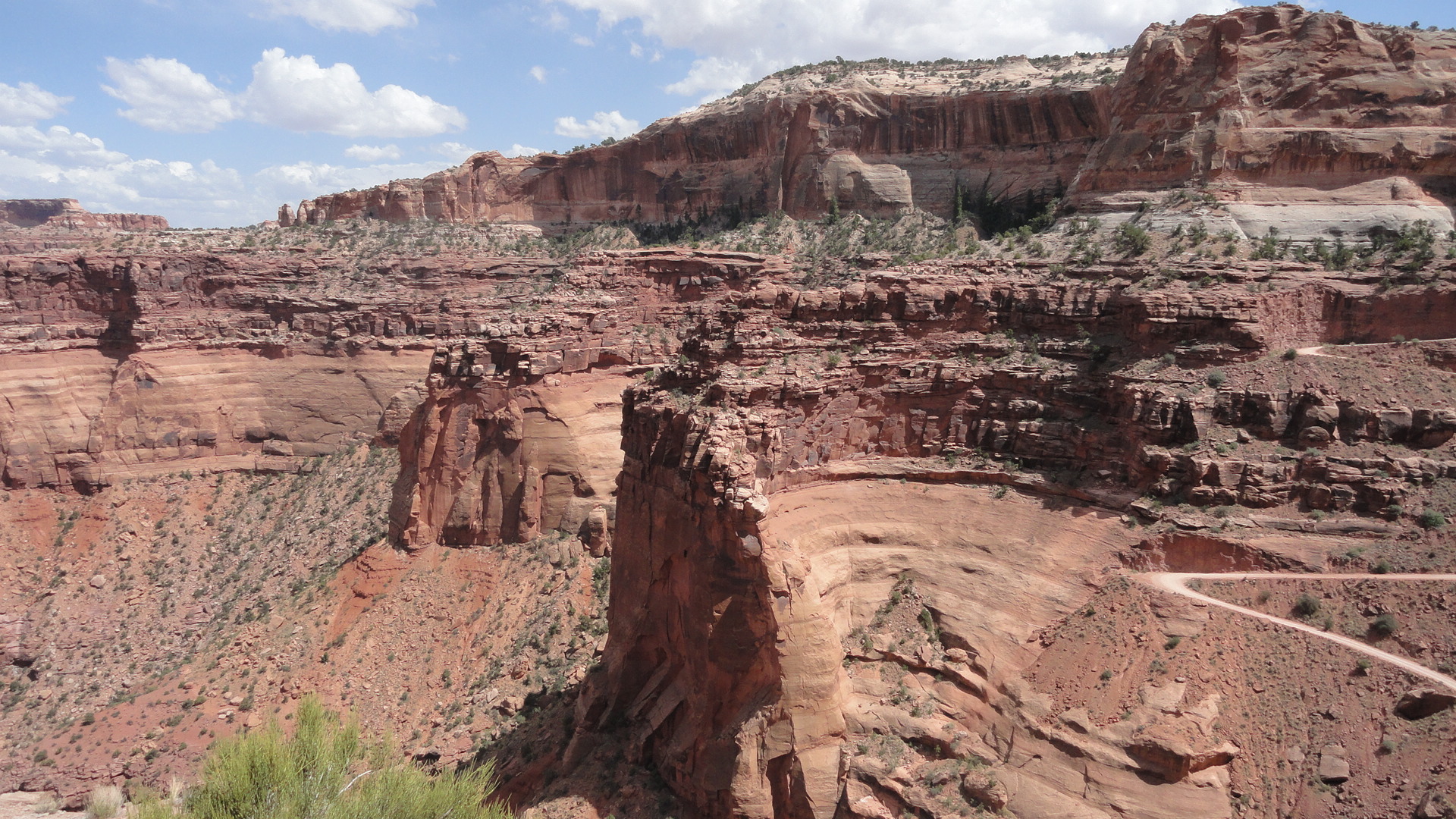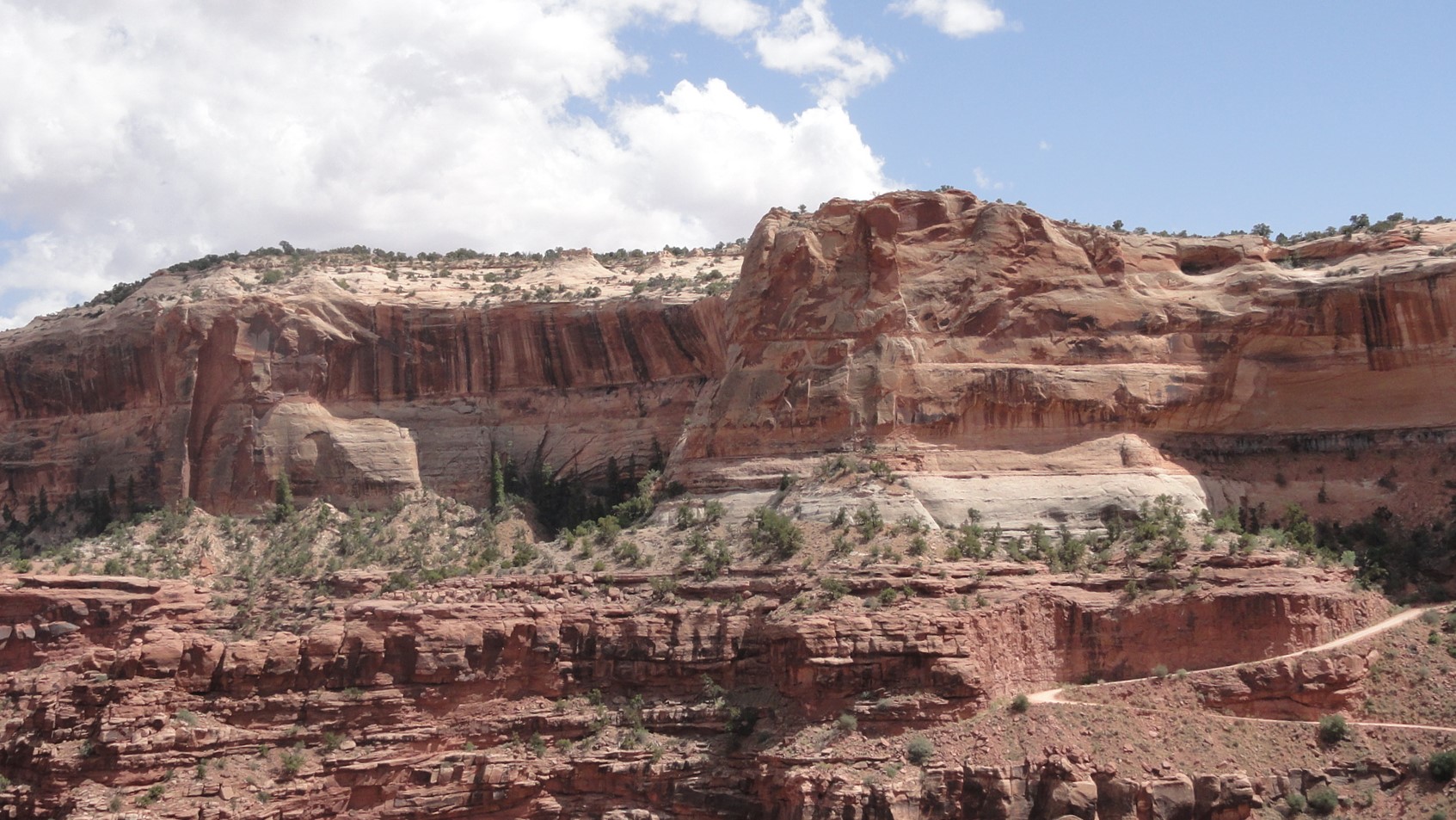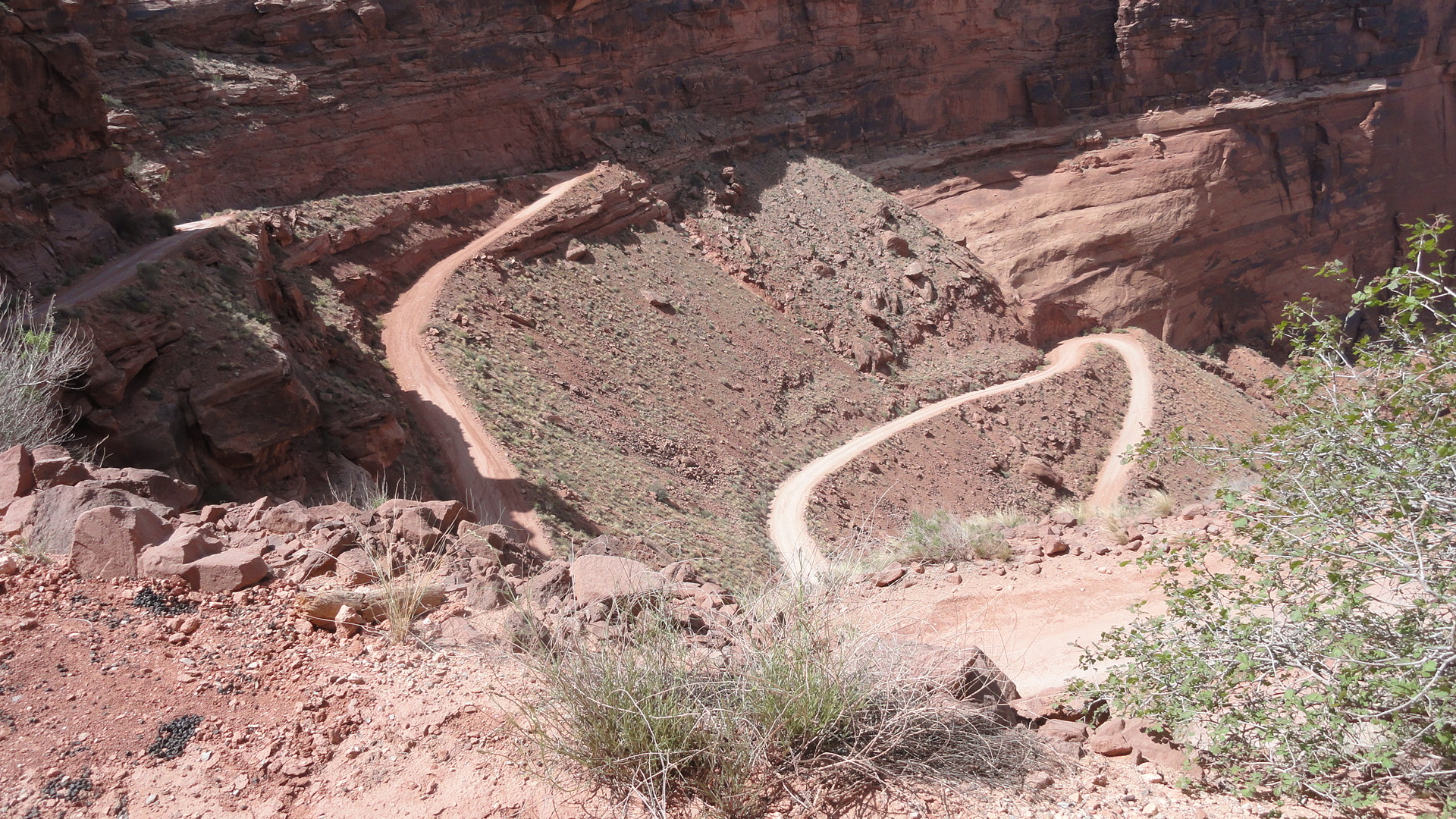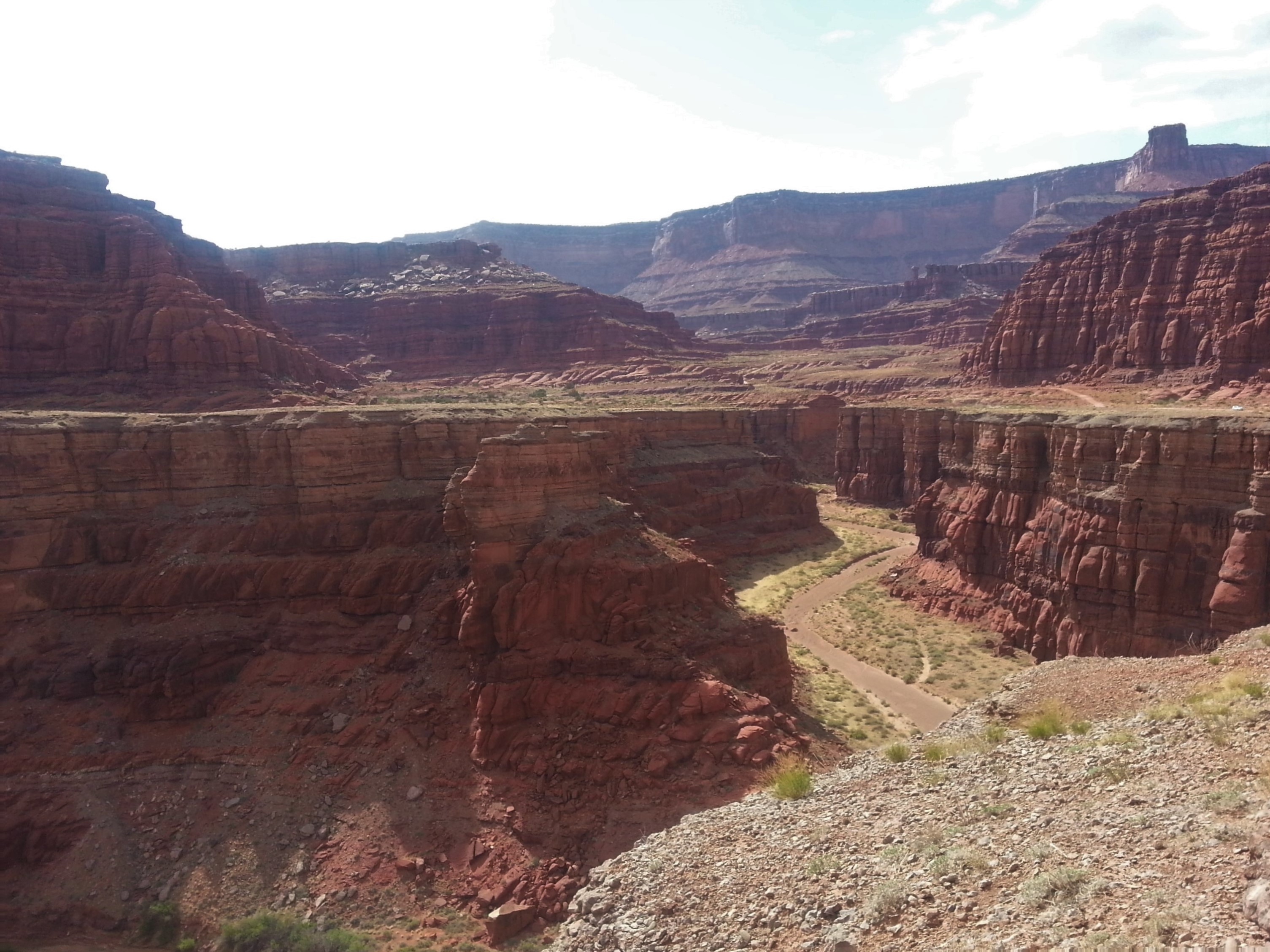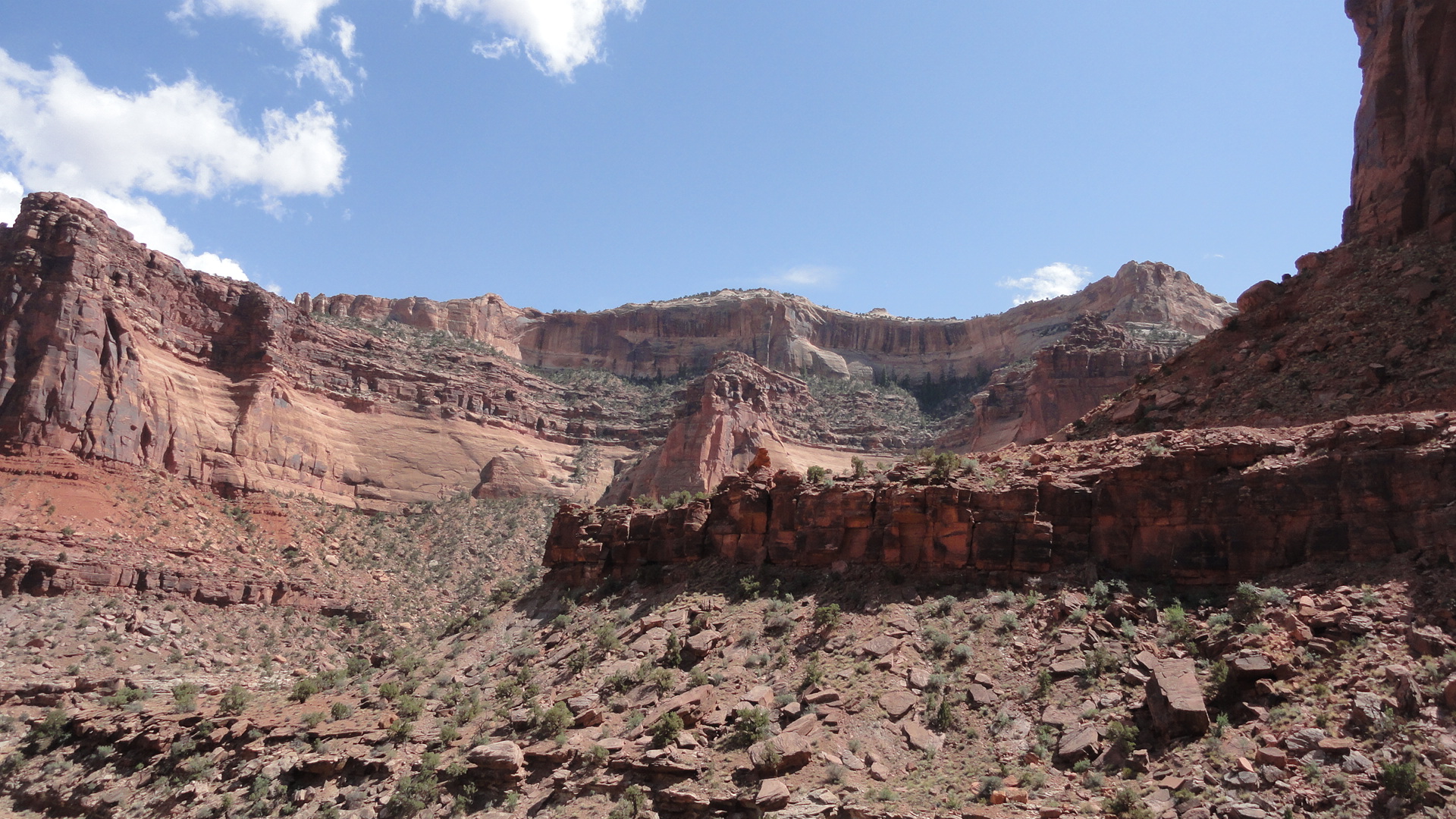 At that rate, the larger 100-mile loop which takes most people 12 hours to drive would take us 20–definitely not an adventure we'll be leaning into anytime soon. Plus it's all back country and tent camping. I've been sleeping in RVs most of my adult life and there is nothing about tent camping which remains attractive at this point. And if anything goes wrong out there, a tow truck fee of $2,000+ is to be expected . . . no thanks 🙂 If all this sounds a bit scary, consider a portion of this NP called the Maze where the only access is 4WD. There are a couple of short hiking trails and that is it. (Even those few trails require 4WD to get to the trail head.) Even the 4WD roads (using the term *very* loosely) are limited considering the size of this area. In addition to potential towing fees in excess of $2,000, "four-wheel-drive roads in the Maze are extremely difficult, present considerable risk of vehicle damage, and should not be attempted by inexperienced drivers. A high-clearance, low-range, four-wheel-drive vehicle is required for all Maze back country roads. (All-wheel-drive vehicles do not have the clearance or low gearing required.)" Uh — think we'll go with a no thanks on that portion of the park as well. 🙂
It was super cool to be down IN these deep canyons and the views are spectacular — much better than what can be seen looking down from up on top from the mesa rim.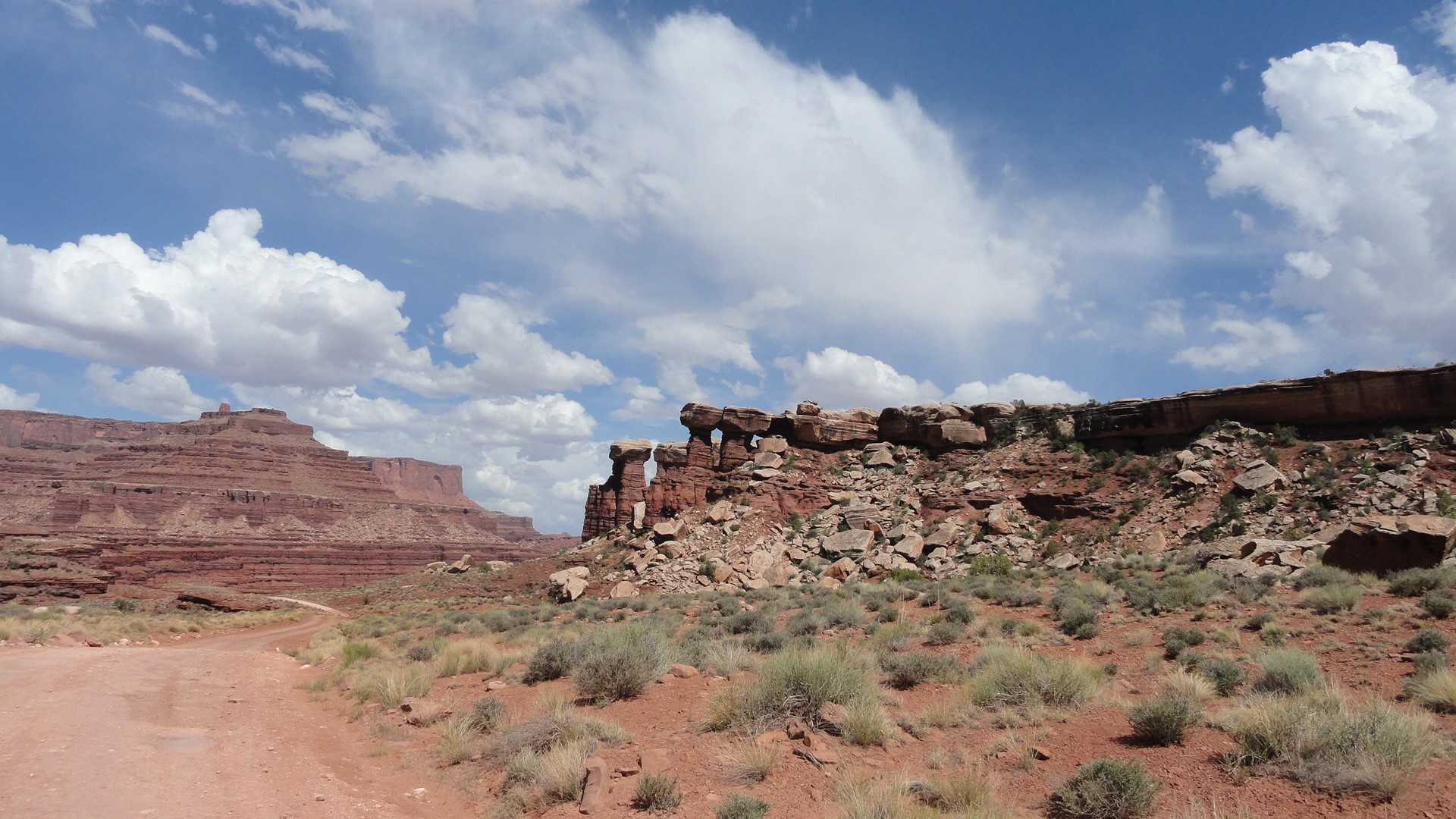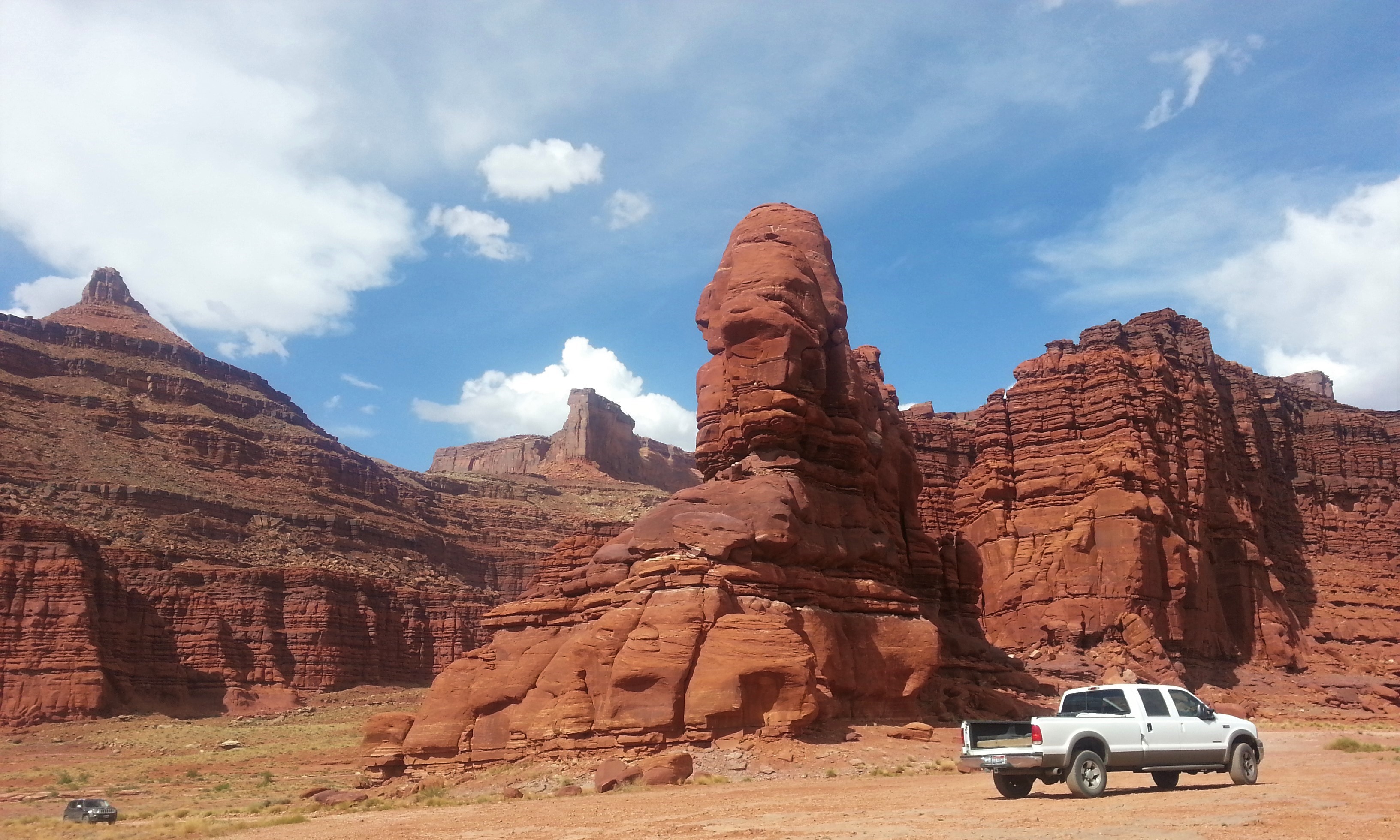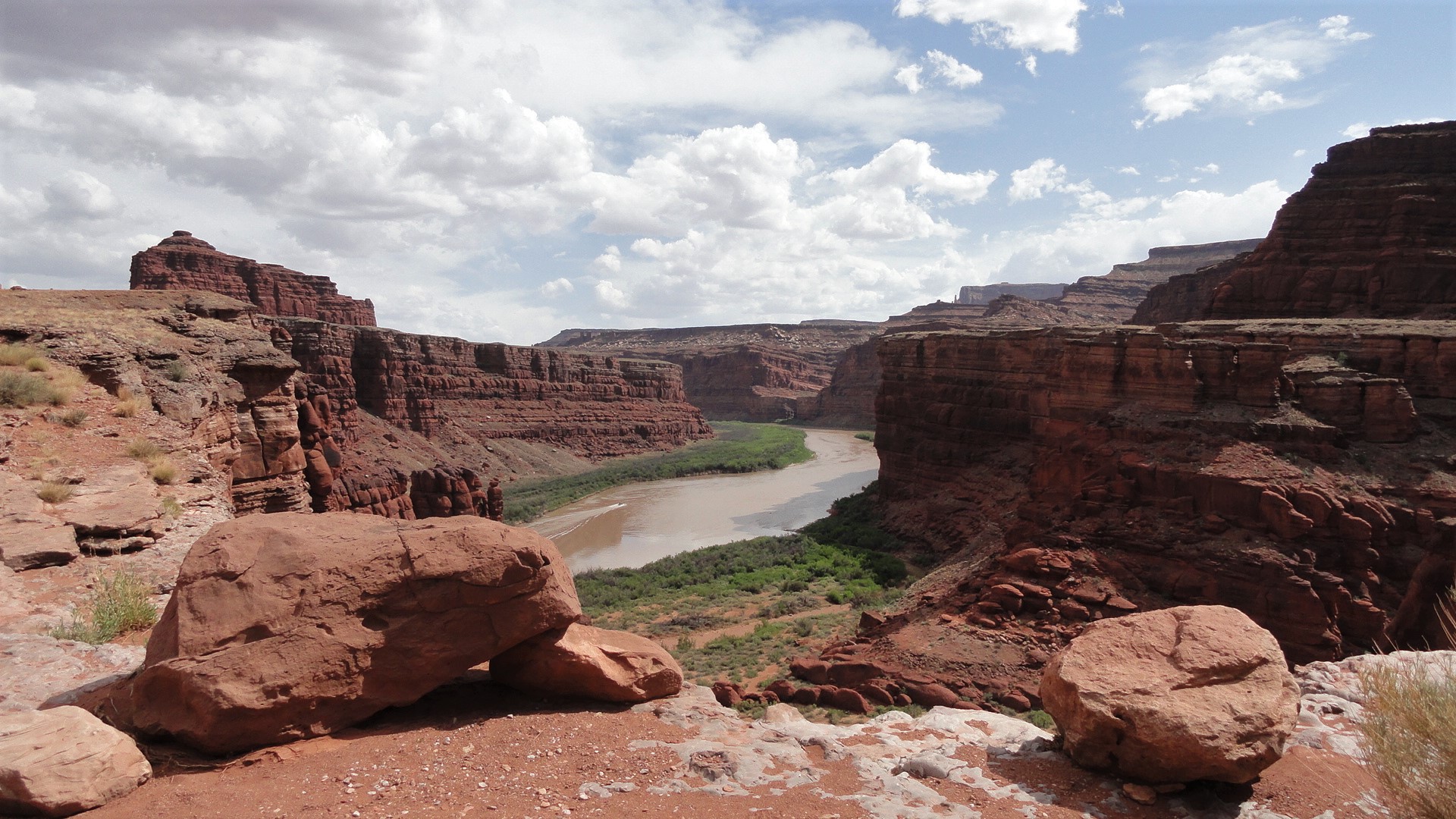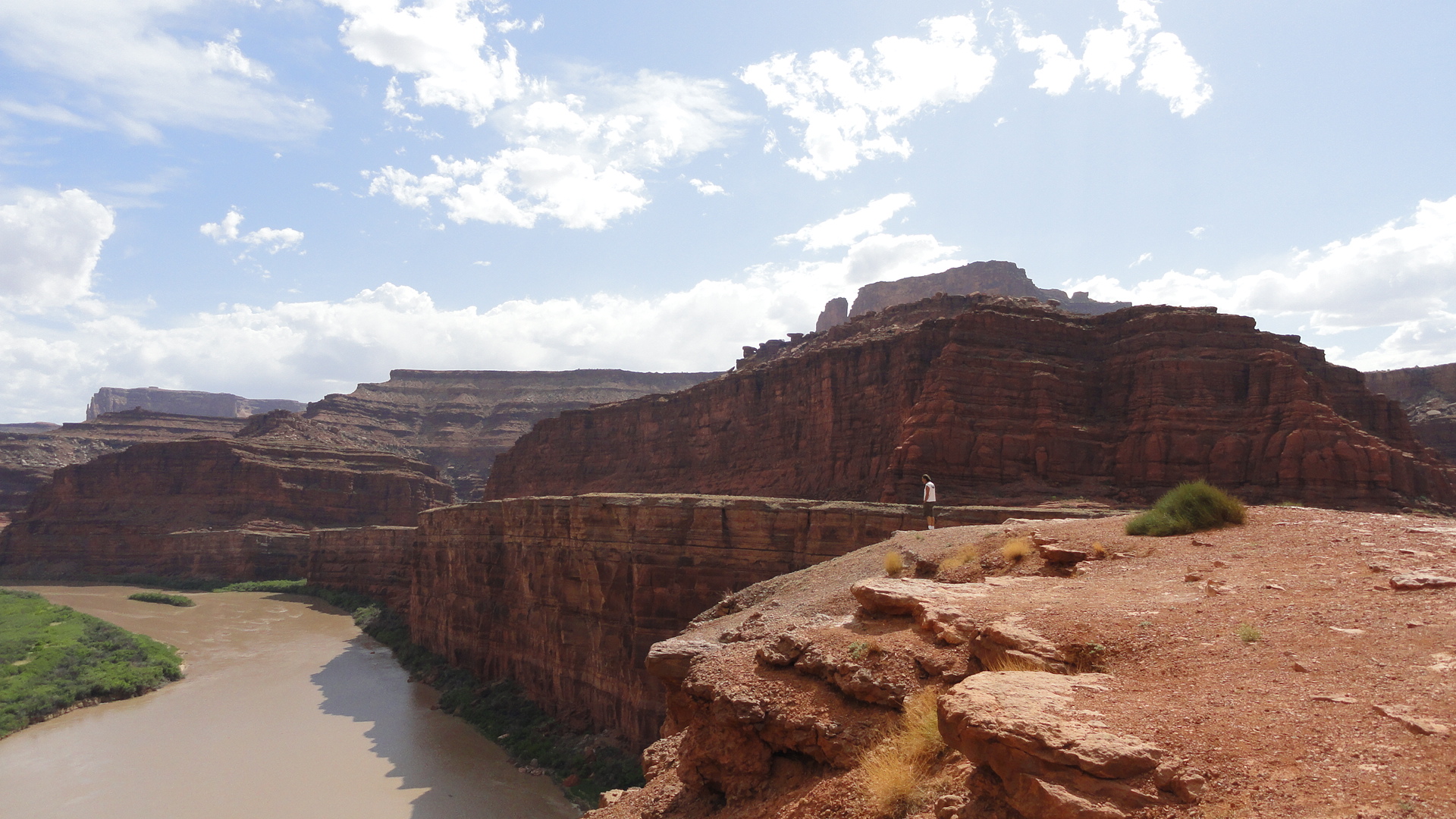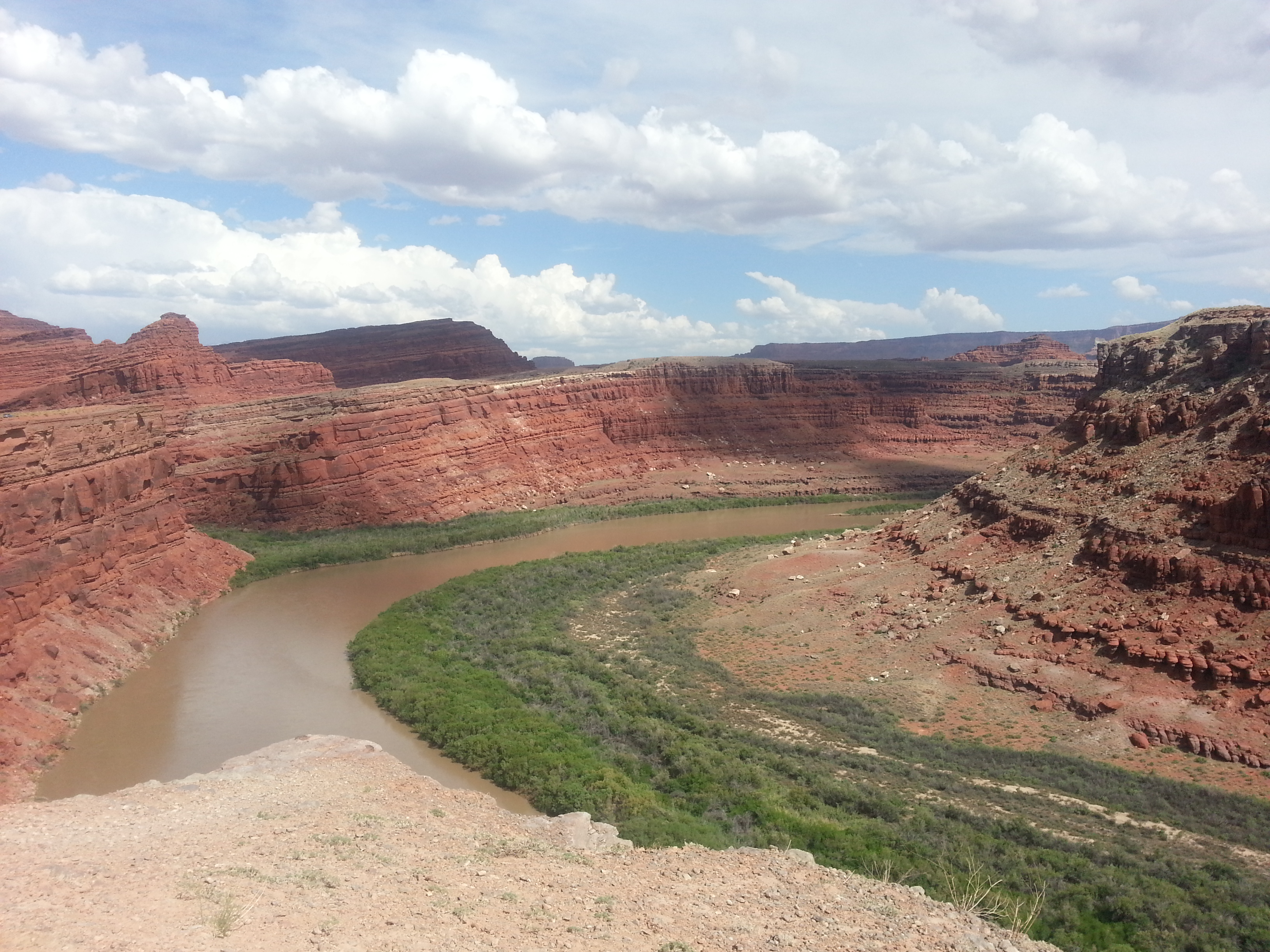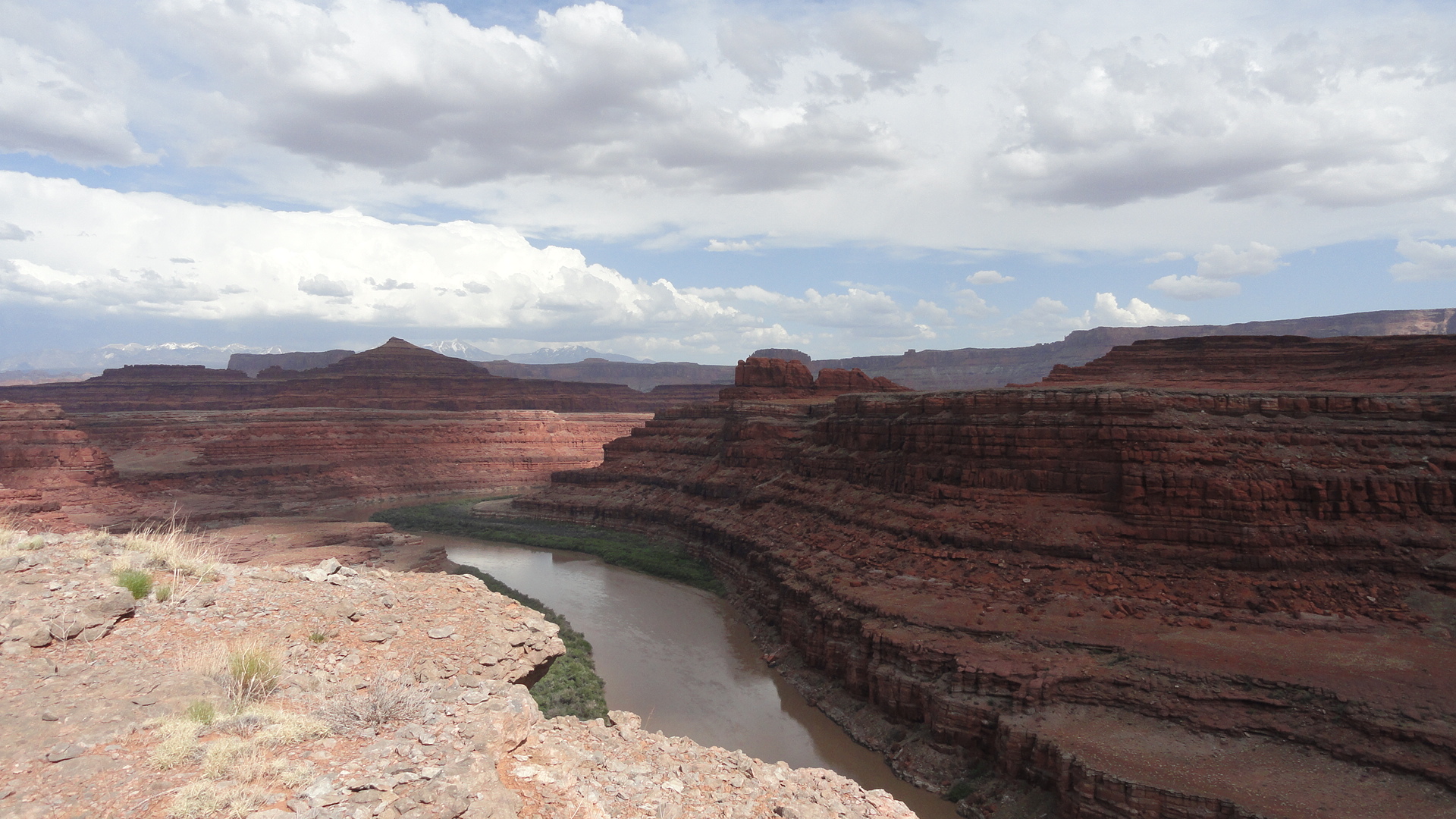 But it is all rather precarious and getting around people going the other way is problematic at best . . . we ended up going most of the way with both our rear-view mirrors folded up against the cab for better clearance. And all it would take is for some little electronic gizmo to give up the ghost and we would have been deep in serious hurt.
What made this trip especially difficult for us–some would even say dangerous–is the size and age of our truck. It's a 2000 F350 one-ton with 4WD and while low RPM diesel torque combined with low range 4WD is certainly a force to be reckoned with, our truck is also a crew cab with an 8′ bed. It's nearly as long as a small bus! Newer trucks like ours now have coil over springs for the front suspension but our front suspension is old school = leaf springs. This diminishes the turning radius even more (some tires will even rub on the springs!)–and tight turning radius is *not* something 4WDs are known for . . . but the new trucks are much better than ours is on that front. Our power steering pump is also somewhat compromised. I suspect someone has put power steering fluid in it–easy to do when the fill lid contains no warning otherwise — but these pumps are supposed to use automatic transmission fluid ONLY. This bad fluid blend may also be compromising our brake master cylinder as the same fluid and pump are used on our truck for braking assist. Some owners have flushed out the old fluid and replaced it with new synthetic automatic transmission fluid. They report the improvement is like night and day. The high pressure hose on our power steering pump is leaking quite a bit these days and needs to be replaced. We love our truck and she has proven reliable even when we aren't perfect with preventive maintenance–just a few of the joys related to driving a rig with 266,000 miles on it. 🙂
So I think we'll chalk this experience up as educational and a warning: we don't have the liquid reserves which might be required for a positive outcome and we probably should never get that far off a paved road ever again. If we were to burst a power steering hose, we'd lose our power steering *and* our brake assist . . . I don't even want to think about what could've happened if we had burst a brake fluid hose. I'm grateful that it all turned out okay but we probably should be more cautious moving forward.