"Remember to celebrate milestones as you prepare for the road ahead."

Nelson Mandela
A milestone by definition is an action or event marking a significant change or stage in development. Rose Kennedy once said, "Life isn't a matter of milestones, but of moments." I offer sometimes a moment–or a collection of moments–becomes a milestone significant and memorable.
When February rolls around each year I tend to get retrospective…it's my birthday month! This year isn't technically a "milestone" year but I have come to realize every birthday is special and worth noting. I feel privileged to be–not just alive–but healthy and happy. I have settled into our nomadic lifestyle of freedom, almost taking it for granted now. But sometimes events near and far serve to remind me even further of just how special each day is.
Today I'm reminiscing of our time since my last blog entry. There are a few significant things that come to mind as I think about milestones. So here we go.
SMOKE
Air quality in the summer and fall of 2018 was poor all over the west. Hundreds of thousands of acres of land were devastated by wildfire. The smoke impacted nearly everywhere we camped. I'll talk more about that later, but here are a couple of photos just to give you an idea.
BRIDALVEIL FALLS HIKE
As you might guess, hiking is memorable for me. I plan to do a separate blog entry about other hikes we did but there is one in particular this year–a milestone because of its distance.
Ignoring air quality alerts–since neither of us suffer from respiratory issues–we tackle Bridalveil Falls near Stanley Lake. The trailhead sign says 3.4 miles to the falls. We know we'll be tired but 6.8 miles seems doable and I am looking forward to both the accomplishment of a longer hike and the reward of photos of what I can only believe will be a beautiful waterfall.
We realize those trailhead signs are really just estimates but at about 4 miles–according to Pacer (our distance tracker app)–we still have not seen any waterfalls nor any signage or makers indicating we should have turned at some point. We think we *may* be able to see a waterfall in the distance on the other side of creek but it seems too far away to be our destination. We have walked past what looks to be a narrower, less-traveled path veering off in the general direction of the creek so Jim decides we should check it out. Maybe the falls are not as far away as they appear? We find a spot to cross the creek and make our way up the other side. But the path is very steep and even though Jim can see waterfalls around a narrow bend–still not all that close–I am too tired to risk the precarious ascent it would require and pry my hands from my trekking poles to take photo. After a lot of off-trail hiking to find our way back to the original trail, we finally make it back to the truck. Our tracker reads 10.37 miles! We are hot, tired, thirsty–since we are both out of water–and disappointed and annoyed that the trail did not lead us to the advertised waterfall. Good news is, we live to tell about it. (We learned later the waterfall was indeed still ahead on that trail but is underwhelming and disappointing to most.)
I have decided I would still like to try to find the elusive Bridalveil Falls…maybe next year. Note to self: take more water.
MILESTONE BIRTHDAY
Back in Boise we celebrate Jim's milestone 65th birthday. He's officially old. Well, I mean to say officially old enough for Medicare…because it's quite apparent he is a very young 65. 🙂 Dinner at one of our favorite restaurants in Boise, Willowcreek Grill, is a great choice. Our favorite waitress, Emily–a special friend of mine from a personal milestone several years ago–was sweet enough to join us for a photo.
FULL-TIMING ANNIVERSARY
October 24th marks the day we rolled out of Boise on this adventure living full time in our LCC (La Casa Chiquita aka 5th-wheel trailer). And this year we head into our 4th winter as snowbirds. I am excited to see what kind of moments and milestones lay ahead.
SACRAMENTO DELTA
On Jim's list of places he wants to visit is the Sacramento–San Joaquin River Delta area in California. There are about 700 miles of waterways and over 1,000 miles of islands and levees that comprise the delta. We plan to one day bring our boat, Chasin' Rainbows, to explore this amazing area but for now we just find a free place to park off one of the levee roads.
Earlier, I mentioned wildfires in the west. By the time we reach Sacramento in early November, the deadliest and most destructive wildfire in California to date is blazing and devastating the small town of Paradise as well as a few other small communities in the northern part of the state. The Camp Fire–named after its place of origin, Camp Creek Road–is reported to have claimed the lives of 86 people and injured many more. It destroyed over 18,000 structures–most in the first four hours–and covered nearly 240 square miles.
The smoke from the fire compromises air quality for hundreds of miles. Our spot on the delta is about 125 miles from Paradise but visibility is poor and the wind turbines across the river are sometimes not even visible.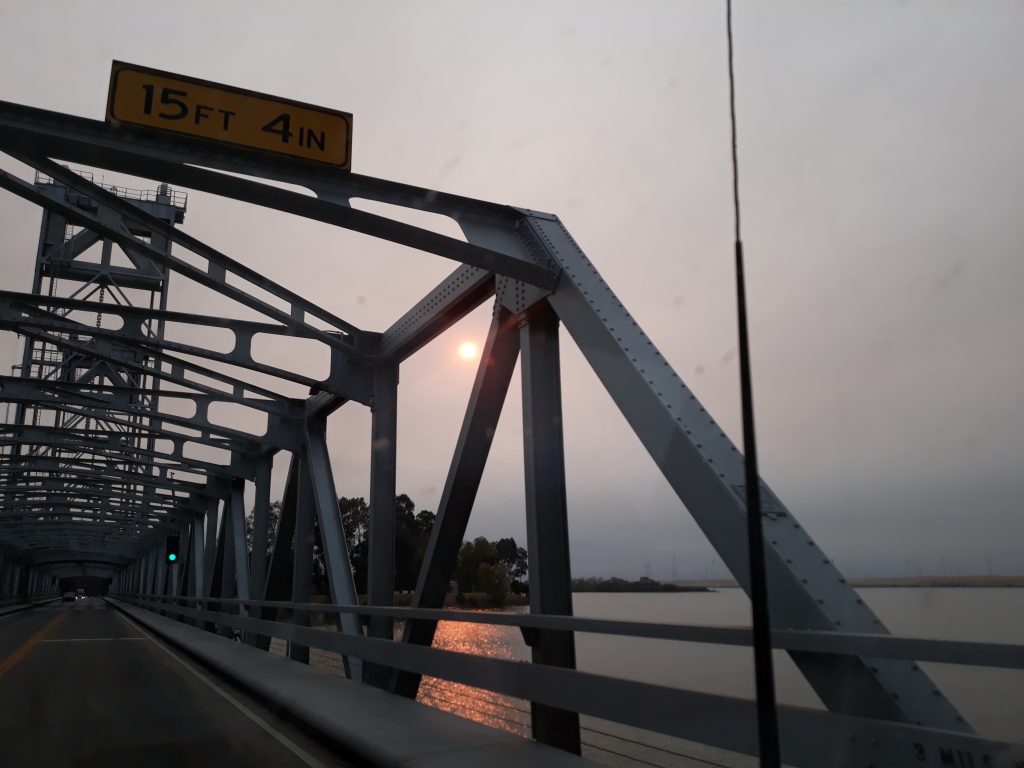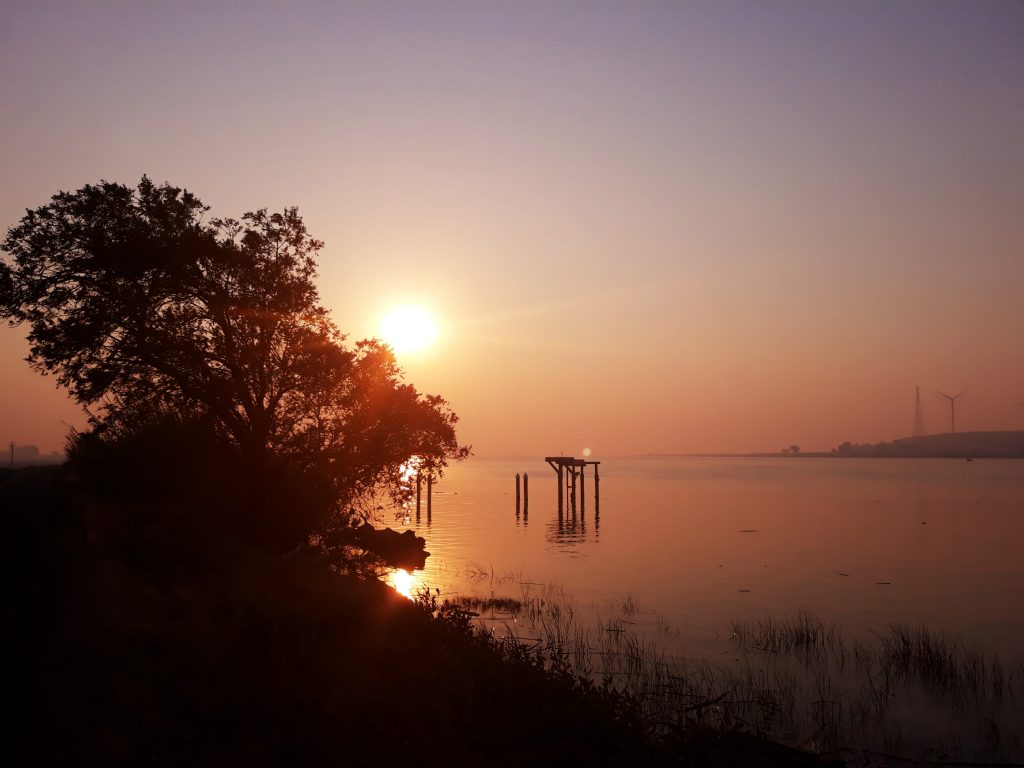 While we are hanging around waiting to make the short trip to Lodi for Thanksgiving, Jim places an ad in the local Craiglist for moving RVs. It isn't long before we receive a call and schedule a job.
Our approx. 320 mile round trip takes us from our current hang-out spot in the delta to Beale Air Force Base where we pick up a 5th-wheel from a serviceman who has been living in the trailer with his young family but is shipping out to Germany the same afternoon. Have you tried to get onto a military base recently? We stop at the guard station as required and are asked for two forms of ID–one photo and one additional. Lucky for us, we have our passport cards as well as our drivers licenses with us. (Had we not had the passcards, this whole situation may not have turned out as well.) One must also have a military personnel "sponsor" to enter the base so we wait for the seller to arrive and escort us to his trailer. It's a big one!
The route north to our delivery destination takes us deeper into the smoke. My heart breaks as we drive past the Paradise exit—still barricaded—with blackened fields all around and the smoke still hanging thick enough to greatly reduce visibility, burn my eyes and throat and give me a headache. And as we drive through Chico–one of the larger towns closest to the fire–we see more than one pickup loaded to the max with household belongings. 😢
We are heading into the countryside just a bit north of Chico where a young family who lost their home and virtually all their belongings in the Camp Fire are waiting for their new home. Sadly, the site ends up being impossible to get the huge trailer into due to the narrow roadway and tight angle of the fence-lined property. Jim and his sidekick, BBT, give it their best effort—he even climbed on the roof and lopped some branches—but can't quite thread the needle without risking damage to the trailer, the fence or both.
When it is clear her new home isn't going to fit on her dad's spacious and lovely property, the young mom can't help but cry. This is just one more difficult situation in her already very difficult world. (They have 21-month-old twin girls and one day before they were forced to evacuate their home found out they are pregnant.) Fortunately, the ever-positive and laid back husband quickly makes a phone call to his sister who agrees to let them park the trailer in her large driveway 10-12 miles away so we agree (of course!) to take it there instead…a *much* more easily accessible space to back a long trailer into. Phew!! I'm happy to report the trailer is all leveled off and ready for move-in. The couple are so sweet and so appreciative. We feel like we've adopted some more kids.
This is a paid gig but I sure wish we didn't need to charge for the service. Our customer's story is just one of hundreds, maybe thousands of families displaced and devastated by the fires in California…moments that will impact the lives of many in a significant way.
FAMILY MOMENTS
We spend Thanksgiving with my sister and her family. We have a great time with many special moments we will treasure forever. Bonding with great-nieces is extra special!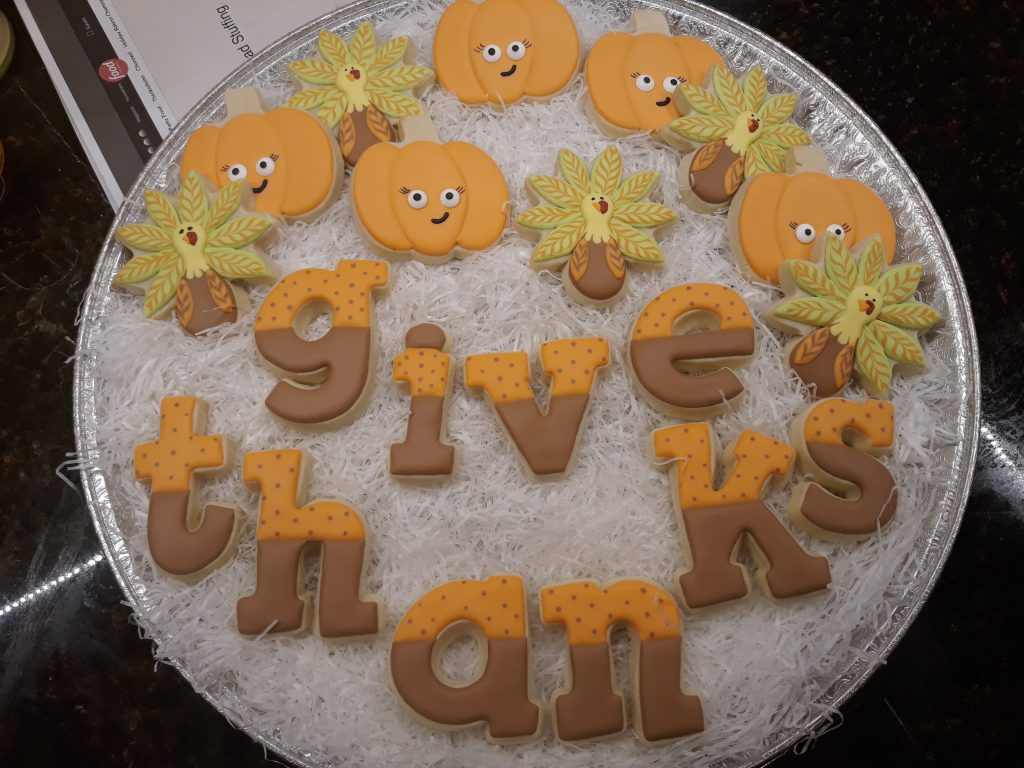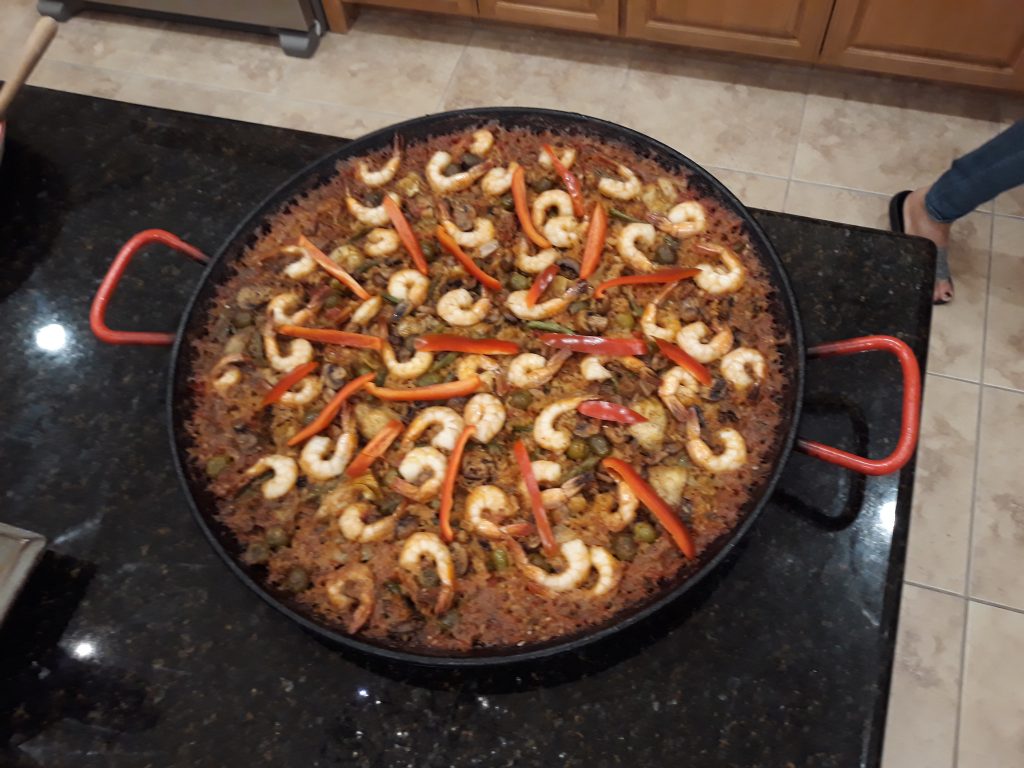 THE AIR CLEARS
When we return to the delta the air has cleared and we can see mountains we didn't even know were there. This is a quick stopover but I'm so glad we came back to enjoy the beauty.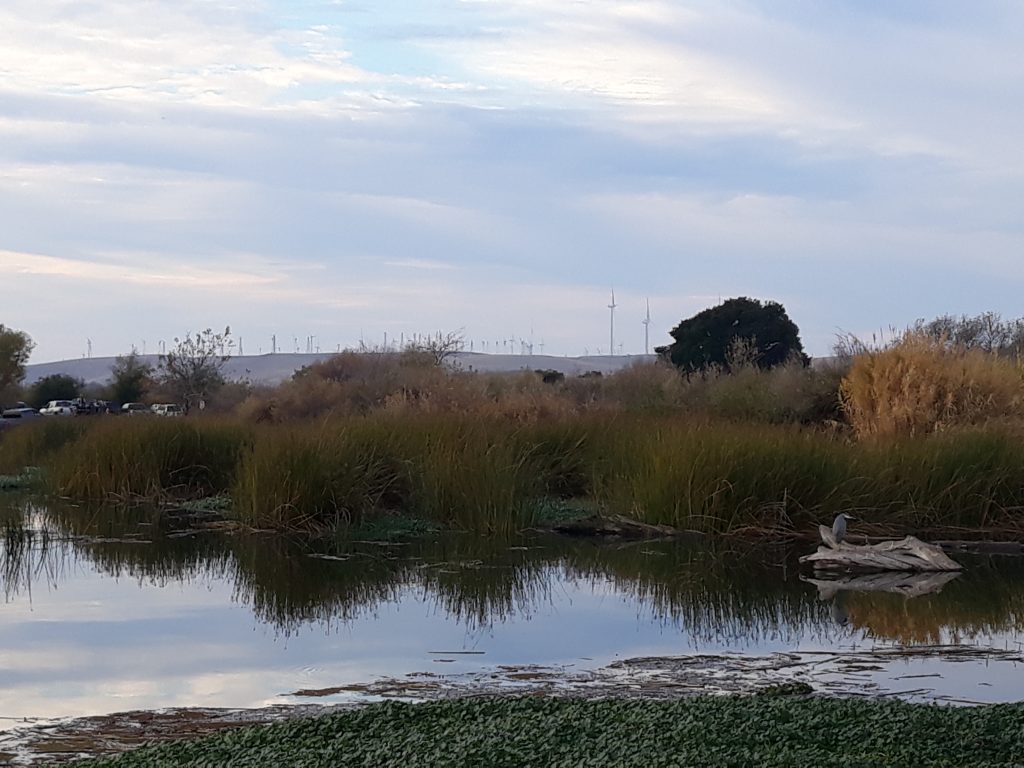 ANOTHER MILESTONE
December takes us to Chino to help my dad celebrate another birthday. He's 81 this year. Every moment I get to spend with him is special.

A NEW YEAR
As another year rolls by with the milestone of adding another number to my age, I feel so privileged. 2018 did not bring very many moments of sadness nor hardship for me personally; however, I am well aware of the suffering of others and I know I will not always be exempt.
So until next time…
"Be happy for this moment. This moment is your life."
~~ Omar Khayyam