I know I said I planned to introduce you to more Slab City residents, but I guess I must have been caught up in helping Jim paint the "barn" and didn't make the rounds like I had intended. Maybe when we return in the fall our friends will still be there. But for now, let me tell you about our adventure in Mexico.
Leaving the barn to whatever fate it may have unattended at the slabs, we head to Yuma, AZ. We find a decent place to park (free, of course) at Mittry Lake, just north of Yuma. We have a little mishap with one of the landing legs so while Jim is dealing with that to level off the trailer and such necessary things, I go exploring nearby. To my delight, there's a promising place to do a little hiking. So the next day that's exactly what we did. Ahhh, my happy place…up.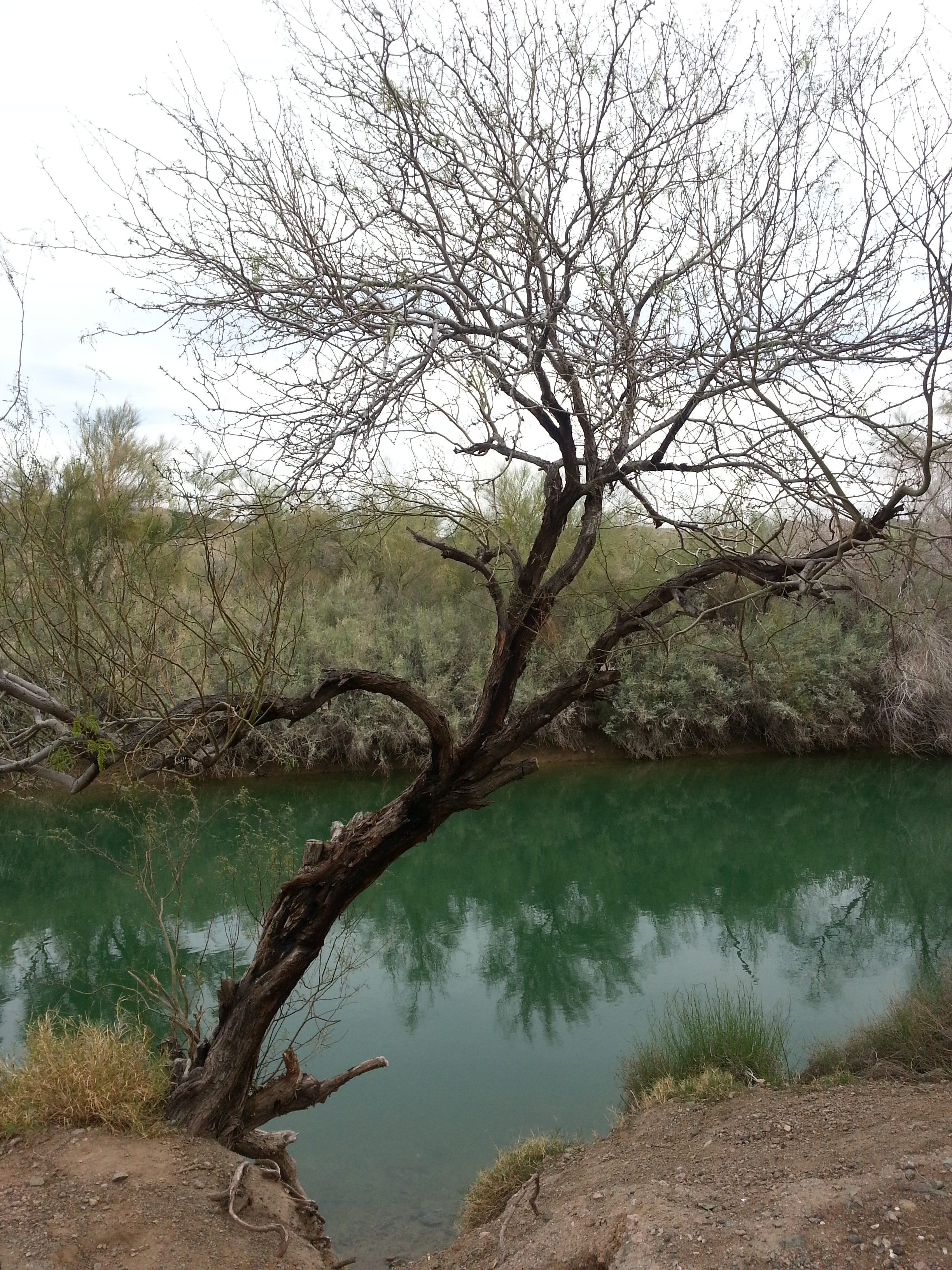 But, I digress. The primary purpose of our time near Yuma is to go into Mexico. After an arduous ordeal for me–details probably not all that important nor interesting–we both have US Passcards and are able to cross the Mexican border and, perhaps more importantly, return to the states legally. (A passport card is limited to land or sea travel into Canada, Mexico, Bermuda and The Caribbean.  The process is the same as for a regular passport but the cost is considerably less.) Rather than standing in the long lines at Los Algadones as so many US citizens do, we act on the recommendation of reputable and experienced RVrs we follow, Mark & Emily of roadslesstraveled.com, and cross into San Luis Rio Colorado in Sonora, Mexico south of Yuma for a visit to the dentist and a search for prescription drugs. Although the border is fortified with a fence and a couple of armed soldiers, entry is quick and easy. I try to send my purse and bag through the large x-Ray machine but the guard says, "No necesitas" and waves us on. I'm pretty sure the machine is not even on.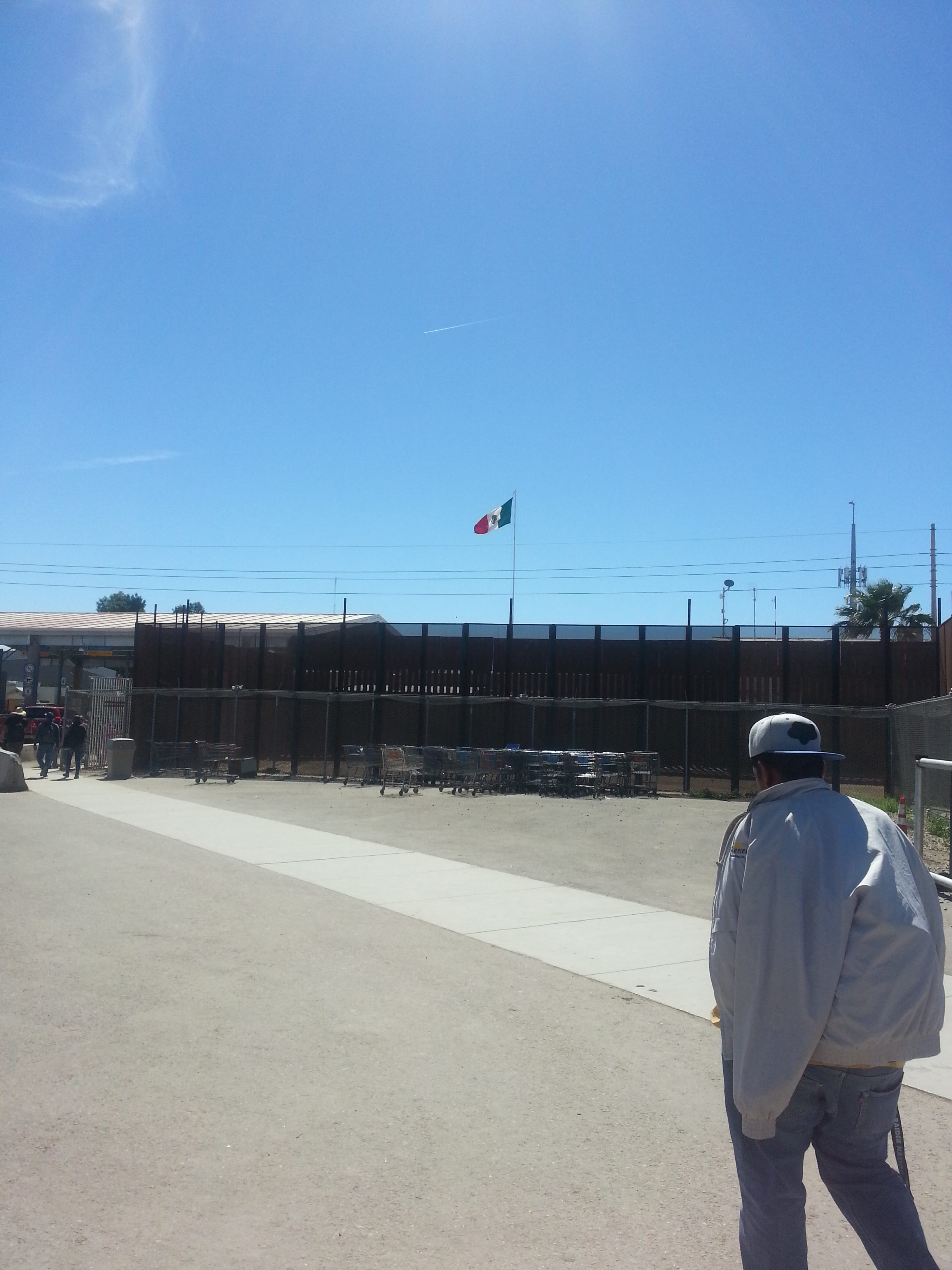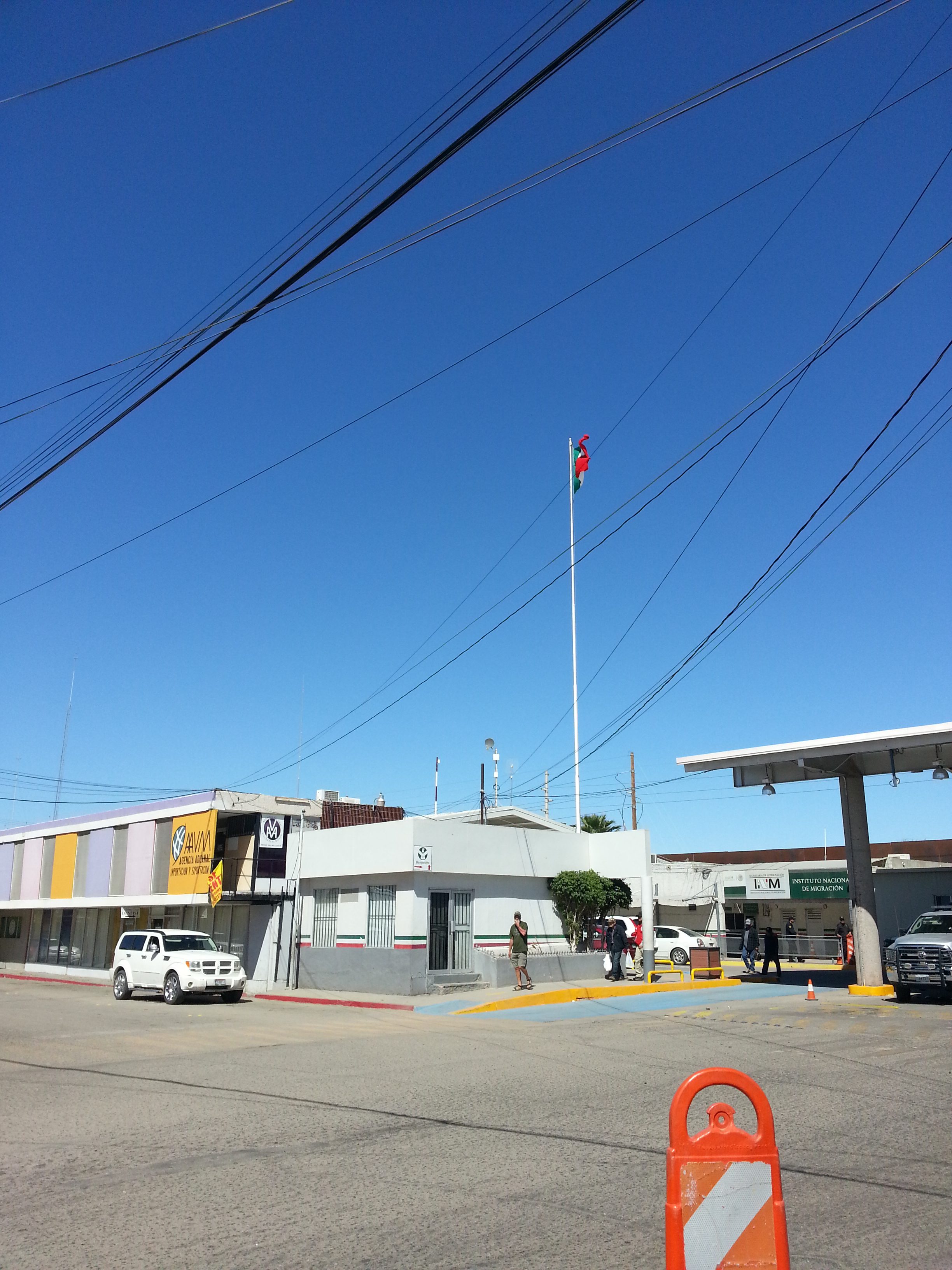 Almost immediately it is apparent this border town is not a main tourist attraction; the faces we encounter are all brown. Dr. Sergio Bernal's clinic is easy to find, less than a block from the border. The office is small with just enough room for the dentist and his assistant. I'm first in the chair and receive kudos on my dental hygiene and my cleaning is quicker than I'm used to. Next it's Jim's turn. He knows he needs a crown and a cleaning at least and the need for the crown is confirmed, as well as a repair on an old filling. With impressions made we are told to return the following day at 2:00 PM. (If you've ever had a crown in the US you know the typical turnaround time is about two weeks, making a temporary crown necessary. But with only about 24 hours until our return, Dr. Bernal says nothing temporary is needed.)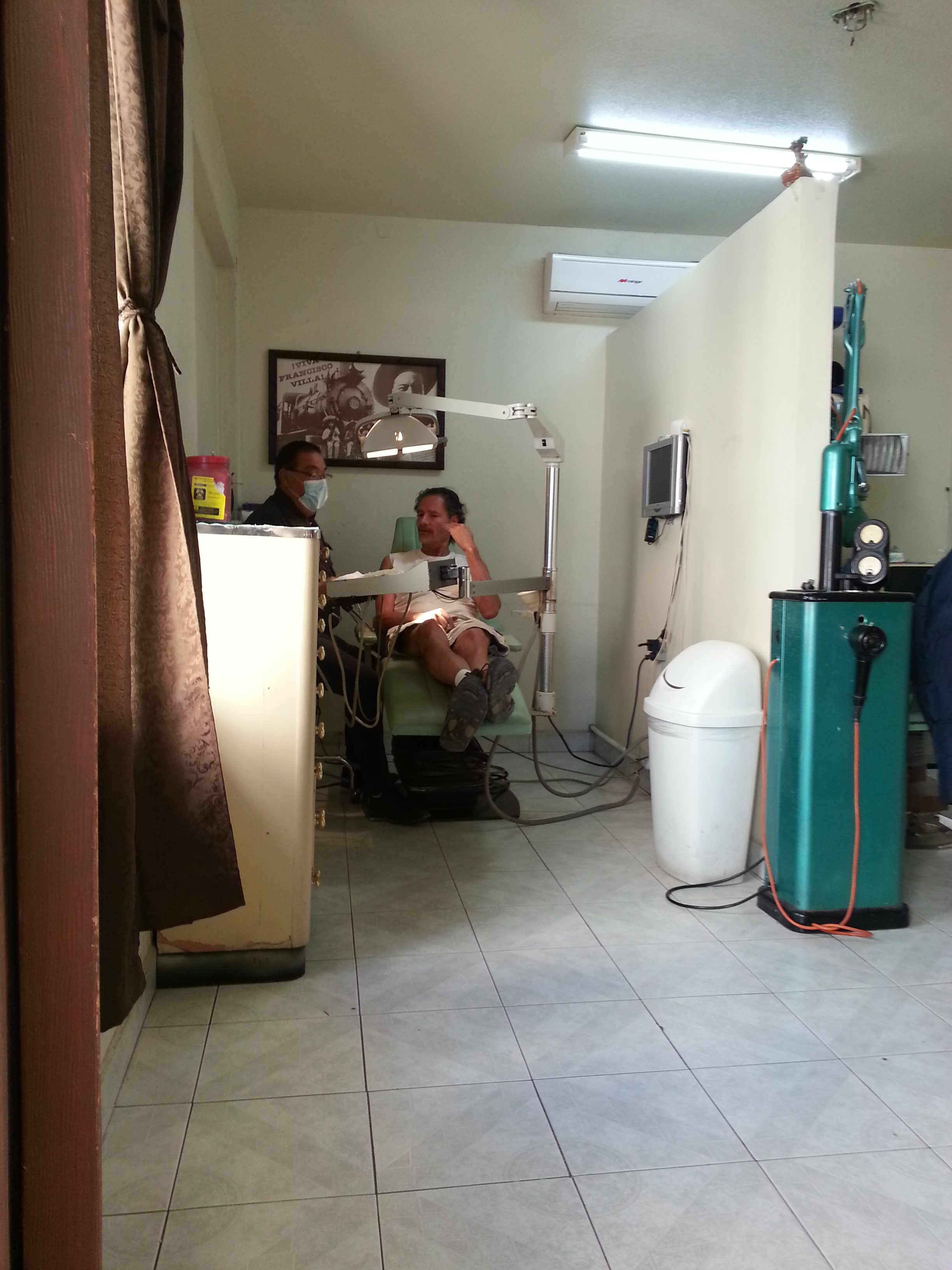 Next day, we arrive just a little early (or so we think) but are told our appointment is actually at 3:00.  We are early enough to go get lunch so, once more following Mark & Emily's recommendations, La Parianchi is our destination. We had asked Dr. Bernal for directions the previous day and are fairly confident we can find it. Our destination is on Calle 12; the border entry spills onto Calle 1 so we decide a 12-block walk would do us good. We set out in the general direction as instructed but notice quickly that street signs are virtually nonexistent and the one–yes, just one–we find is so old it is barely legible. We *think* it might say Calle 7 so we continue on. It is a warm day and we are starting to rethink the idea of walking instead of taking a cab for just one dollar. But finally, when we reach what we think should be Calle 12, I look to the left and much to our relief see the sign for La Pirianchi. The restaurant is casual but quite nice–sort of sports bar chic–and while waiting for our food I get up to take a few photos, as I am wont to do. Our waiter notices and offers to take a picture of the two of us. It just happens to be our anniversary so, of course, I coerce Jim to join me. Happy Anniversary, Honey!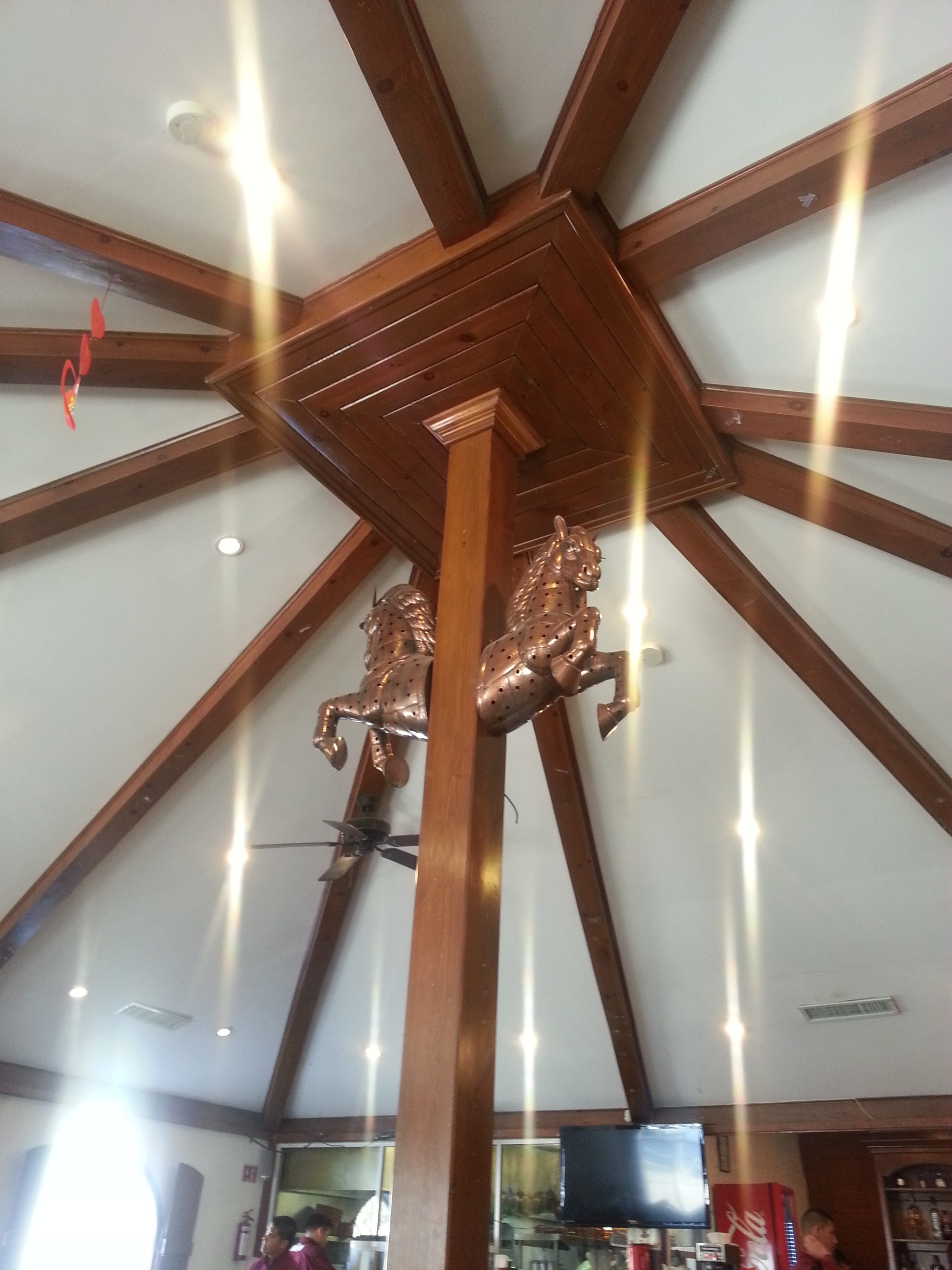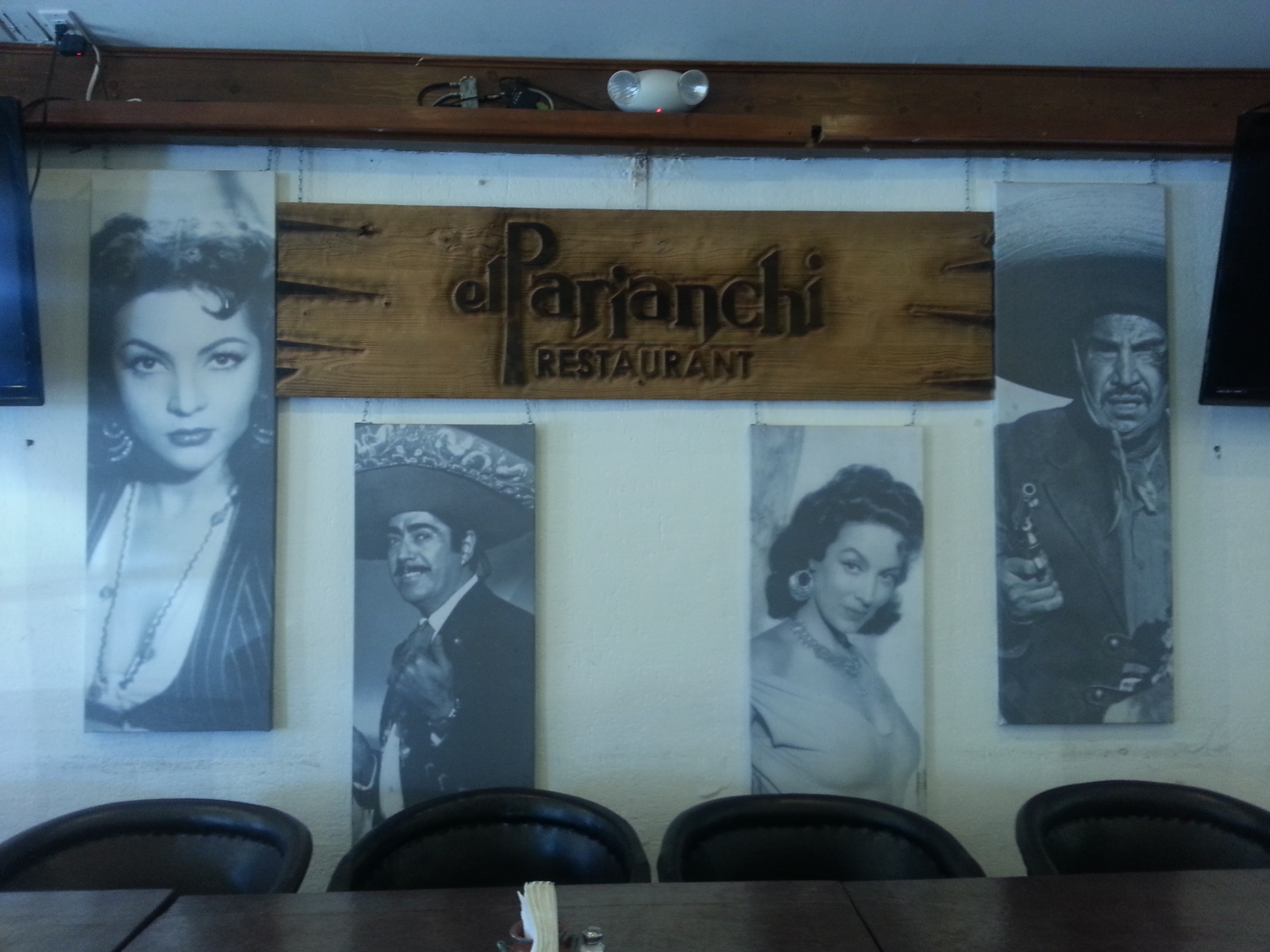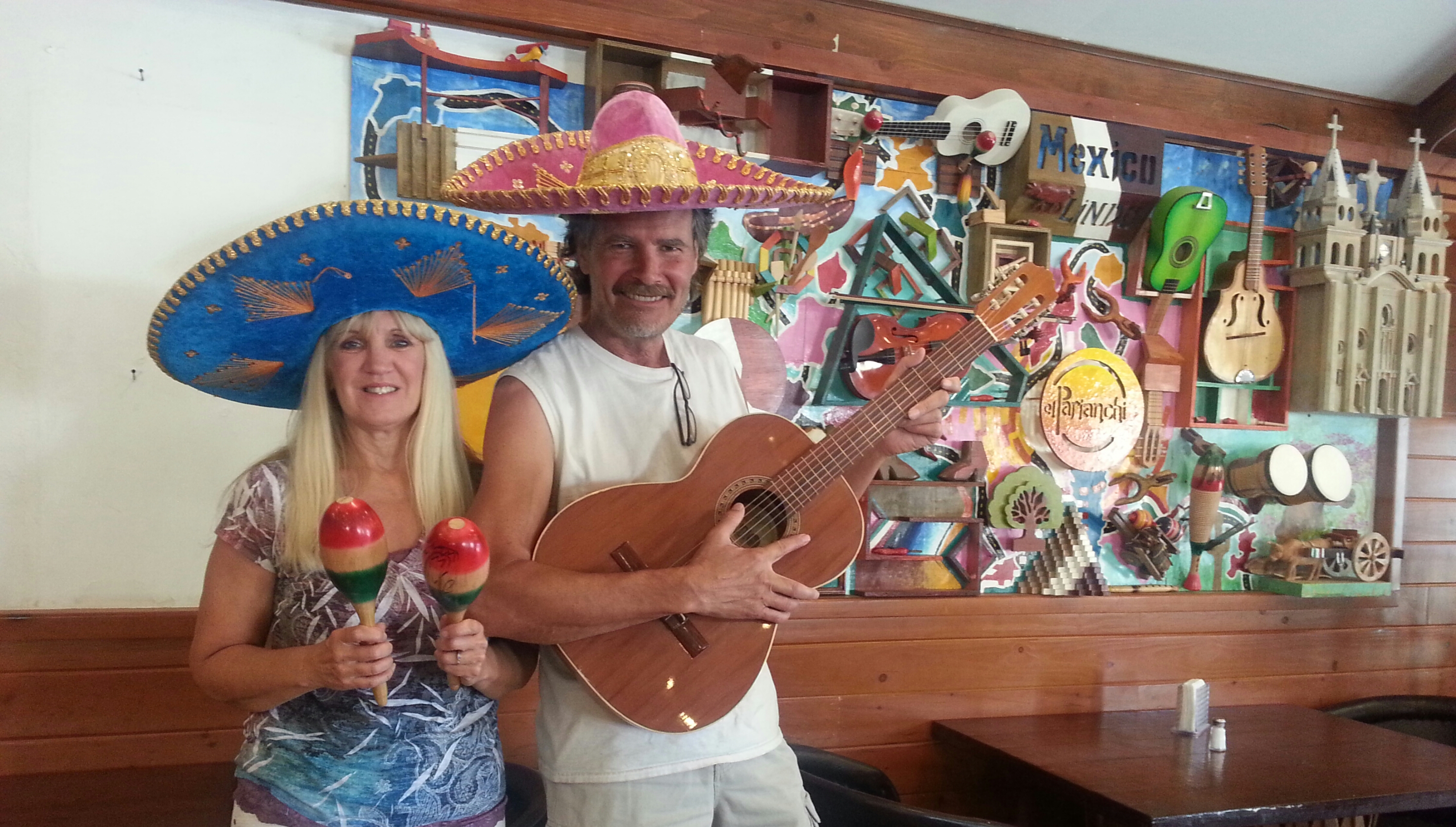 Judging by what we have encountered elsewhere in town so far, I think this may be the nicest–if not, at least one of the top two or three–restaurants in this small border town. And it is here we see the only two gringos in our time across the border. The food is very tasty and the presentation is top shelf. The exchange rate is so good for the US dollar, our entire meal (two entrees and four margaritas) cost us just $25 including our 20% tip.

Even in the heat, we welcome the opportunity to walk off at least a few of the calories we've just consumed and, with several minutes to spare for our 3:00 appointment, we arrive back at the dentist office only to be informed by the assistant (unfortunately we didn't ask her name) that the doctor is out and won't return for an hour. Neither her English nor our Spanish is good enough for explanations but, no worries, we have books to read so we settle in. At 4:00 the assistant says it will be just another 15 minutes. By this time, the small waiting room is completely full. One elderly gentleman has already given up and decided not to wait any longer. Finally, at about 4:30, Dr. Bernal literally slides in the front door apparently winning the race with what appears to be his daughter. As it turns out, he had been helping out a colleague by doing some emergency dental surgery. With profuse apologies to both of us and a very quick hand-washing, he proceeds to fit Jim's crown. The entire process in the chair takes about 20 minutes at the most and then it's time to settle up. The cost is $200 for one crown, a filling repair and two cleanings. (This is only about $20 more than *just* the cleaning Jim had at home without insurance.) Jim hands the good doctor our payment which he counts before casually tossing the cash onto the counter. Even though Dr. Bernal works a little too fast and aggressively (in our humble opinion) we feel this was a positive experience.
The process to get back over the border to the US is a bit more inconvenient. The way is not clearly marked for pedestrians and once we figure out where we need to be, the kiosk for scanning ID is not exactly user friendly. Did it work? I'm not sure but after being asked, "Where are you coming from?" (um, isn't this the border between Mexico and the US and we're on the Mexico side?!) and "What was the purpose of your visit?" we are allowed re-entry into the US of A without incident.
A side note: I am able to get insulin (only Lantus and Humalog in limited quantities are available) and thyroid meds without showing a prescription. It is not very much cheaper than stateside, but it does allow us to keep traveling as planned without returning to Idaho early. My prescriptions have expired and I needed to wait until January for my Obamacare insurance to kick in. As long as things don't change on that front, I will be able to see my doctor, get lab work and get my prescriptions filled when we return home this spring. For now, the opportunity to get my life-sustaining drugs is…well…life-sustaining.
Once our business down south is completed, we head back north. We return to Ehrenburgh, AZ to "our spot" beside the canal connected to the Colorado River. As the sun sets, we make a plan to float another section of the river. More on that in my next post.