When we set sail on this adventure on October 24, 2015, I was *very* excited for what lay ahead and ready to live the dream. But, despite my feelings of anticipation, our departure was bittersweet. There we were, leaving behind family and friends right before the holidays. (We had decided we needed to get going and try to beat any dicey road conditions. Towing our 33′ fifth wheel in the snow and/or ice is NOT something we wanted to try.)  As we drove out of town, while I couldn't wait to see what was in store for us, my heart was saddened. Not only were we going to be away for Thanksgiving and Christmas, we were also going to miss our grandson's birthday by just a week. It was so hard to explain to a 5-year-old why we couldn't be at the party.  A phone call on his special day made things a *bit* easier, but it was still hard.
We were lucky enough to celebrate our daughter's birthday at a Halloween party in Portland, spent Thanksgiving with family in California and celebrated my dad's 78th birthday…but Christmas was still a few weeks away.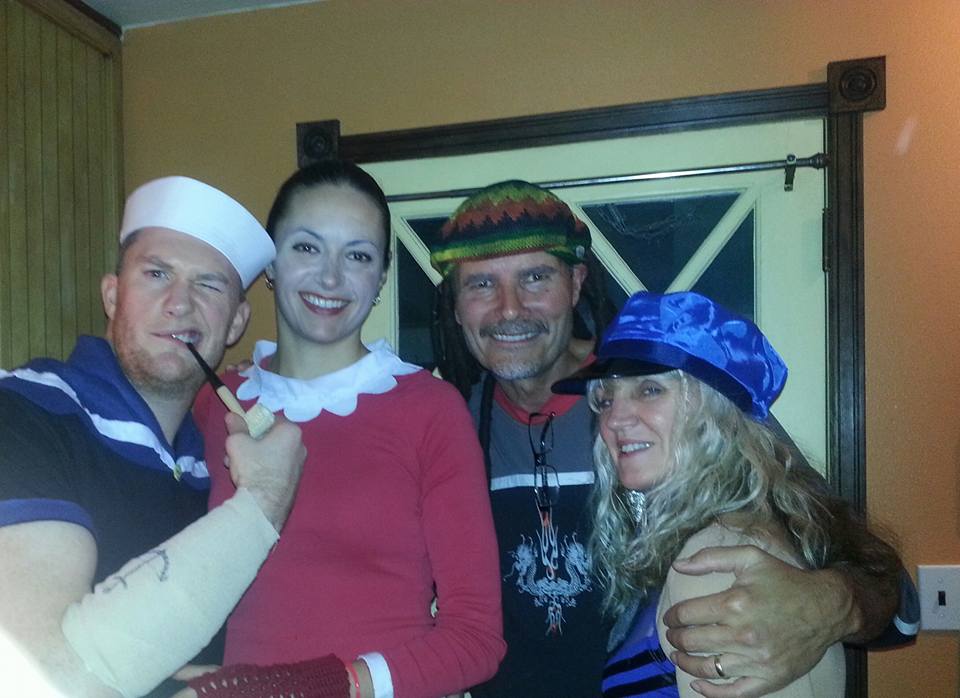 HAPPY HALLOWEEN AND HAPPY BIRTHDAY, JESSICA
I had known it would probably be a little difficult to be away from "home" — and daughter (my movie companion and so much more), son-in-law and those precious grandkids! — especially this time of year, but I was not prepared for the absence of the holiday "feeling". Photos of decorated trees, lighted houses and snow-dusted yards back home made me feel left out. (When choosing what we had room to bring along on our adventure, holiday decorations had not made the cut.)  Had it not been for the Christmas stocking project I was working on fast and furiously in order get it mailed cross country in time for Santa's arrival (which I did, btw), there would have been no evidence of the season, at least in our house. Some of the residents of Slab City had a few lights in their "yards" and/or on rigs, but somehow it's just not the same in this setting. The moments of longing for home were fleeting but, every now and then I asked myself, "What are we doing out here in the desert by ourselves at Christmastime??!!"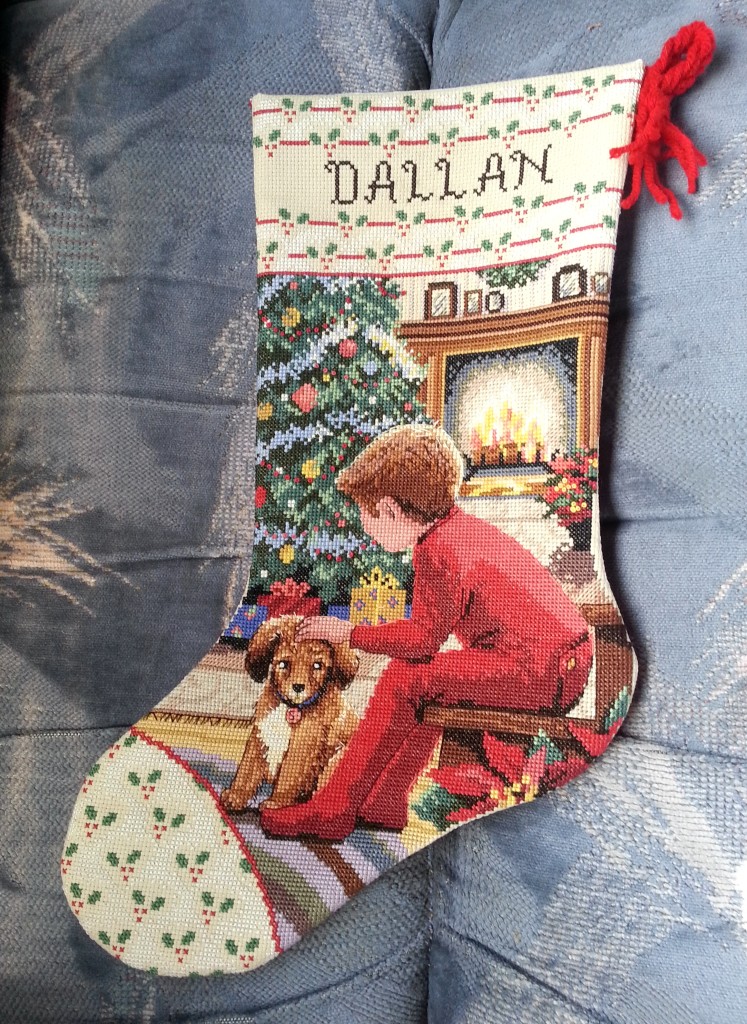 PROJECT: CHRISTMAS STOCKING, COMPLETE AT LAST!
On Christmas Eve, we were able to connect with our family on the east coast via FaceTime. It was great to see the smiling faces of our "far away kiddos" in Virginia and hear about their presents, bringing them just a little closer to us for those few minutes. Sadly, our Idaho family was sick and not able to manage a video conference. We'll try to catch up with them later.
Christmas day arrived and we opened the package we had driven to Quartzite to retrieve. Nested in a cute little box were the sweet faces of our grandkids from Idaho…each under glass and mounted on magnets. Oh how I miss those little ones! We have one small strip above the refrigerator that is magnetic, so that is where the kiddos will travel with us (smile). Finally, after getting a later-than-intended start by agreeing to an interview with a couple doing a university research project on boondocking (which lasted at least an hour because Jim has so much experience and a lot of great information to offer on the subject), we left our home of the past three weeks at The Slabs and headed to the Fountain of Youth Spa RV Resort…our gift to each other.  We had taken advantage of a newbie rate of $9.95/night, tax included. This was the first time in 62 nights on the road that we paid to park and have hook-ups!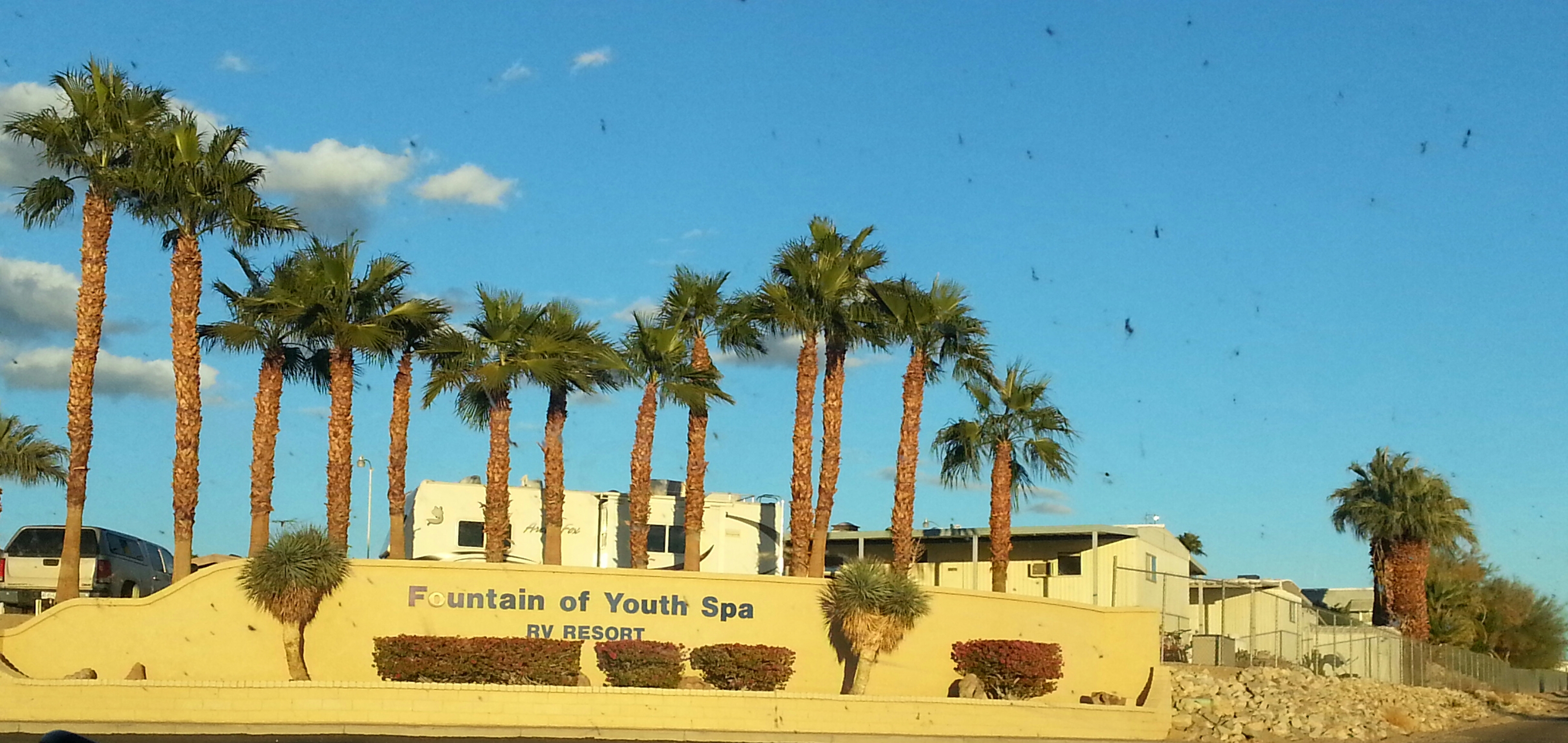 HERE WE ARE! DO YOU THINK THEY HAVE A CAR WASH?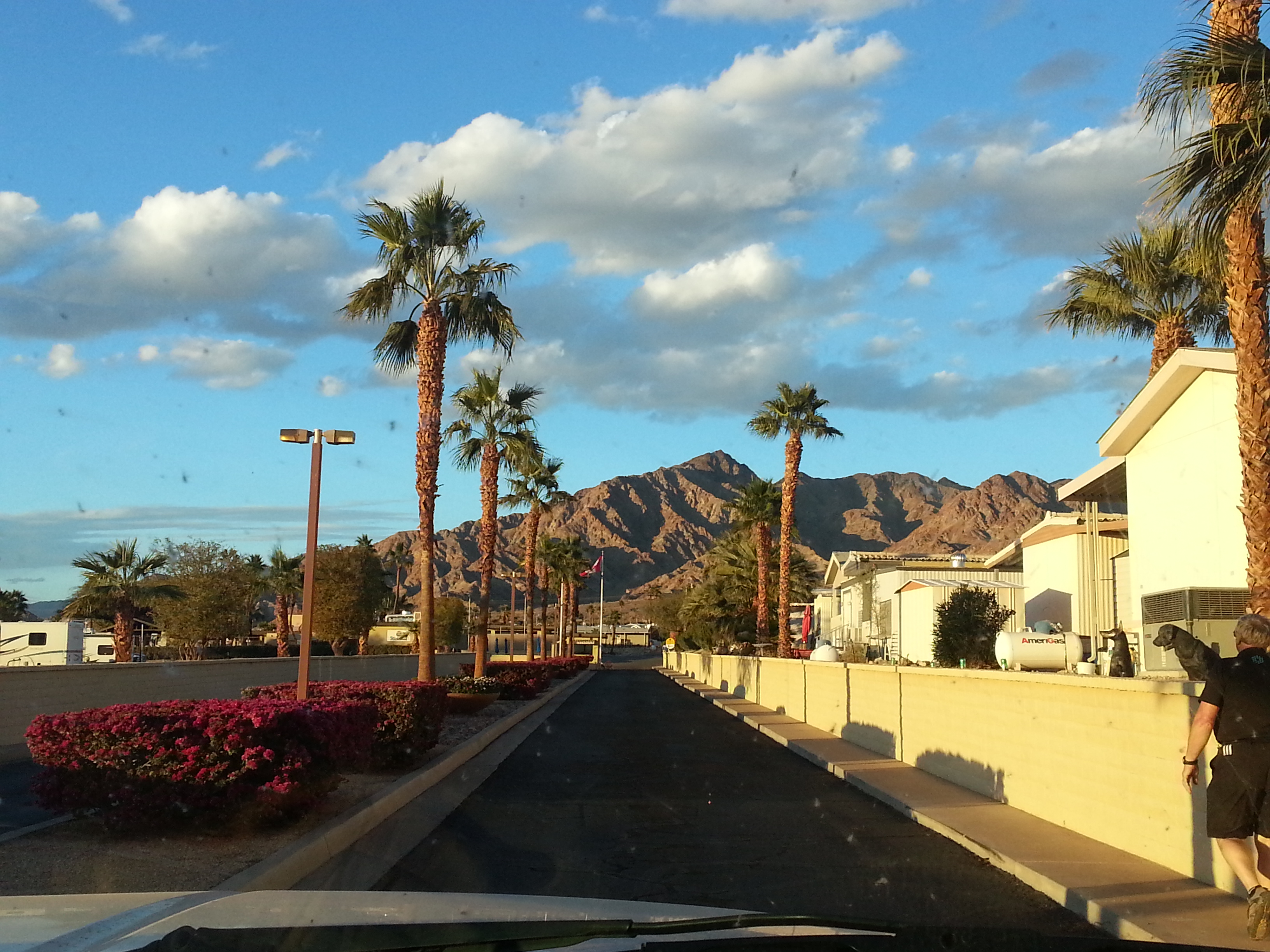 SPECTACULAR VIEW AS WE ENTER
Life was hard at the resort…well, kinda…okay, it was pretty great. This was the perfect distraction from my longings of home.
DAY 1: While Jim was getting our house moved into our new address (FOY, Space 111, Niland, CA),  I noticed the sky changing and just couldn't resist jogging the short distance to the end of our road to try to catch yet another pic or two of the desert sun setting over the Salton Sea. After we were settled in, first on the evening's agenda was a long shower (!) and then a soak in a steamy private natural mineral bath for two.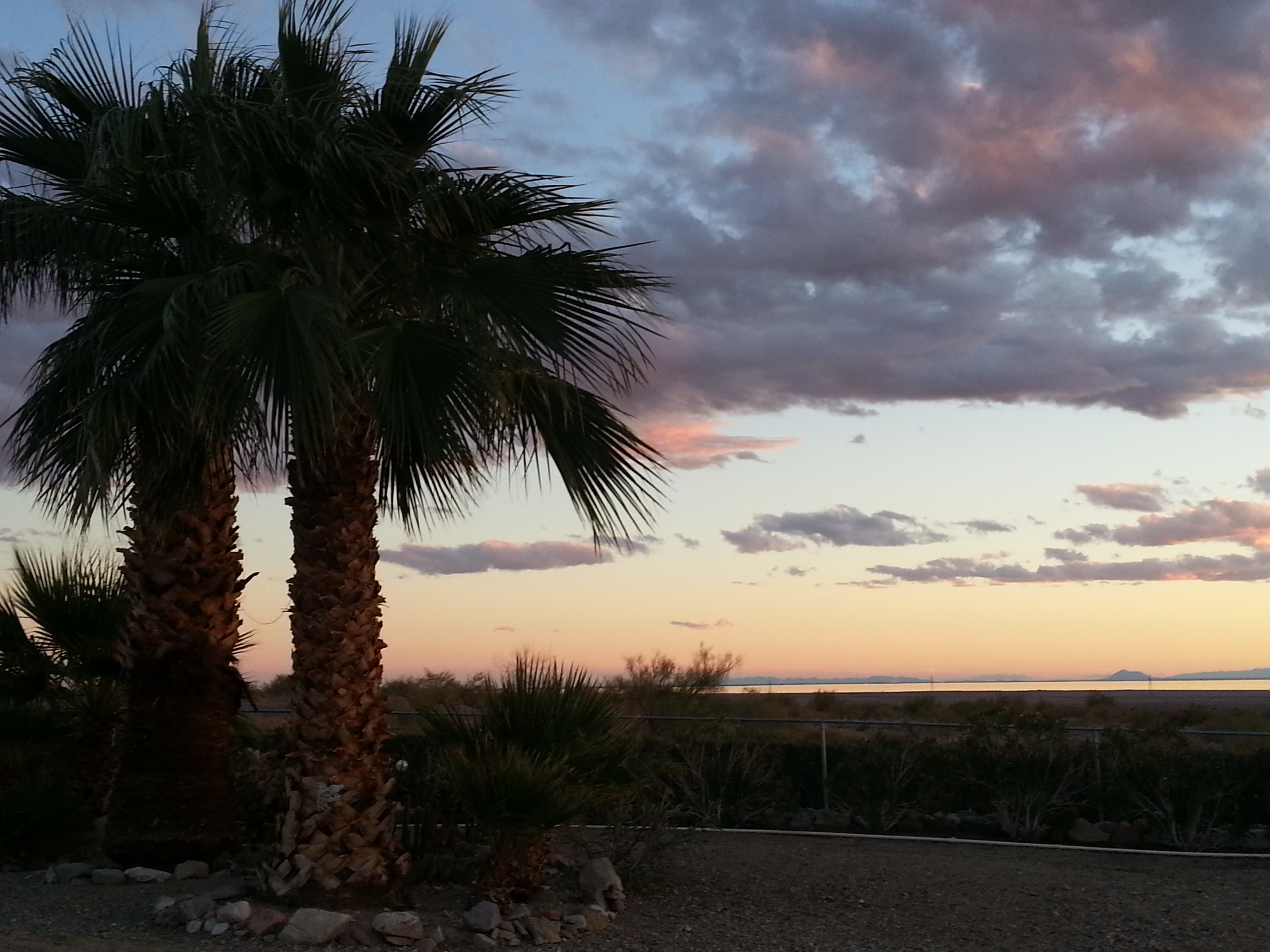 ONE OF THREE PRIVATE TUBS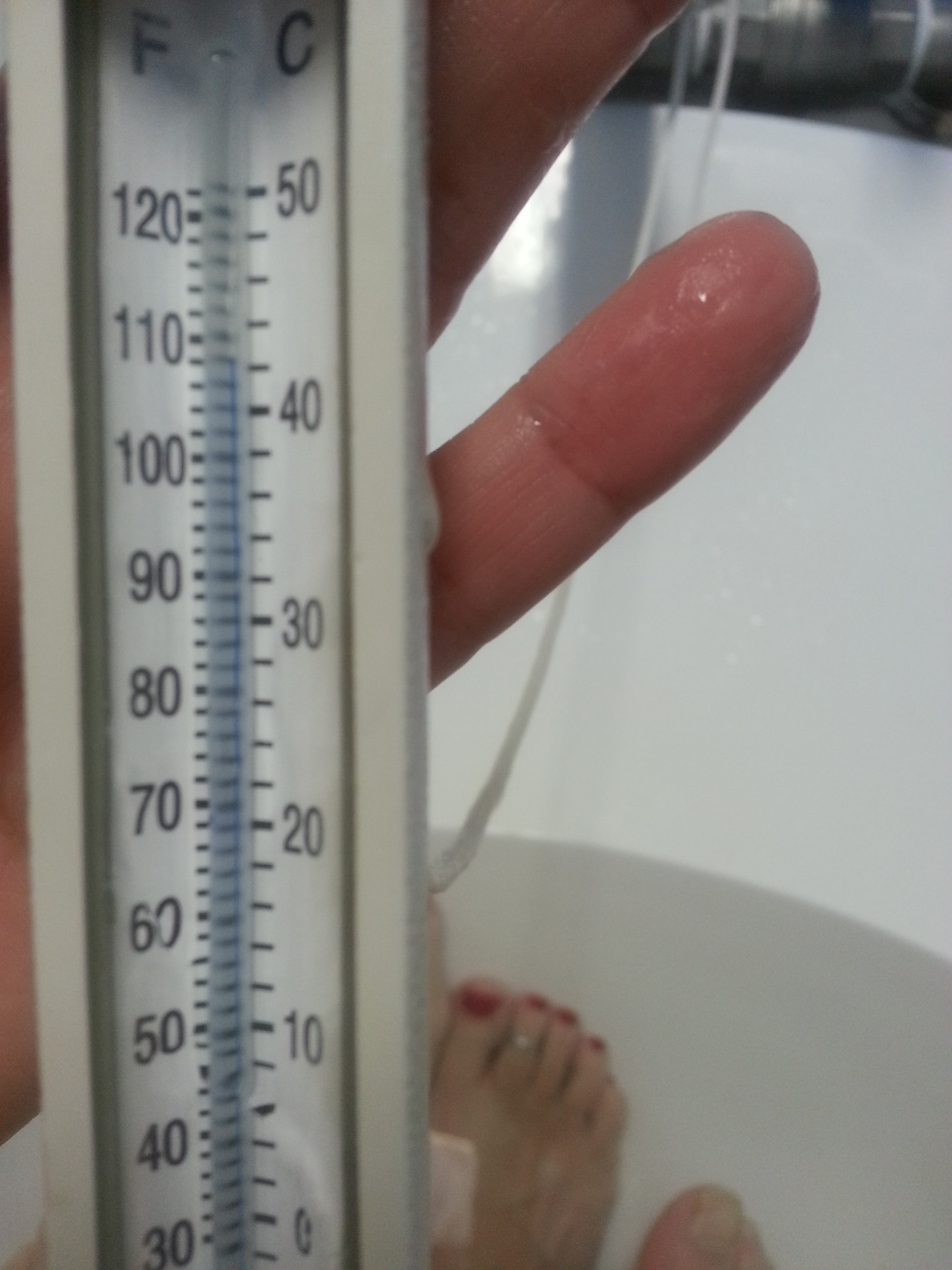 WE COOLED THE NATURAL MINERAL WATER THAT COMES FROM THE FAUCET AT 128 DEGREES TO A PERFECT 108. AHHH!!!
DAY 2: What to do when the wind is blowing 30-45 MPH making the trailer rock like it's a boat in a storm? Why, spend the afternoon in the various spas and heated pools, of course! The walk between the pools was quite…umm…invigorating, to say the least. We soaked and swam and soaked some more until our fingers were shriveled almost beyond recognition. On our way home, Jim thought it might be nice to visit the local cafe for an appetizer. Quesadillas and Coronas. Great idea, Jim! Yum!
DAY 3: Jim set up the catio, I vacuumed and mopped, we did a 10-mile bike ride followed by a stop in at the cafe for sandwiches and Coronas (could this be a tradition already?!) and THEN a trip to the pools. I wish I would have had my camera for a pic of Jim behind the "waterfall" at the Youth Mountain pool. I wonder how many people actually try to get back in behind the sheet of water? Well, Jim did and so did I…with his encouragement. Funny guy!
DAY 4: We had heard about a great trail to hike in the area but wanted to do some research first, so this was a chill day at home. Jim looked for info and directions and I sat outside in the sunshine with book in hand, talking to the kitties and a neighbor. We opted not to go to the pool and, sadly, no traditional visit to the cafe. We can't do it all *every* day, right?
DAY 5: A trip into town for groceries was necessary so, on the way, we took the opportunity to scope out the road that we would be taking for our hike…just to get our bearings. After groceries were put away and dinner finished, it was just a quiet evening of computer time and Netflix. I can't believe we let two whole days go by without getting in the pools!
DAY 6: This was the day of the big hike. We arrived at the parking lot for Ladder Canyon Trail just past noon and set out. It took us three hours to do the 4.3 mile loop. (This adventure calls for its own post, so stay tuned.) That evening, we drove — instead of walked — the very short distance to the pool complex and each took a much-needed soak in our own private mineral bath. The walls are thin, so we could still converse about our day's adventure. Surprisingly, I did NOT need the assistance of the extra drop-down support bar to get in or out of the tub.
LADDER CANYON TRAIL PREVIEW

DAY 7: This is Hike Recovery Day aka New Year's Eve. We did laundry in the afternoon and then spent time after dinner in the private soaking tub again…for bonding and, perhaps more importantly this time, physical therapy. We said good-bye to 2015 with Netflix and popcorn.
DAY 8: Time to leave the luxuries of the resort and get back to what we do best…boondocking.
Our first holiday season is now behind us and, even though I may not have felt the usual Christmas warm fuzzies, I don't regret for one minute setting out on this adventure with my best friend and love. Life is good! No….life is GREAT!
Wishing all of you a happy and healthy 2016!