Change is an easy panacea. It takes character to stay in one place and be happy there. ~ Elizabeth Clarke Dunn
It's been about eight weeks since we returned to Idaho and, aside from the excitement of seeing all the kiddos, the reality of being "off the road" and stationary has begun to take its toll on my psyche. While we have had the wonderful pleasure of spending time with family, we are back in familiar territory and no longer exploring new frontiers and going where no man has gone before (well, okay, we didn't do exactly that, but we did go where *we* had never gone before). We are, in fact, in the exact place we had spent five months preparing for this adventure while we were still working. It no longer feels like retirement but, instead, it feels to me like the adventure rug had been pulled out from under me. Suddenly, there were obligations again: the rental house needed roof repair/replacement, weeds to kill, fences to mend, schedules to keep, etc. Where's the fun in that? Maybe I've forgotten how to be a grown-up?!
Jim decided to do the roofing himself in order to be able to divert funds toward a different project…one that would be MUCH more fun. He also built some really great awnings for the west-facing upstairs windows to help reduce the cooling costs for our amazing tenants.
You can't see his nice roof replacement up on the second story, but those awnings are the envy of the neighborhood!
I don't mean to complain and I am not unhappy, life is good…life is *very* good. Time with family is extremely special and not to be taken for granted, as is the beauty to be found around us no matter where we are.
Not too long after our arrival, I was reminded that Idaho sunsets
can rival those of the desert.
Since Jim has been busy we've had the bikes out only once, but it was a great ride. Who knew we would find such a picturesque place at the end of the greenbelt in our little town?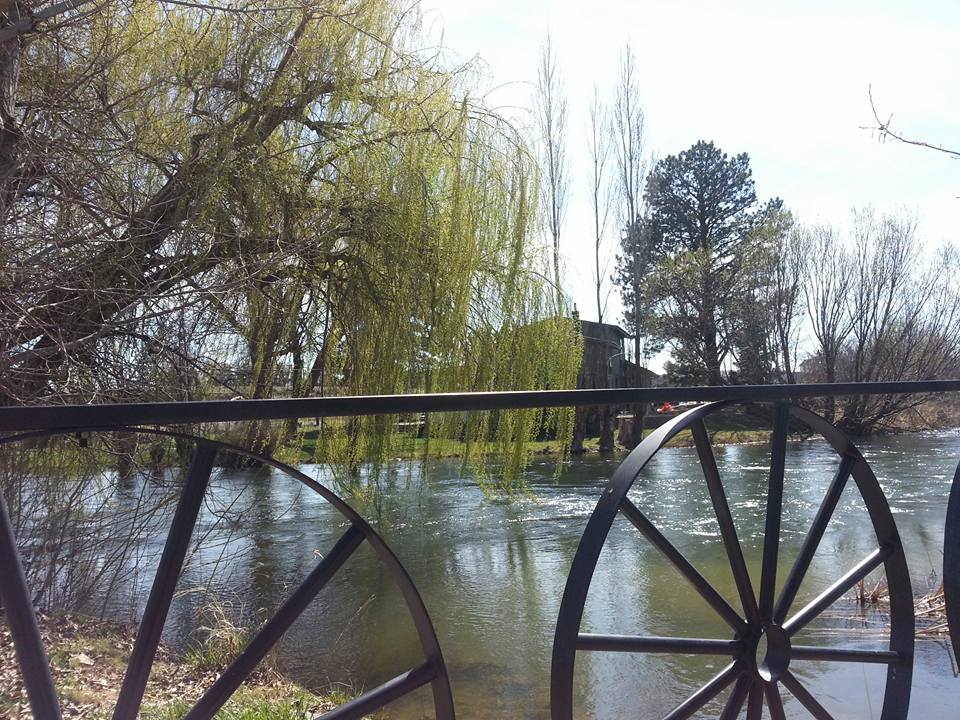 t

While Jim was working hard on his projects and didn't need an assistant, I was determined to stay active. That greenbelt along Indian Creek was the perfect place to walk. The scenery is beautiful and I couldn't resist stopping along the way to capture some of it nearly every time I ventured out.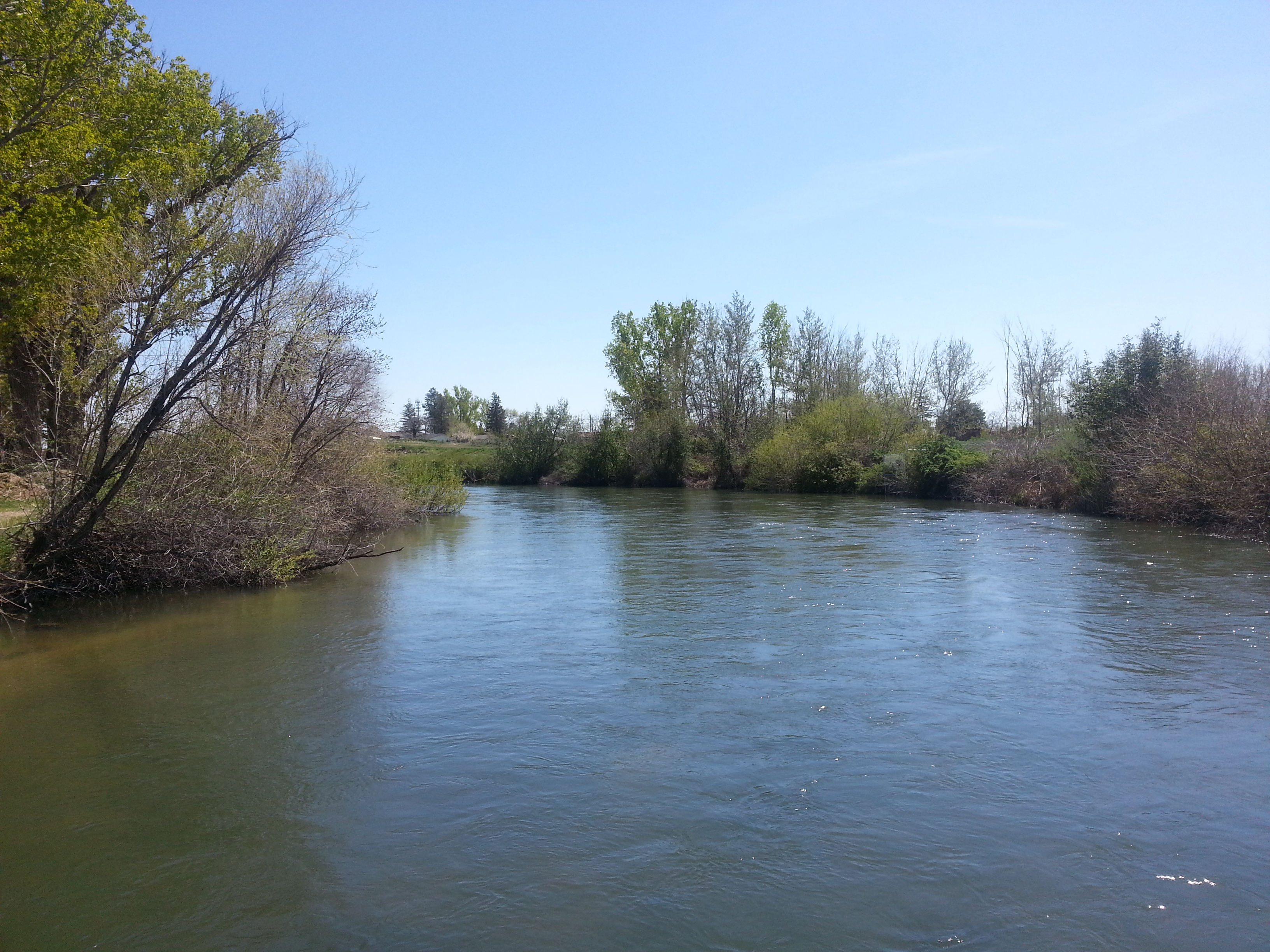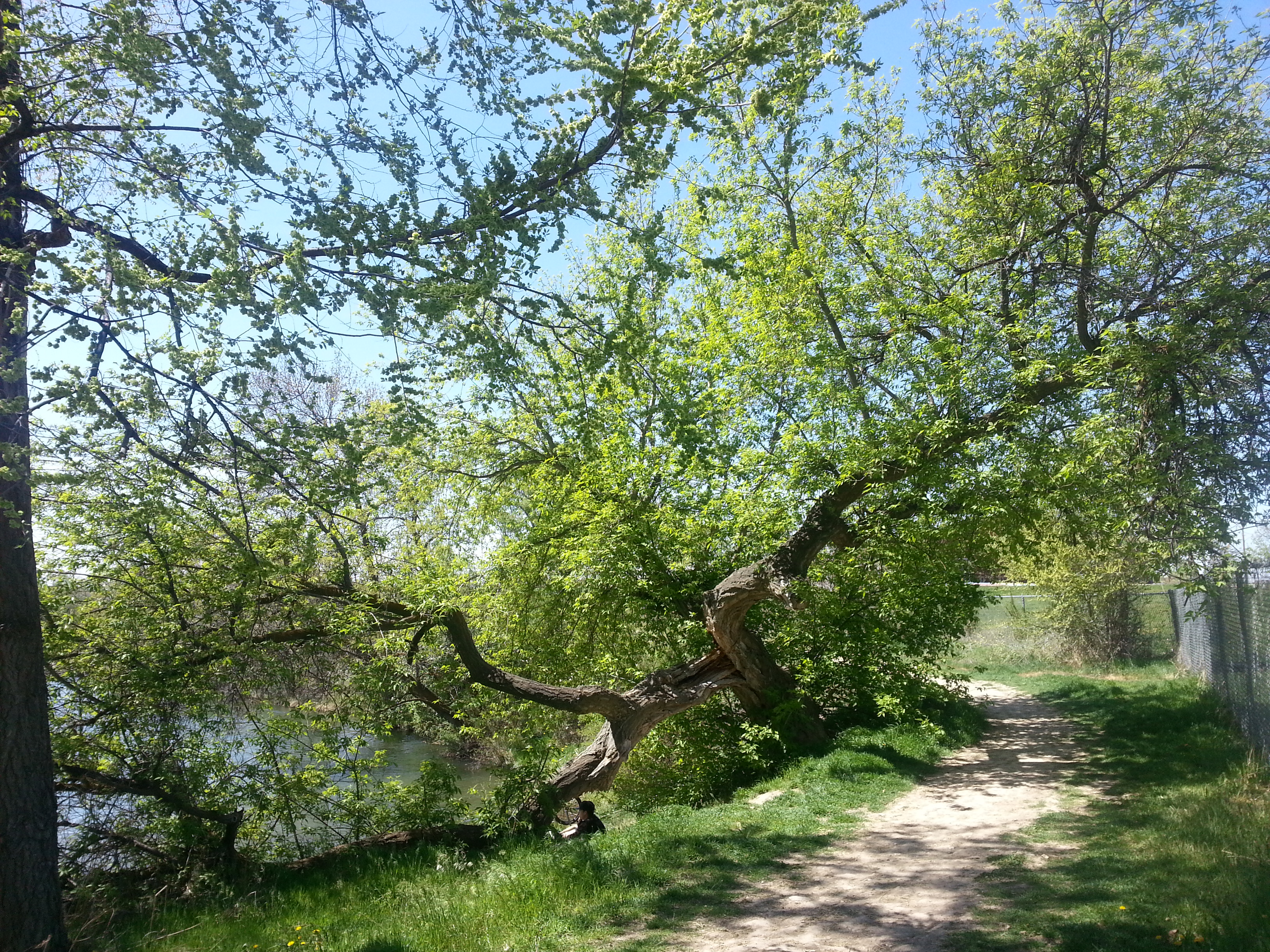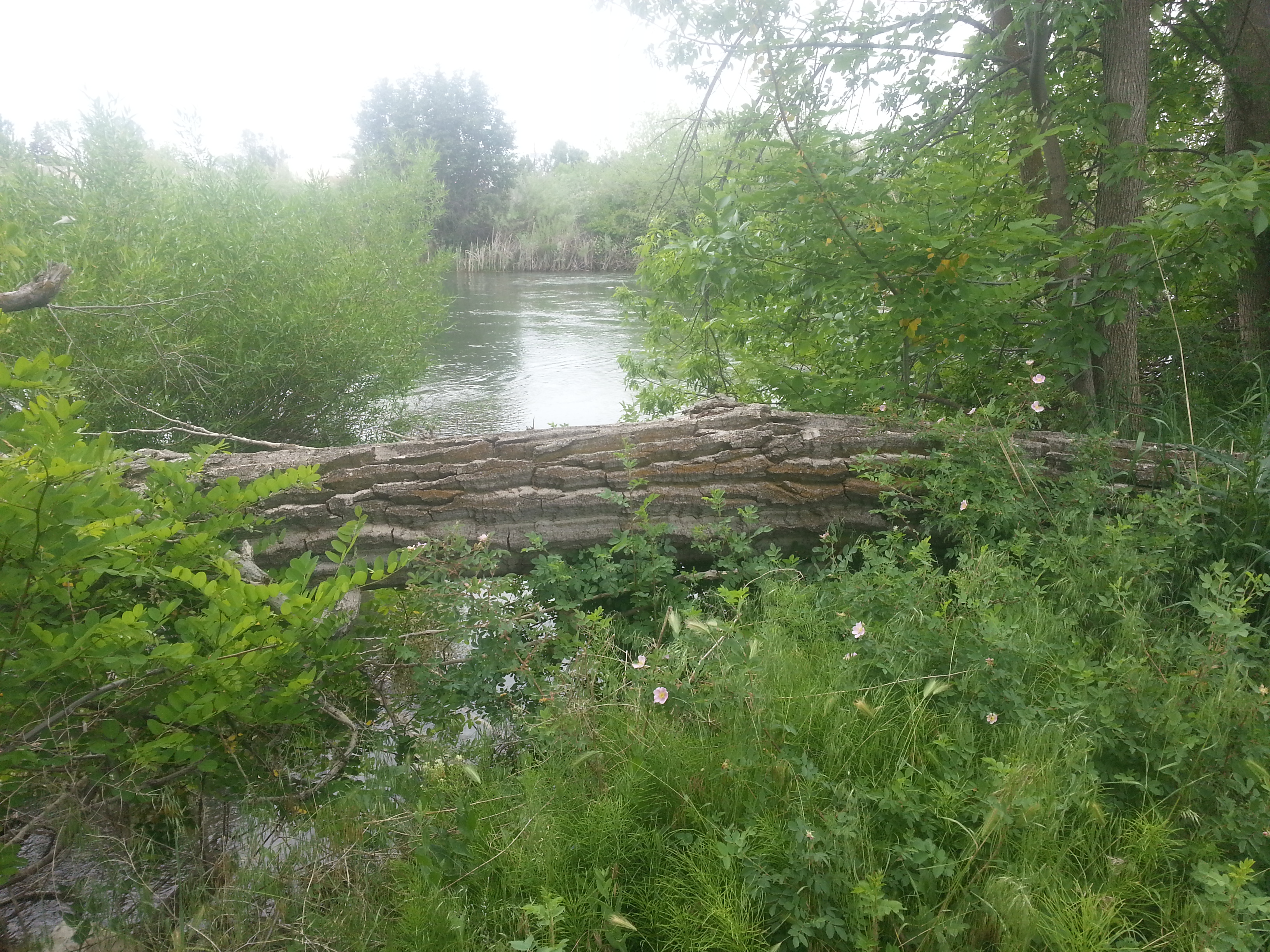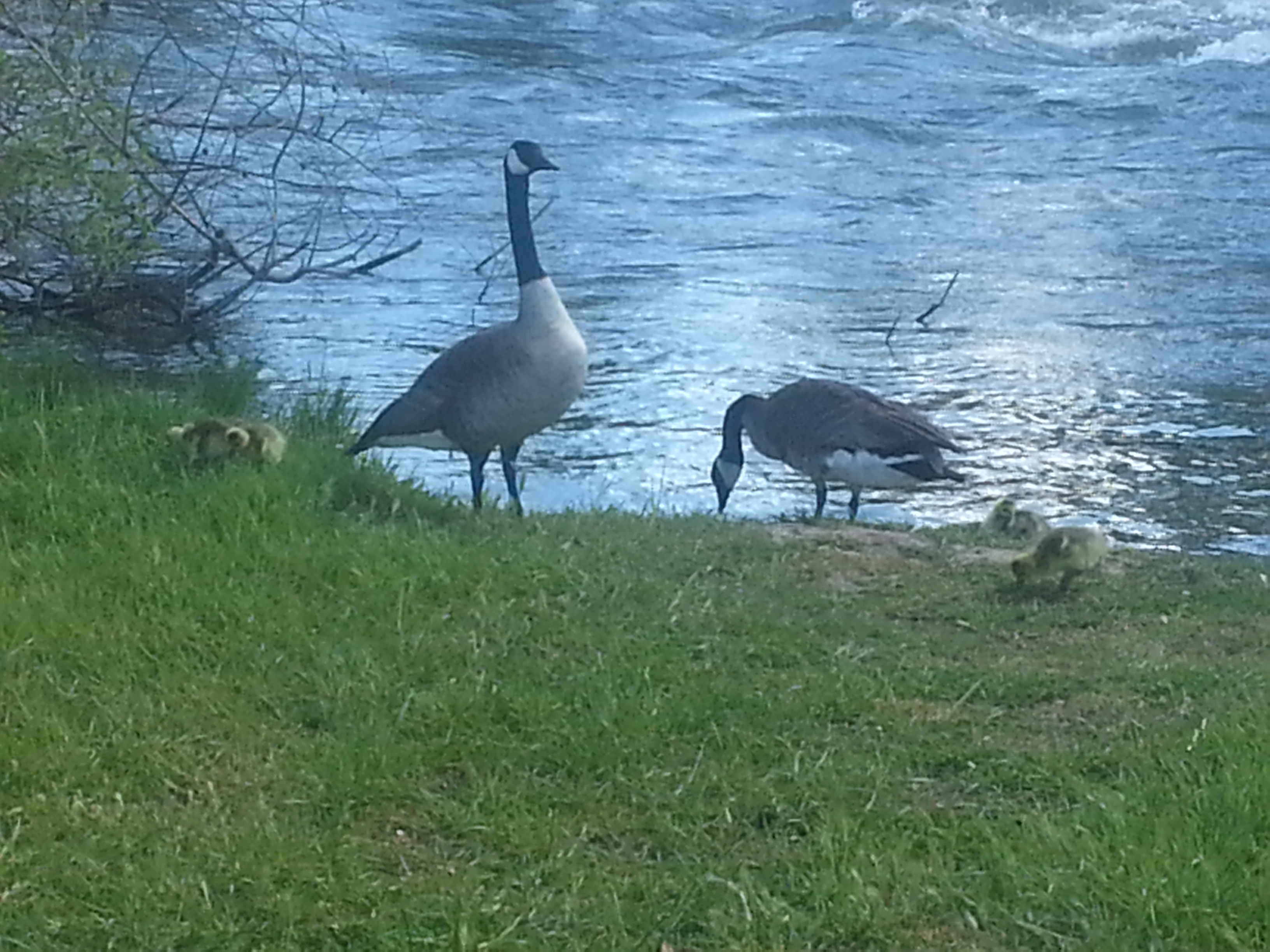 In other fun news…with a *very* small amount of Jim's "diverted" funds, we rescued a boat — complete with trailer — that would otherwise most likely have spent the rest of its days neglected in the cluttered backyard of a guy named Harry. Jim gutted the insides in preparation for a remodel (I'm sure he will share more details on that later) and then we took a day off to visit Lucky Peak Lake to make sure she floats. The water level is still low with only a couple of places to launch, but we found a useable dock and had a great time.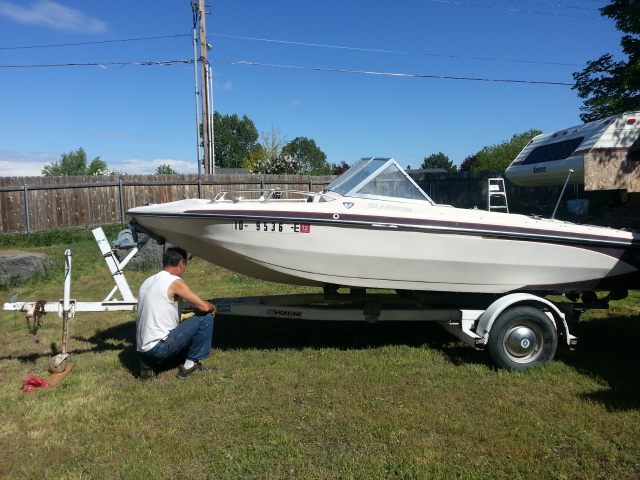 On the way to Lucky Peak.
The maiden voyage. Yes, that's OSB on the floor and camp chairs for seating. But she floats!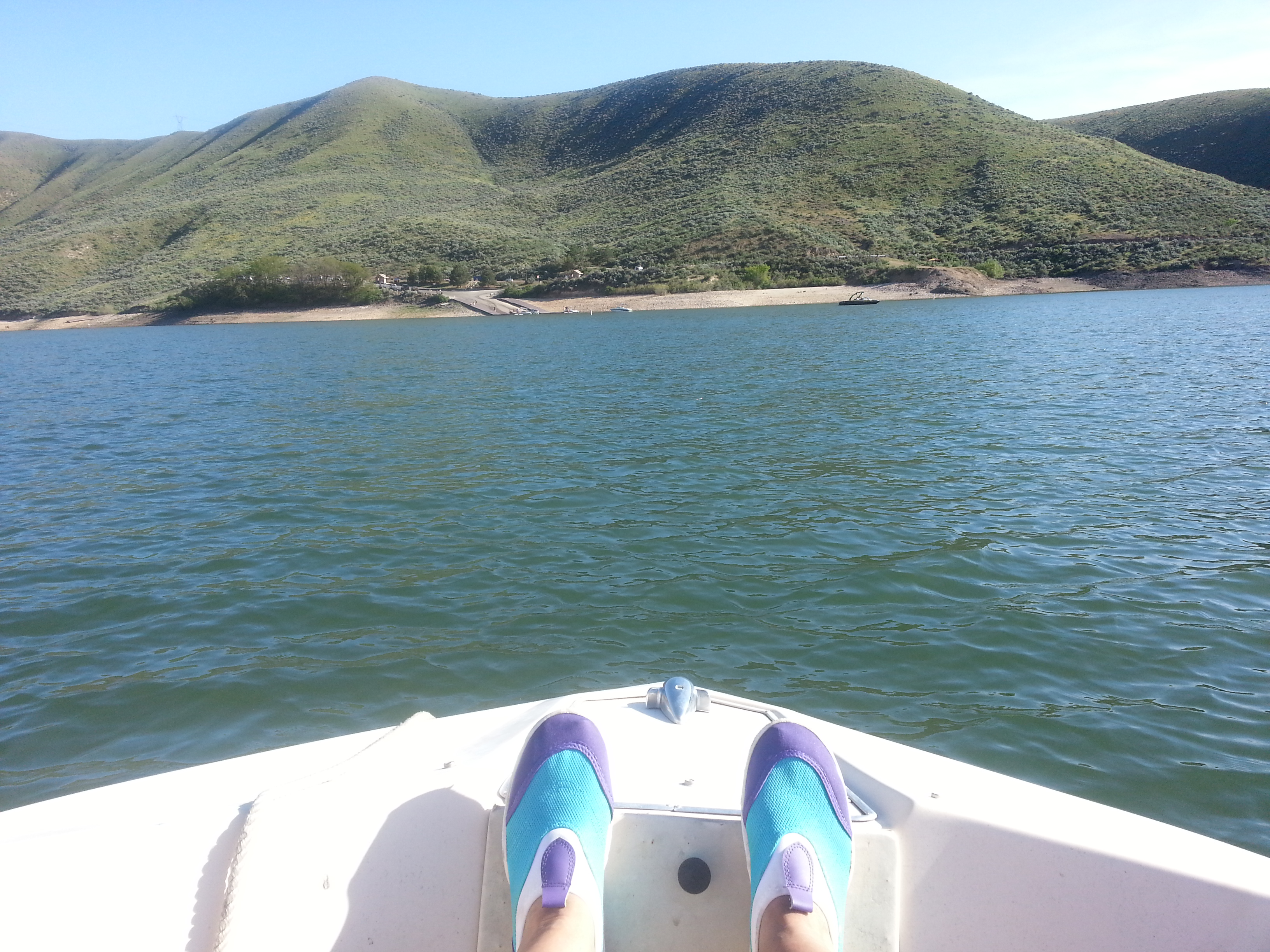 Those who know me well won't be surprised that it didn't take too long for me to move my chair to the bow to catch more sun.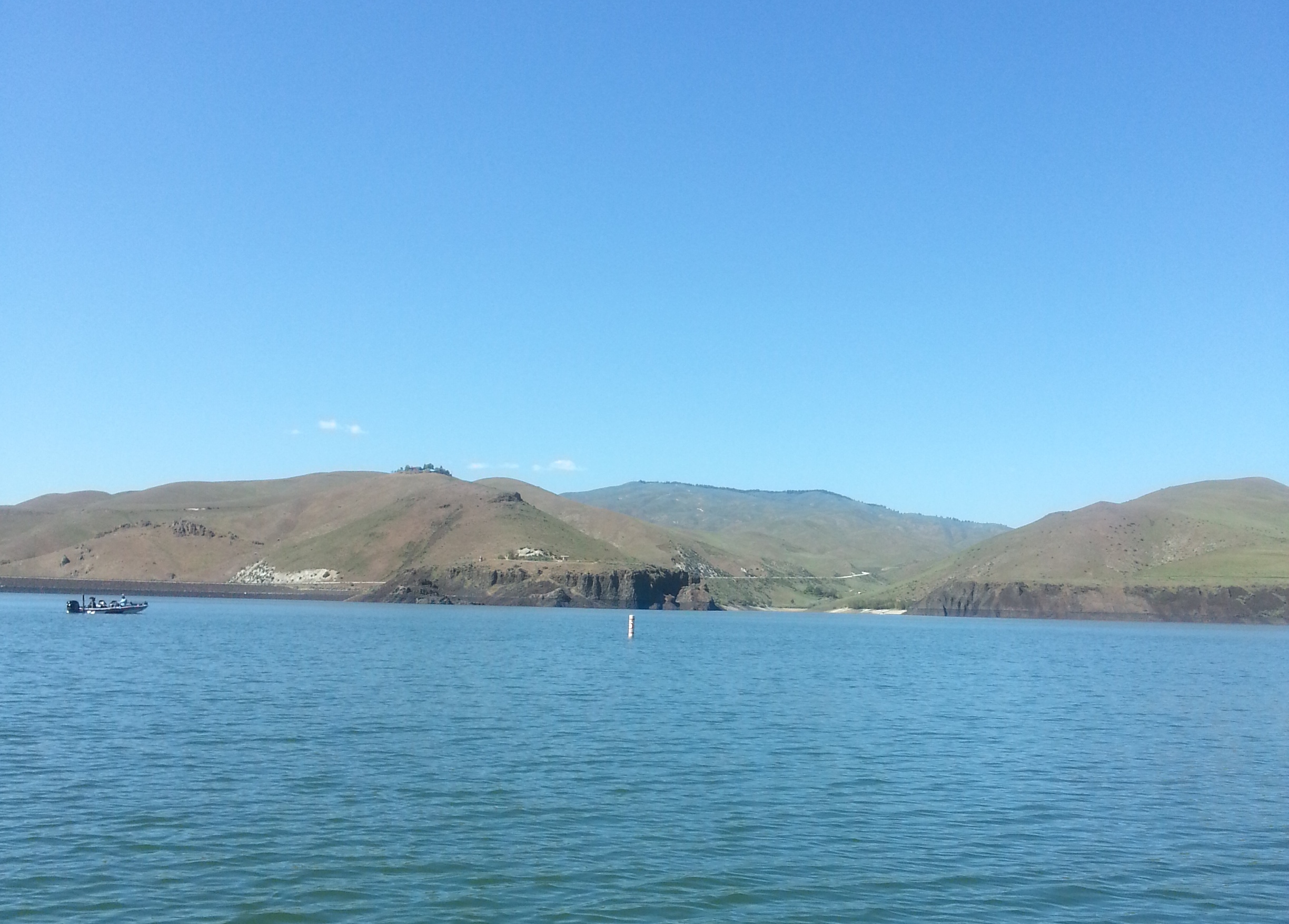 We didn't try to go very far out on the first day; we just floated and enjoyed the sunshine, the view and each other's company.
And because we can (smile), we took our new toy out again the very next day. I checked the weather forecast — as is my custom — and it called for "a slight chance of a stray shower or thunderstorm" in the afternoon. It was warm, so we decided to take the chance anyway.
It didn't take long after we launched for the weather to start rolling in. We could see evidence that the dark clouds were spilling their contents on the not-too-distant landscape and the wind kicked up. As luck would have it, however, the worst of the storm skirted around us…for the most part. There were a few raindrops but we didn't melt and soon the sky cleared and we were able to enjoy the rest of our time on the water. And with the help of our little trolling motor, we made it across the lake to Chimney Rock Park where we found the all-important pit toilet and then took a few minutes to wander. By the time we returned to the boat, all was calm. It's a good thing our battery — charged solely by the sun, btw — lasted long enough to get us back to the dock since we no longer had the assist from the wind that we were counting on.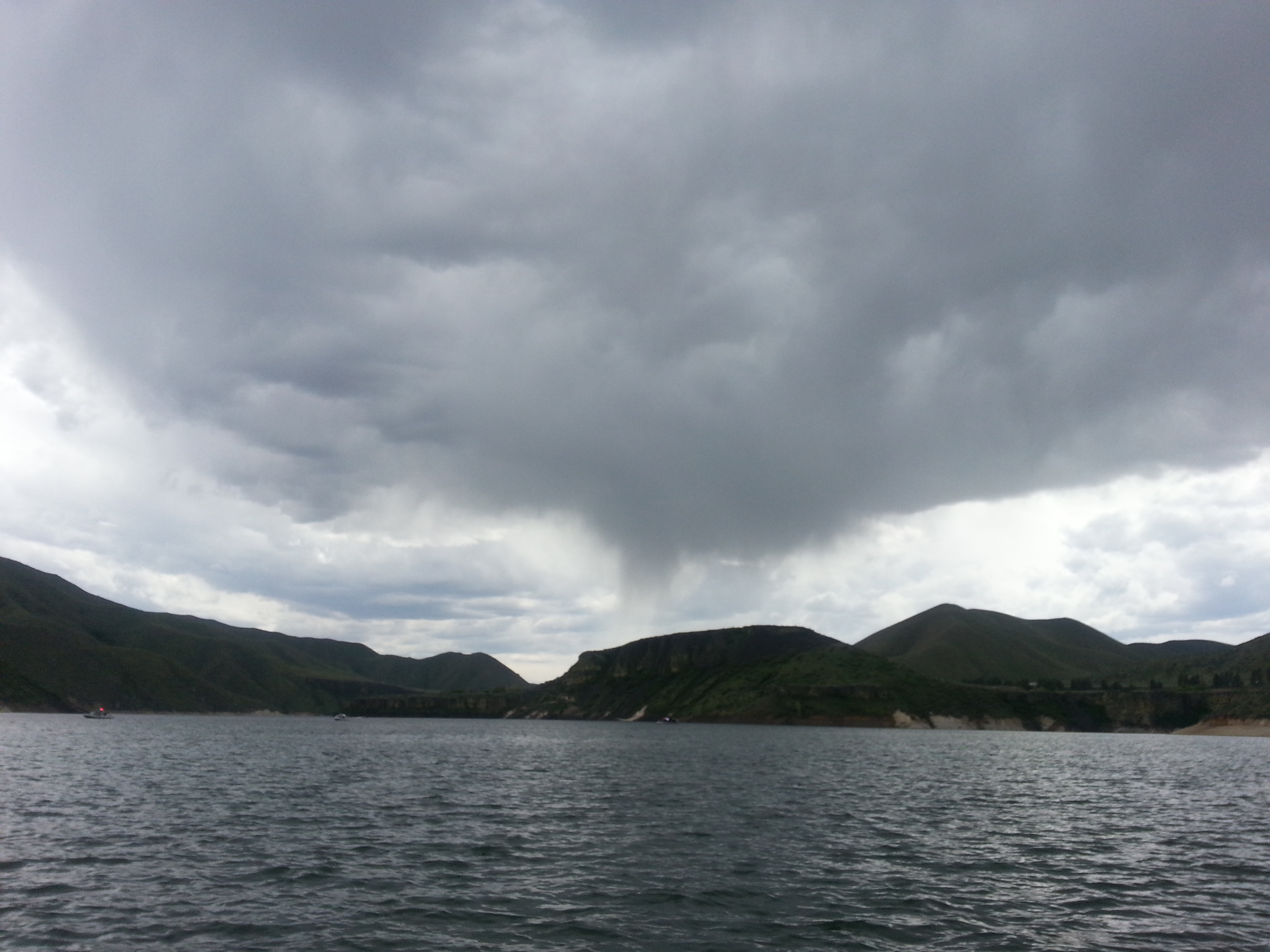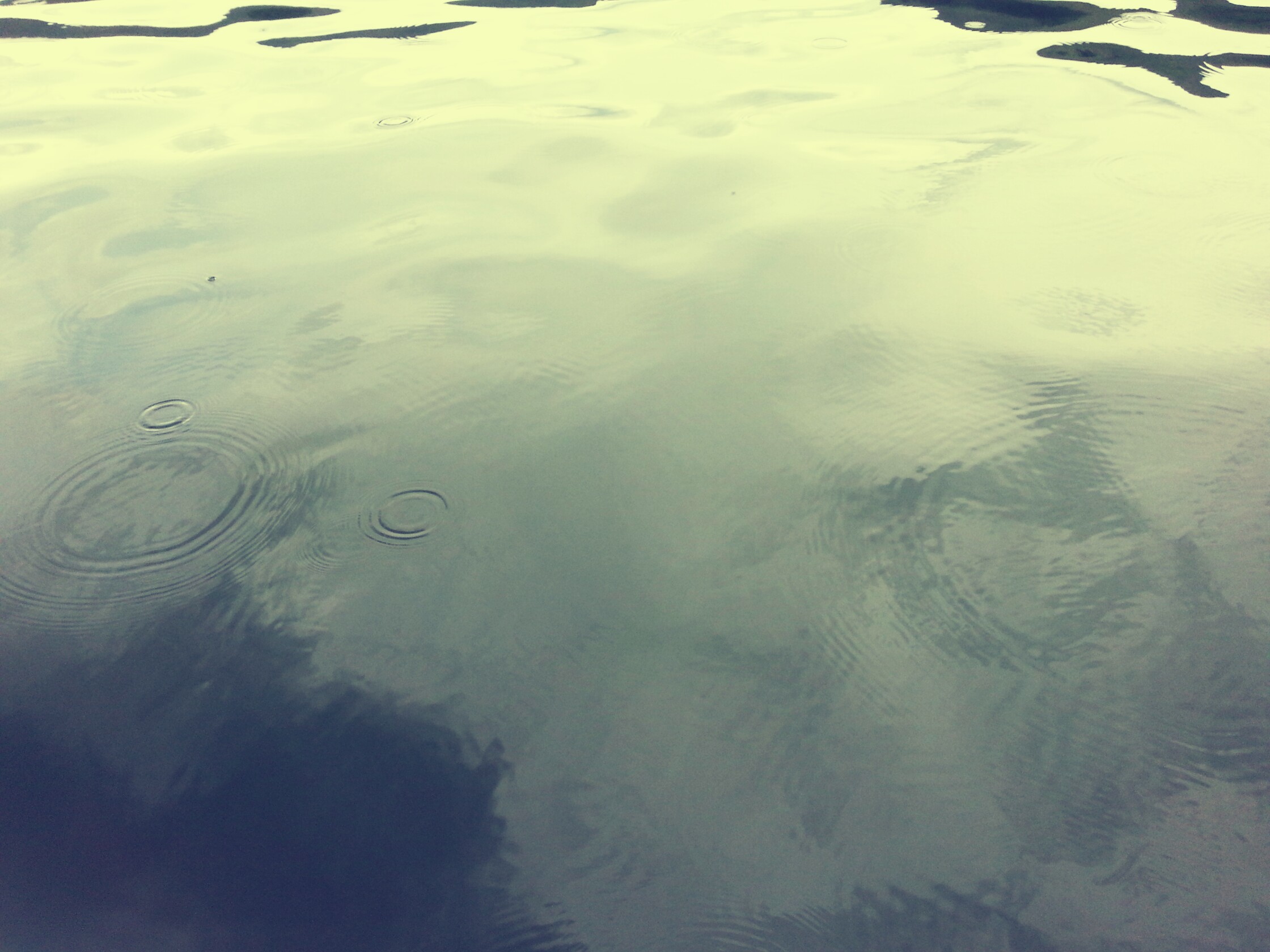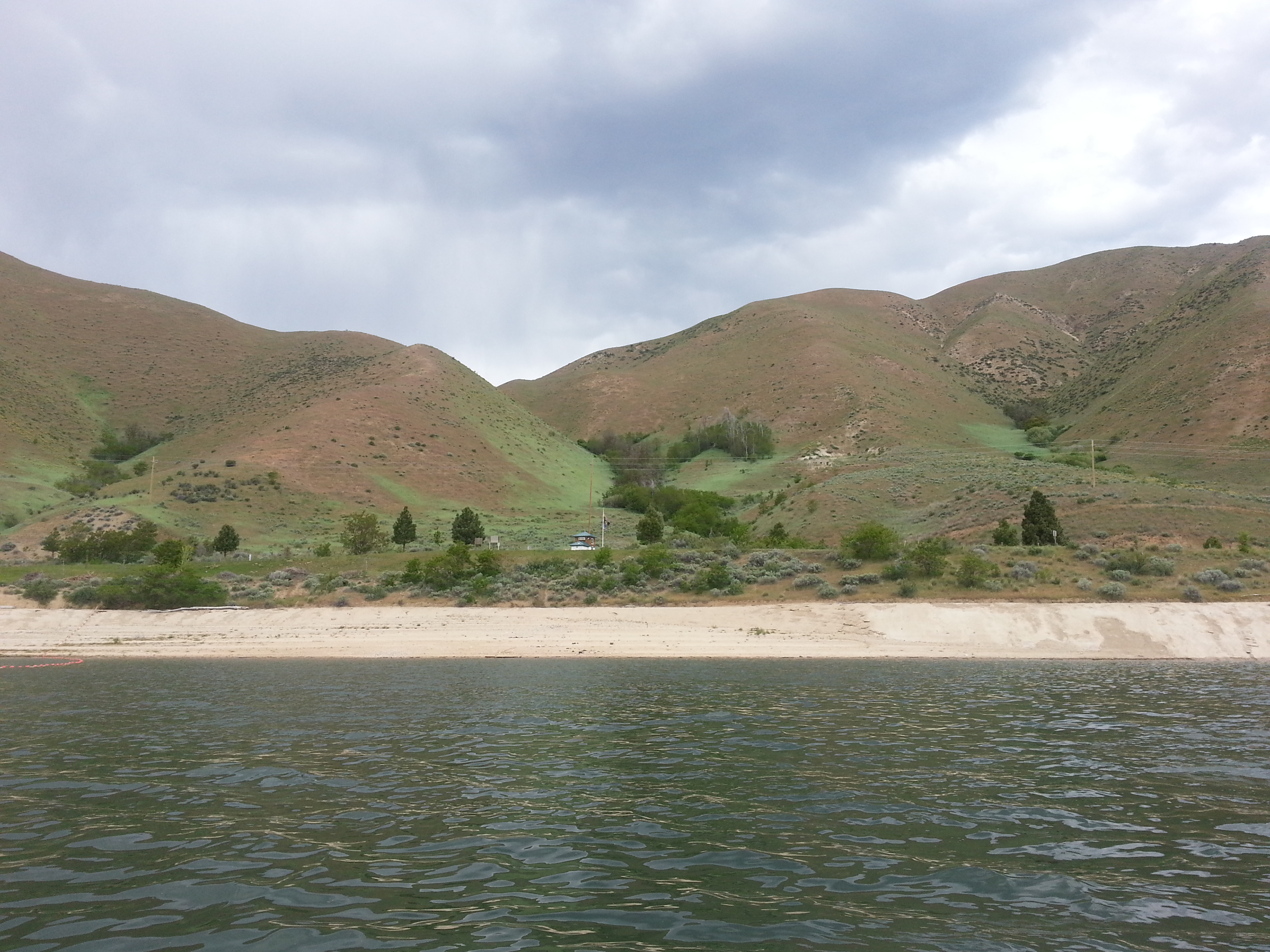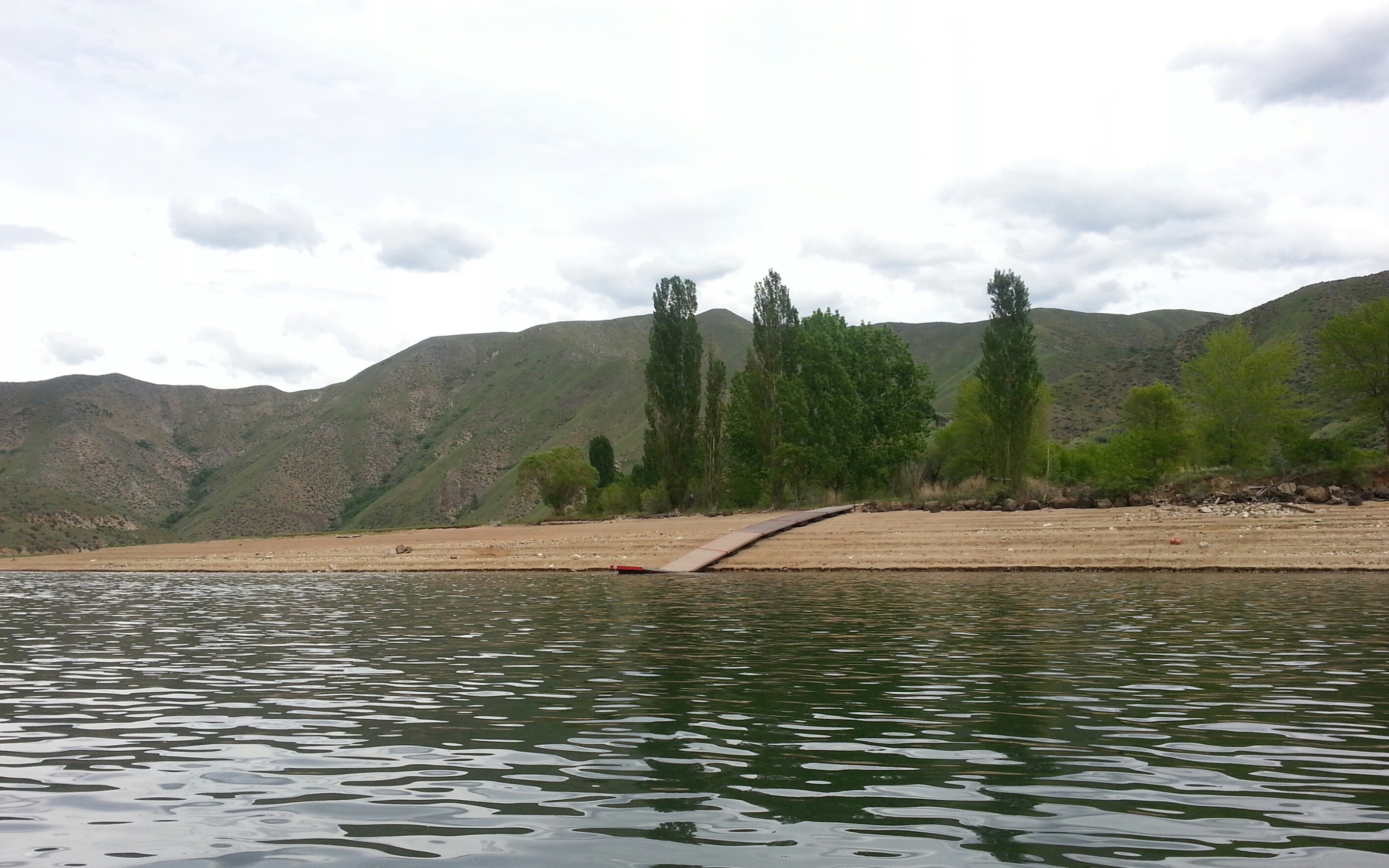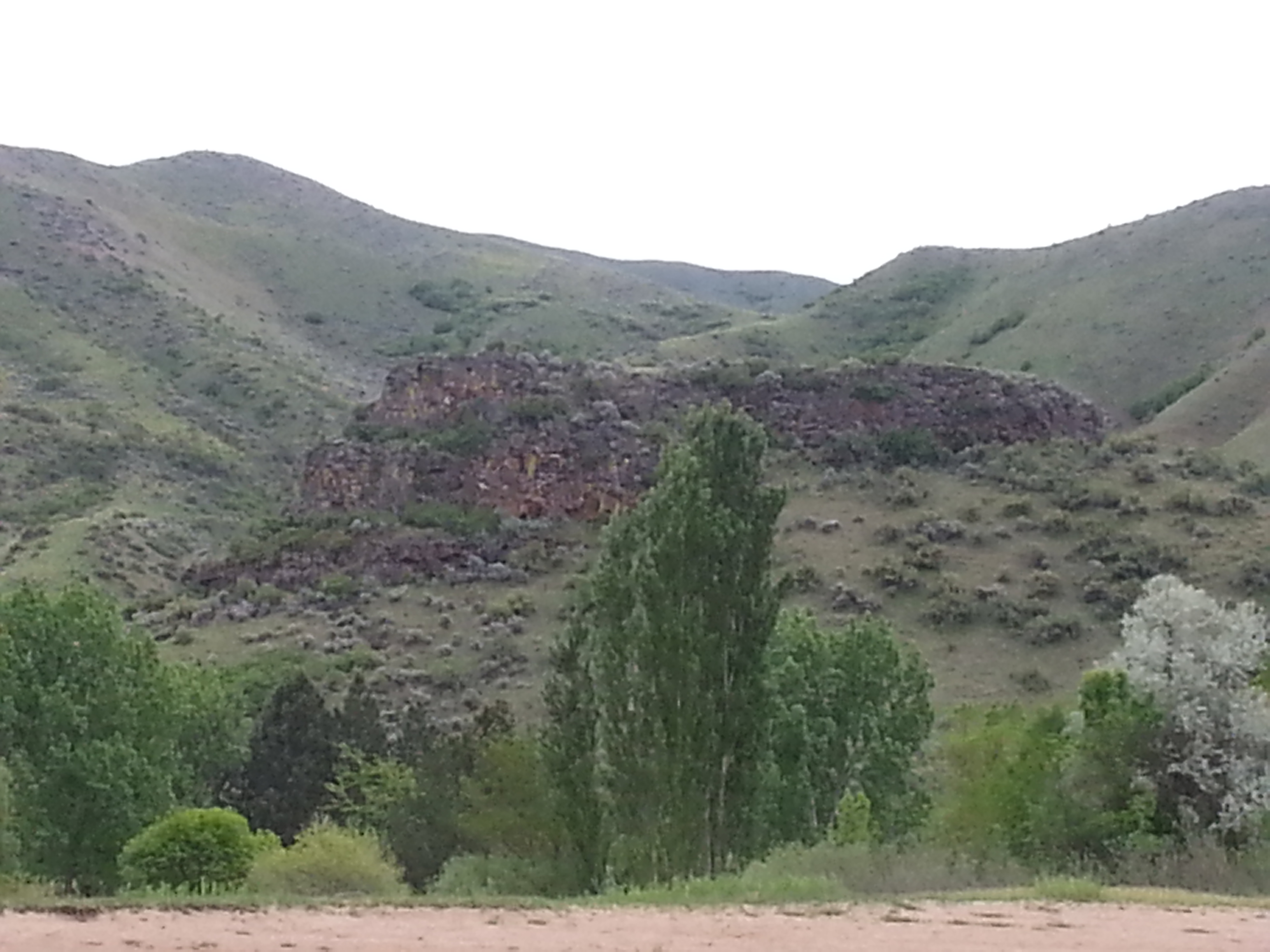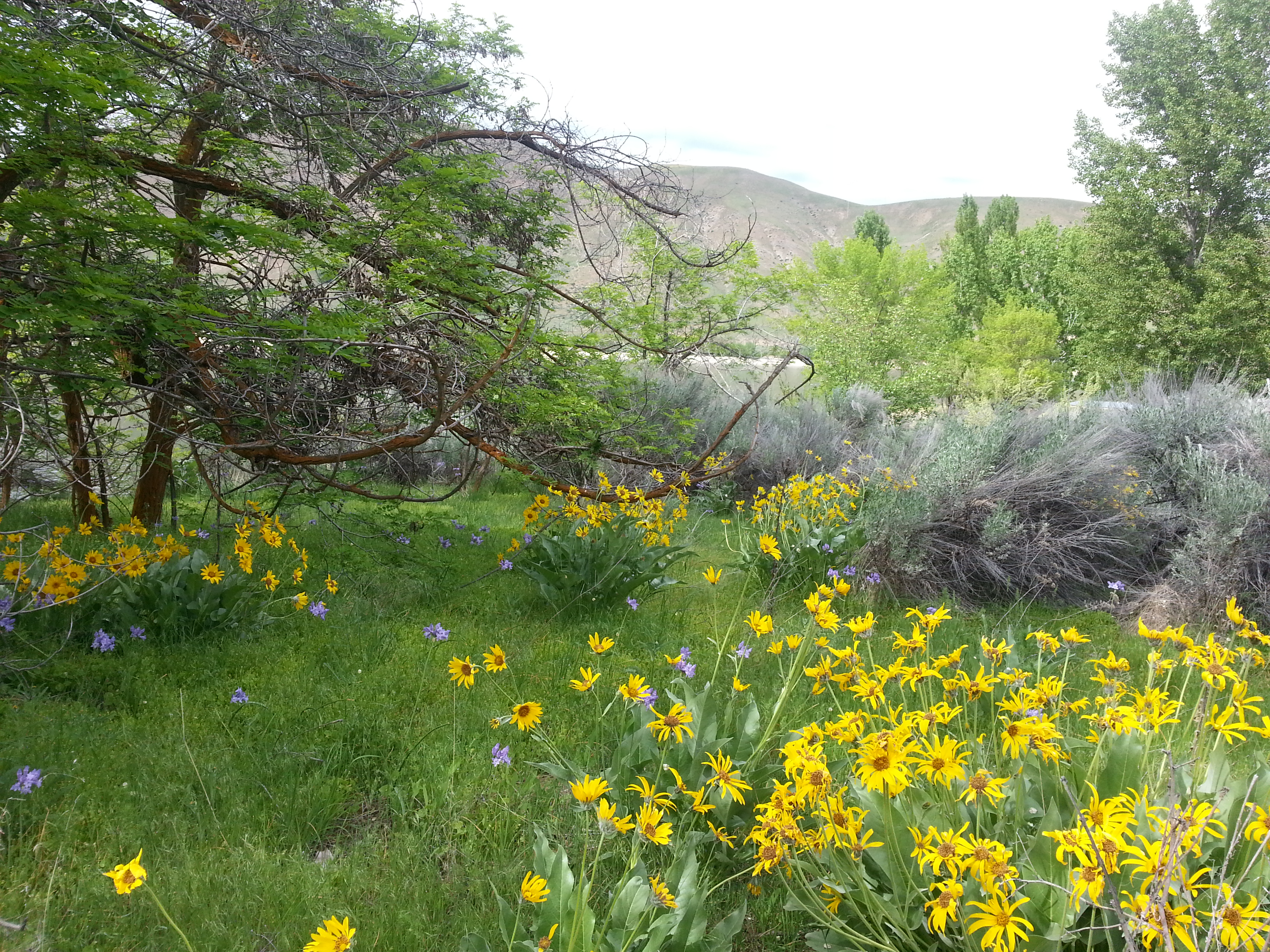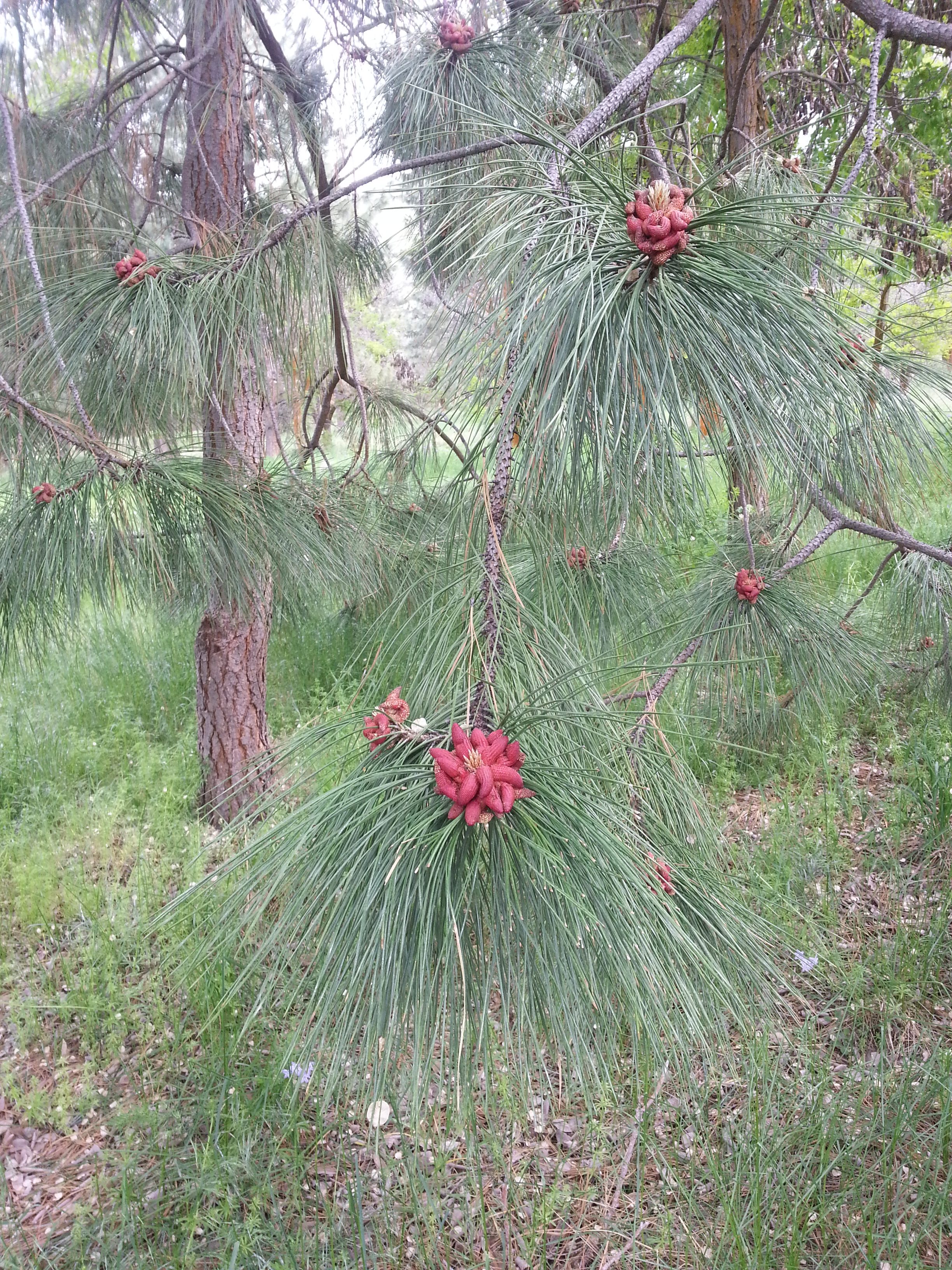 In just a few days, I will be taking a trip to go see family in California. While I'm gone, Jim will move LCC to a new location. I will return home to a new "yard" — most likely in the mountains near a body of water — and our summer adventure will officially begin.
We plan to stay in the northwest this summer, visiting family and old friends, and exploring some of the beautiful places only found in this part of the country. What is your "must-see" northwest destination?