My sincere apologies to all of you for our blogging absence this past winter! Life happens…creative inspiration and WiFi signal, not so much. I'm reminded of Steve Miller Band's song, "Fly Like an Eagle". You remember, don't you? Ear worm? You're welcome. 🙂
Anyway, I'll take a stab at recapping…
We always stick around Boise to celebrate our grandson's birthday (November 4) and so by the time we are able to head south for the winter this time, snow has already made its appearance and temperatures are dropping. We hit the road and deviate from our normal M.O. of about 100 miles per day to travel as far as we can each day to escape the cold.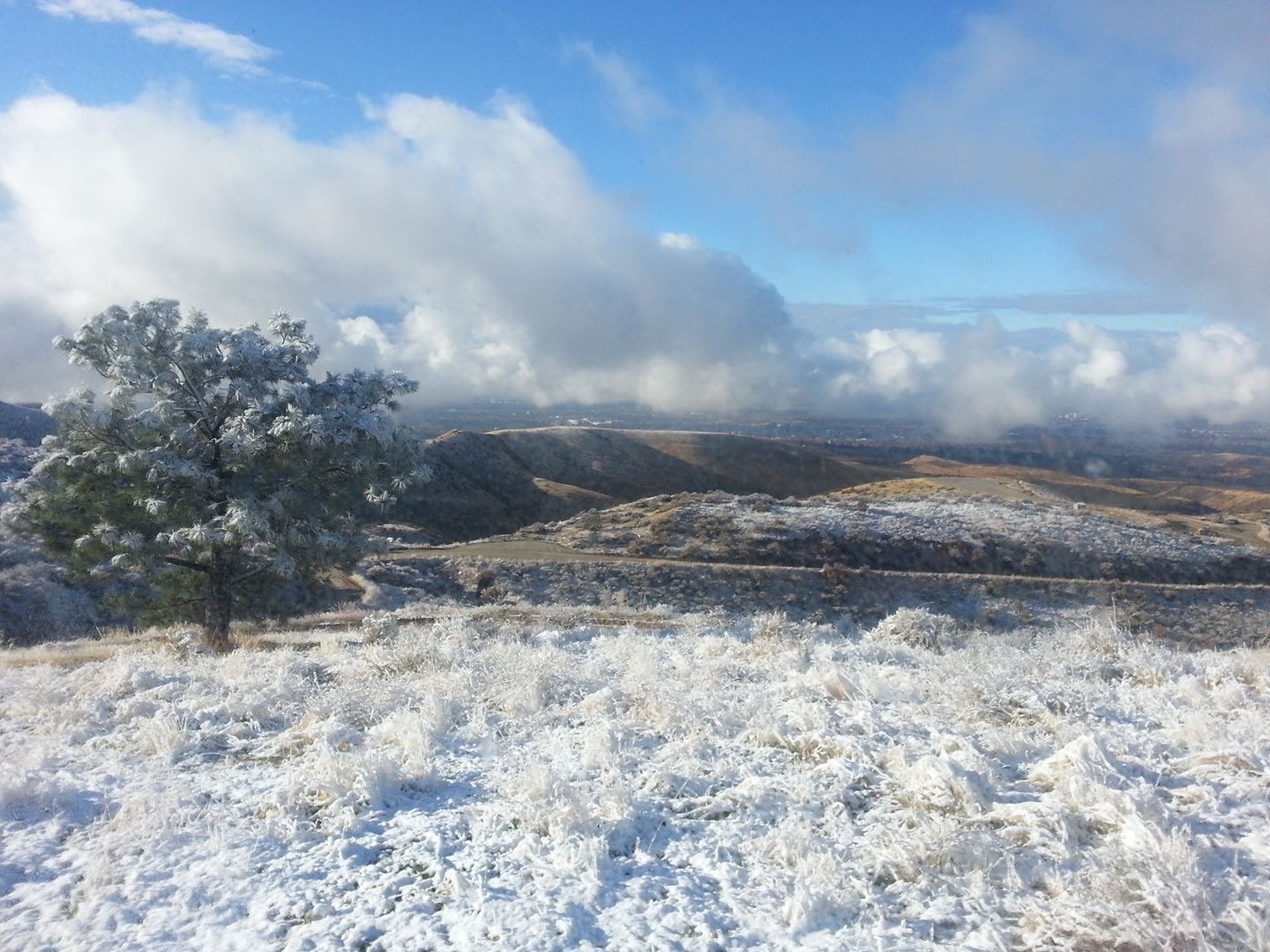 We make it out of snow country without anything freezing. Our first destination is Slab City in southern California. Yay for tank tops, shorts, bike rides, new friends, cool trees and desert sunsets!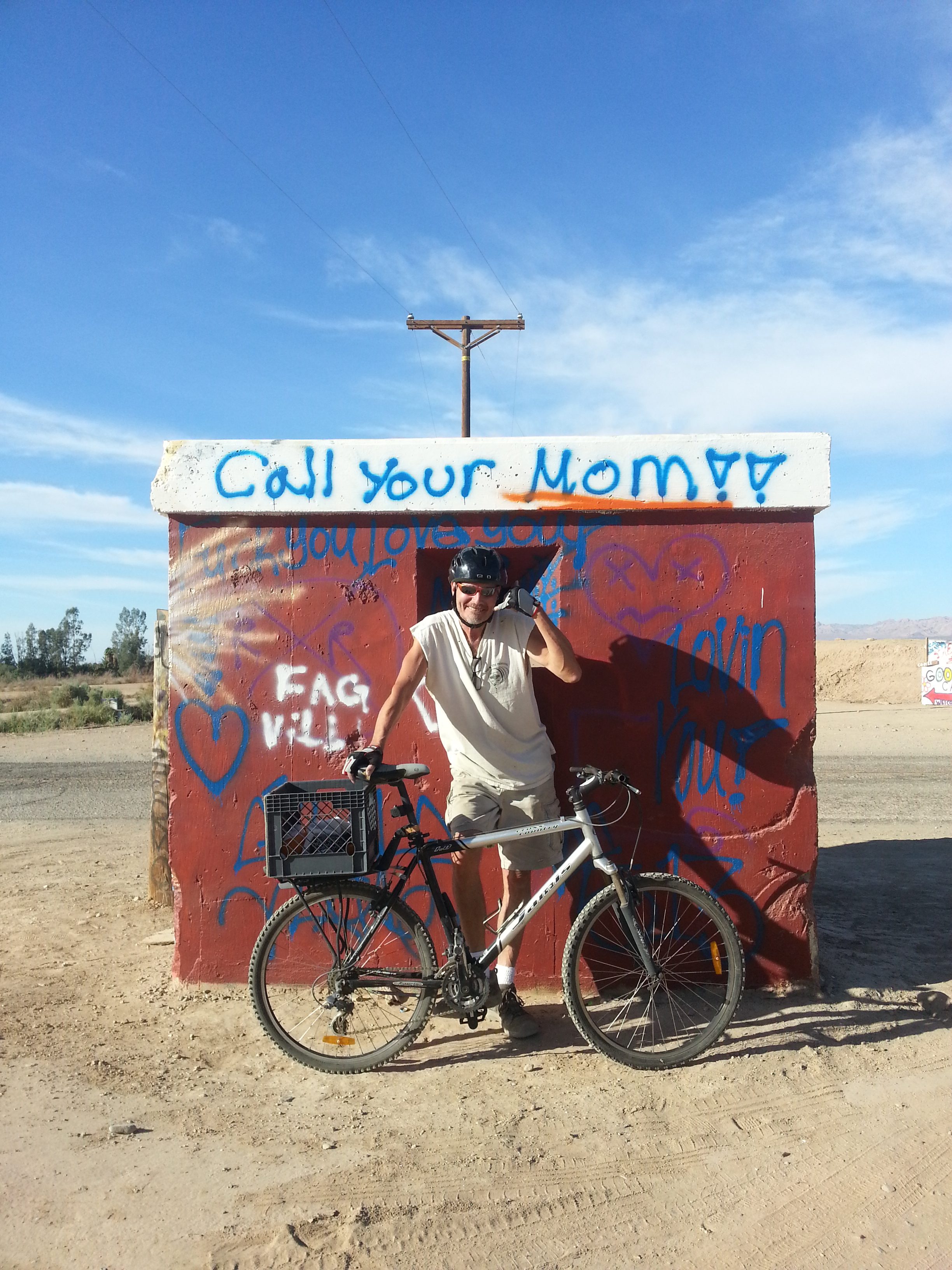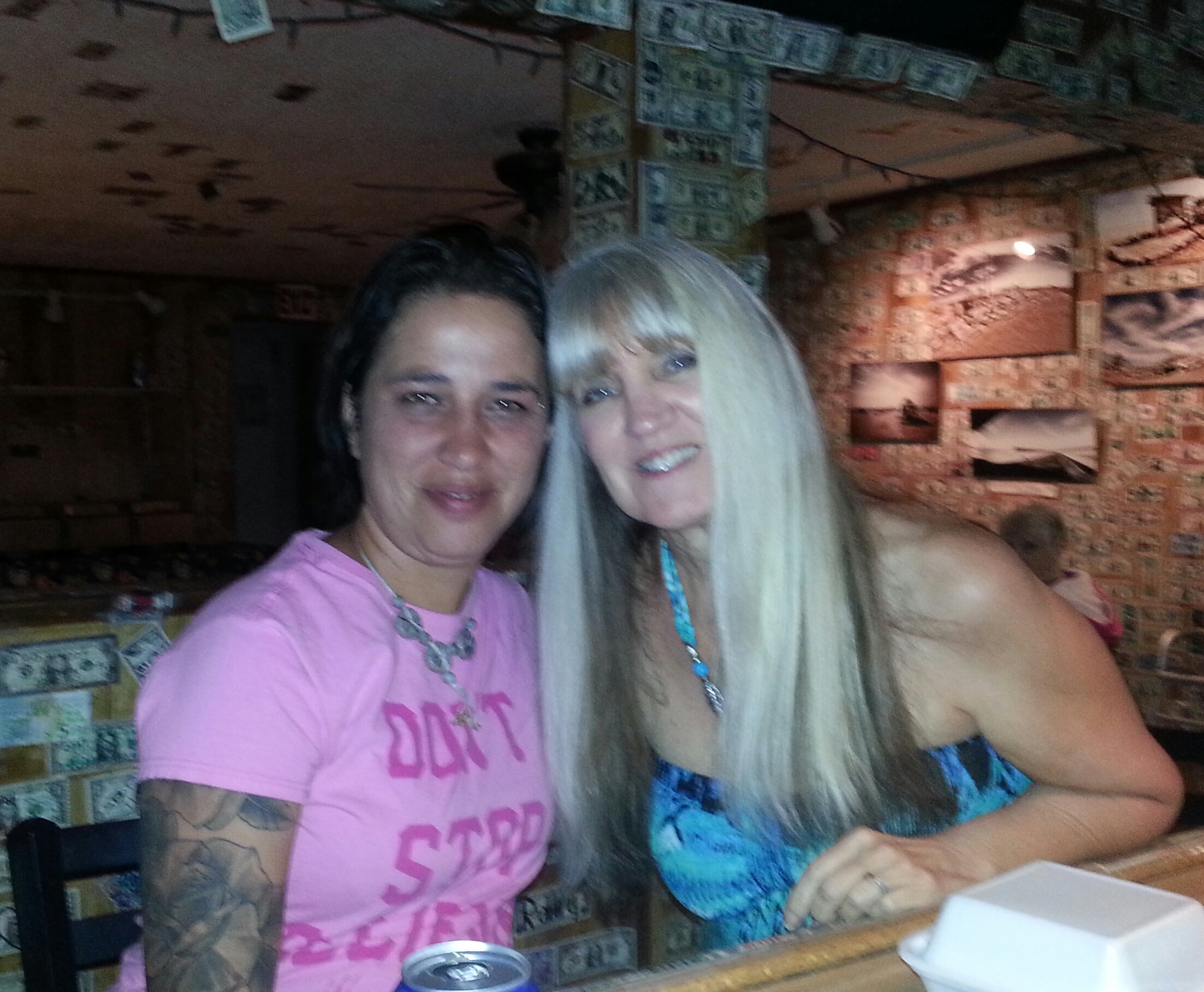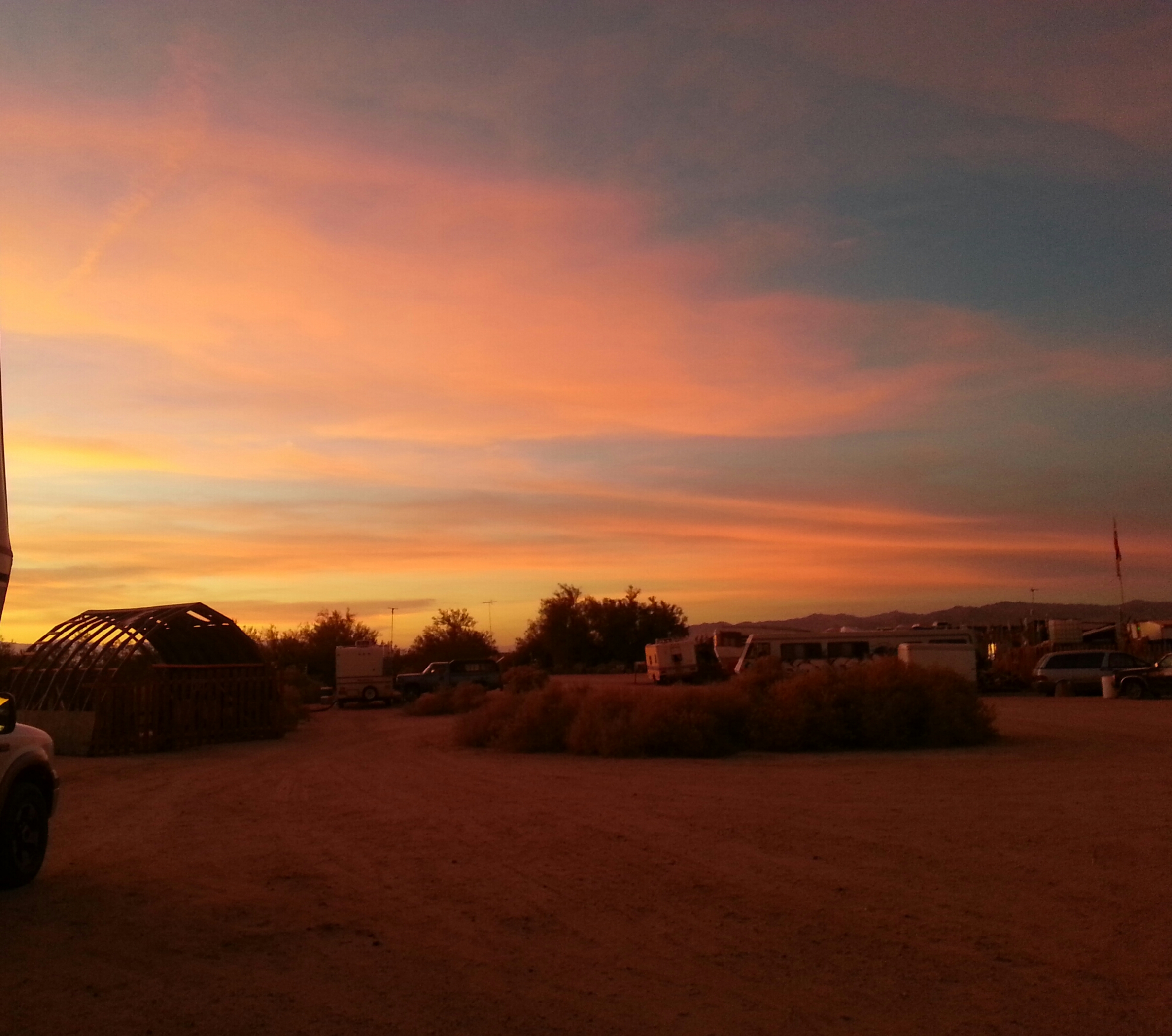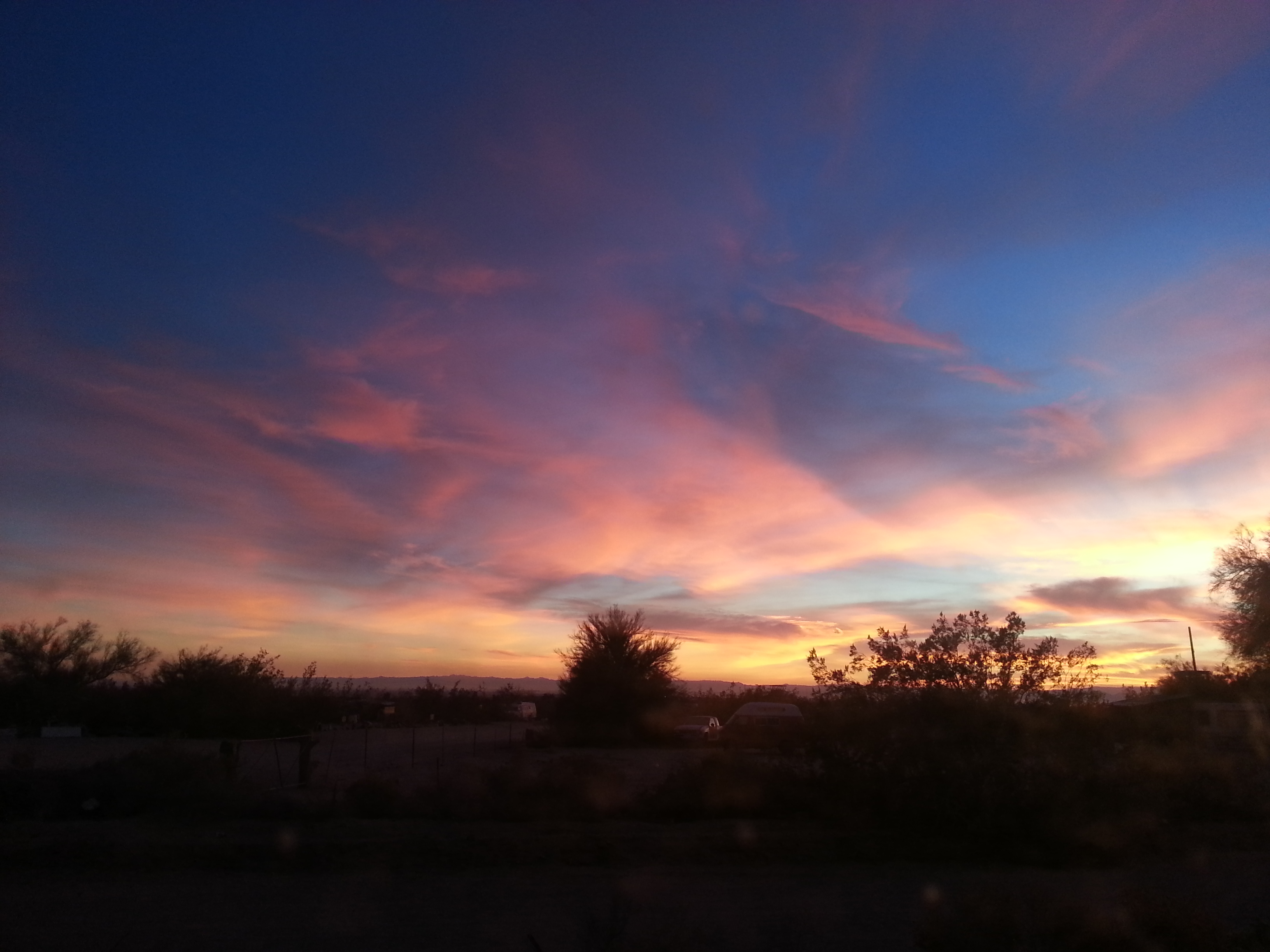 From there we spend the latter part of November and the beginning of December in Southern California with family and celebrate my dad's 80th birthday in conjunction with Thanksgiving. I bake him a birthday cake in a casserole dish (because that is all I can find and we don't have one with us). Maybe I need to get a couple of kitchen items out of the shed and bring them along?
I feel so privileged to get to enjoy time with my dad. I wouldn't be able to do that if we were still stuck in the working world. Just one of the many things I love about our lifestyle.
Our next destination: Christmas in Virginia! We don't try to take the 5er all those miles this time, we fly instead. The visit with our "far-away kiddos" is a special treat—makes this Grammy's heart happy! I even get to do more baking.
Then it is back to Slab City for January. More work on the "barn" is on the agenda. Remember all that work Jim did to secure the tarps against the desert weather? If not, here's a reminder. (You can see his post, "Building Our Barn" for more details if you missed it.)
Well…mother nature won this round. The tarp is shredded so we tear it all off and just put another row of OSB and another coat of paint. I help with the painting but I can't prove it. 🙂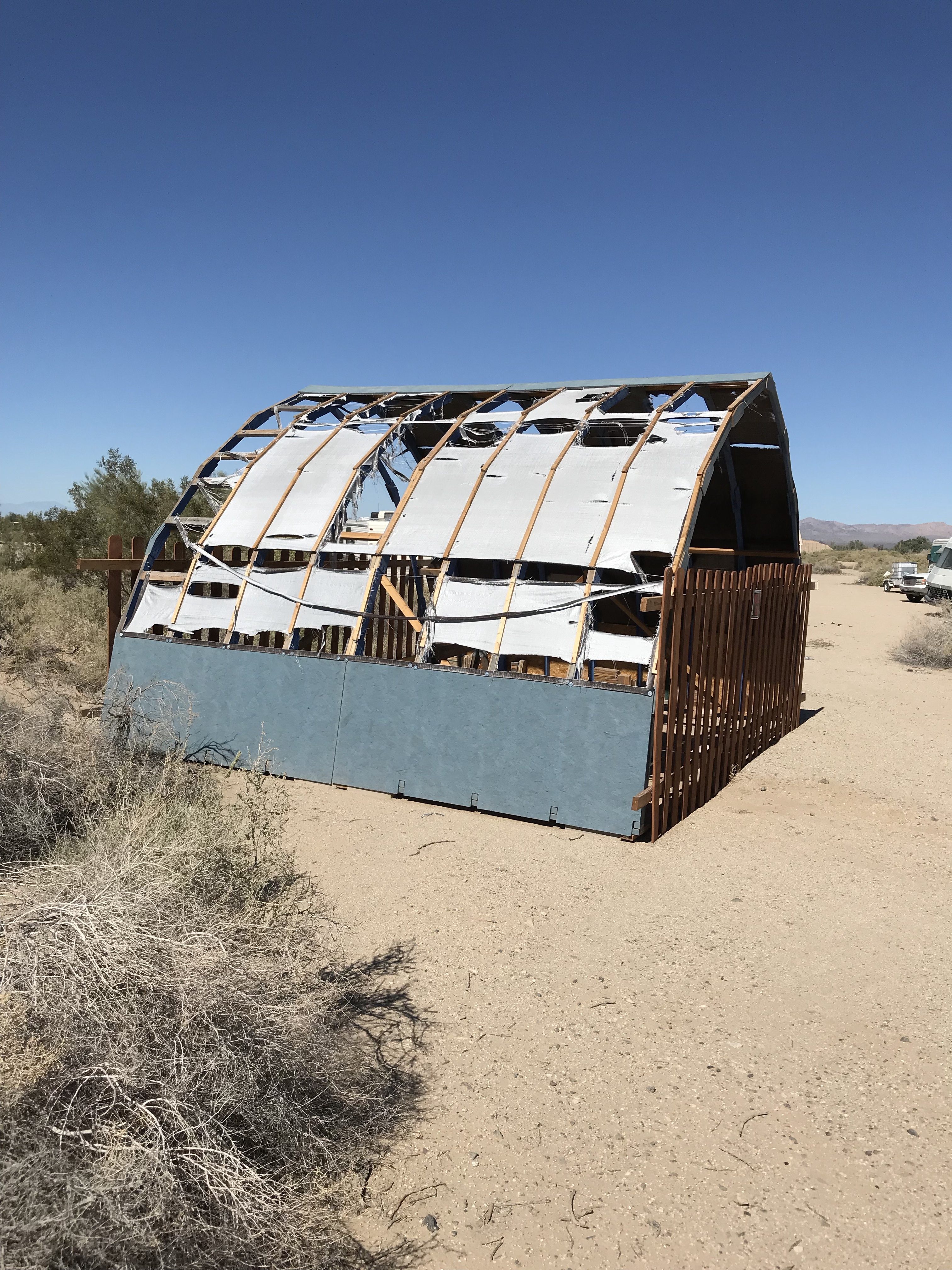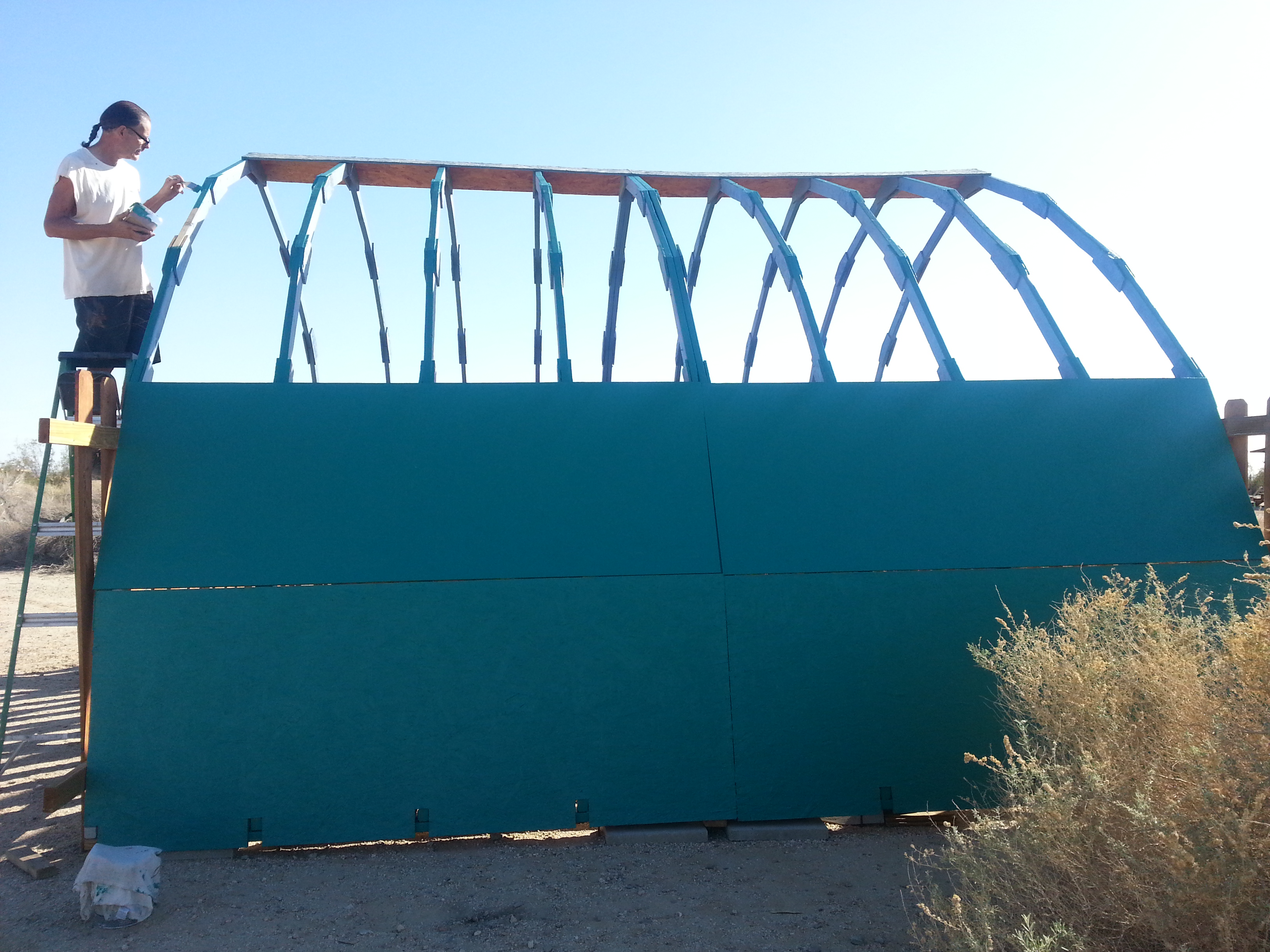 Tuesday evenings at the California Ponderosa—where we are lucky enough to get to park—is $2 chili night with blazing campfires, tasty food and lively music. Sometimes even serious orchestra-worthy musicians show up. It may not look cultured but it really is at times true musical artistry. Such a treat!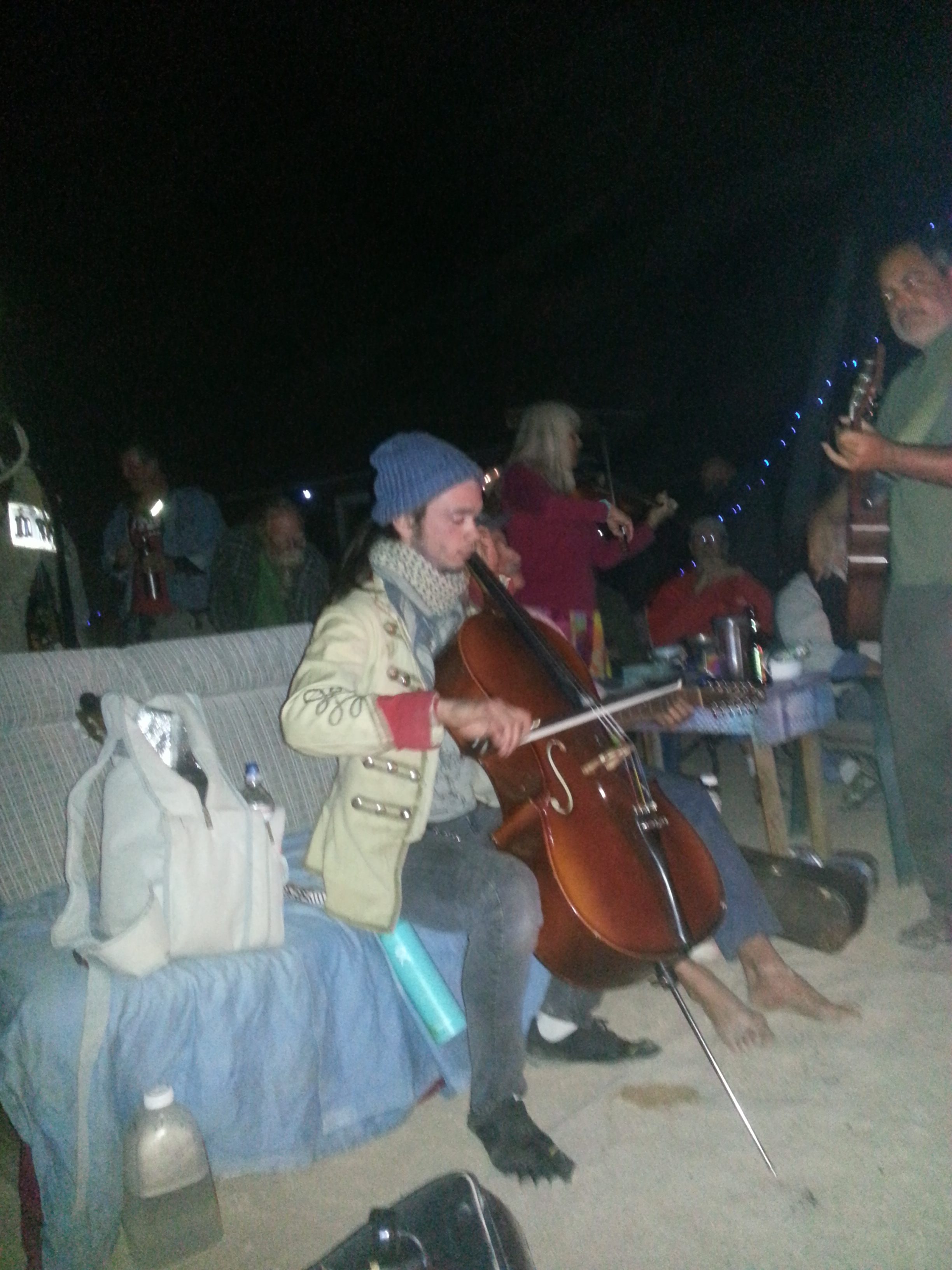 Also notable during this sojourn at the slabs is our first time to be stuck in the desert sugar sand. One afternoon, a young man passes near our camp and stops to ask if we have 4-wheel drive–says his small car is stuck. Jim doesn't hesitate to offer to help, of course, so they jump in the truck and head out into the hinterland. But he doesn't even make it all the way to the lad's car when our BBT (Big Bad Truck) sinks in the sand and it turns into quite an ordeal. We have to leave the truck where it sits overnight and then solicit help from our neighbors next morning. As it plays out, all efforts are unsuccessful and the young man has to call a tow truck. The nearest tow company is in Brawley–about 20ish miles away–and the clock starts ticking when they leave the shop. Since our truck is blocking access to the small car, they have to pull it out first. The total bill for their services is $1000(!) which the young man paid. We feel bad but we don't have resources for a $500 tow bill (and the only reason the truck was even out there was in response to the fellow's request for help). Jim admits it was a good lesson and he will be much more cautious in the future, especially in the desert environment.
~~~
Yet another reminder that time is fleeting, February brings a significant event for me personally…I turn 60 (gasp!). It is still difficult for me to wrap my brain around it. 60??!! I always thought at 60 I would be seriously old (smile). I could wax retrospectively sentimental here, but perhaps another time…
We celebrate in the "city" (nearby Brawley, to be exact). Our dining options are limited but we find a nice sports bar where we have some tasty food, good beer and watch the Eagles beat the Patriots in Super Bowl LII. We don't watch TV anymore so it is fun for me to see a good football game. Special occasion or not, it's always nice to go out with my sweetheart.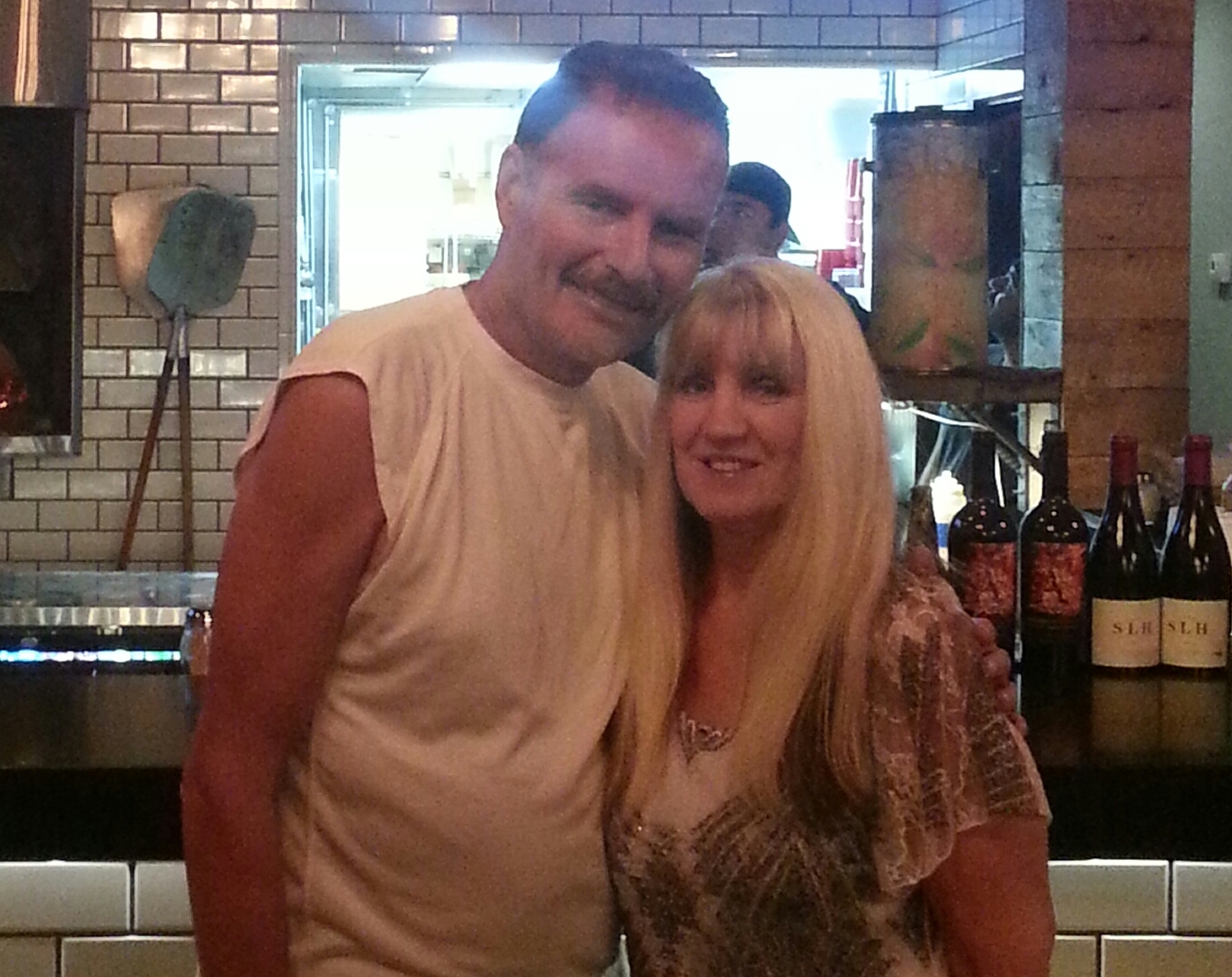 After celebrating the big event, it's time to move on to our next adventure. We head to Ocotillo Wells Recreation Area near Borrego Springs, CA. The area is a very popular with the OHV crowd–so sometimes a bit noisy–but we have a nice level *FREE* spot close enough to the Visitor Center that Jim can connect to the free WiFi signal—albeit a weak one—on his laptop. Sadly, my iPad does not pick it up…but that's okay, I still like to read.
The first night we take advantage of the fire ring and burn our mail. On the rare occasion we do build a campfire we always say we should do it more often. So why don't we?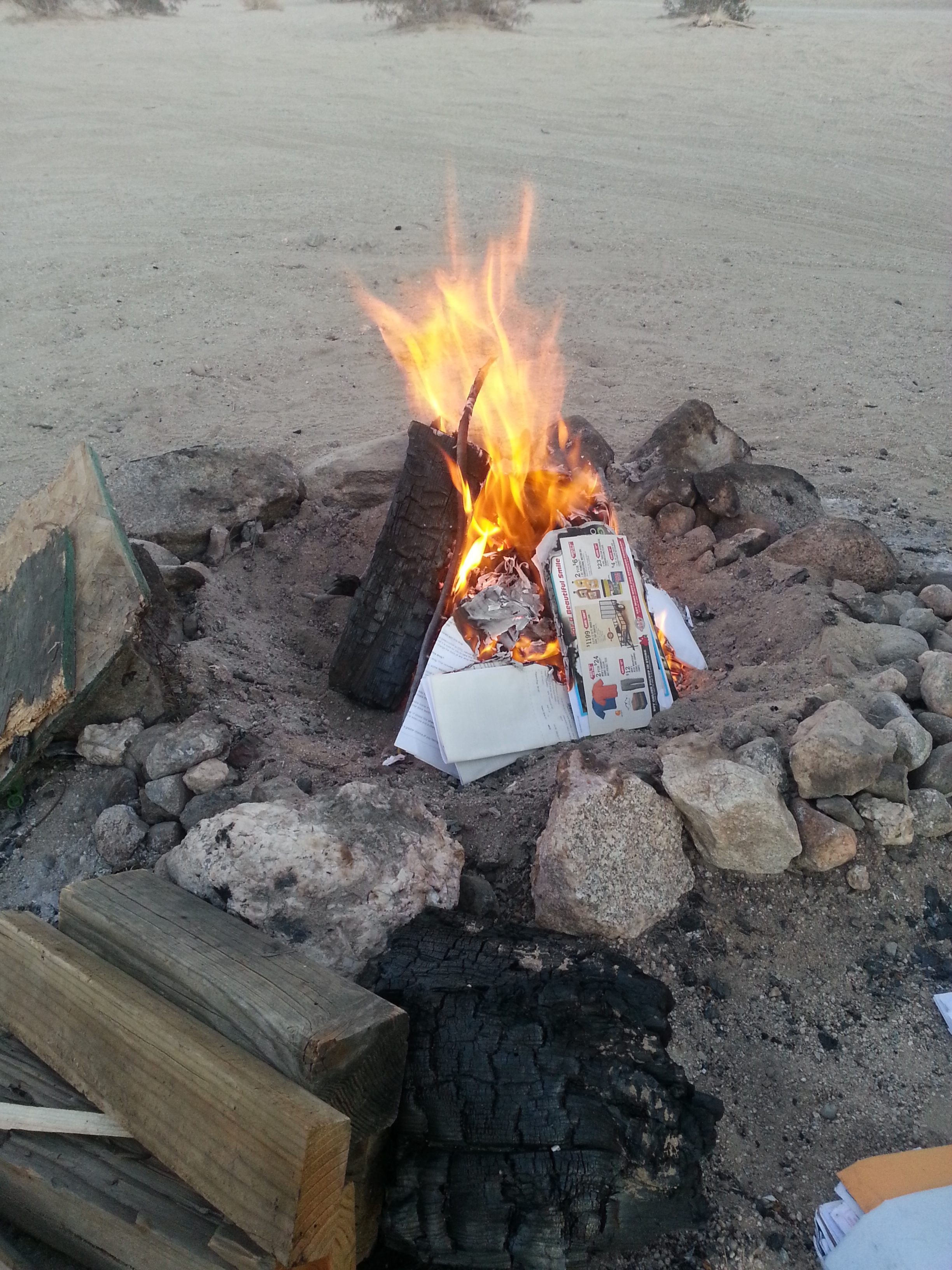 And you know I can't talk about a new place–especially in the desert–without the obligatory sunset photo.
We only get out to explore on foot a couple of times because the wind kicks up making it miserable to be outside being sandblasted. Next time, we hope the weather cooperates so we can hike some of the many trails in the area. This is the view out our living room window on quite a few days.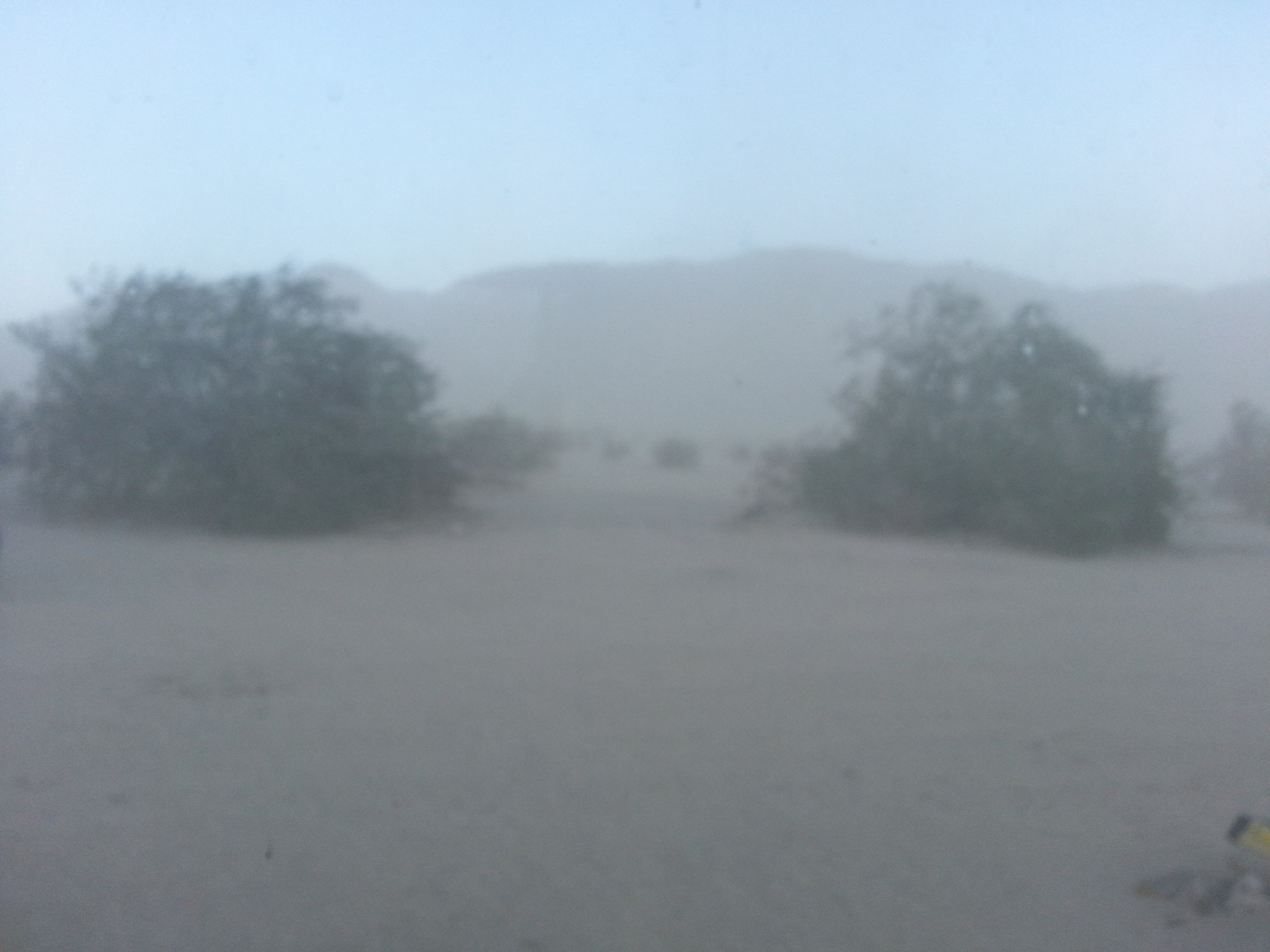 But there are miles and miles of sand to blast around on with an OHV, if that's your thing. Ocotillo Wells Vehicle Recreation area boasts more than 85,000 acres of desert to explore on your wheeled toys. And one can camp almost anywhere you're brave enough to venture out into the sand. Additionally, BLM has large tracts of land bordering the area. And the western boundary as well as part of the northern boundary connect with the 600,000-acre Anza-Borrego Desert State Park, which is closed to off-highway recreation, but open to exploration by highway-legal vehicles along established primitive roads.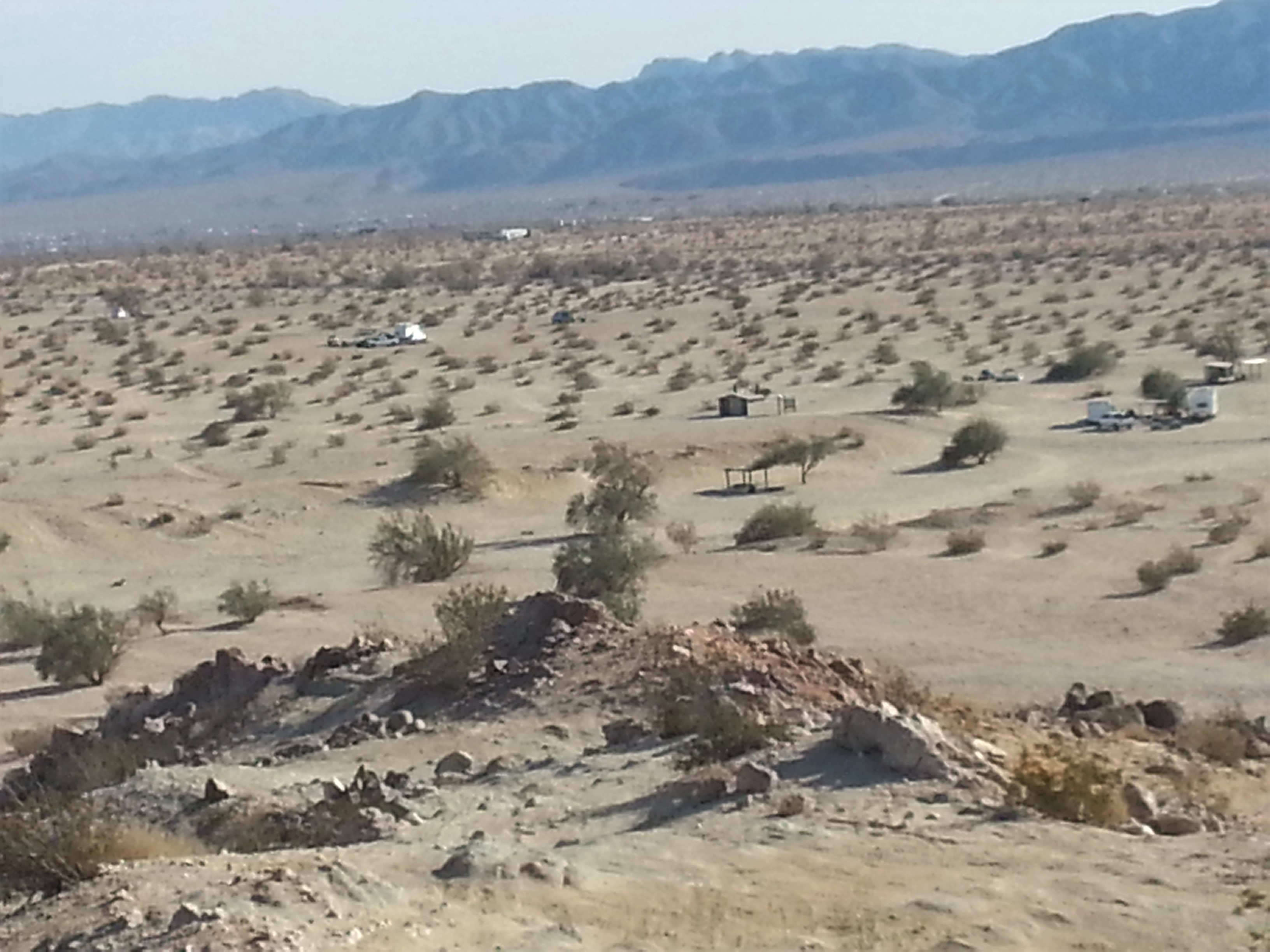 March 7 is our anniversary so we drive into Borrego Springs to see if we could find a fun place to have a celebratory lunch–preferably Mexican food and a beer or margarita. Los Jilberto's Taco Shop is one of the few restaurants open in mid-afternoon so we venture in. I really want an adult beverage for the occasion but we don't see any on the menu. Jim asks just to make sure, and the young lady at the counter said they don't have any but we can go next door to the liquor store, buy something and bring it back to consume with our meal. Really? Cool! Options are a bit limited at the little store but after some deliberation we choose Guinness. Then it's back to the taco shop, beer in hand. We order, sit down and toast our special day. However, it isn't long before a gentleman—a manager, we presume—comes to our table bearing large to-go cups. Apparently, we have to disguise our beer. Guinness in a styrofoam cup just really isn't the same. Oh, well…it is another "first" in our adventuring. Why didn't I take a picture of this unique experience?!
The wind diminishes enough for a return visit to Borrego Springs to view some of the metal Sky Art. These sculptures by artist/welder Ricaro Breceda are amazing! There are over 130 works of art scattered in and around Borrego Springs. Don't worry, I don't have 130 photos to share (smile). We didn't get to them all due to the inclement weather but I'm sure we'll visit the area again.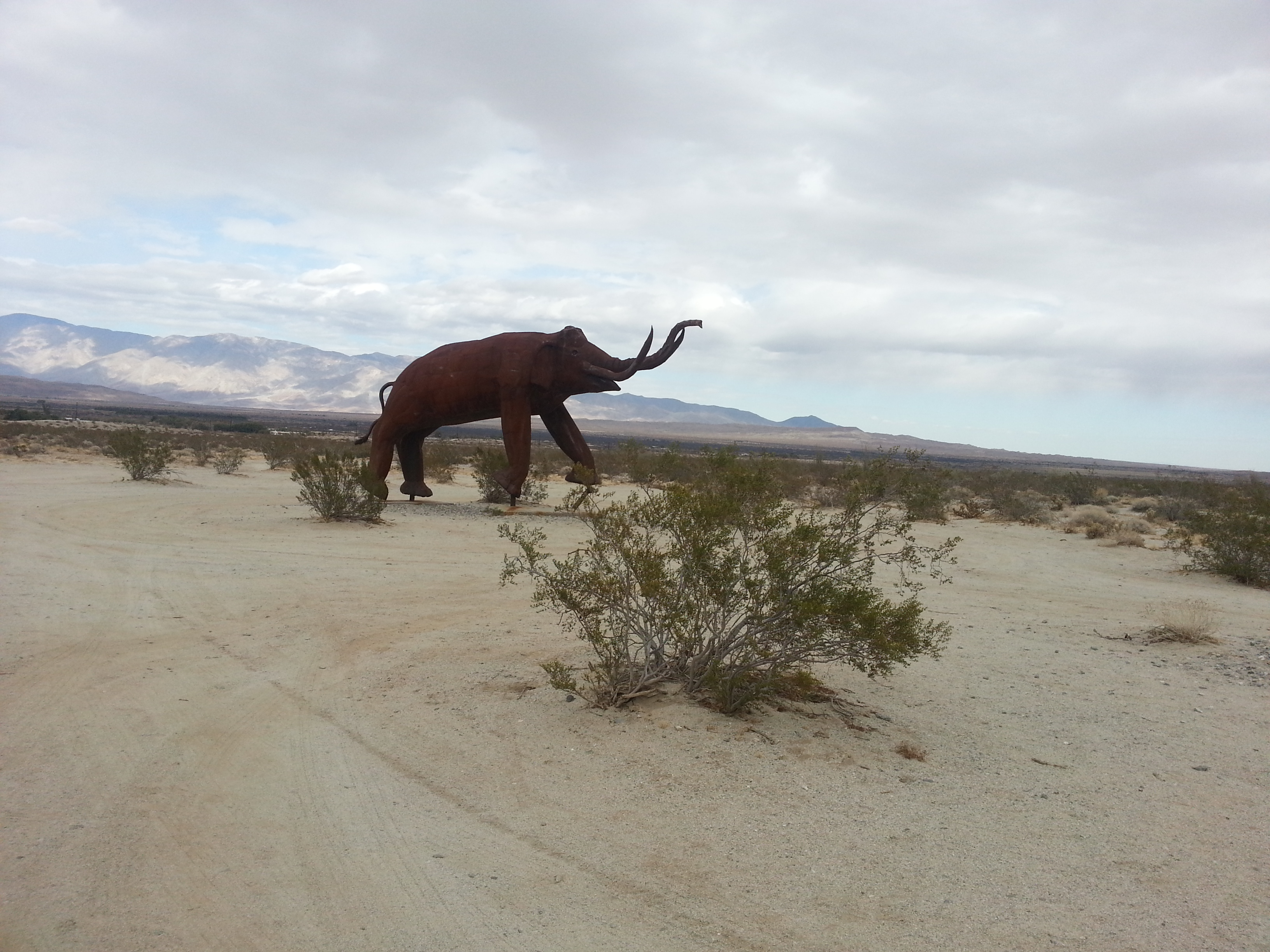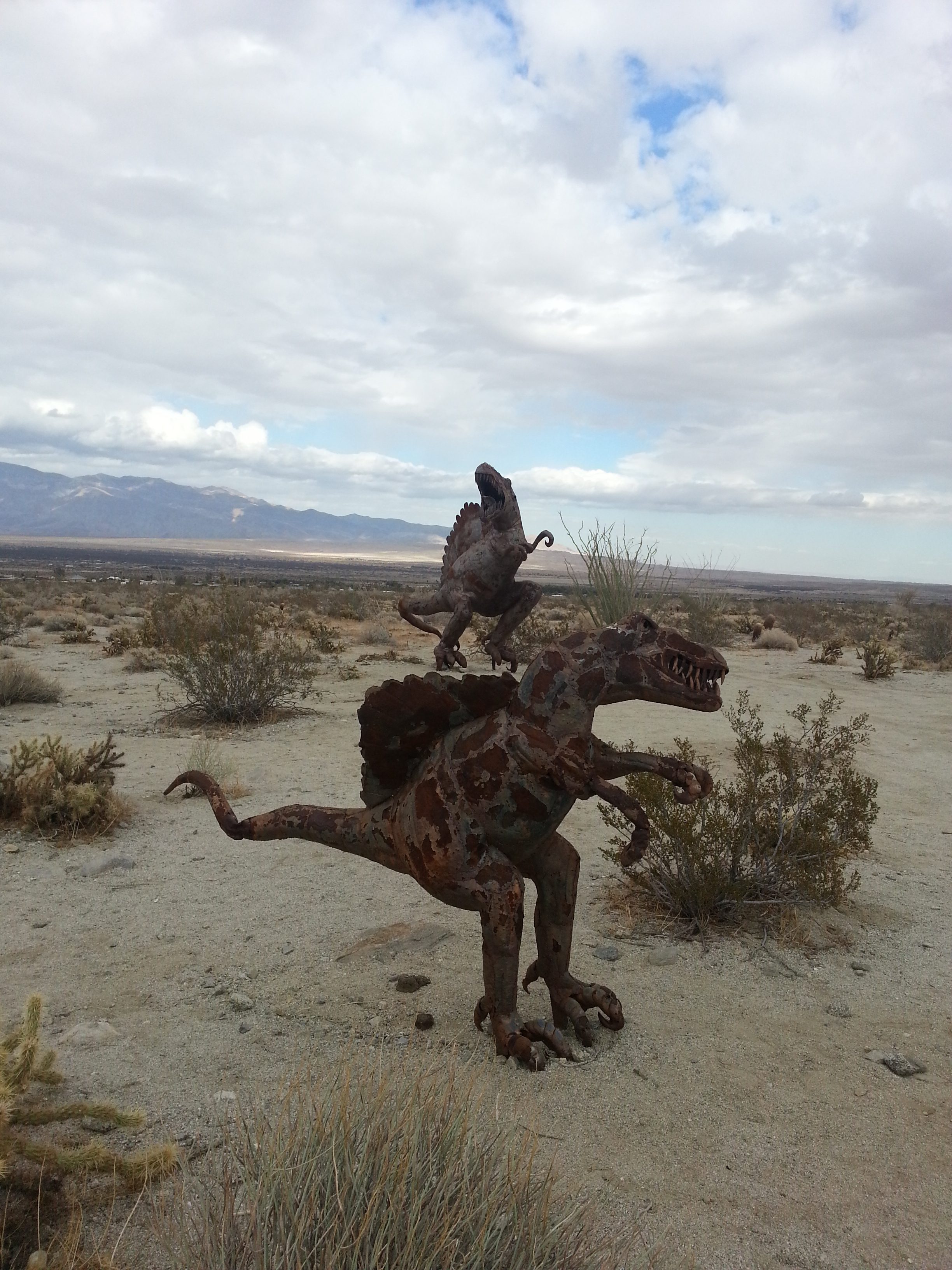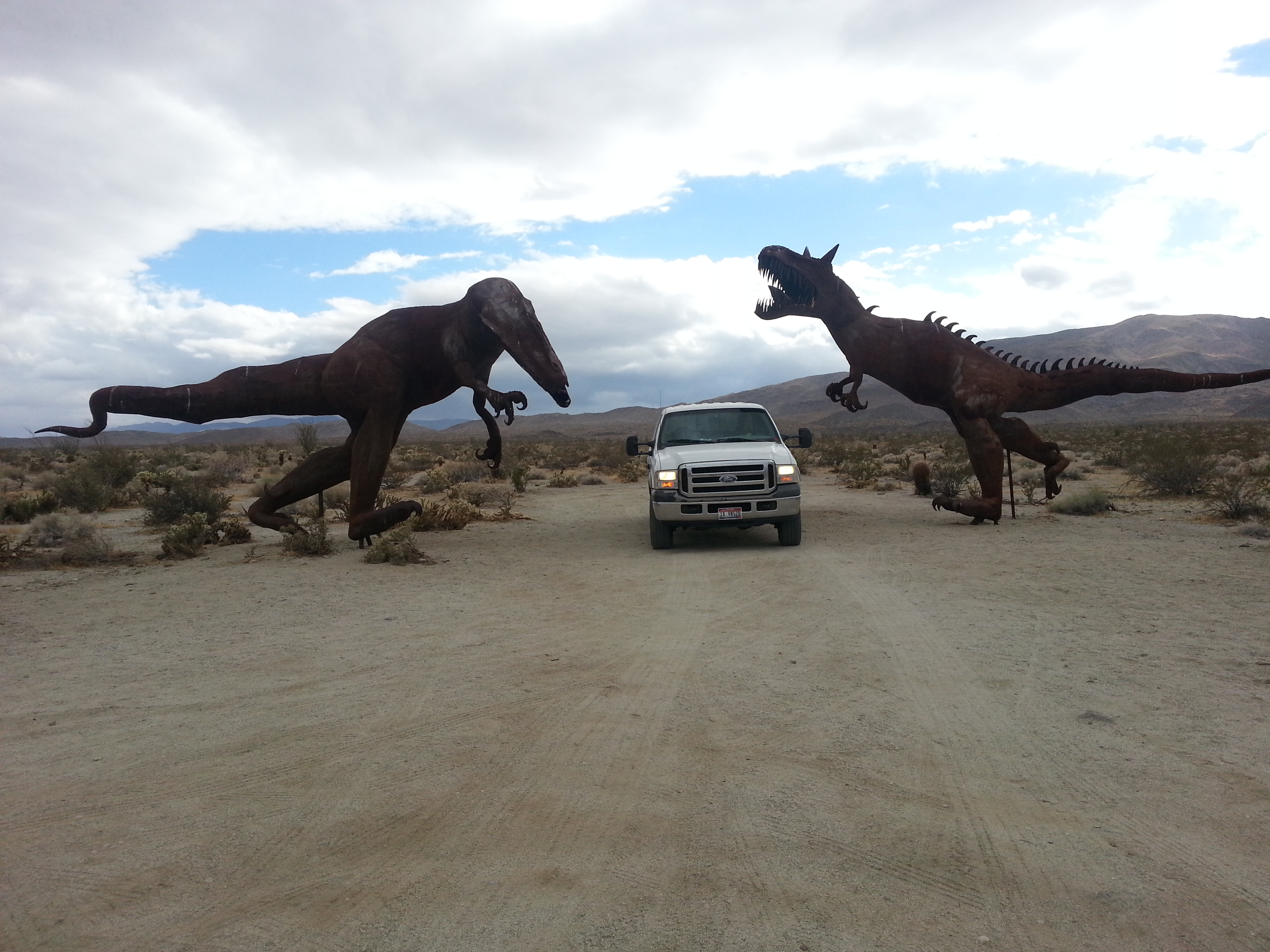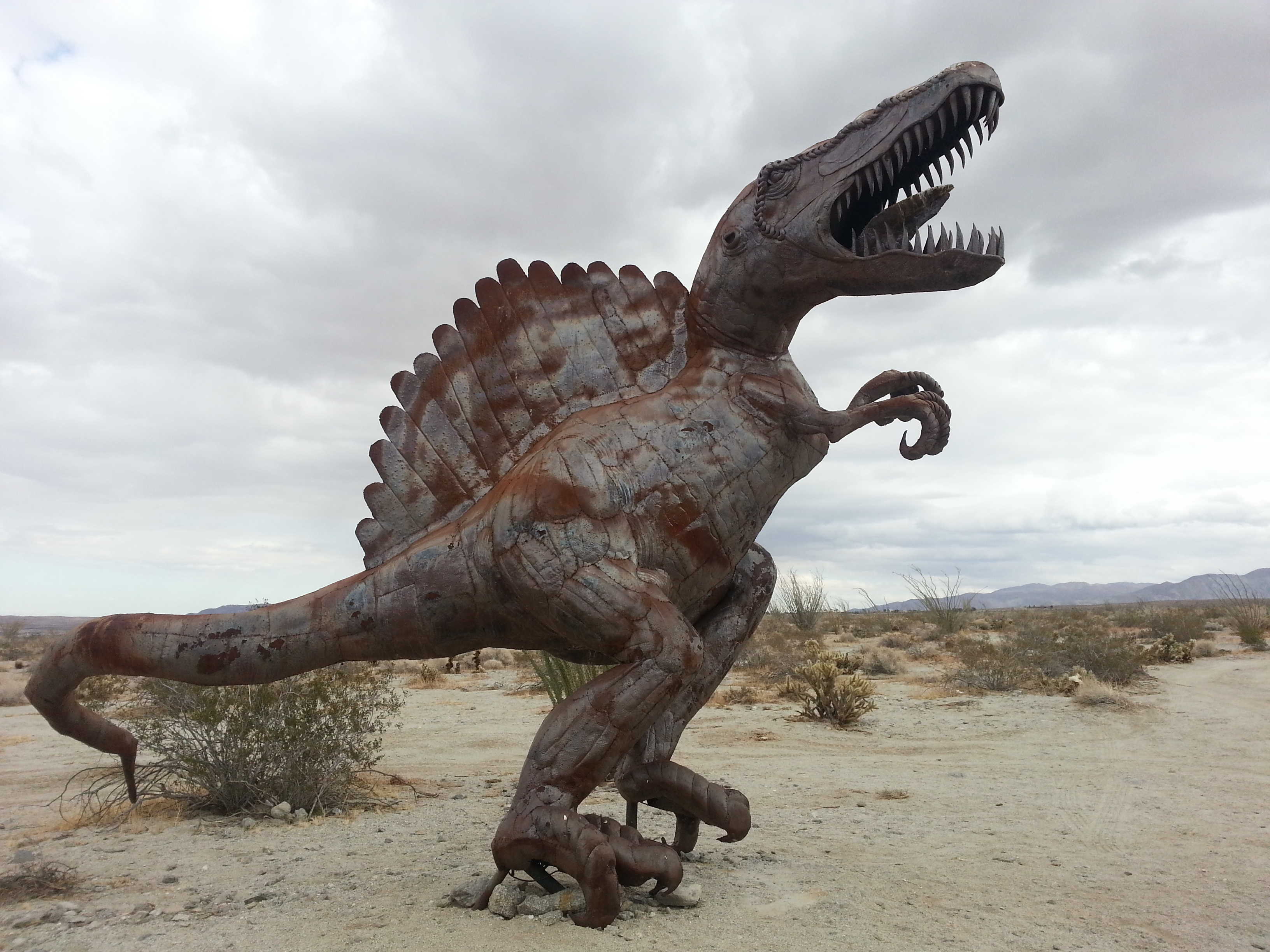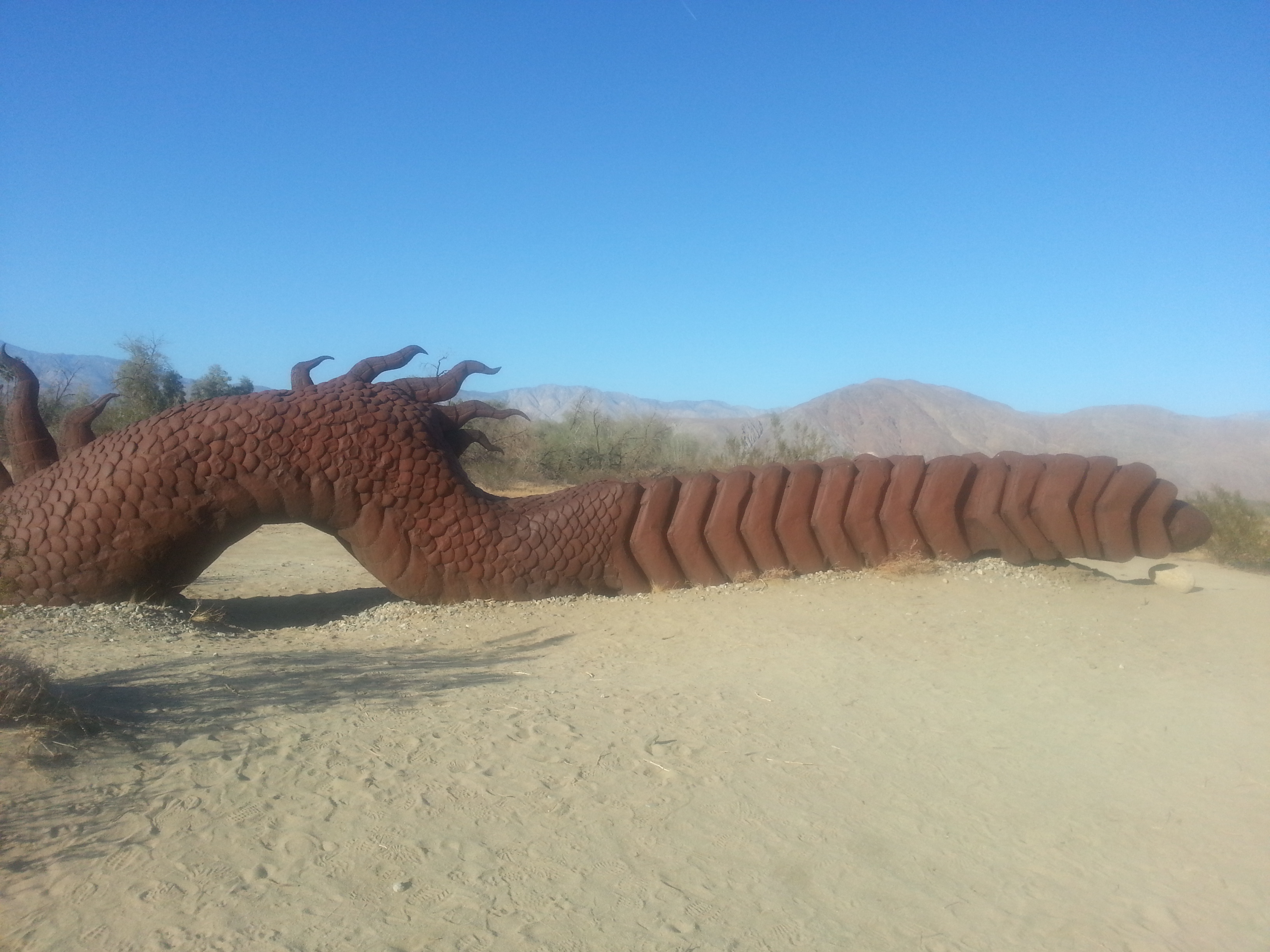 We stay at Ocotillo Wells for just under the 30-day maximum. On our final evening we are bid farewell by a spectacular sunset. And so I leave you…for now.