We have five grandchildren, three of whom live in Idaho and the other two are far away in Virginia. This year, the east coast family planned a visit to Idaho for Spring Break so, since we wouldn't miss an opportunity to hug those kiddos and be part of the fun, we headed north in mid-March…earlier than we would have otherwise.
In preparation for our trip homeward, Jim spent some time on our favorite resource for free boondocking recommendations (campendium.com) checking out camping options for our upcoming trip and plotting our course. There were a couple of areas along the way that didn't have much to offer so we knew this *could* be another adventure.
On moving day, we created a commemorative tree ring for our "yard" in sunny Arizona, broke camp and started making our way toward our *real* home — or, rather, our home base.
We started out on Hwy. 95, which is designated as a scenic route.  The road was very straight and the vegetation was not particularly impressive, but the surrounding mountains did provide something interesting to look at.
Our first stop was at Eldorado Valley Dry Creek Bed…just a spot to overnight for free. As we were leaving, Jim thought this would be a good place for me to drive the BBT pulling our LCC for the first time. Run for your lives, little bushes!
The next part of our journey was on Hwy. 93 to Pahranagat National Wildlife Refuge. There are only 15 campsites at the refuge and we were lucky enough to snag the last one! The site was beautiful with contrasting landscape offering a lake on one side and desert terrain on the other. We were very happy with our spot for the night. And the kitties even got to check it out!
Before we left, I said I wanted to walk across the dike. As it turned out, there was a trail for a three-mile hike across the dike and around the south end of the lake. I'm not sure exactly how far we walked  after I followed Jim off trail to forge a "shortcut" and then returned to the trail when the way was no longer passable, but it was a great way to start our day.  We couldn't stay longer than one night and still be able to get home on schedule, but we plan to return to this lovely area when we can spend more time.
After we left Pahranagat, the view out my window changed from scrubby sagebrush backed by striated mountains to acres of something in the yucca family. Could they be Joshua Trees?
Our next destination was one that was on a remote stretch of highway and off the main road a few miles. Jim's notes indicated that it was "a fair piece north of Pioche." As we passed the cut-off for Pioche, I noticed a very large sign that said, "No Services For 113 Miles."  Surely our intended camping spot "a fair piece north" was closer than 113 miles?! Exercising good judgment, Jim flipped a u-turn and we took the turn-off to find those promised services, just to be on the safe side.
The road up into Pioche was very steep and curvy and when we finally got to the top, there were no gas stations immediately in sight and no signs advertising any. I looked to the left and thought I saw a Sinclair but the main street seemed to keep to the right so we took what looked to be the main drag down through the heart of the little town. What we discovered were the remnants of an old mining town with historic buildings lining the street and mining implements in all the grassy areas. But no gas. So, we turned around and went back up to the side street and found the station only to see that it was closed! But…our credit card still worked and we were able to fuel up. Phewww!
While winding our way back through town toward the highway, we came across a small RV park with a sign that indicated it was free. There was no electricity but there was water, sewer hook-ups and garbage cans, which is much more than we usually have.  (Apparently, if you want *full* hookups, you can go "uptown".)  Since it was already late afternoon and we didn't know exactly how far away our intended destination was, we decided it would suit us just fine for the night. But it might be time to pull out our heavier coats.
I took a couple of pictures of an historic locomotive in a nearby park but they seemed to have disappeared. And, sadly, we didn't go back into town to get photos of the cool old stuff. This little town has quite a colorful history and you may find it interesting to look up online.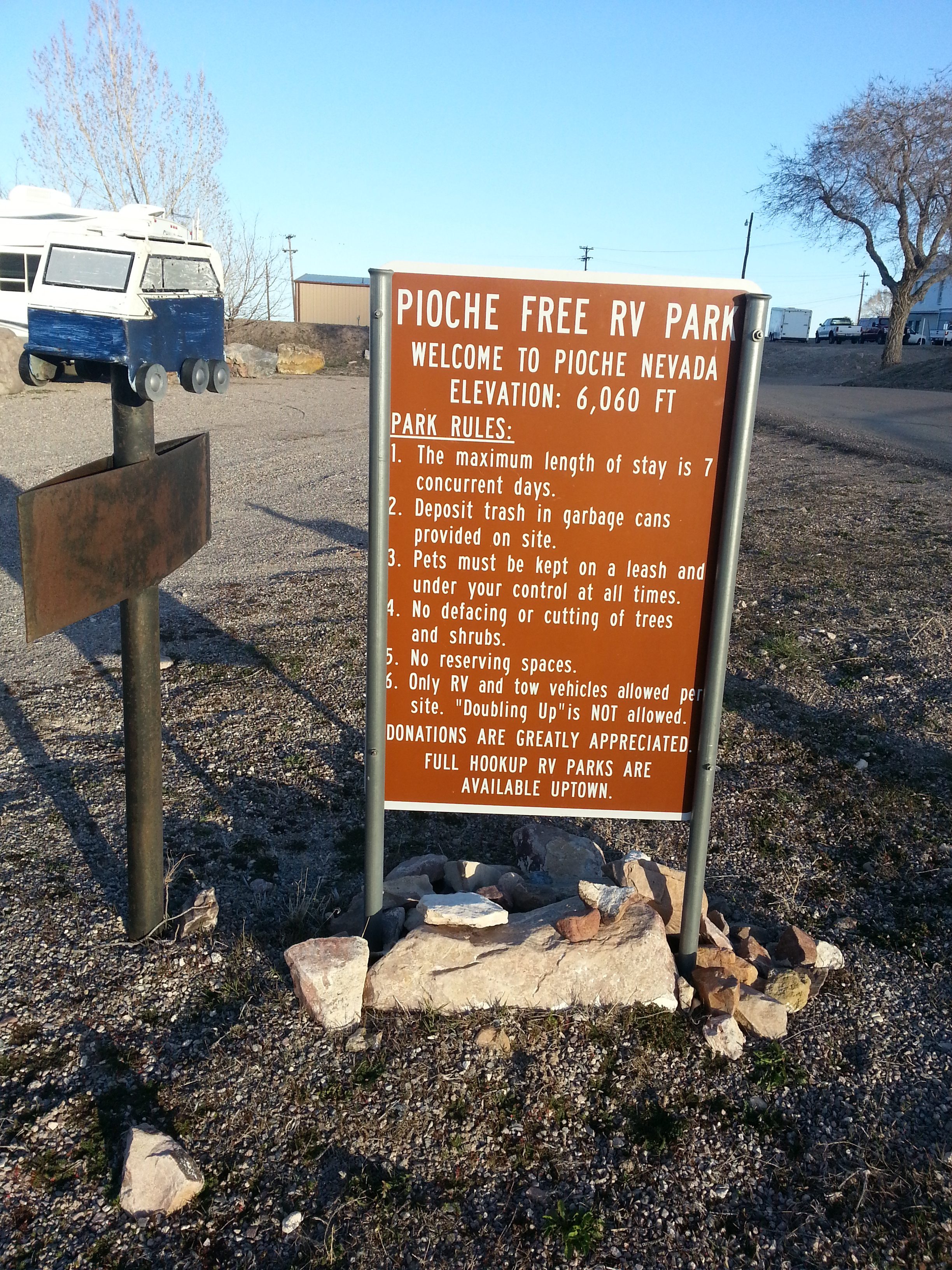 With our water tank full and grey and black water empty, we left Pioche and headed to Sacramento Pass Recreation Area off of Hwy. 50 about 48 miles east of Ely, Nevada. (For the record, even though Hwy. 50 has been dubbed "the loneliest highway in America",  it wasn't any lonelier than the other ones we had been on all day.) We found the BLM campground and it is beautiful. We opted to go to the upper level where there is equestrian camping accommodations. The view of the snow covered mountains was spectacular. Even the architecture of the picnic shelter was notable.
Much to our delight, once again we found hiking trails. The main trail was a 2.5-mile loop. This one proved to be a little more challenging than expected due to the elevation. At the highest point, my GPS indicated 6,900 feet. And was that a snowball Jim was hiding in his hand?!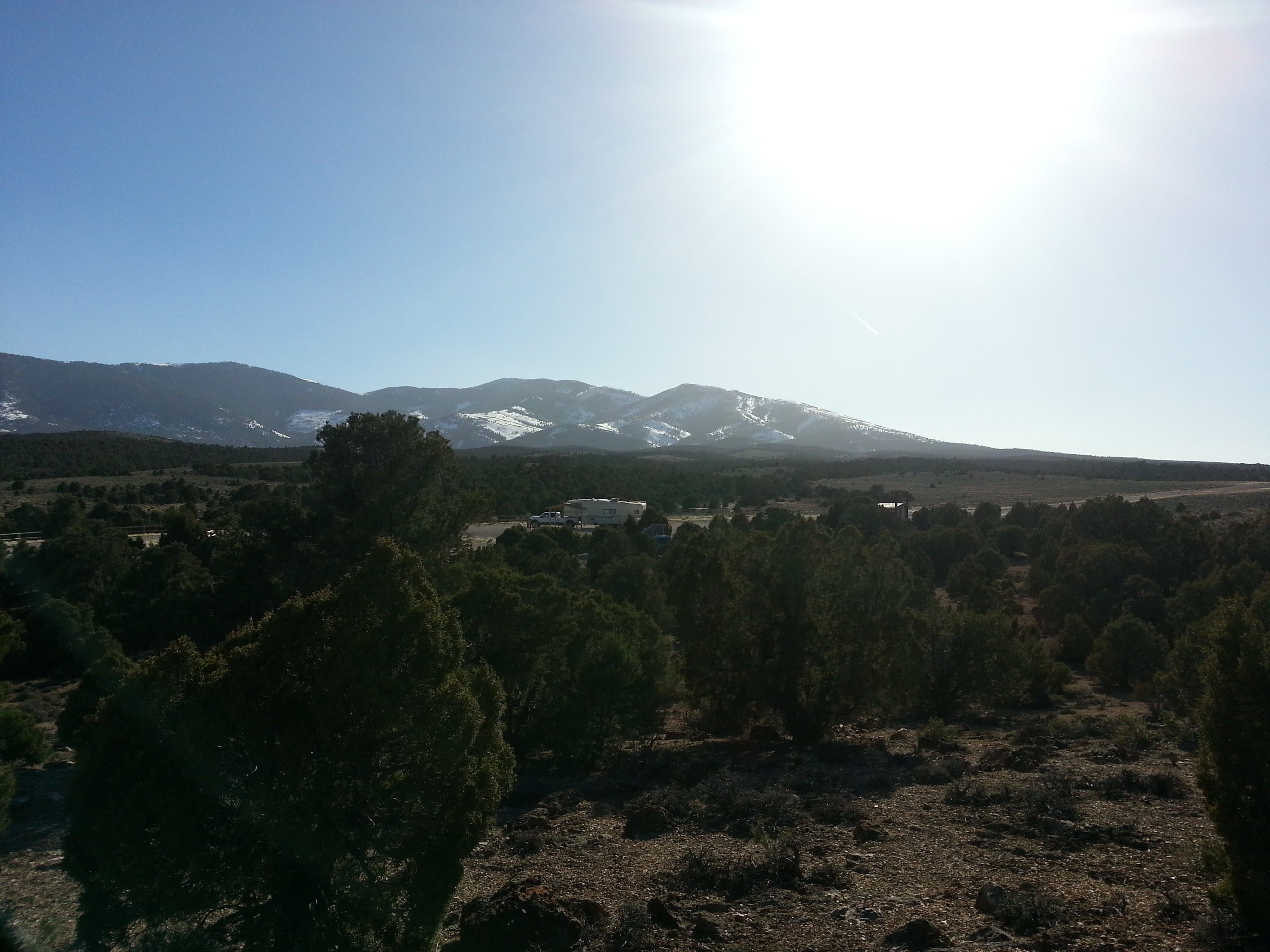 We thoroughly enjoyed our short time in this beautiful Nevada mountain setting but had to move on. We needed to get an early (term used loosely) start since we didn't find any place in advance to camp at the end of our next travel day. Wells, NV was three hours from Sacramento Pass and all the intel we had for free overnighting was a couple of years old.
Driving around and through Wells did not yield anything very promising in the way of great camping spots so we decided to get back on the highway to see if there was anything a little further up the road. Nope. We took the first exit we came to and turned around. That's when we saw the "Angel Creek Campground 9.0 miles/Angel Lake Campground 14.0 miles" sign. Even *if* we had to pay a small fee, a US Forestry campground would be better than the truck stop at the freeway exit. We are getting pretty spoiled by all those picturesque areas we have encountered and Flying J just wasn't gonna cut it.
We took the exit and followed the signs, passing through farmland and winding our way up toward some nearby mountains. Finally, we came to the junction where the road split…left turn to Angel Creek and straight ahead to Angel Lake. We were contemplating which campground to check out first but, ultimately, our choice was very simple.

Turning left, we continued our quest for a camping spot. We were climbing in elevation, as the snow along the roadside indicated. The nearby mountains were magnificent but the sun reflecting off the snowy peaks made them difficult to photograph.
We were enjoying the spectacular view of the mountains when we rounded a bend in the road and arrived at our destination, Angel Creek Campground. Well…we had arrived at the closed and locked entry gate anyway.
Jim had to do some fancy maneuvering to get our house turned around but he finally got it. The sun was sinking lower and we realized we didn't have much daylight left so we decided to just try to find a fairly level wide spot in the road and spend the night *near* the campground. After all, who else would be traveling after dark down this road to a closed camping area?
It was a little bit cold up in those mountains but we had the catalytic heater my dad generously gave us so we were able to warm up nicely. The snowy setting really was beautiful and mostly quiet. Only five…yes, 5…vehicles squeezed past us toward the campground and back during the night. Law enforcement? Drug dealers? Teenage couples? I guess it's best we don't know.

Our travels after leaving Angel Creek would take us back into Idaho and closer to our home.  But first there was family to visit. We stopped and played with our niece and two of her kids (the rest of her family was in Peru). Nobody told me I was going to get muddy riding in that ATV! But we had fun. And the shower and hot tub felt really good after.
Finally, we were on the last stretch but Mother Nature had an interesting way of welcoming us home…the wall of black clouds ahead looked ominous. We didn't have to wait long, however, before we could see the end of storm. Should we go look for that pot of gold or just go home?
Considering the storm and the time of day, we decided to wait one more day to get parked in our back yard. We braved a muddy rutted road and spent the night at Initial Point — a local point of interest — but didn't take the time to explore…maybe another time. We were just happy to see that by morning, the wind that had howled and rocked the trailer all night had dried up the muddy road and we were able to make it out easily.
When we finally arrived home we were happy to see that our plum tree was blooming. Maybe we'll be around when the wind knocks the plums off the tree and we can harvest another crop for more wine?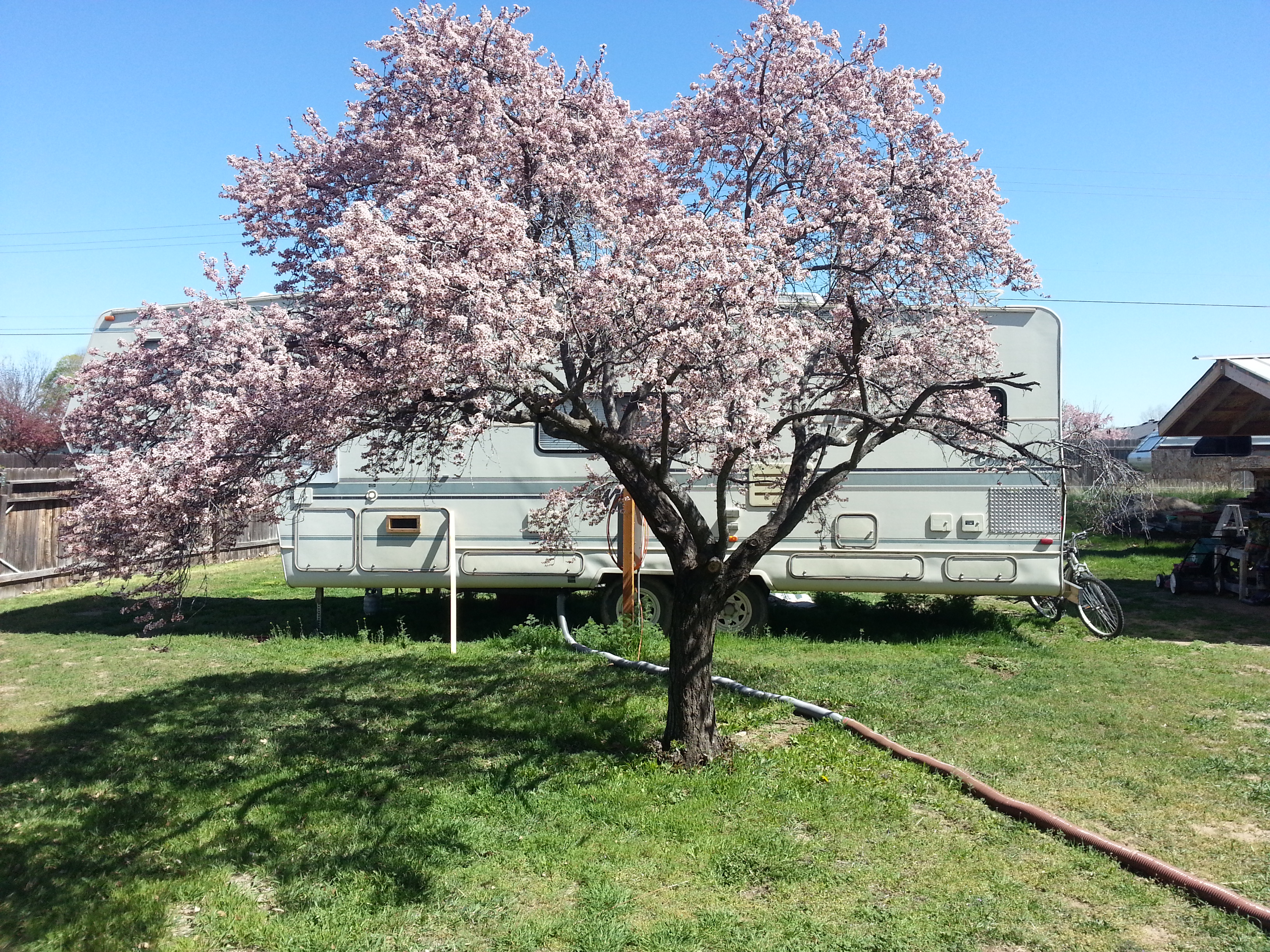 It was so great to see the kids and grandkids! And there is work to be done on the rental house but…when and where will the road take us next?