As I said, our time at Lake Havasu City was so long and full of so many fun days, I've had to break it into two blog posts. Here is the continuation…
Surprisingly — even to us — we managed to get on the catarafts only once while parked near the lake. Because the canal was so full of exhaust fumes from all the hotrod speed boats, we chose to launch in one of the areas for non-motorized craft only. We oared out against the wind to a buoy and hung out on the fringe at the north end of the island district. There wasn't very much water traffic in the area but we did get a chance to watch some military aircraft overhead while we ate our lunch. When the sun started sinking lower on the horizon, we let the wind take us back as close to the cove as possible before picking up the oars and paddling to shore. Overall, it was a quiet, enjoyable afternoon. As Jim always says, "Half the fun is just being *on* the water."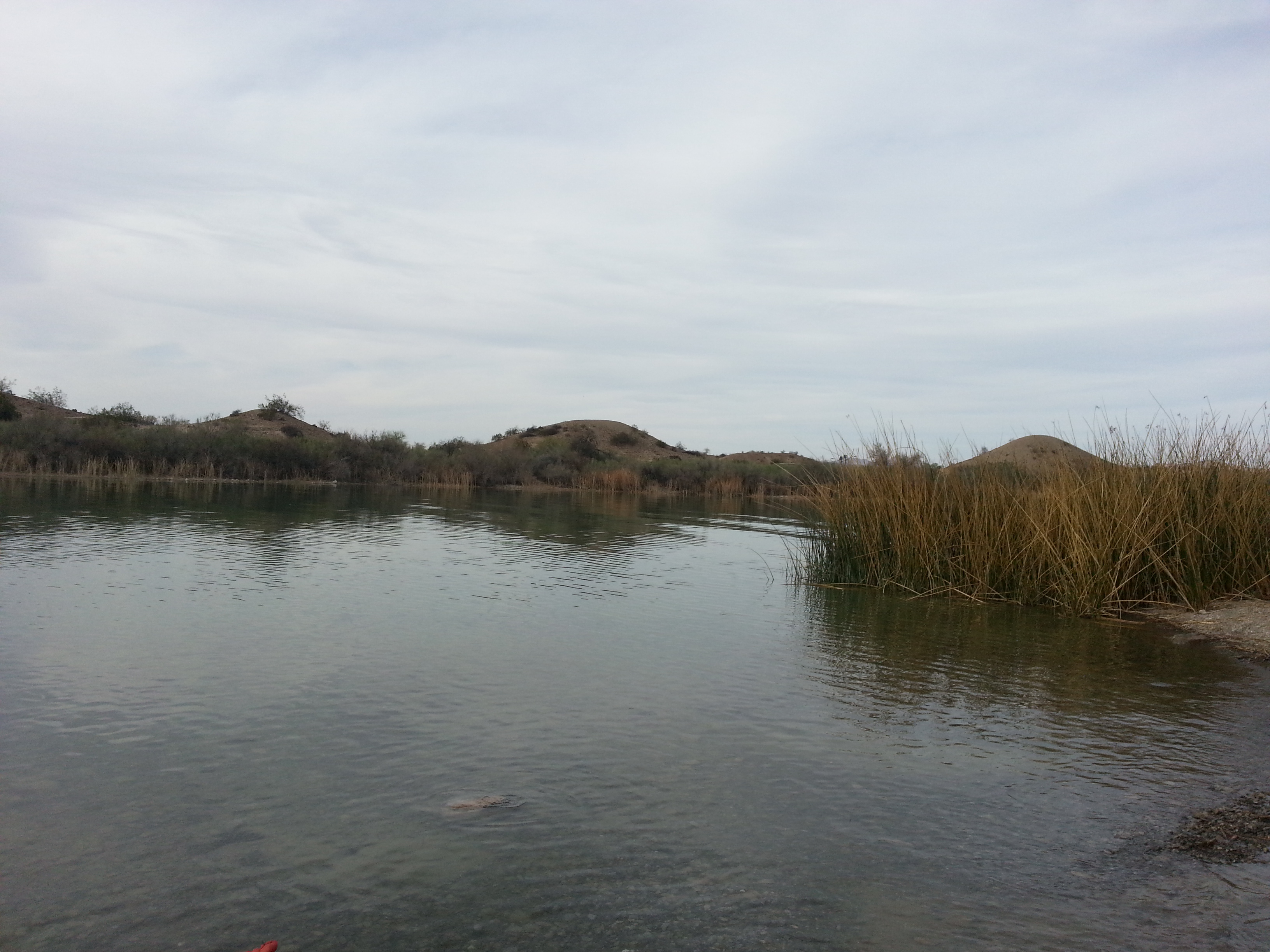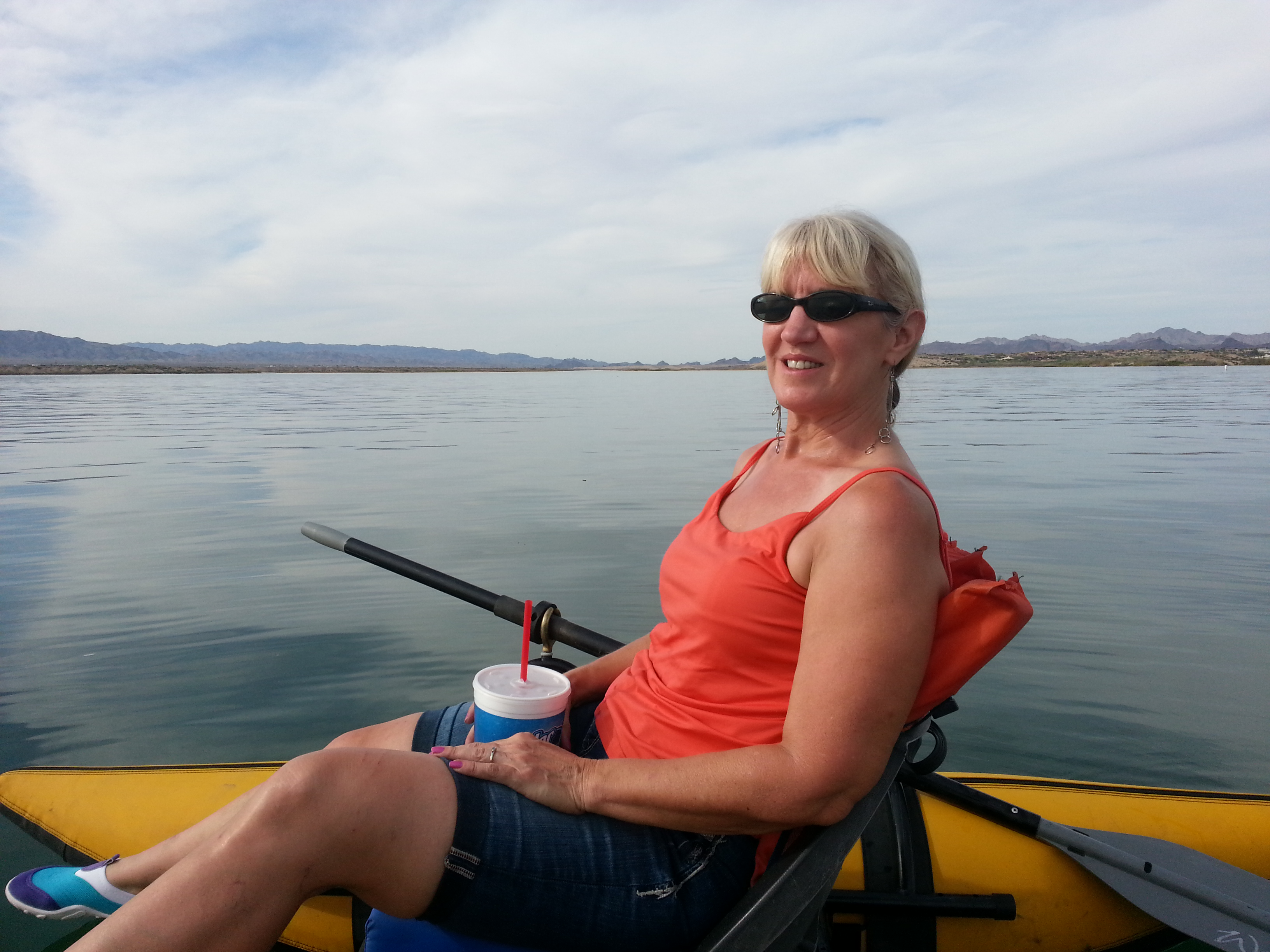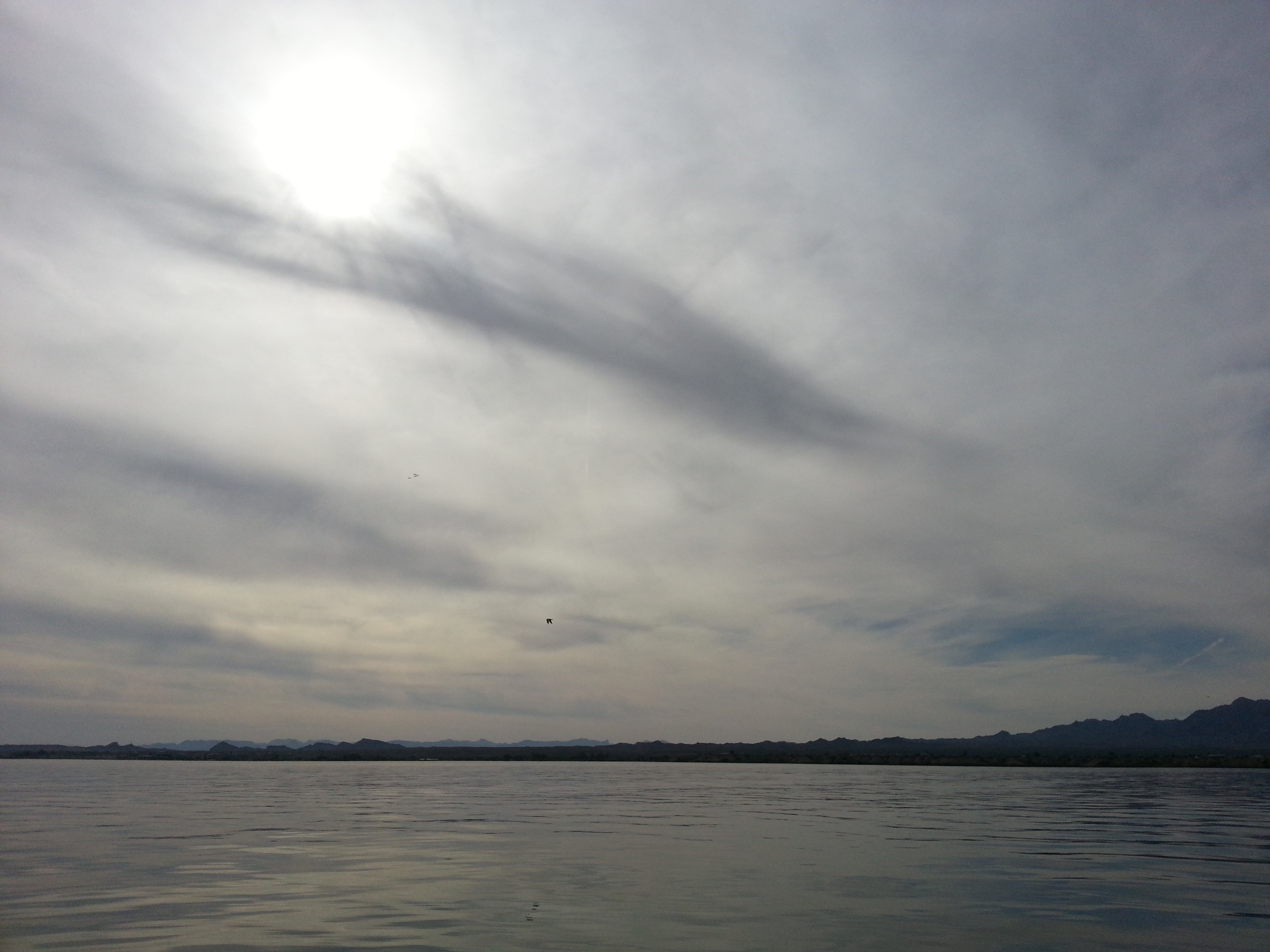 Can you see the jets?
~~~
Of course, there was more hiking to be done. We chose another of the trails at SARA Park…this time on foot from the beginning. This one took us up out of the wash quickly and skirted the slopes.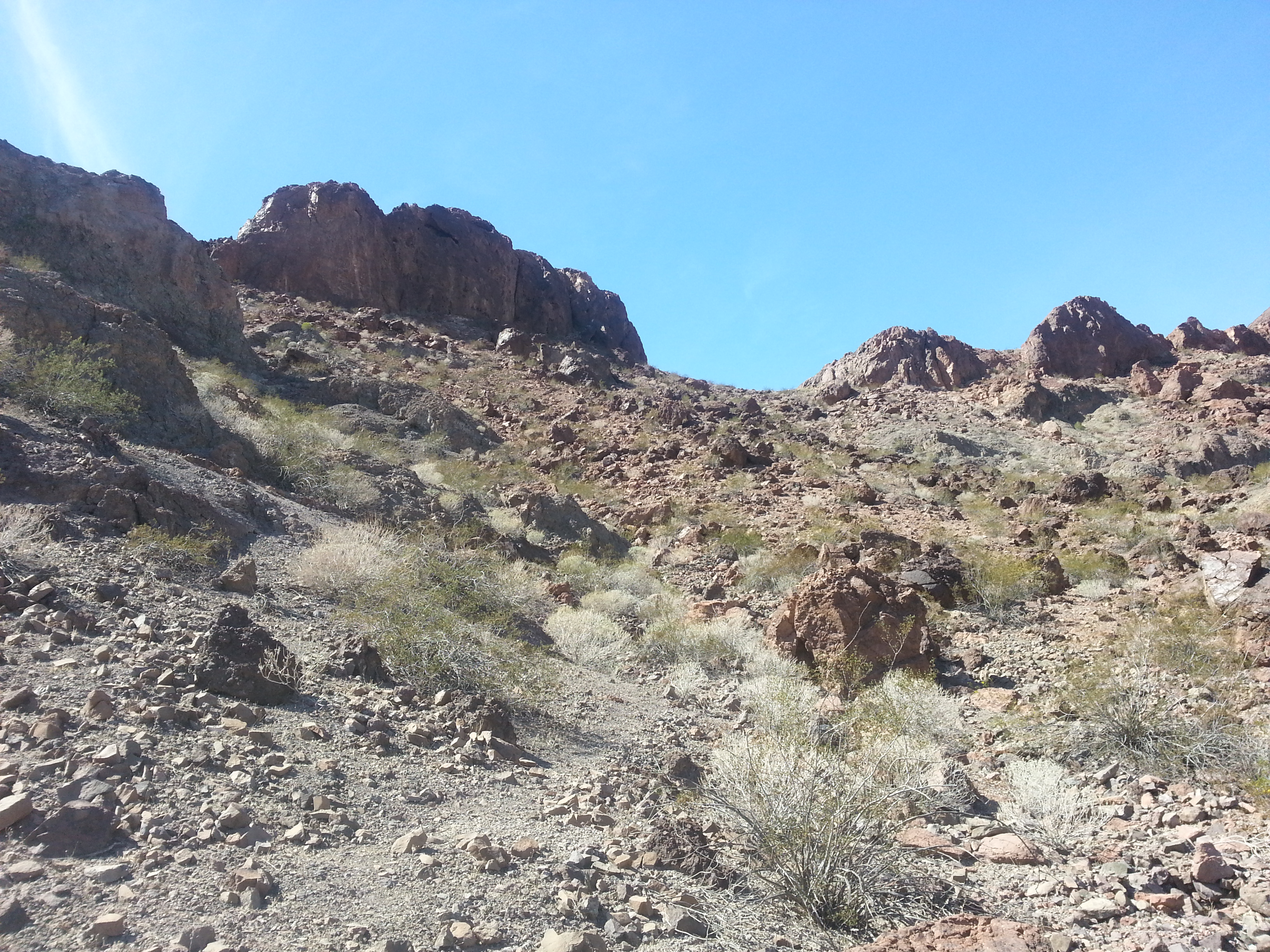 "Let's go up there," I said. So we headed off trail and straight up the side of the mountain.
The terrain was a bit challenging.
Success!
Can you see the wash far below?
From this vantage point we could see the whole expanse of Lake Havasu City.
Wait! Is that another peak over there with a trail zigzagging up to it? Of course, we had to go.
We climbed just a little higher and we could see the lake.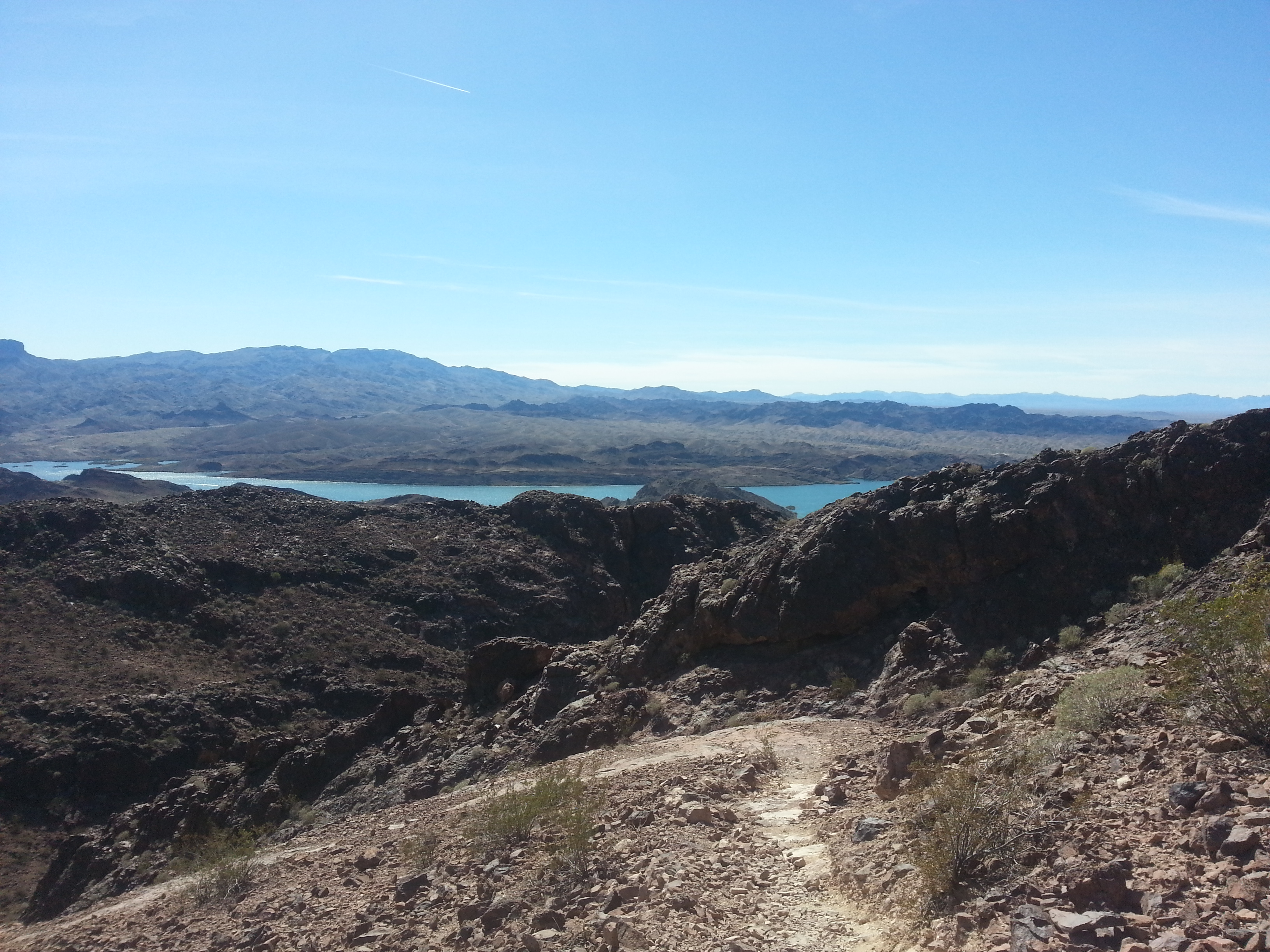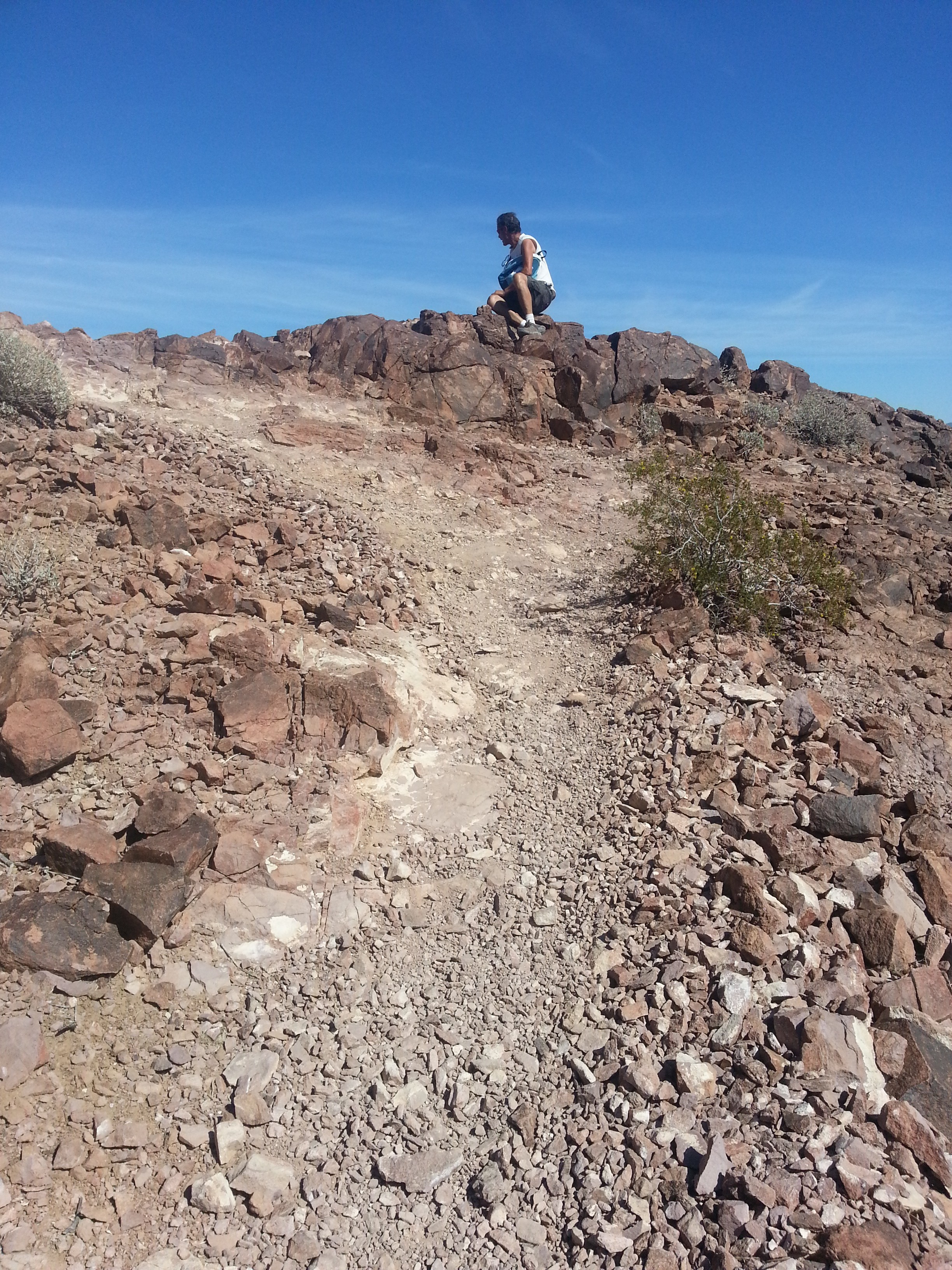 Just because there was a trail didn't mean it was an easy climb.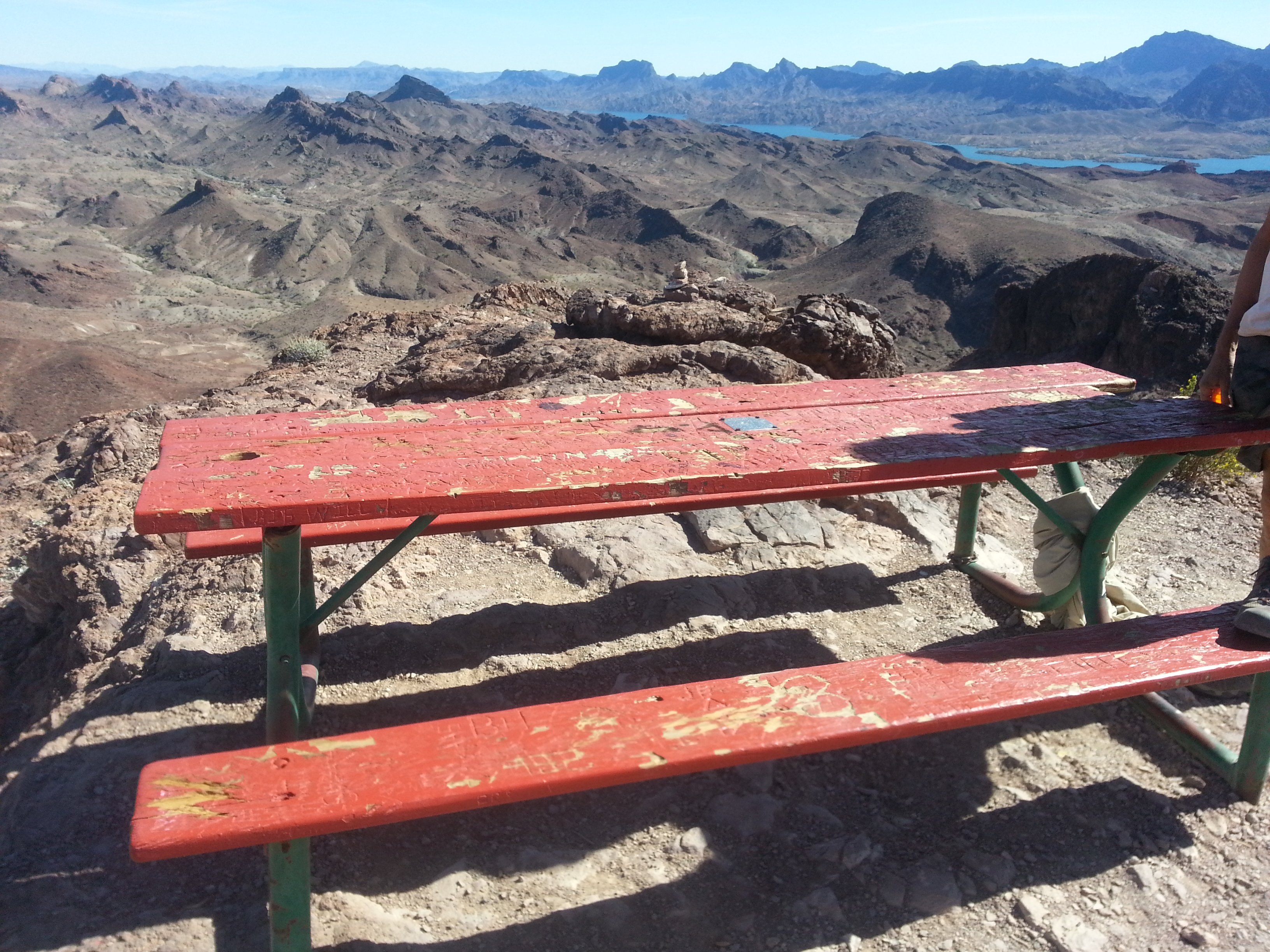 Imagine our surprise when we discovered a picnic table at 1,375 feet!
Kudos to the brave souls who carried it or helicopter-dropped it! Either way, it would not be an easy feat!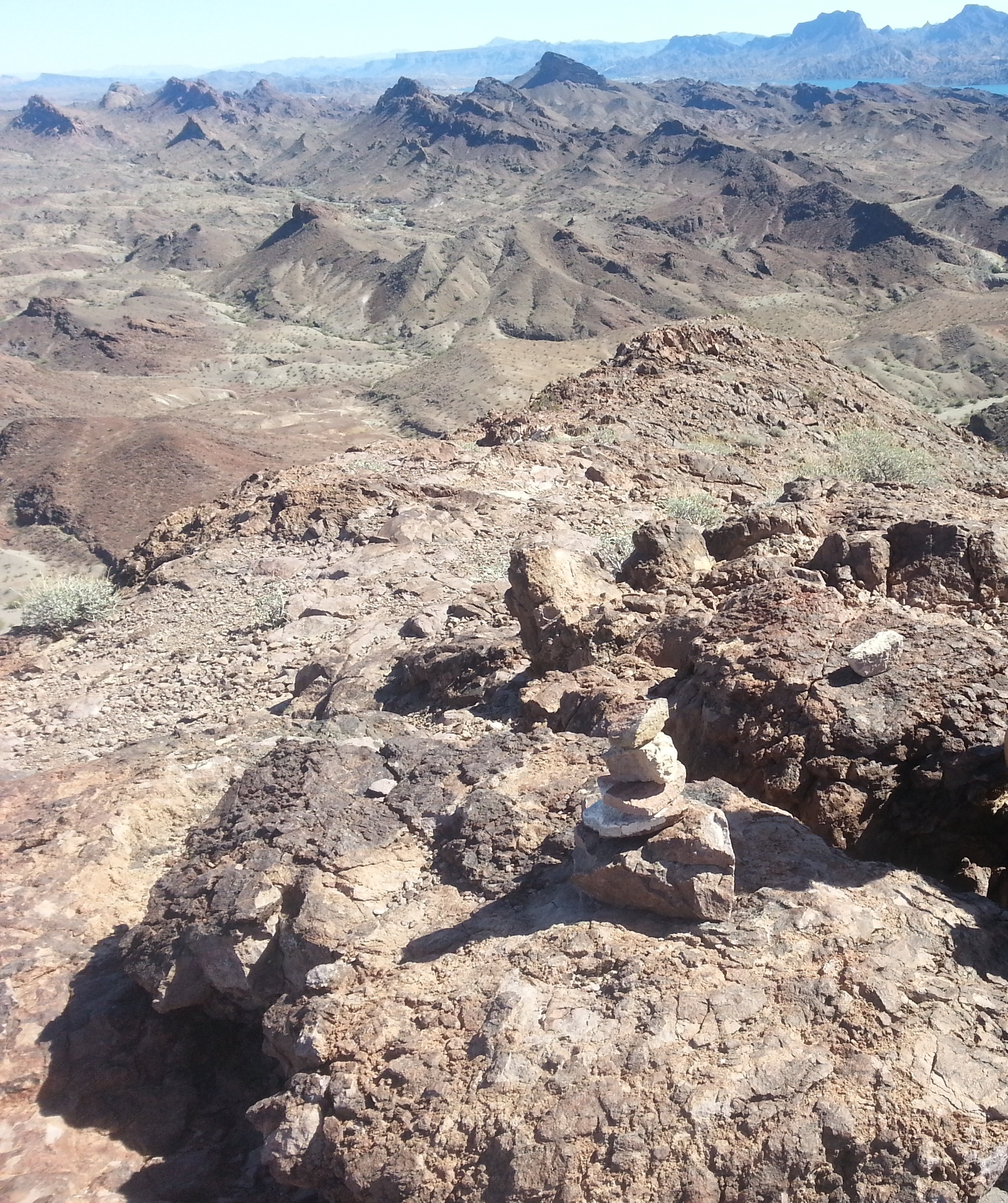 Another surprise…there was NO rock pile monument. So, we made our own.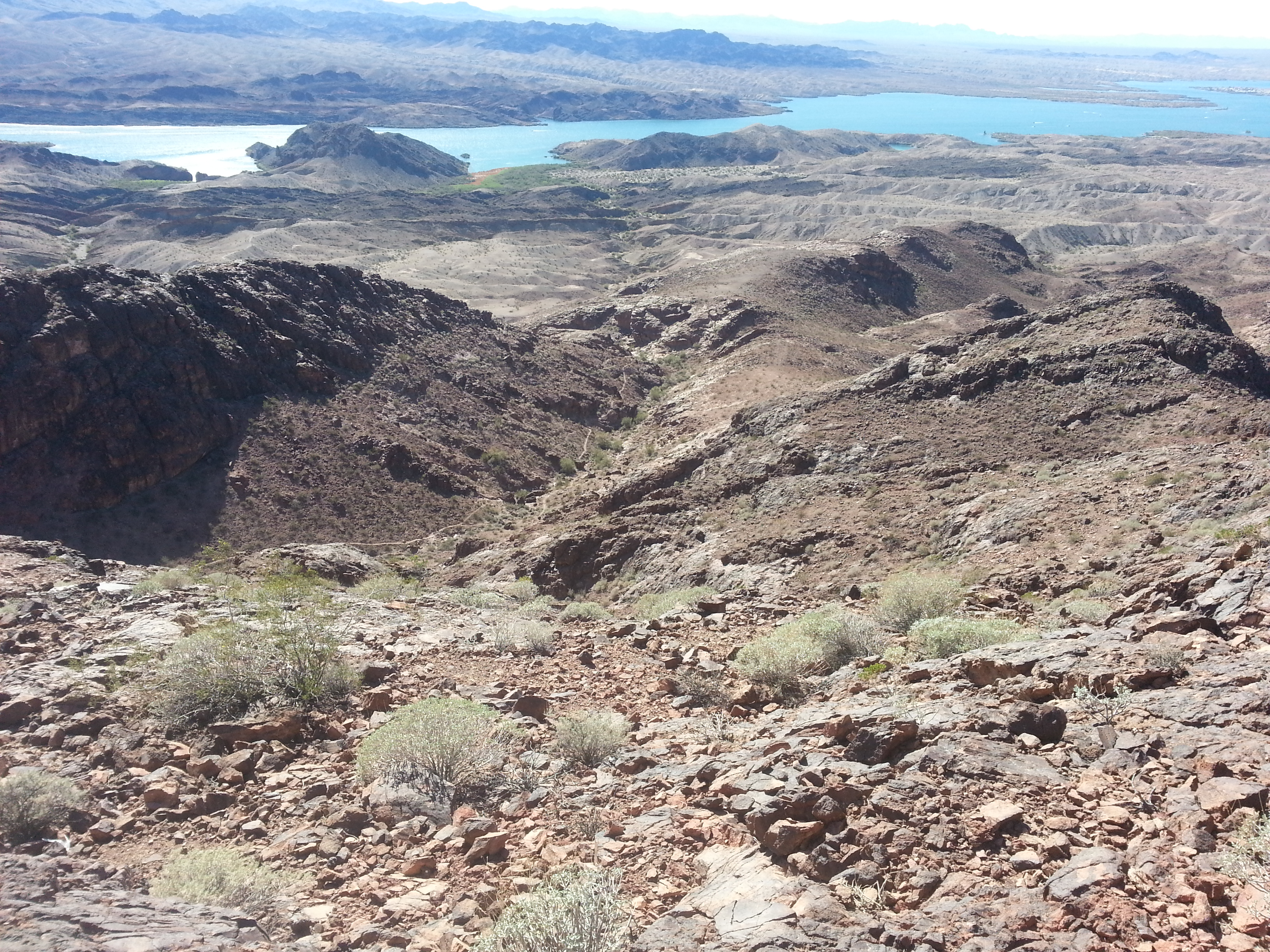 Even though we could see we weren't terribly far from the lake from where we were, my knees were protesting the rigors I had already subjected them to so we reluctantly went back down and headed toward the trailhead.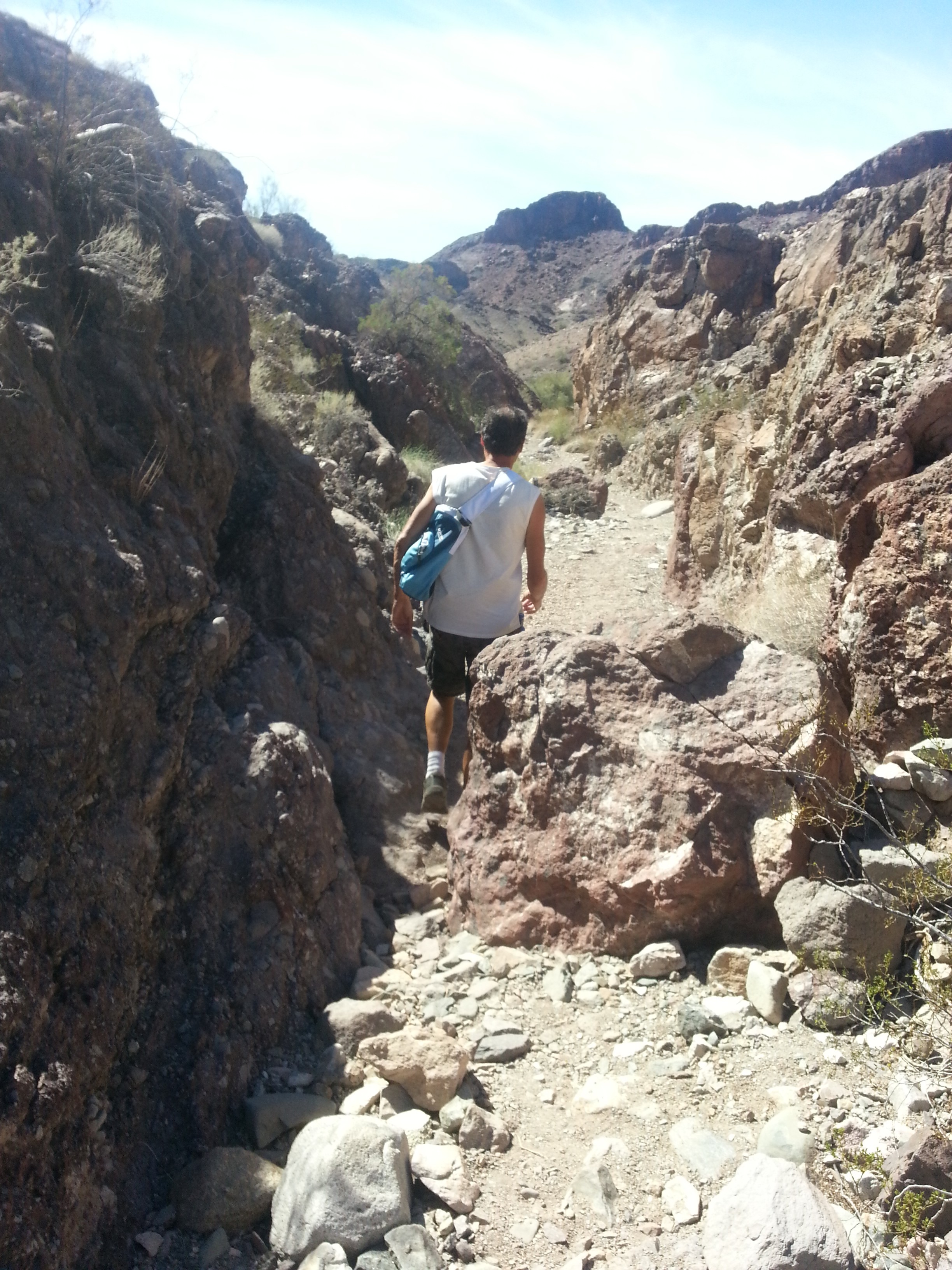 Little did we know that the path we chose for our return would take us back through Sara's Crack.
The  wind was whistling up through the canyon. It felt good but makes for a funny looking hairdo.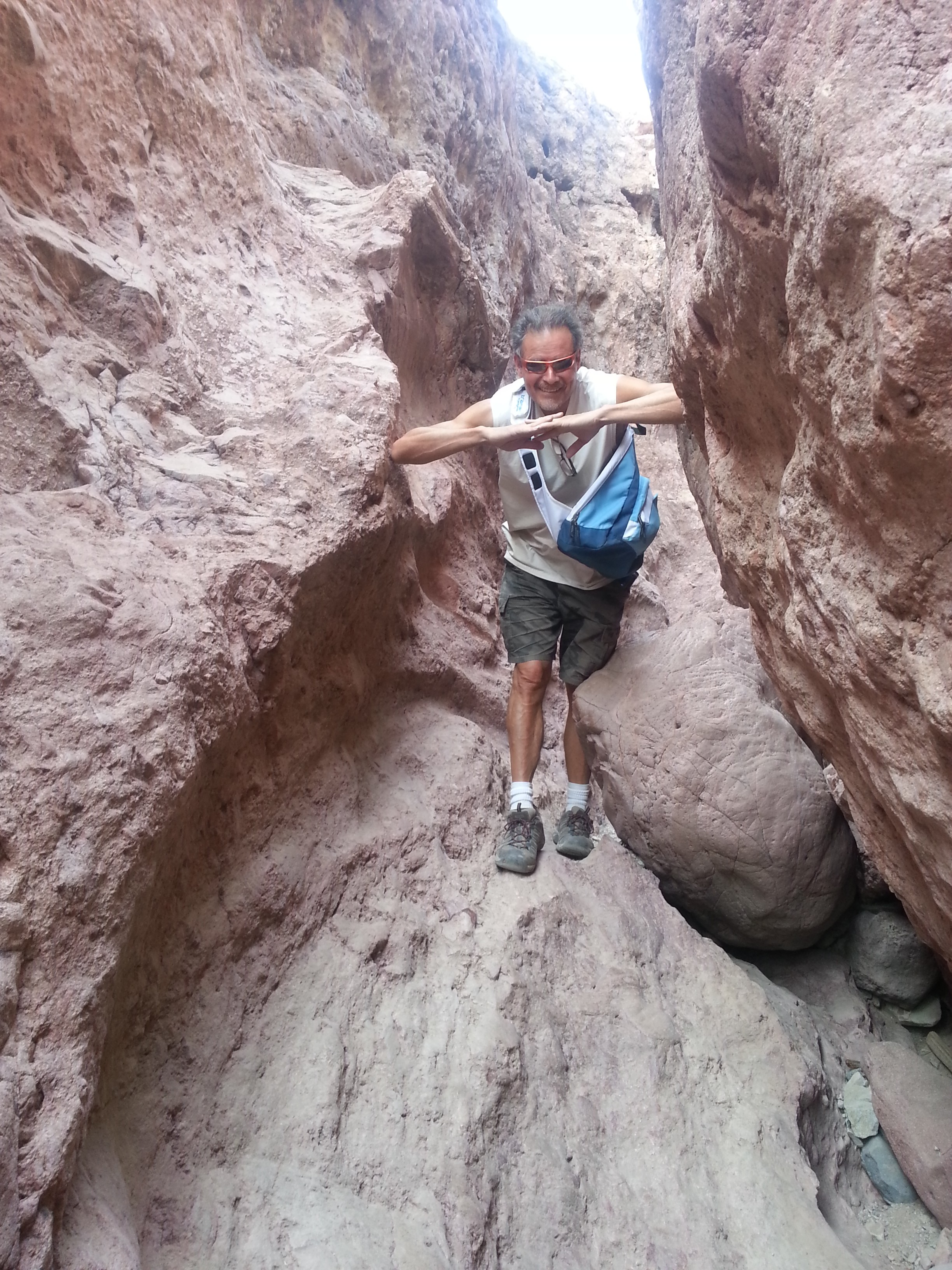 He makes these climbs look so easy! Now how am I supposed to make that tall step??
One more chance for rope-climbing. Easy-breezy!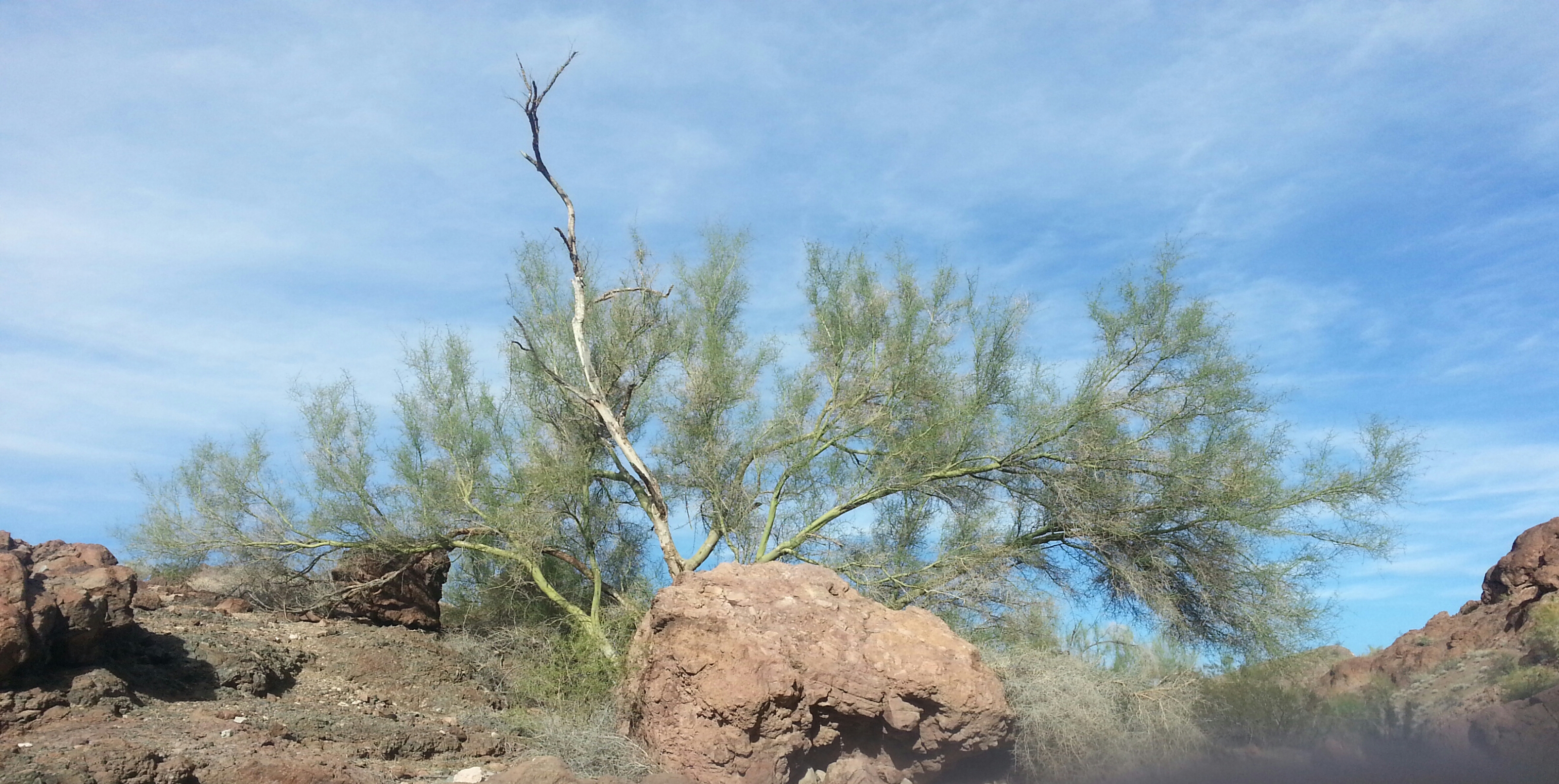 Back to the wash and then to the BBT. It was another great hike but man were my knees hurting!

~~~
To break it up, we took a day trip to check out Parker Dam. We drove across the dam then took Parker Dam Road (which is designated as a "back country byway") down the California side. I guess I'm still not used to always being "on" for the photography and I didn't get very many shots that day. But, I did pick up the camera in time to catch some local wildlife.

~~~
And we did get on the lake once more but, this time, it was to take the ferry across to the casino on the California side to celebrate our first wedding anniversary. It was a cold, windy afternoon so we chose to sit under cover rather than stand at the rail. Dinner wasn't fancy but the restaurant seating overlooked the water and we had a very nice time. The sun was setting when we were ready to return so we sat inside for the trip back to Arizona. The night was young when we got back to our casa so we continued our celebration by opening our last bottle of our homemade plum wine.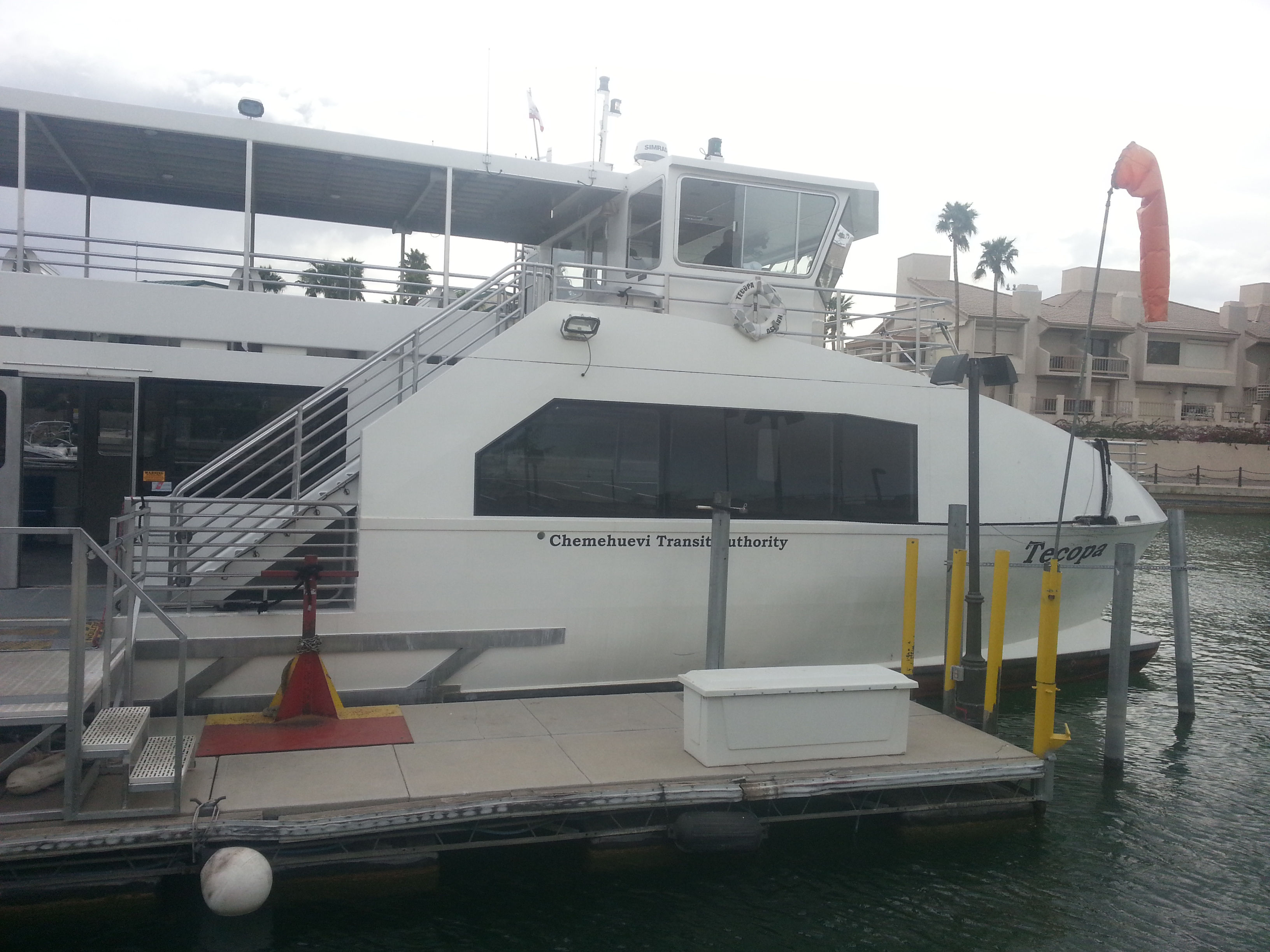 The ferry also transports children to and from school. How fun would that be?!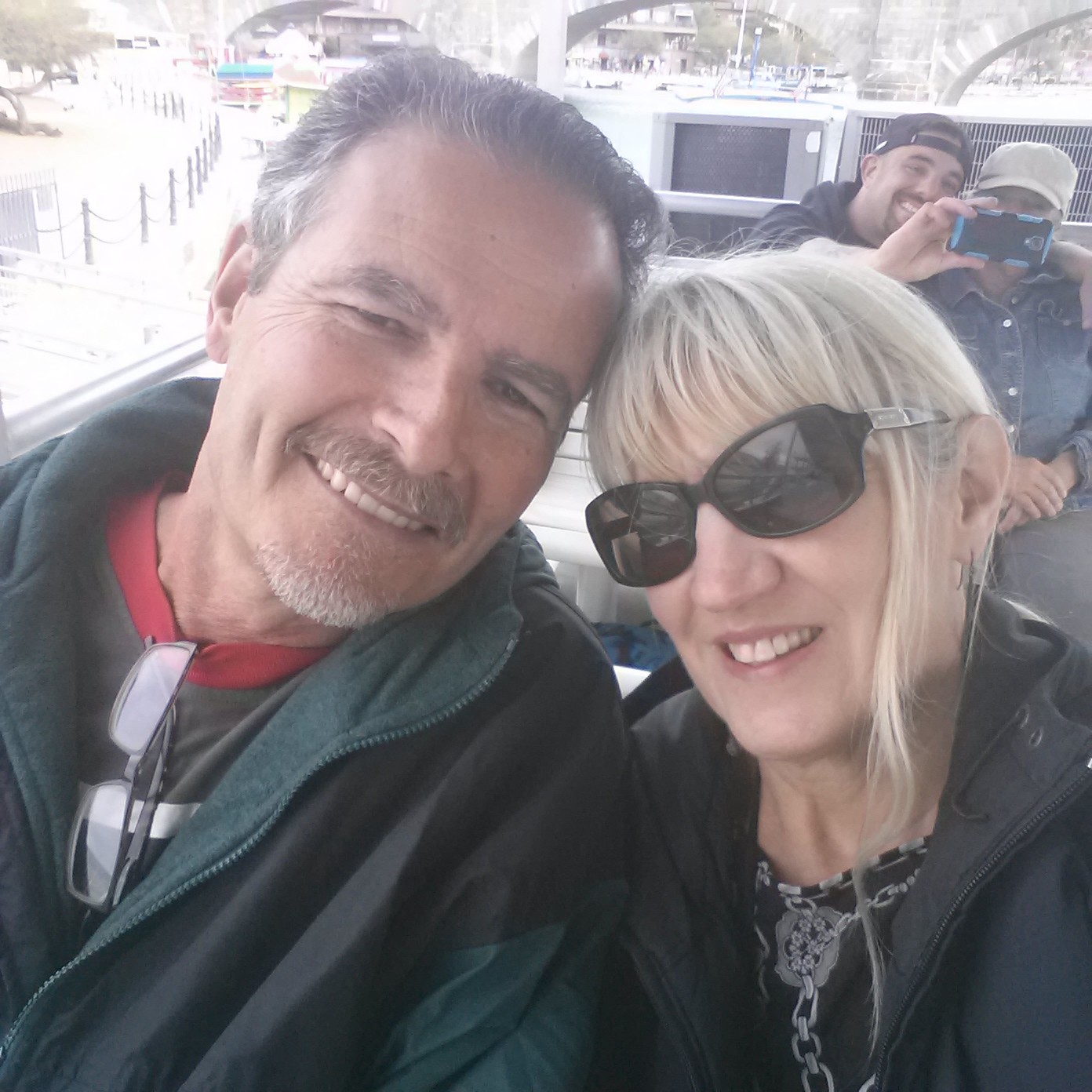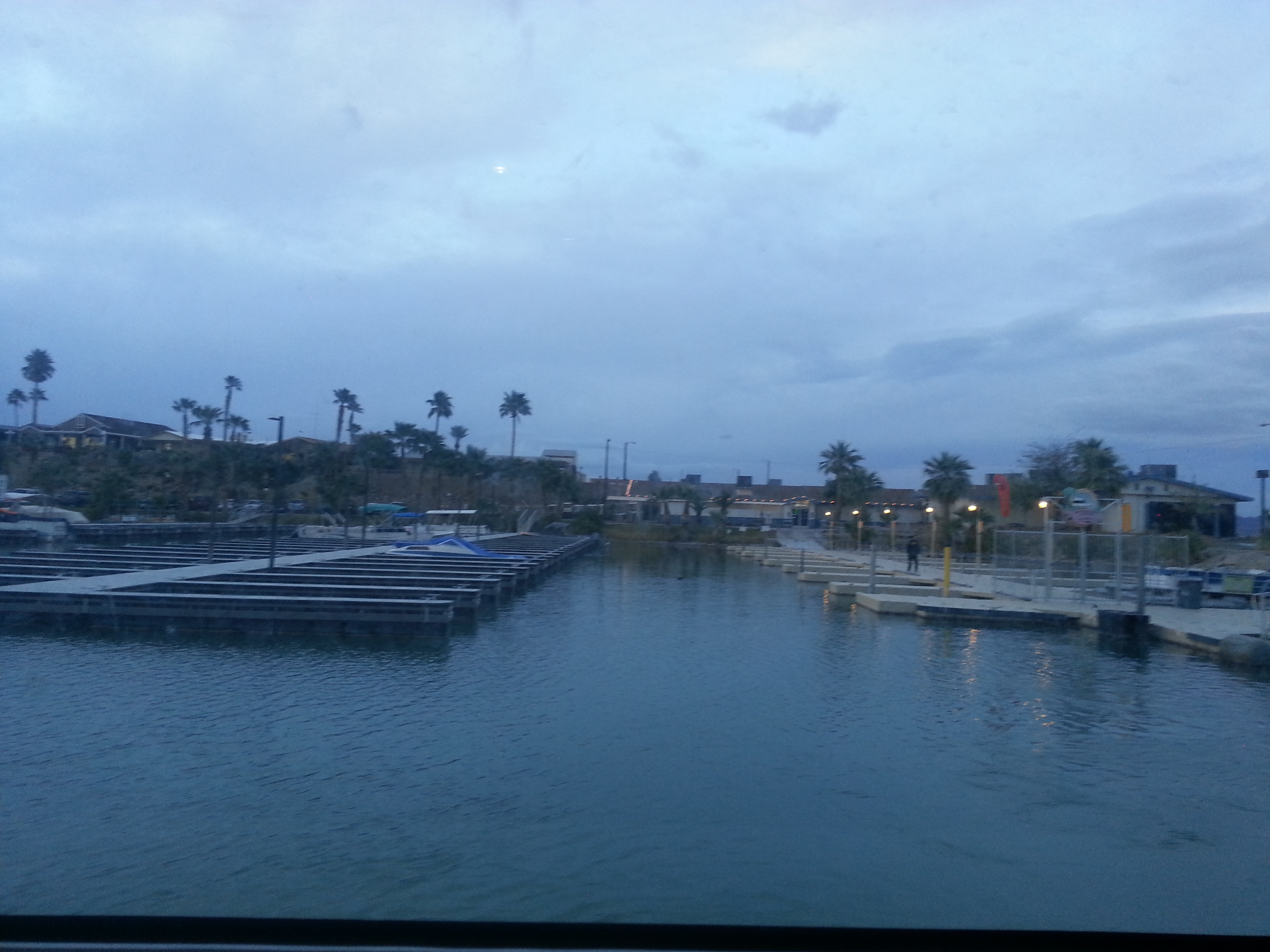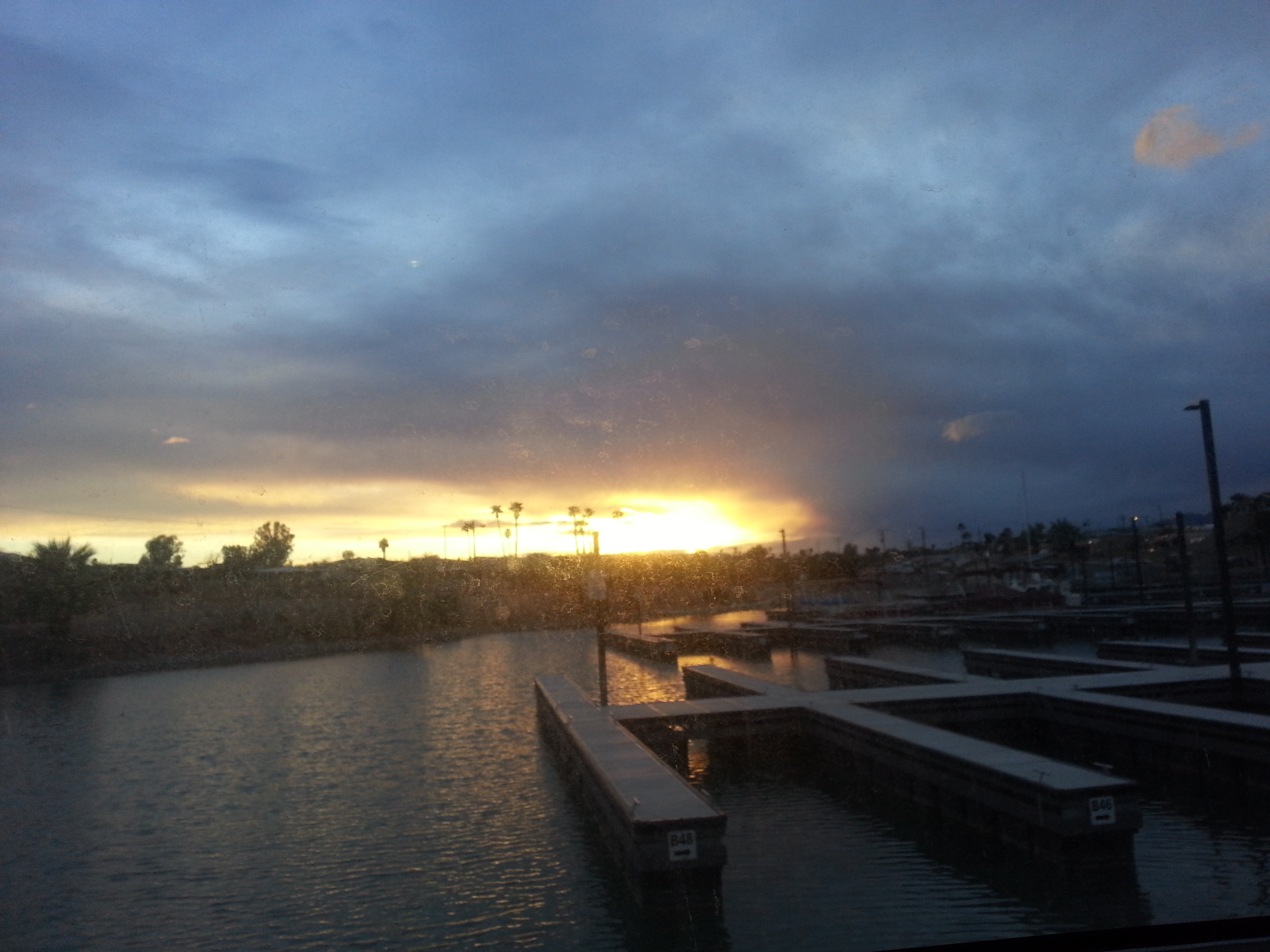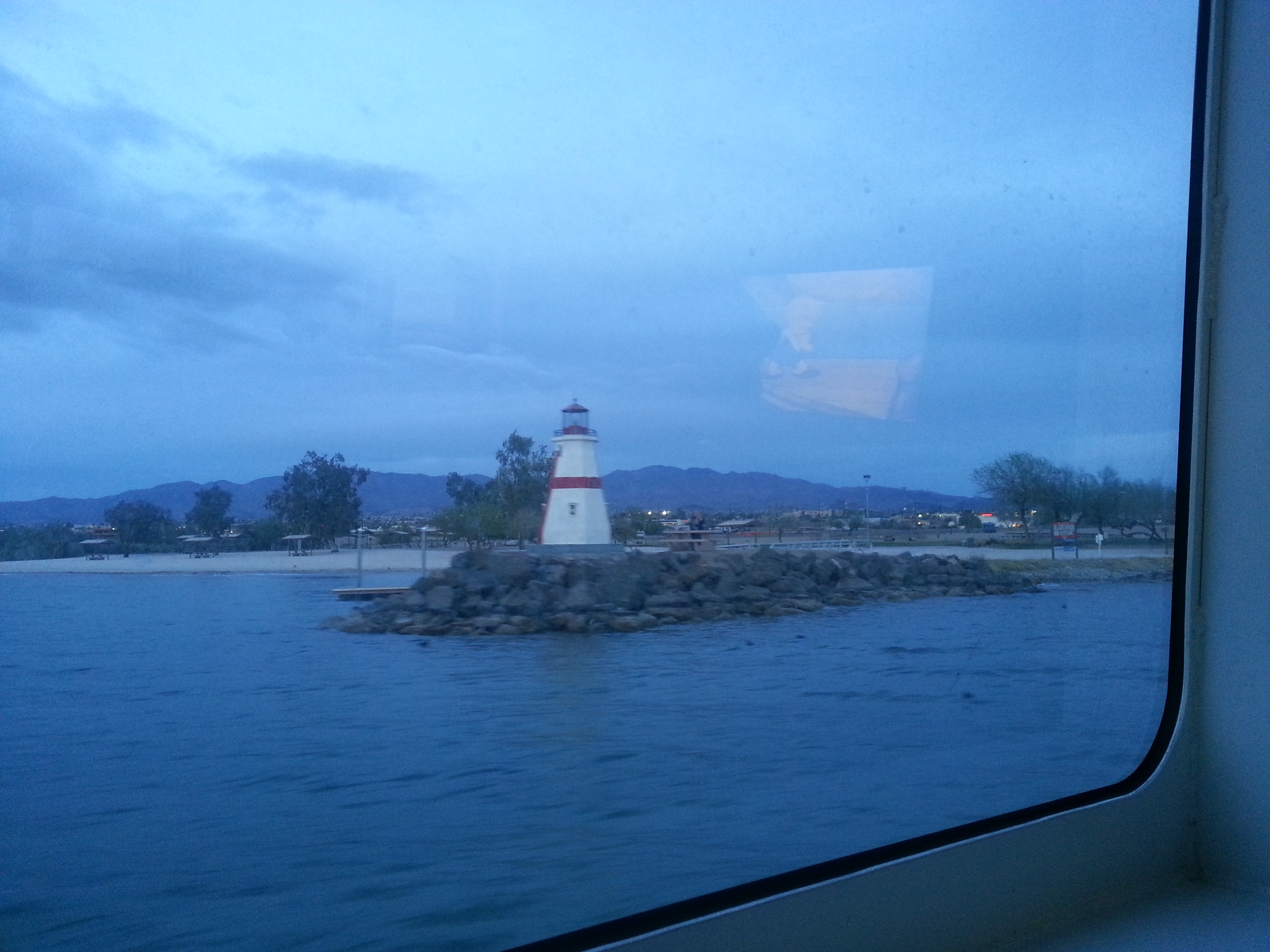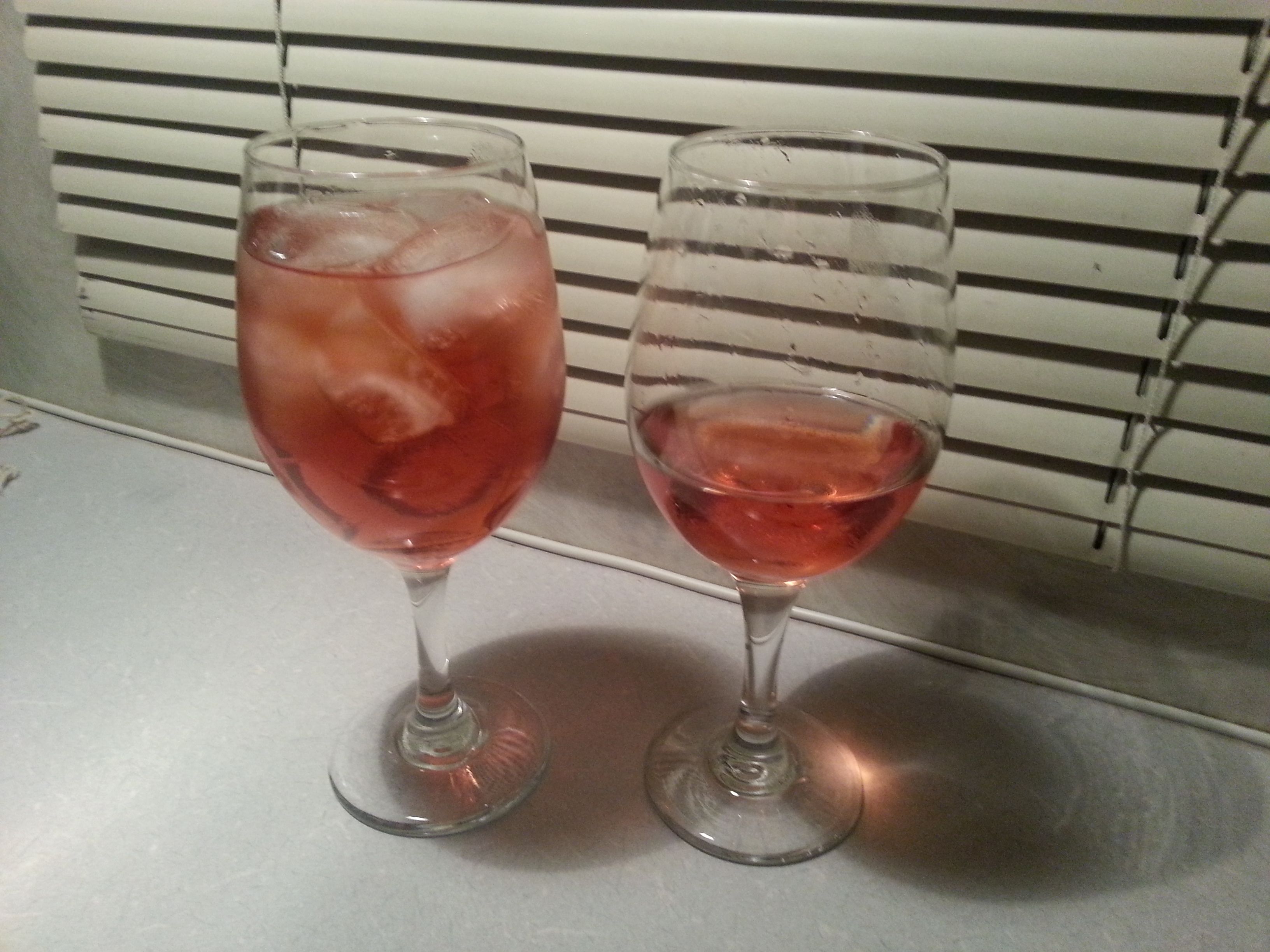 Jim gets the more generous pour because he's bigger. 🙂 Here's to many, many more years sharing this big adventure with my Love! 
~~~
Our time here was coming to an end. On our last full day, we decided to climb a nearby hill just for the exercise. What we expected to be just a walk down another wash on the other side of the ridge turned into a very enjoyable hike. As usual, the desert didn't disappoint.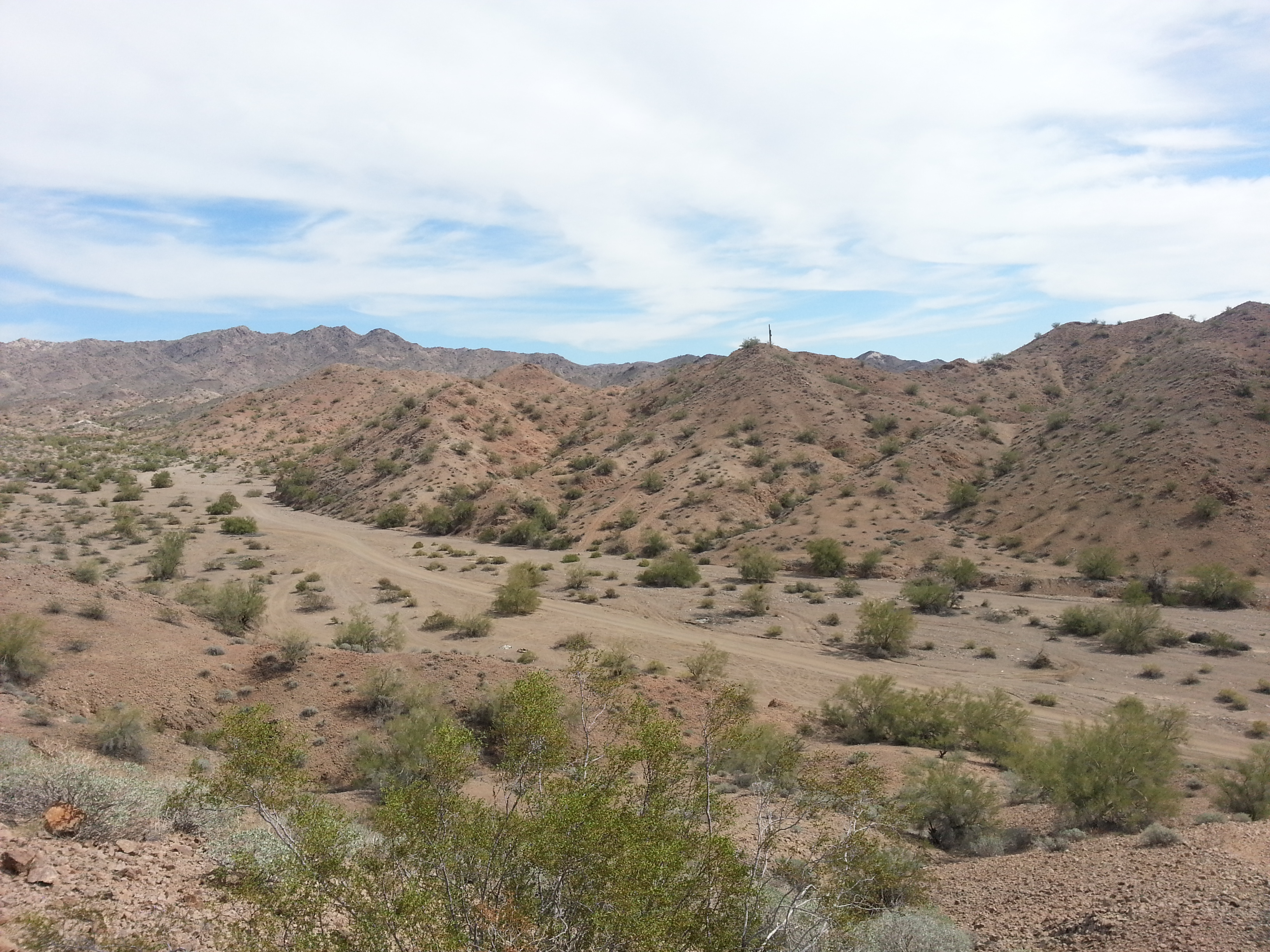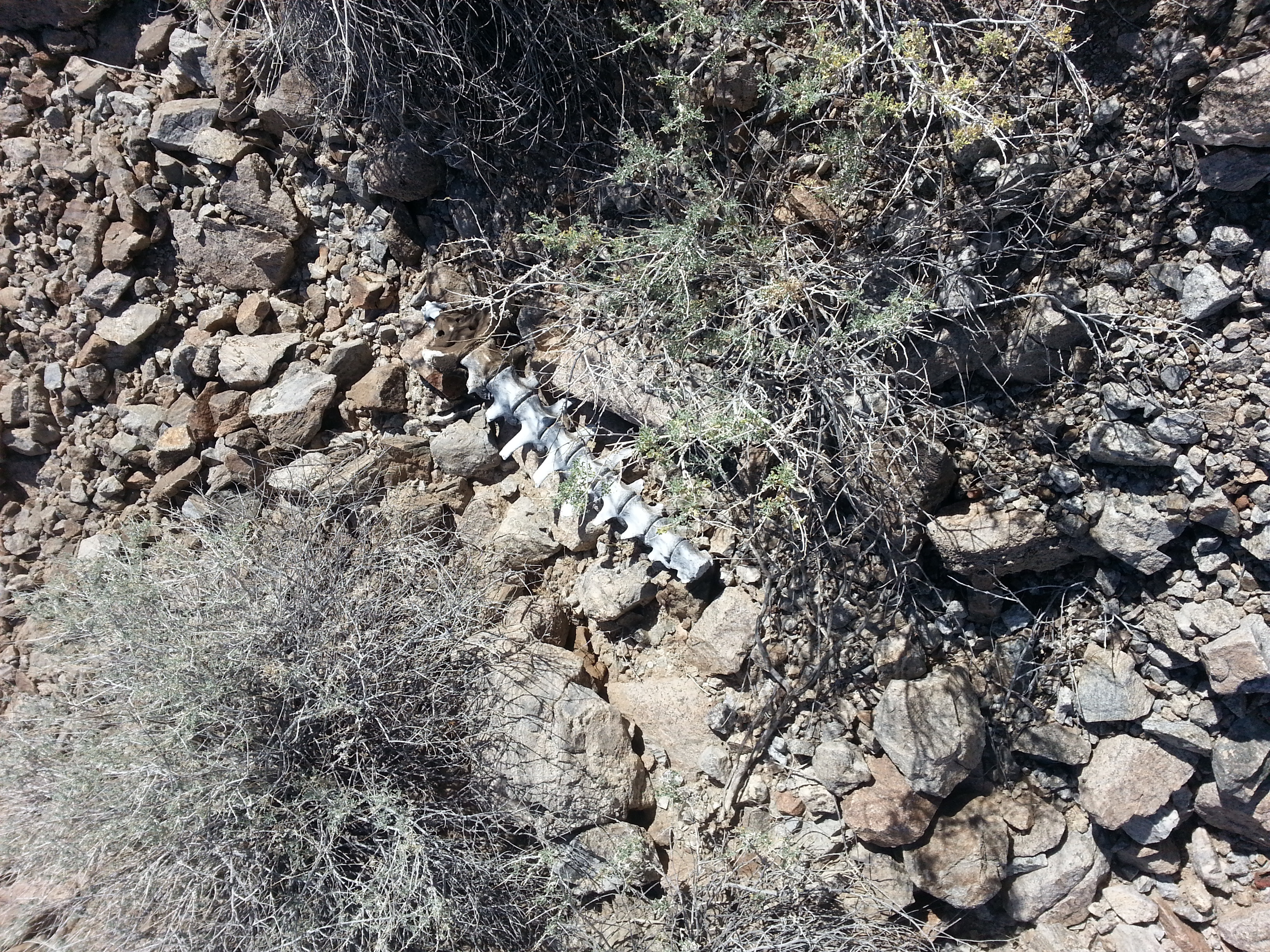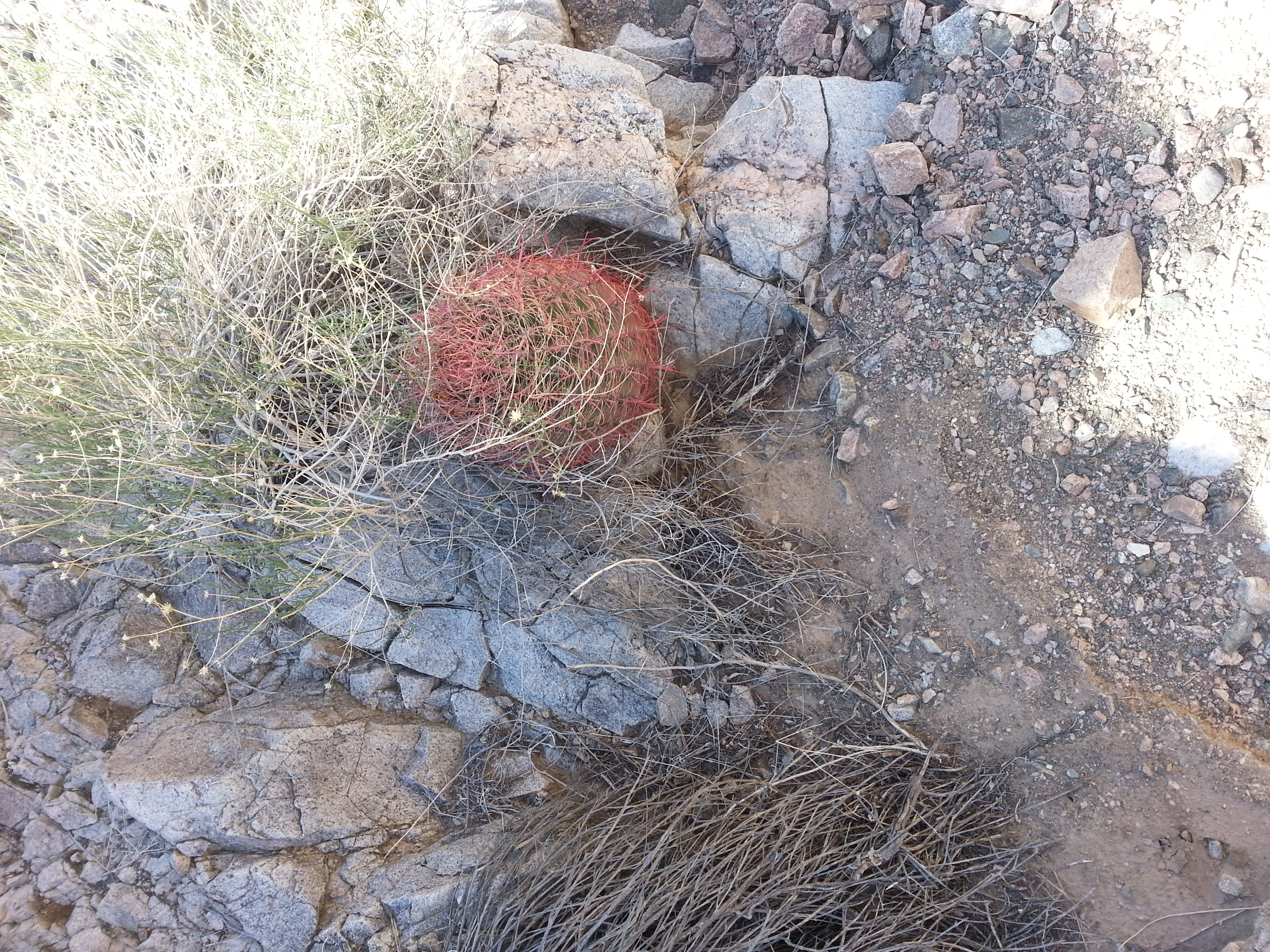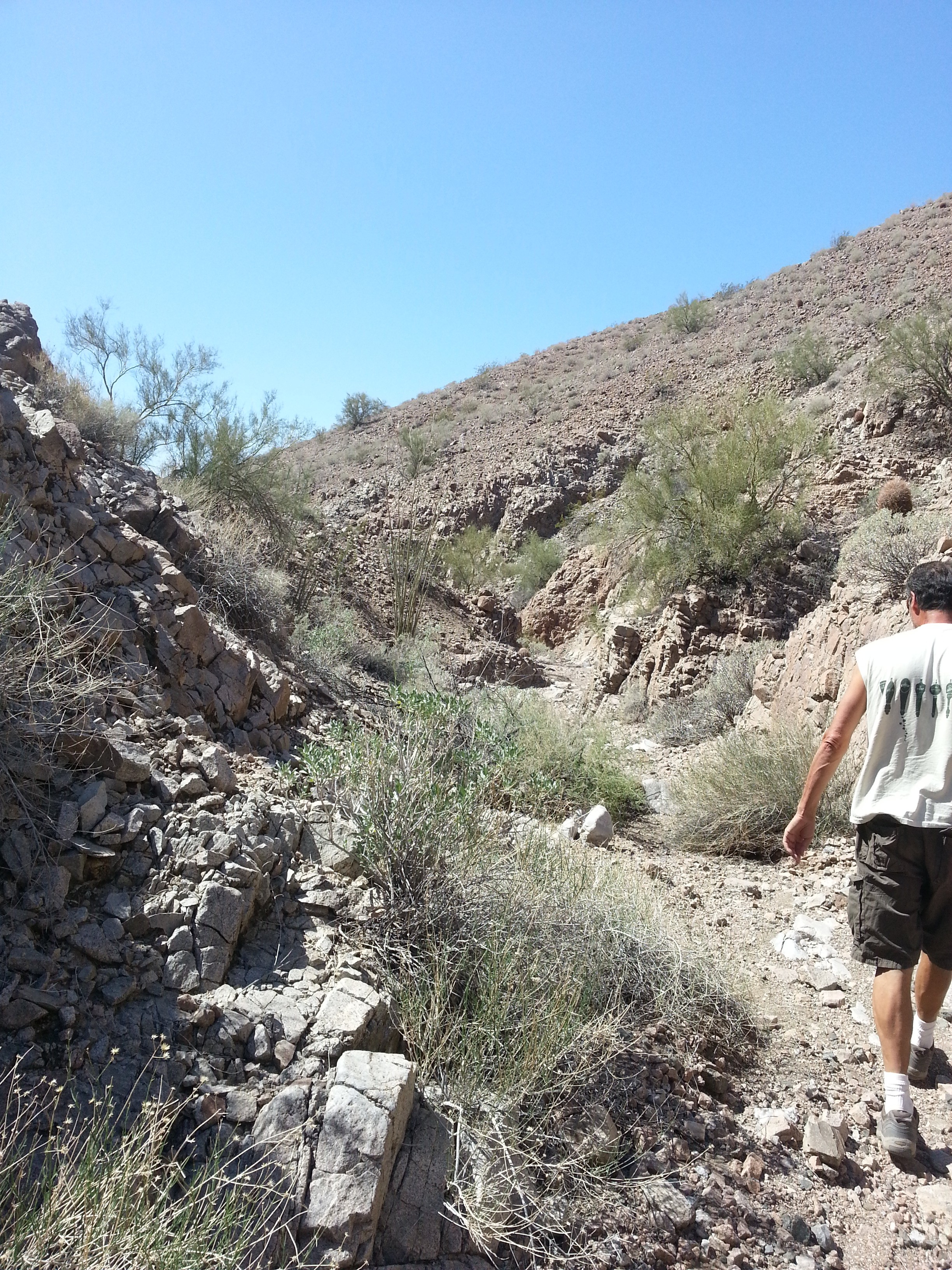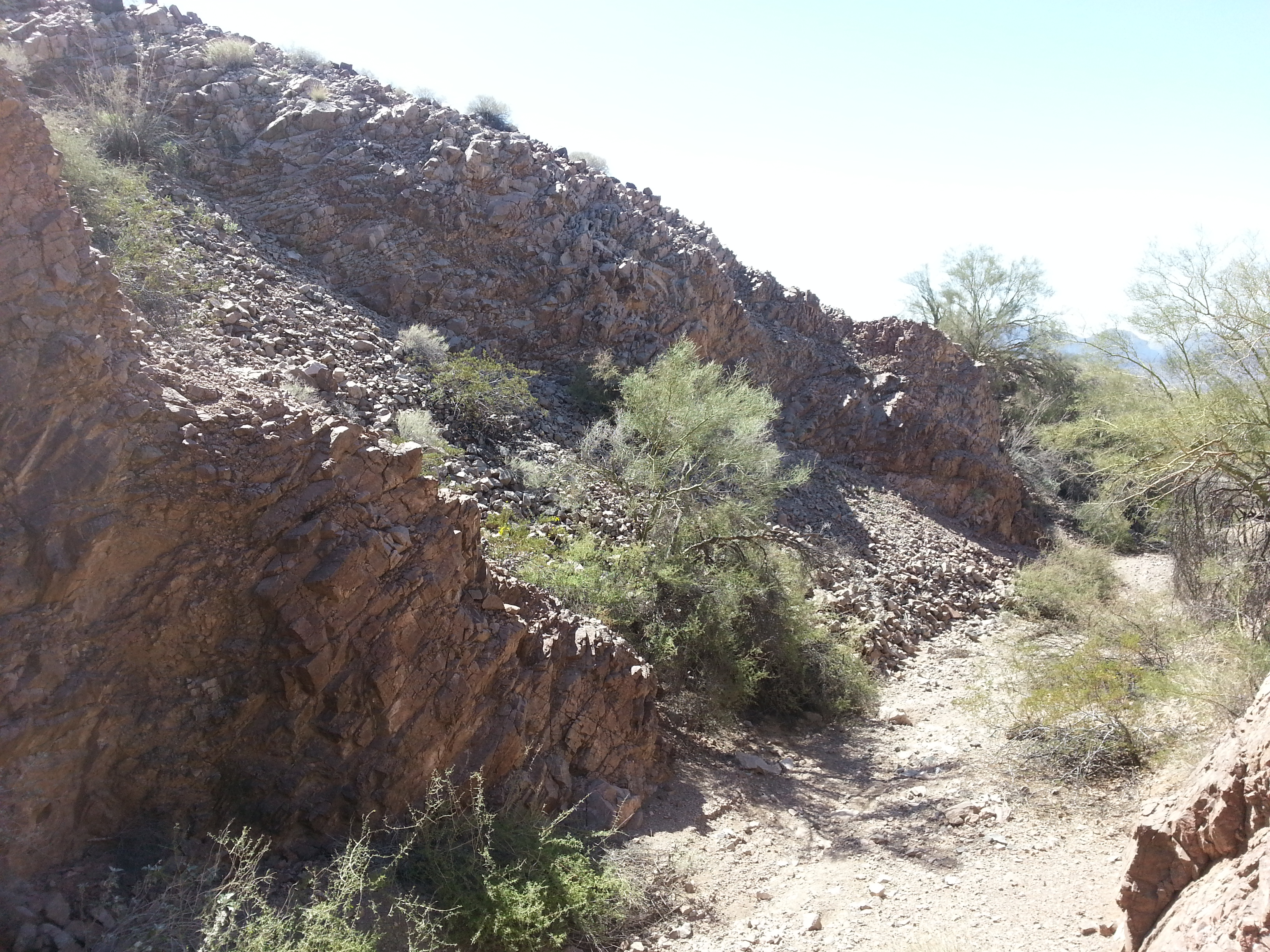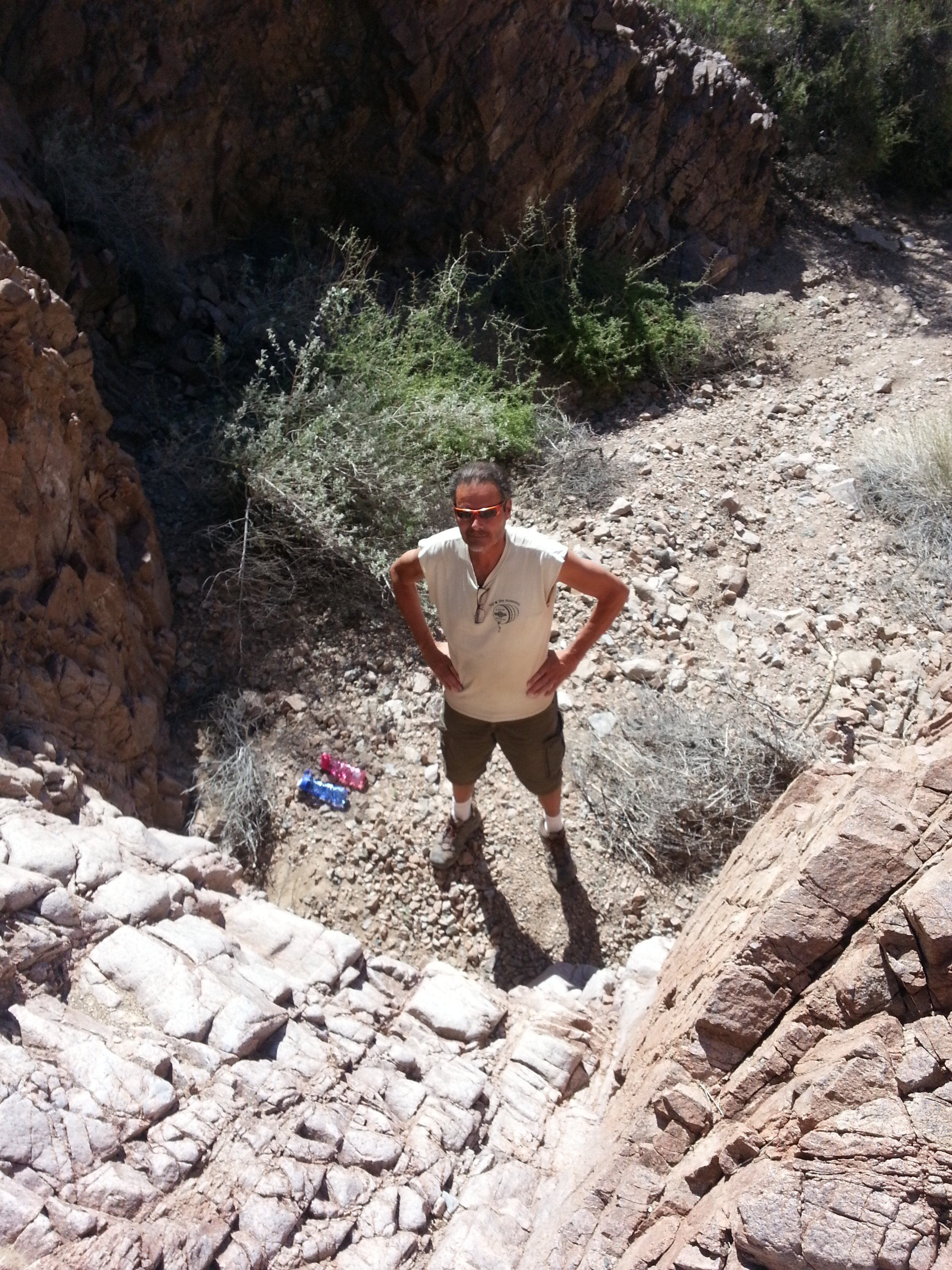 No ladders or ropes here…

I think I was glad we were climbing down and not up?
One last surprise…a saguaro (one of my favs and somewhat rare in this location).
~~~
As we prepared to watched the sun set over the distant mountains for the last time — at least for this winter — we lit a fire in the fire basin we had found abandoned nearby and talked about all the fun we'd had and what we might like to do next time Lake Havasu City is our home-away-from-home. More time on the water was definitely at the top of the list. And more hiking, of course.
~~~
Oh, and by the way, it looks like a new pair of hiking shoes is in order. Shoe Goo fixed this good enough for biking…for now. What is your favorite hiking shoe/boot?