With all the time we spent on and camping next to the Colorado river last winter, we found ourselves wanting to spend more time on the water. I became aware of a boating concept called "Terminal Trawler" where they take an old sailboat (preferably one with a spacious interior), remove the mast and rigging, modify the ballast as needed, and idle around with a small outboard — a great way for us old-timers to stay on the water safely without clamoring around on slick decks, tripping over ropes, etc. As I was learning more about TTs, I saw an ad on Craigslist for a boat on a trailer (no motor) for 150 bucks! Turns out the guy had half a dozen boats in his back yard. We didn't like the first one he showed us but he said he had another one for $200. It had an 85 HP outboard on it but the lower unit was trashed. We let him keep the outboard and he knocked $50 off the price. So, for $150, we got a 1970 Glastron modified tri-hull (certainly a classic in itself) on a nice Shoreline trailer with 16 large rubber rollers and a crank up/down nosewheel, winch, etc. For another $75, we registered the boat and got a five-year tag for the trailer. I was even contemplating using five-gallon buckets with lids to float a deck like a pontoon boat but this approach is easier, cheaper *and* we get a trailer too!
With the source of our flotation secured, we went about building a new floor for the hull from 2x2s and 1/2″ BCX plywood. The original flat floor was somewhat compromised and I didn't want to open that can of worms, so we just put a new floor over it which Annie primed and painted.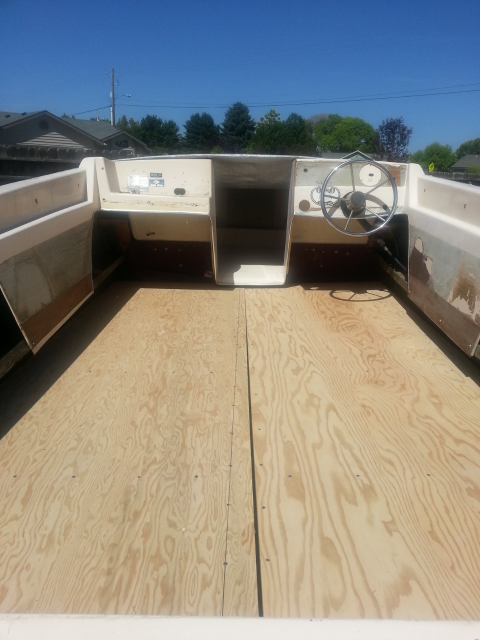 With a good floor to walk on, we set about removing all the hardware and windshield from the top of the boat so our new deck frame could sit down on the top of the boat without anything getting in the way. I wanted to use a full sheet of plywood for both front and rear decks. The plan was to build that much and take her out for a 'test float' to make sure we weren't changing the front-to-rear balance too much.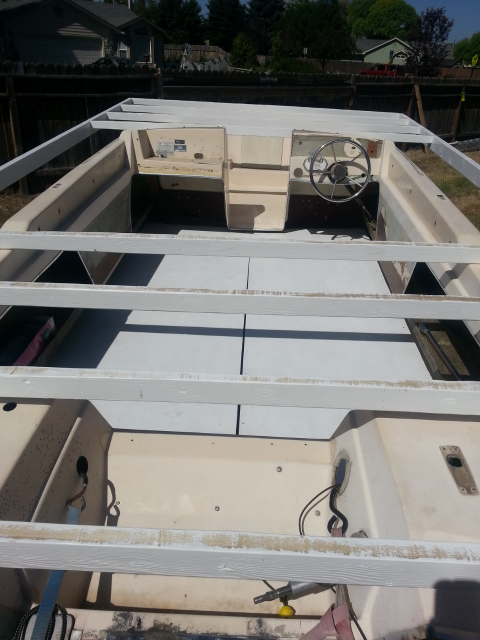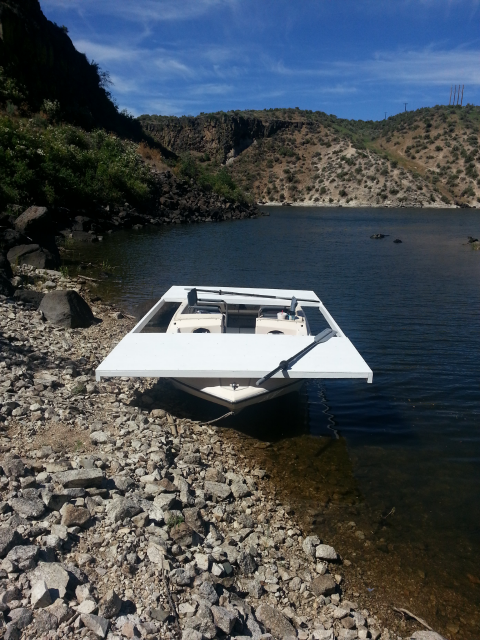 After many hours of thinking out loud on my LittleHouses group, I realized we would have room to put a full-size mattress down on our new floor and then the cabin would only need to be 2′ higher than the new decks. This give us plenty of room to sit up and move around as the plan is to use this boat to camp overnight on the river for two or three days at a time. We plan to take the kitties with us and it will be interesting to see how they settle in when they're no longer allowed 'below deck'. (Their hair gets to be a bit much in small enclosed spaces.) Their carriers will be secured to the top deck so they'll always have a safe/comfortable place to retreat to. I might even build an enclosure around their carriers which will make the interior darker for them *and* double as seating or storage on top.
We already have two 48 watt PV panels and the purpose of the 'flying wing' is to support them and also provide a backrest for lounging on the cabin roof. For now, our only propulsion (aside from long oars) is an electric trolling motor with 30 pounds of thrust — about one-third of one horsepower (smiles) — and we'll have two batteries down below to run the motor, lights, etc. My original design showed the flying wing about 6′ above the deck but we have realized that will limit us from going under a number of bridges when on the water . . . and it doesn't "need" to be that high — I just thought it looked cool. So we've shortened it to 4′ which allows me to sheath the sides of the cabin and the wing supports with a single sheet of plywood. The front wall of the cabin leans back at 12 degrees to match the slope of two black sliding side windows (with screens) which I salvaged from an old truck shell that we ended up with for FREE. In the front wall, I plan to install a stained glass window I made over 30 years ago which has never been installed — just stored for all those years. The rear wall slopes to the same degree (as do the flying wing supports) but there will be an access door in the middle. The space between the wing supports is open so I can put a hatch over a portion of the rear roof (like found on sailboats) for easier access.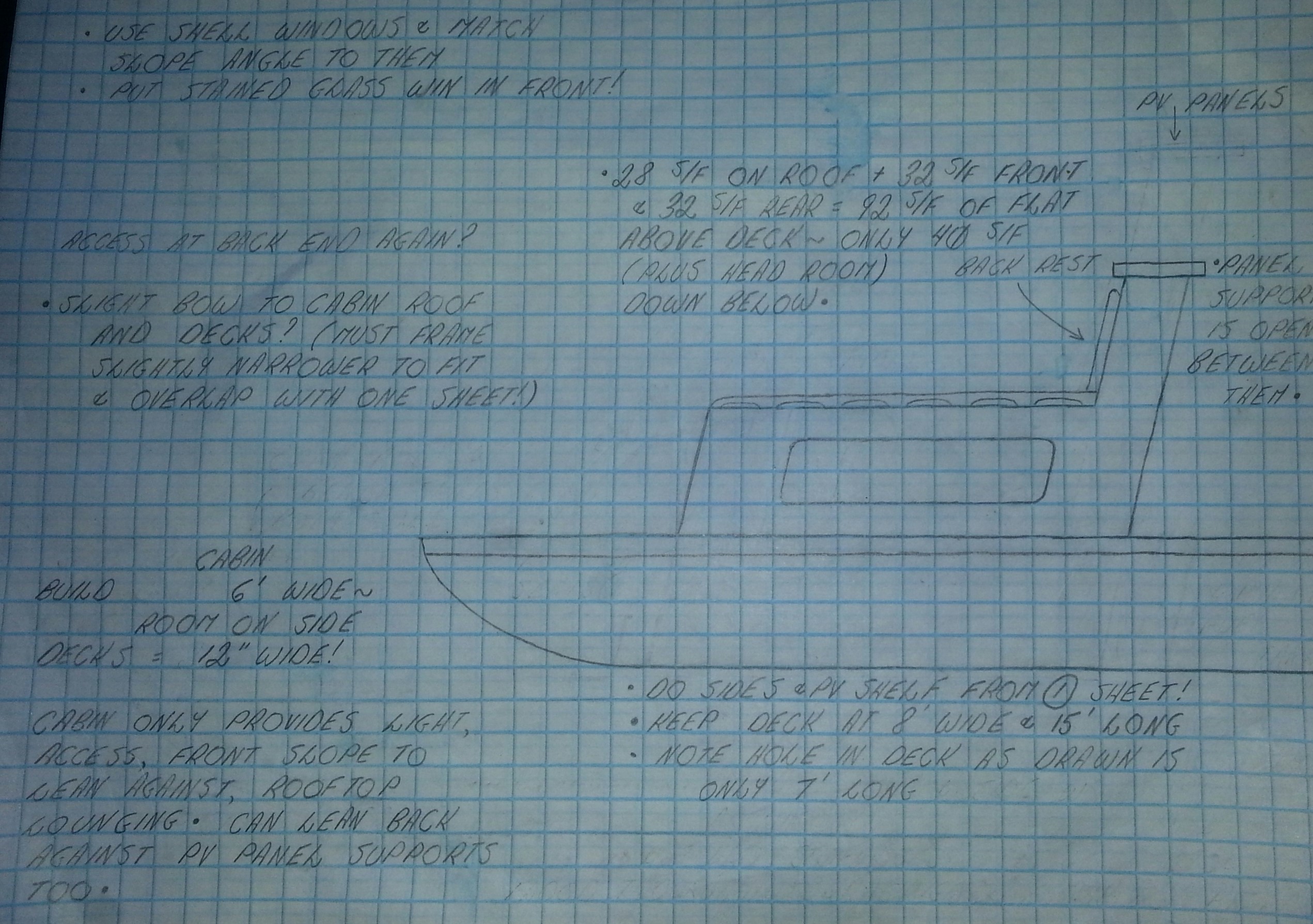 Before we left to do some summer travels in the Northwest, we got the cabin curb made and installed, also framed up the supports and installed the 12″ wide side decks. We've stored it all under a large tarp while we're gone for about three months.
When we return to Boise Sept. 12th, we'll remove all the deck plywood to prime & paint the side decks and build all the 'transition' blocking needed so the interior will be bug free once the decks are back on and the cabin is finished. Then all the decks will be glued down with construction adhesive and screws for the final assembly. We'll need to fill over all the screw heads and I'm hoping to cover all the deck surfaces with PMF. This is Poor Man's Fiberglass where canvas is soaked in a 50/50 mix of Titebond II wood glue and water. These are smoothed out over the plywood and allowed to dry. Then the canvas is saturated with paint from a roller. The final surface will be two coats of textured, slip-proof deck coating from Home Depot. I'm thinking the PMF is supposed to go on over unpainted plywood so we may only prime & paint the underside of the side decks and see if it makes any difference over time. The decks will be an off-white but I'm leaning towards white for the cabin and the cabin roof.
Have any of our readers ever built anything like this? Feel free to leave comments to let us know what you think. When the project is further along, we'll post again about our progress.