Sometimes the most fulfilling experiences in life come when one searches deeper, strives harder and dares to accept the challenges of taking the path less traveled.
I definitely love the mountains, rivers and lakes of the Northwest but, in these past several weeks, I have also fallen in love with the desert. Sunsets over the water or behind multi-colored mountain ranges that loom above and beyond the mostly barren landscape continue to be photo-worthy, even though lately I am able to resist the impulse to grab the camera and step outside to capture *every* glorious display. What I have come to love most, however, is the hiking — the discovery of beauty and uniqueness that cannot be seen from the road — venturing off the beaten path where there is little evidence that few besides the local wildlife traverse.
Our recent time at Ferguson Lake, AZ was the most seriously off-grid experience I have been privileged to enjoy. Being parked right on the lake was AMAZING and the sunsets and sunrise (yes, I was awake for one) did not disappoint. But hiking the washes, canyons and surrounding ridges was for me, magical. I had the feeling of being transported back in time to the outdoor adventures of my youth. My eyesight was better and my body stronger back then, but my can-do competitive spirit still drives me to forge ahead and explore even when the going gets a bit tough. "I can do this!" I say to Jim as we contemplate steep, sketchy climbs. My joints remind me occasionally that I'm not a teenager anymore so I have become a bit more careful in my "old" age — keeping a close eye on my footing and using hands and/or backside more often — but the thrill of adventure has not waned.
I took over 200 photos in the ten days we were at this incredible spot but don't worry, I didn't post ALL of them (smile). As always, nothing takes the place of being there and pictures don't do the experience justice, but I hope you get a feel for what enchants me.
On a side note: We have discovered the best way to see wildlife is to leave the camera behind. Raccoons near the water's edge…no camera. Burros on an island…no camera. A coyote majestically surveying his "hood" up on the nearby ridge…sadly, no camera.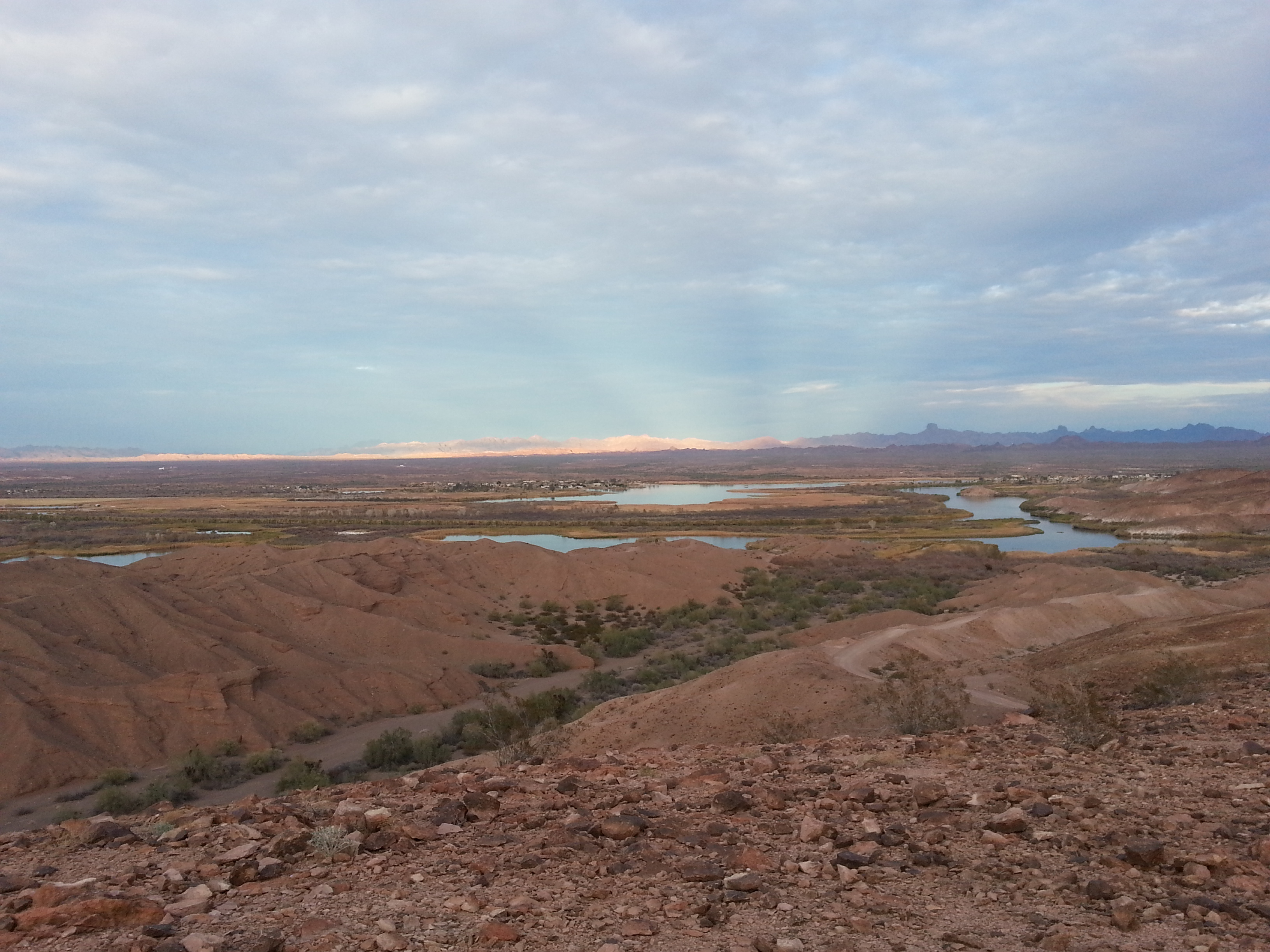 VIEW OF THE WATERWAYS AND MY FAVORITE WASH FROM THE "MESA"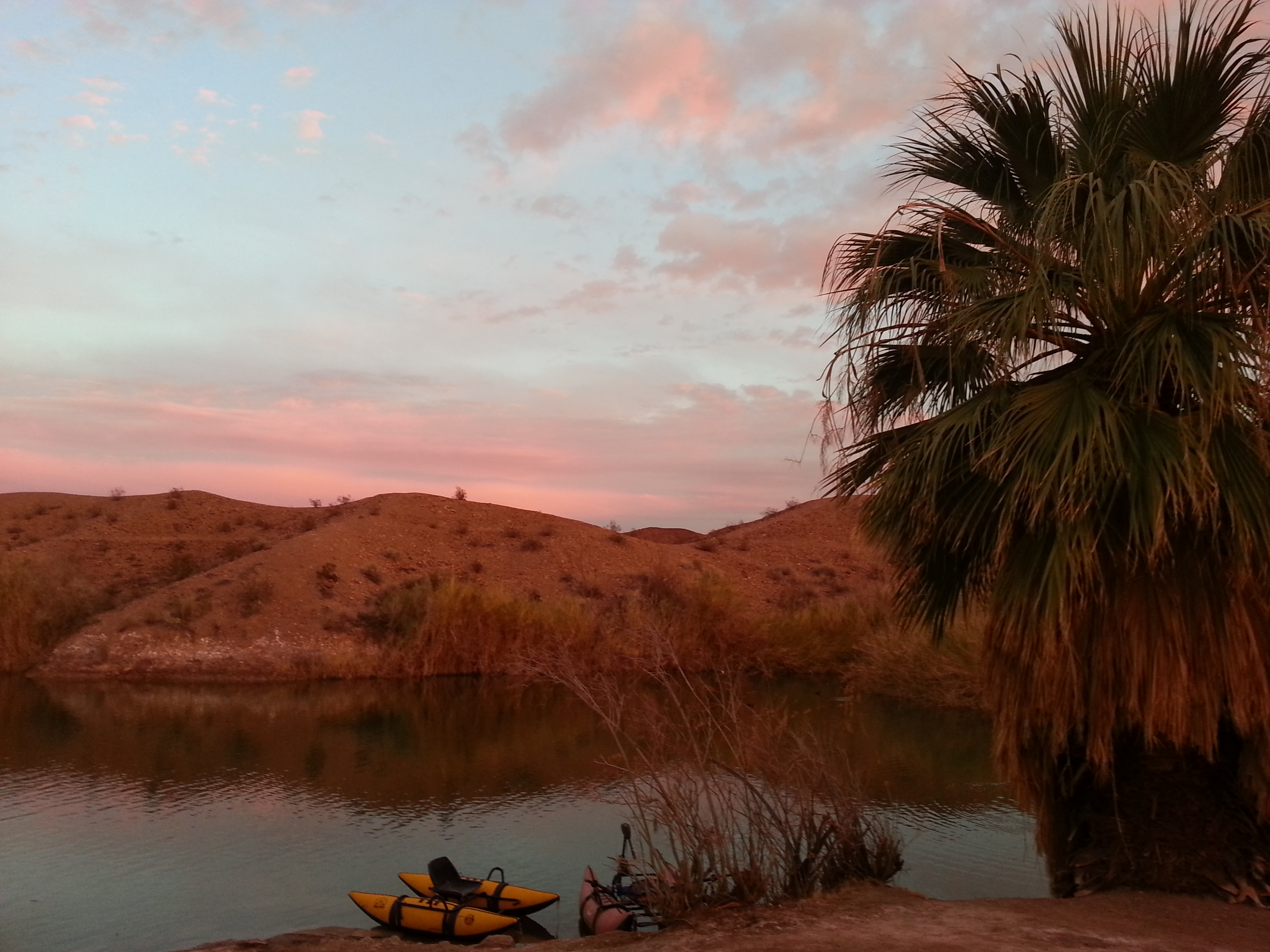 OUR SITE HAD A PALM TREE…AND A LAKE!
ON THE CATARAFTS IN SEARCH OF THE COLORADO RIVER
MAJESTIC CANYON WALLS LINE THIS DEEP WASH
"I WANT TO GO UP THERE!" I SAID
IT WASN'T EASY, BUT I MADE IT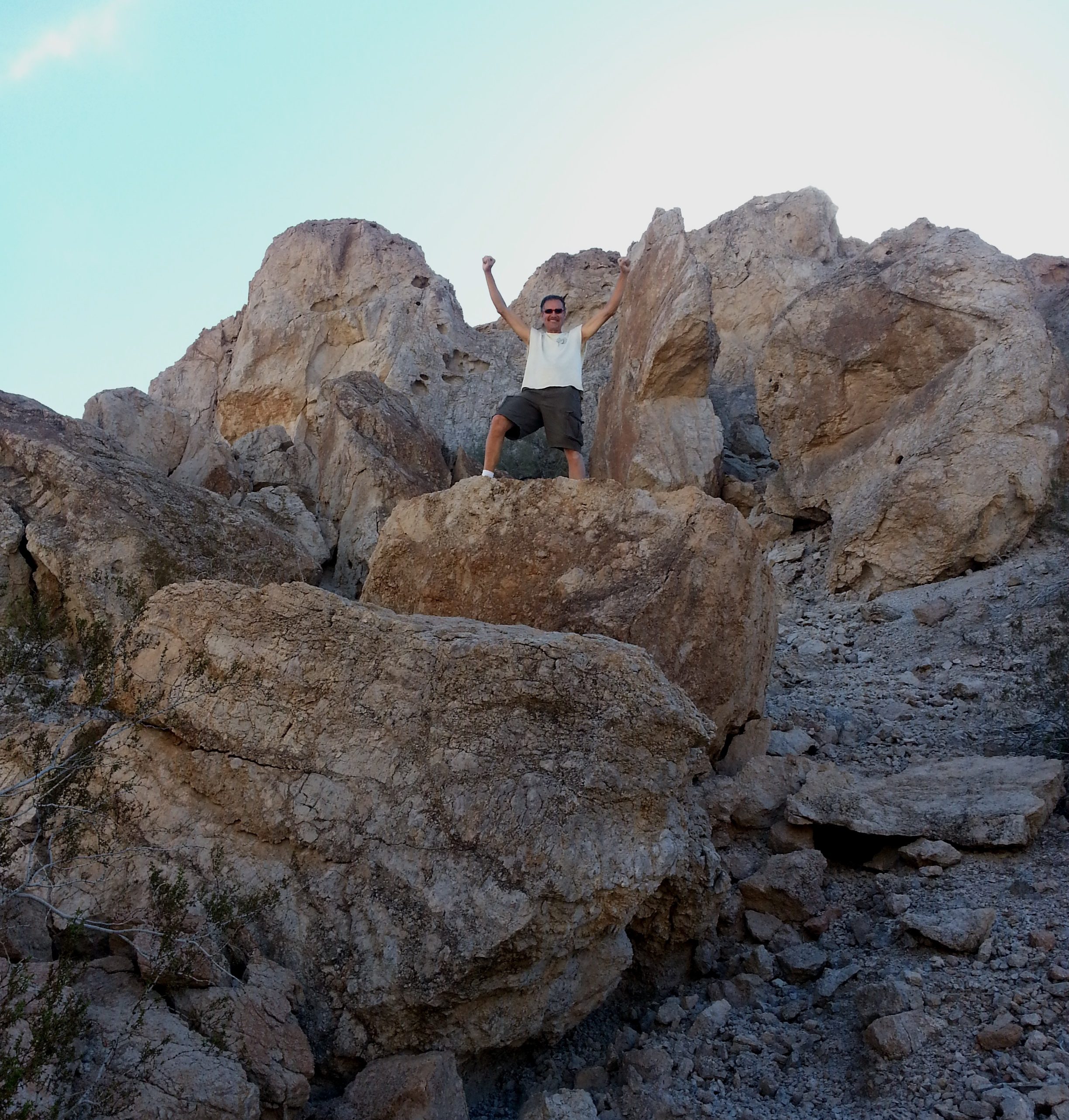 JIM CLIMBED EVEN HIGHER (SADLY, MY LEGS ARE TOO SHORT TO MAKE THE CLIMB)
LOOKS LIKE THIS GUY COULD USE A DENTIST
WHEN WE WERE STANDING THERE, WE BOTH AGREED IT LOOKED LIKE A BUFFALO…BUT WHAT DO YOU SEE HERE?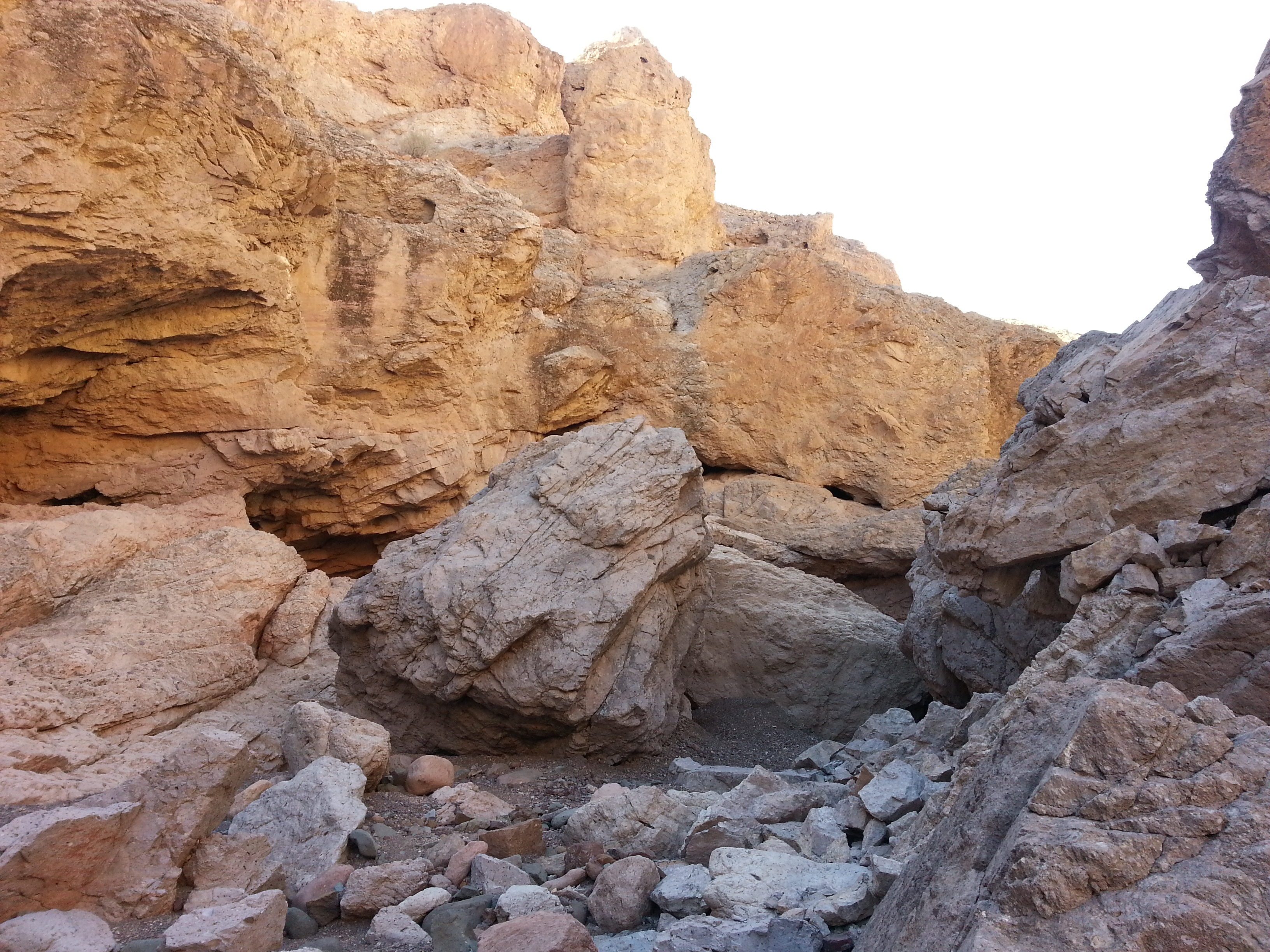 WE THOUGHT OUR TREK UP THIS WASH ENDED HERE UNTIL…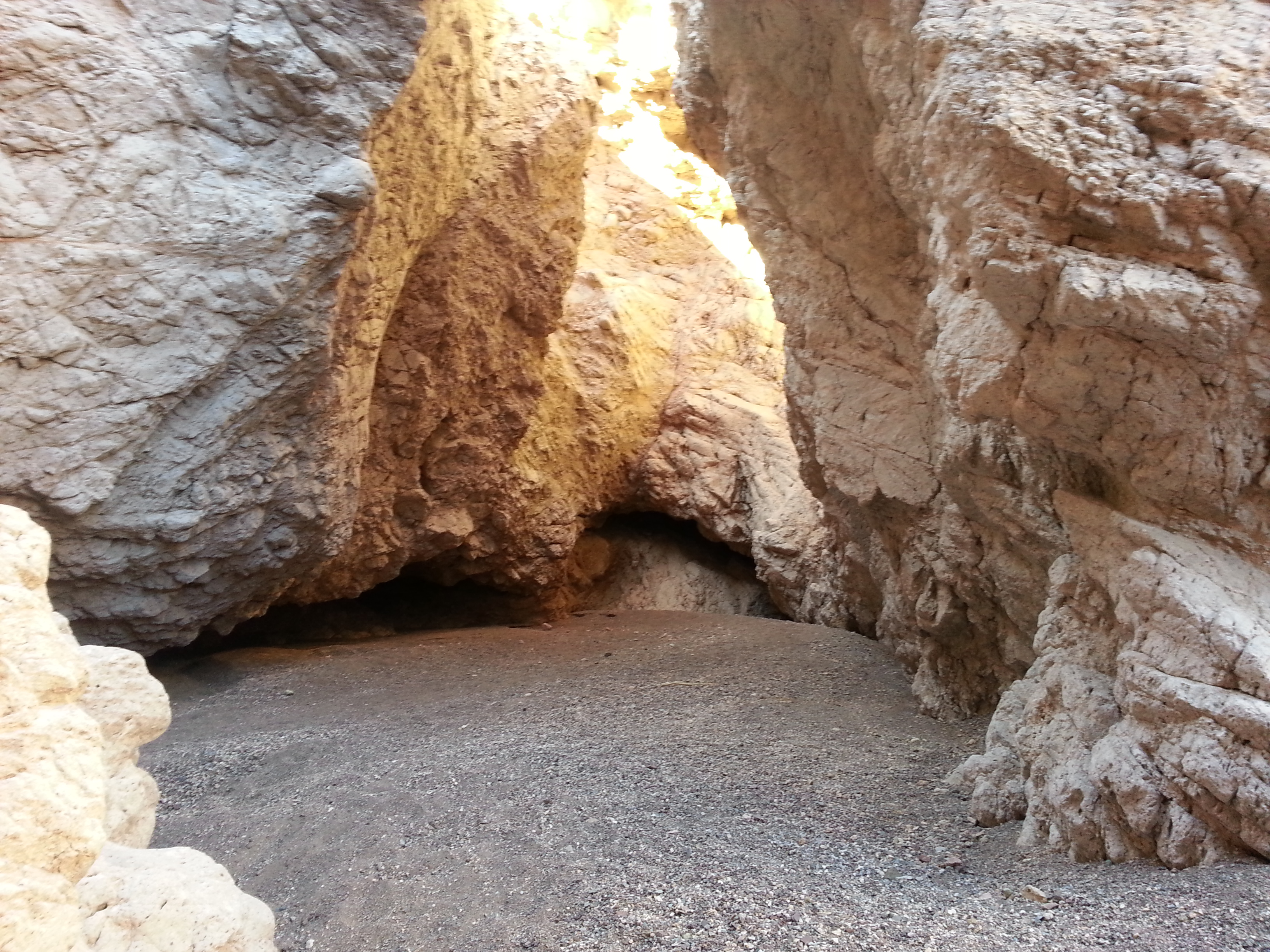 …WE VENTURED BEYOND THE BOULDERS AND AROUND THE BEND
NO LADDERS HERE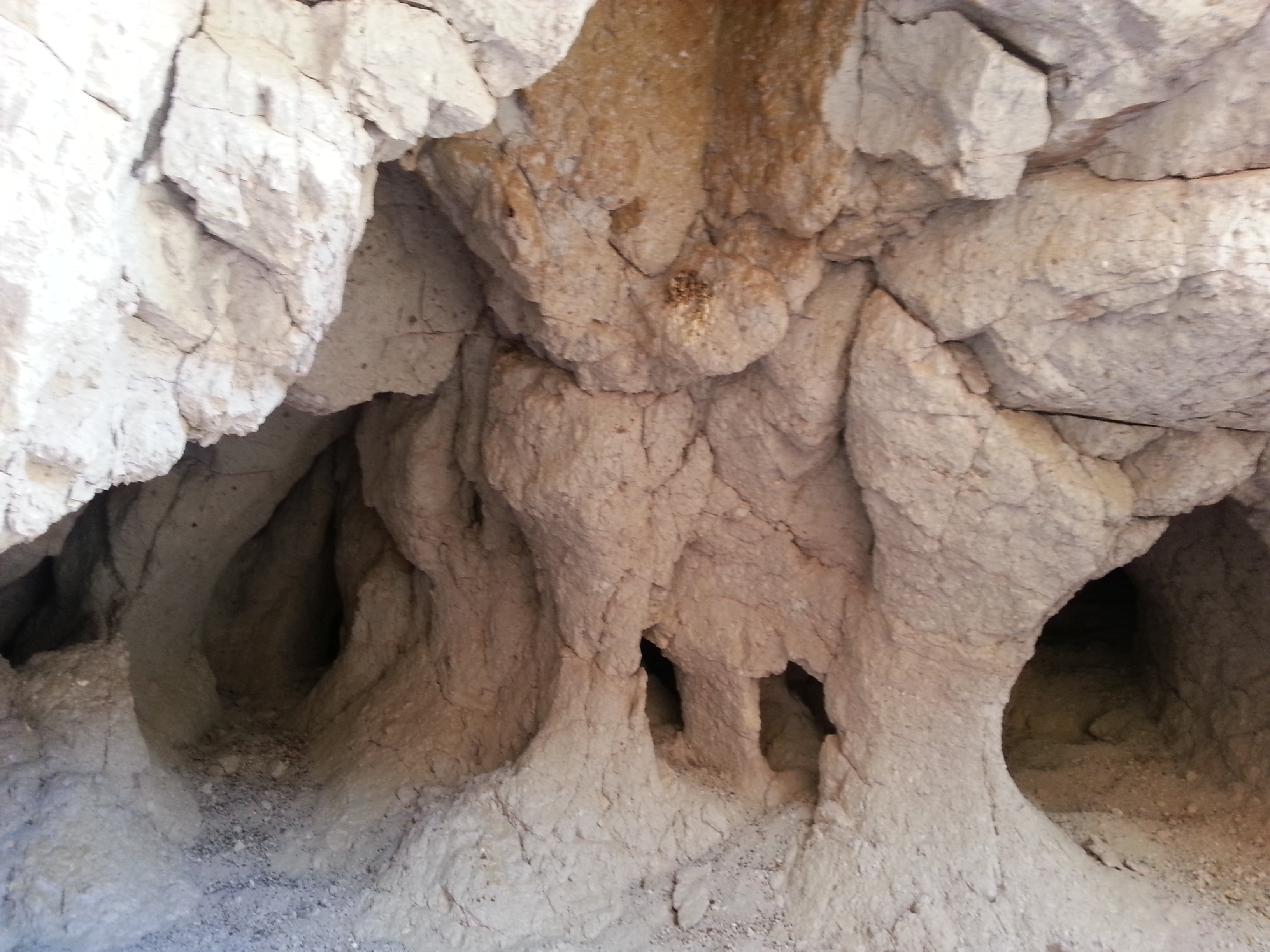 HOLY BAT CAVES, ROBIN!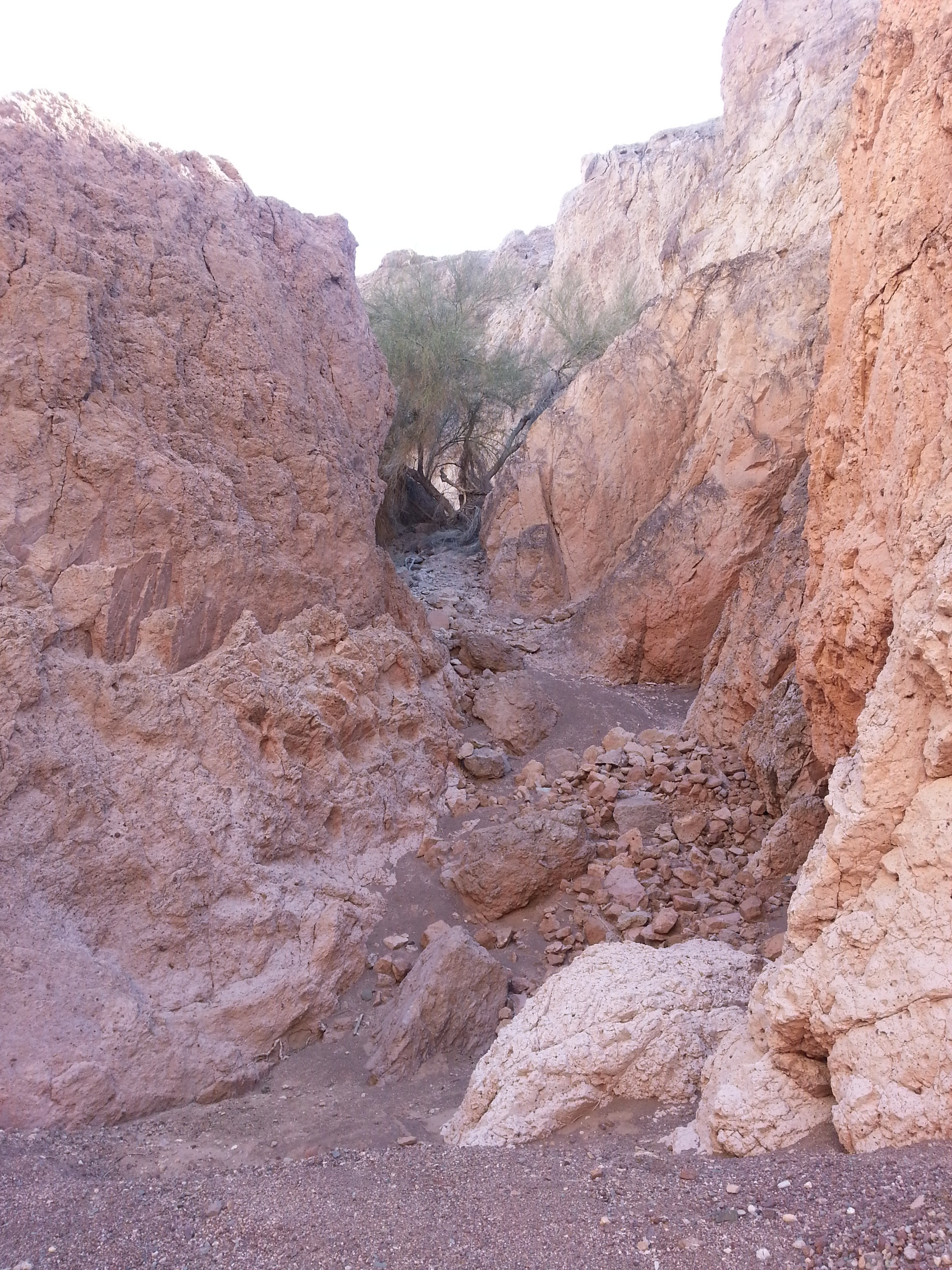 TIME TO TURN AROUND
DAWN OF A NEW DAY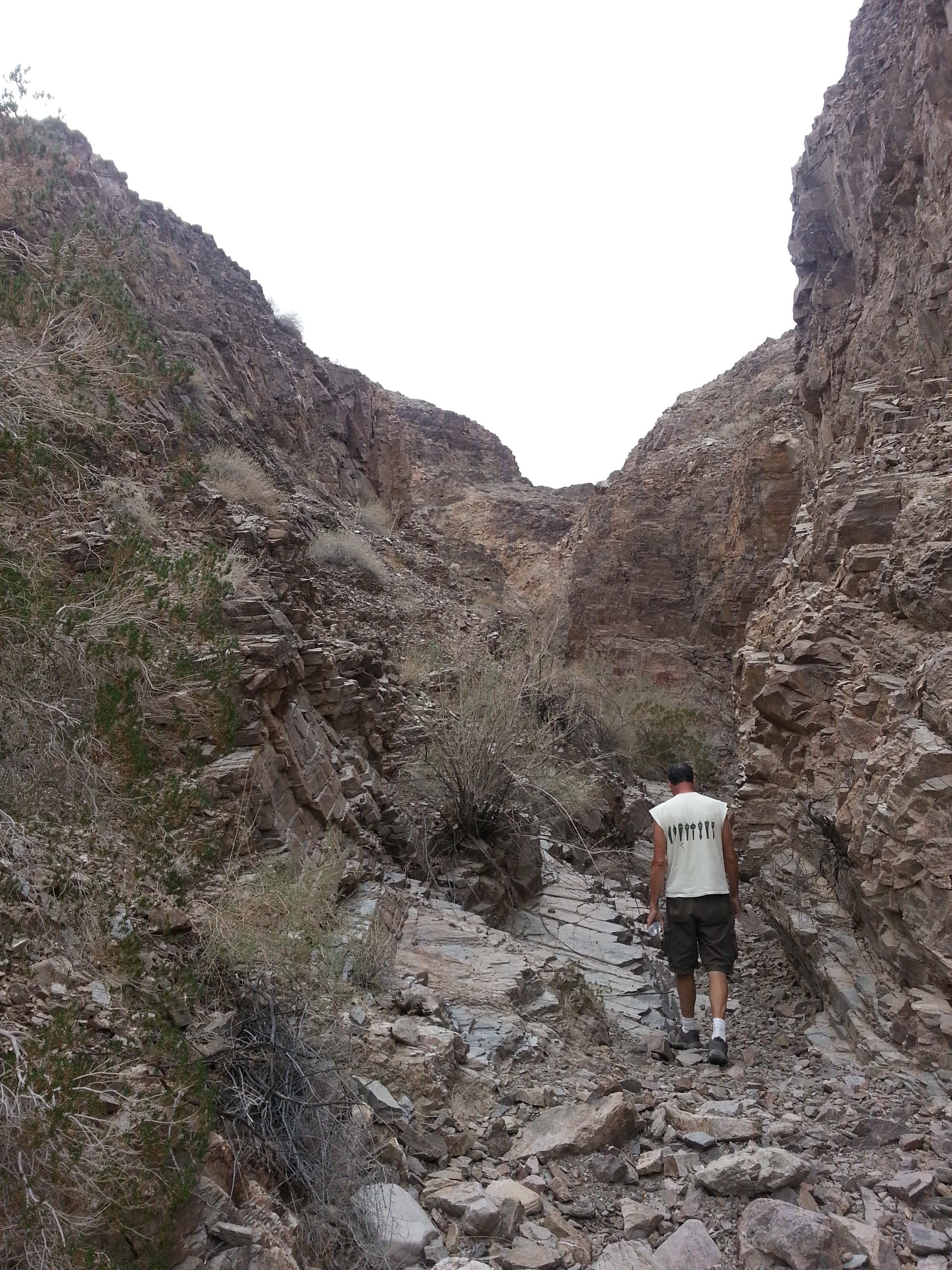 THIS CANYON HAD A MUCH DIFFERENT KIND OF TOPOGRAPHY
IT WAS A LITTLE UNNERVING WHEN WE DISCOVERED THIS STACKING ON THE CANYON WALL WAS NOT SOLID, BUT FAIRLY EASILY DISLODGED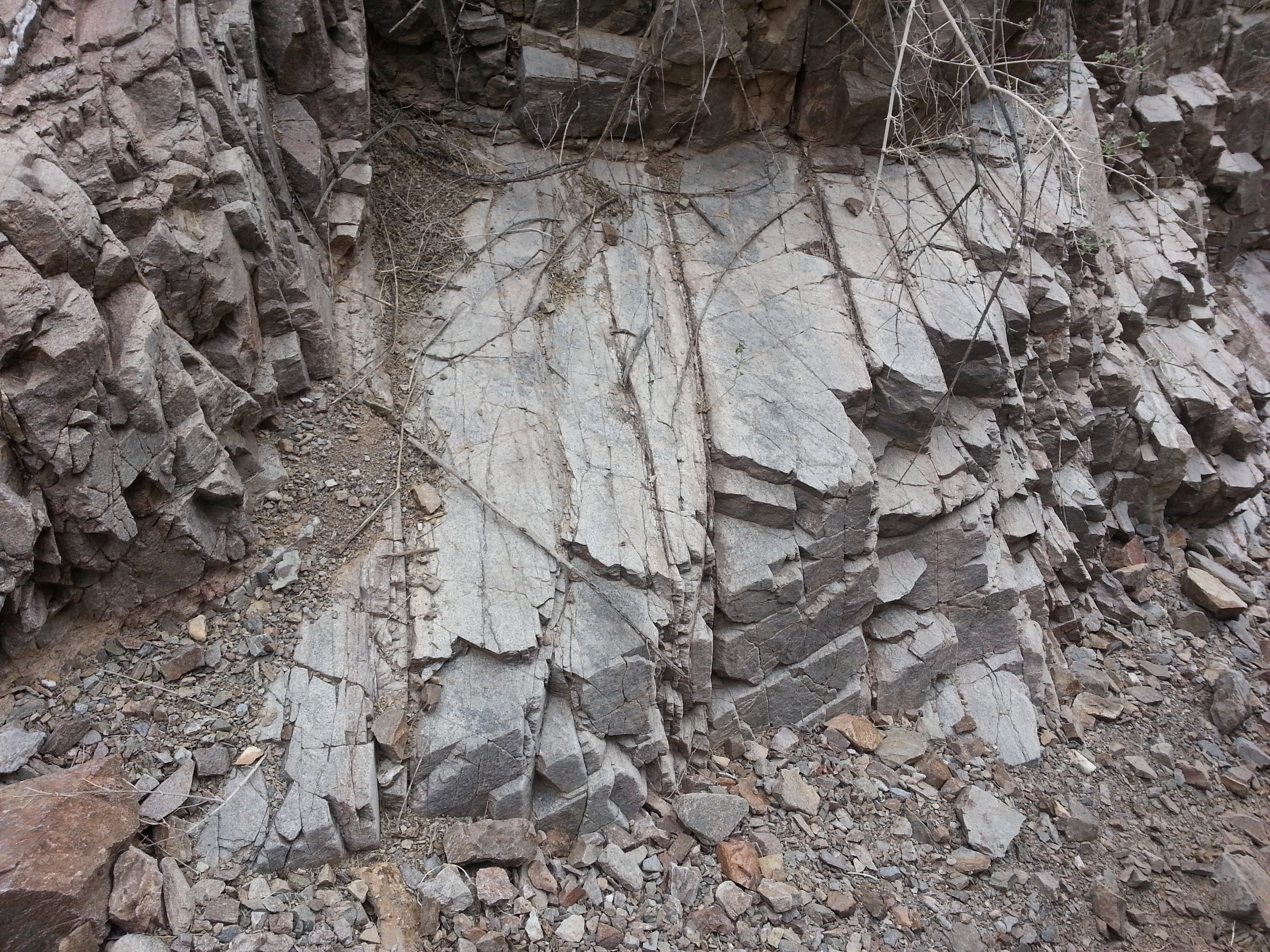 THESE ROCKS LOOK LIKE LUMBER
THIS CANYON ENDED WITH AN EXTREMELY STEEP CLIMB. WE HAD GONE 10 OR 12 FEET UP WHEN JIM DECIDED IT MIGHT BE BEST FOR HIM TO SCOPE IT OUT FIRST. AFTER SEVERAL MINUTES HE CALLED DOWN TO ME FROM THE TOP AND SAID I SHOULD TURN AROUND AND GO BACK TO THE BOTTOM OF THE WASH BECAUSE THE TOP WAS STRAIGHT UP AND THE FOOTING GOT EVEN SKETCHIER.
MY CLIMB UP THIS STEEP WASH HILLSIDE TO JOIN JIM WAS STILL A BIT MORE DIFFICULT THAN I EXPECTED BUT THE VIEW WAS WELL WORTH IT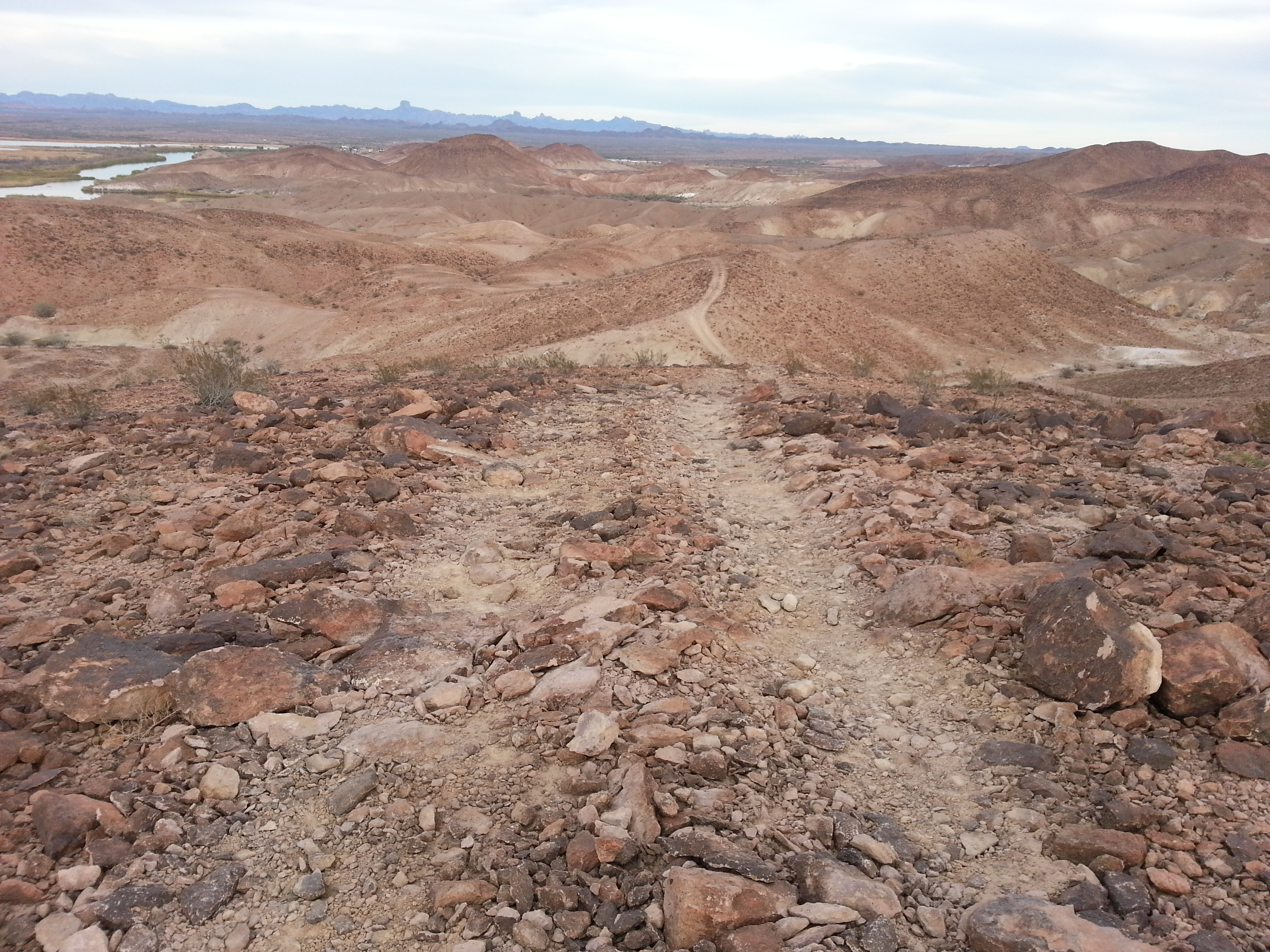 WE EVEN TOOK THE BBT OFF THE MAIN ROAD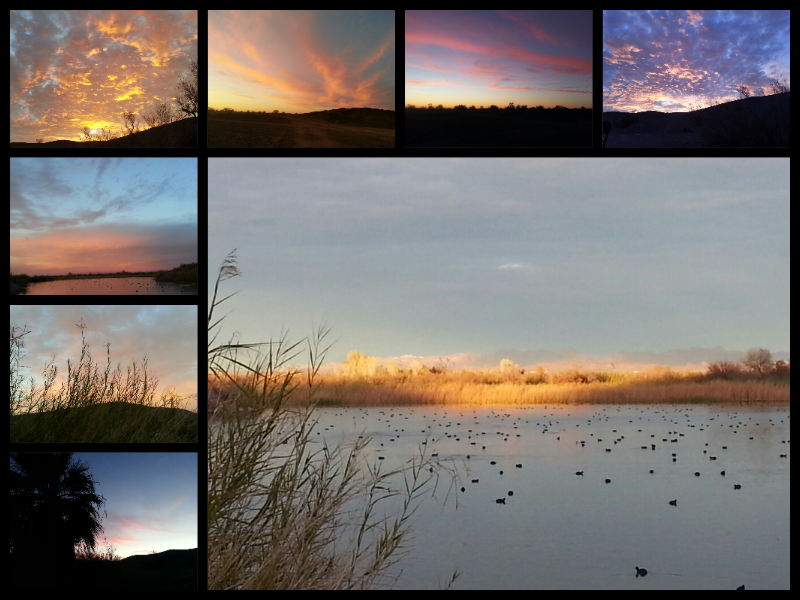 OKAY, I COULDN'T RESIST CAPTURING A *FEW* SUNSETS