As you may recall, when we first decided to check out Slab City (that anomalous place dubbed as "the last free place on earth" near Niland, CA) I was a little nervous, yet still willing. Surprisingly, I found it more to my liking than expected and am happy to be here again for the third time — this time, for a more extended period.
Once again, George welcomes us back to our spot just outside the little area he has carved out for himself at "The Slabs" that he calls The California Ponderosa. His welcome is so enthusiastic that we feel like rock stars…or at least family. I can't help but smile when I think about George's instant and open acceptance of two strangers rolling in from Idaho last year. We now consider him a friend and have a standing invitation to the almost nightly "compound" campfire as well as the (now) weekly Tuesday night chili feed/acoustic music gathering at the Ponderosa.
But before I introduce you to some of the interesting people we've met so far, here are a few photos from the first few days of exploration at the slabs.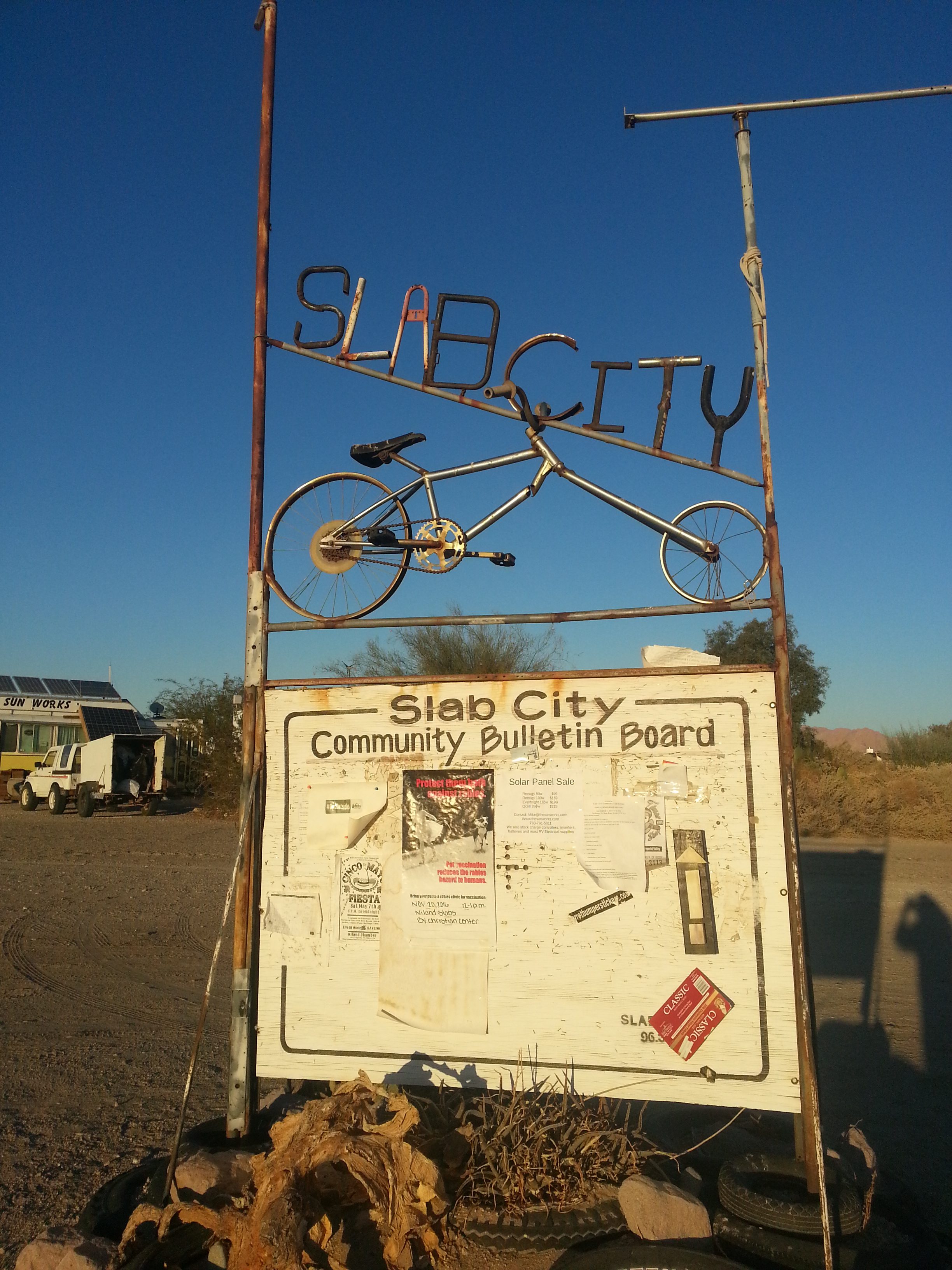 I did a little research and found that the amazing tank murals are by Christina Angelina (in collaboration with Ease One).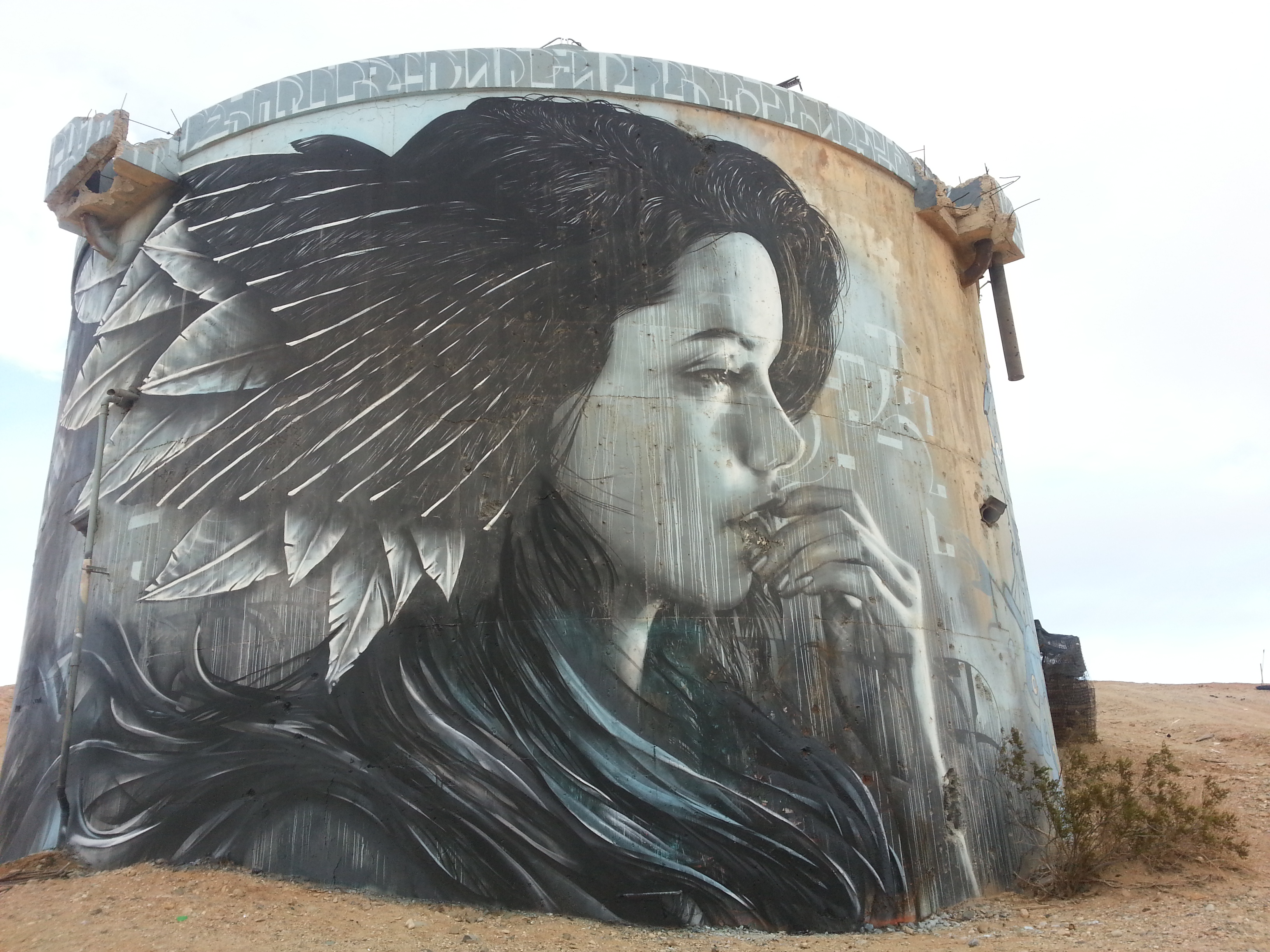 By taking a chance and climbing some sketchy steps we were rewarded with the discovery of yet more amazing artwork.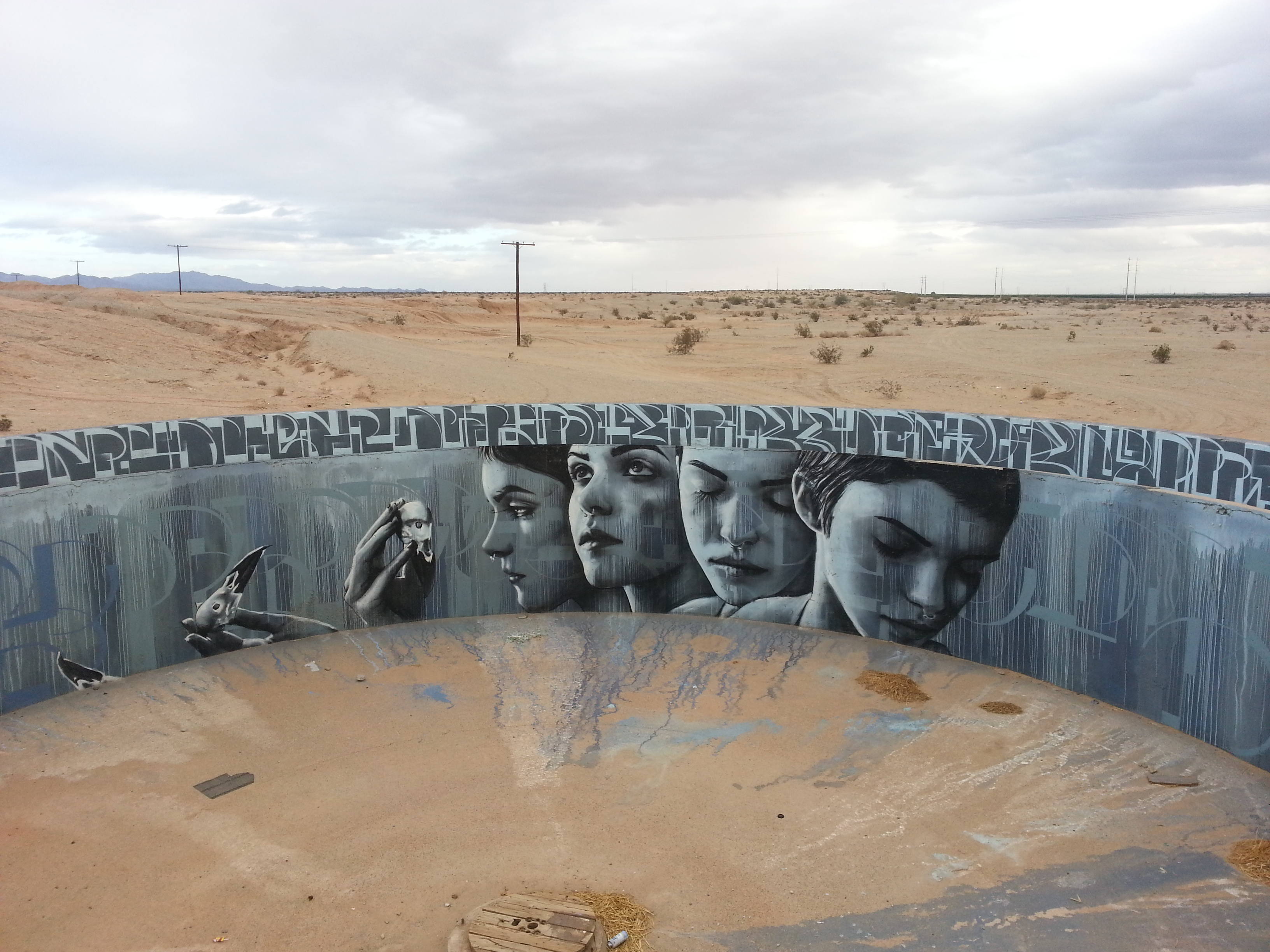 Not all of the artwork is so amazing, but it is interesting.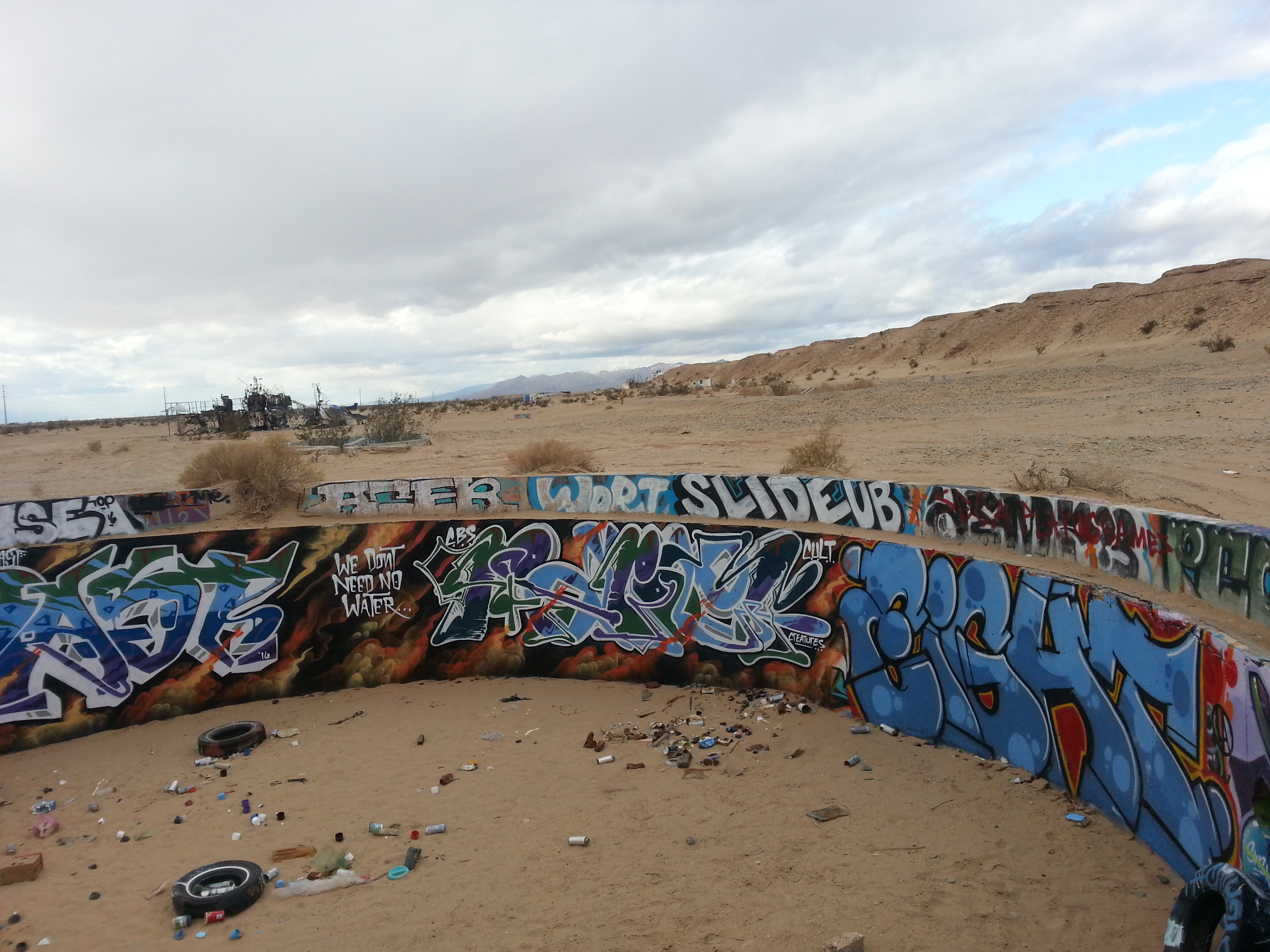 I have decided to photograph this tank next year to see how it has changed…if at all.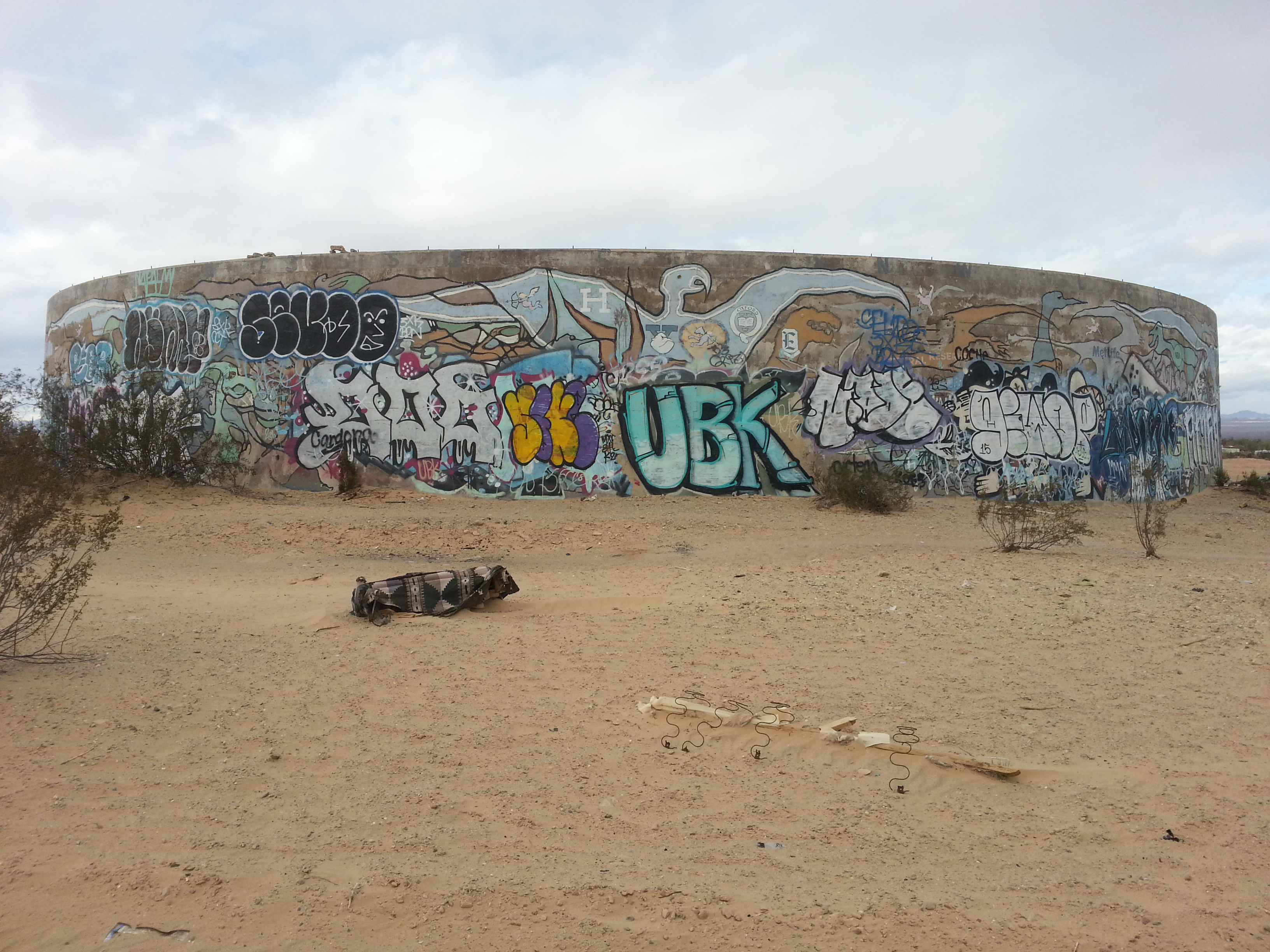 Now on to some of the people of this unique spot on the planet…
George, the host of our "neighborhood", is friendly, generous, a Vietnam vet a little rough around the edges some might think, and quite the entrepreneur. He continues to expand the accommodation options on his slice of "free" real estate here in the desert and, from what we can surmise, nicely supplements his meager income by renting his various "rooms" on Airbnb.com. He also offers solar-powered hot showers to anyone for $3.00. If we didn't have a shower in our LCC, I would definitely pay three bucks for one…at least once a week (smile).
By joining in the festivities around George's campfire, we've had the opportunity and privilege to interact with some interesting people. Bubba and Marie are a new addition to the Ponderosa this year. They trade their skills as chef and housekeeper, respectively, for rent in the "barn" for the winter months and make the weekly community meal a notable success. For a mere $2, one can enjoy a home-cooked meal–sometimes complete with dessert–while listening to local talent. During the summer, this young couple works at a dude ranch in Montana but, for now, they are here to enjoy the warmer weather and this unique community just as we are. I hope to spend more time getting to know this fun couple.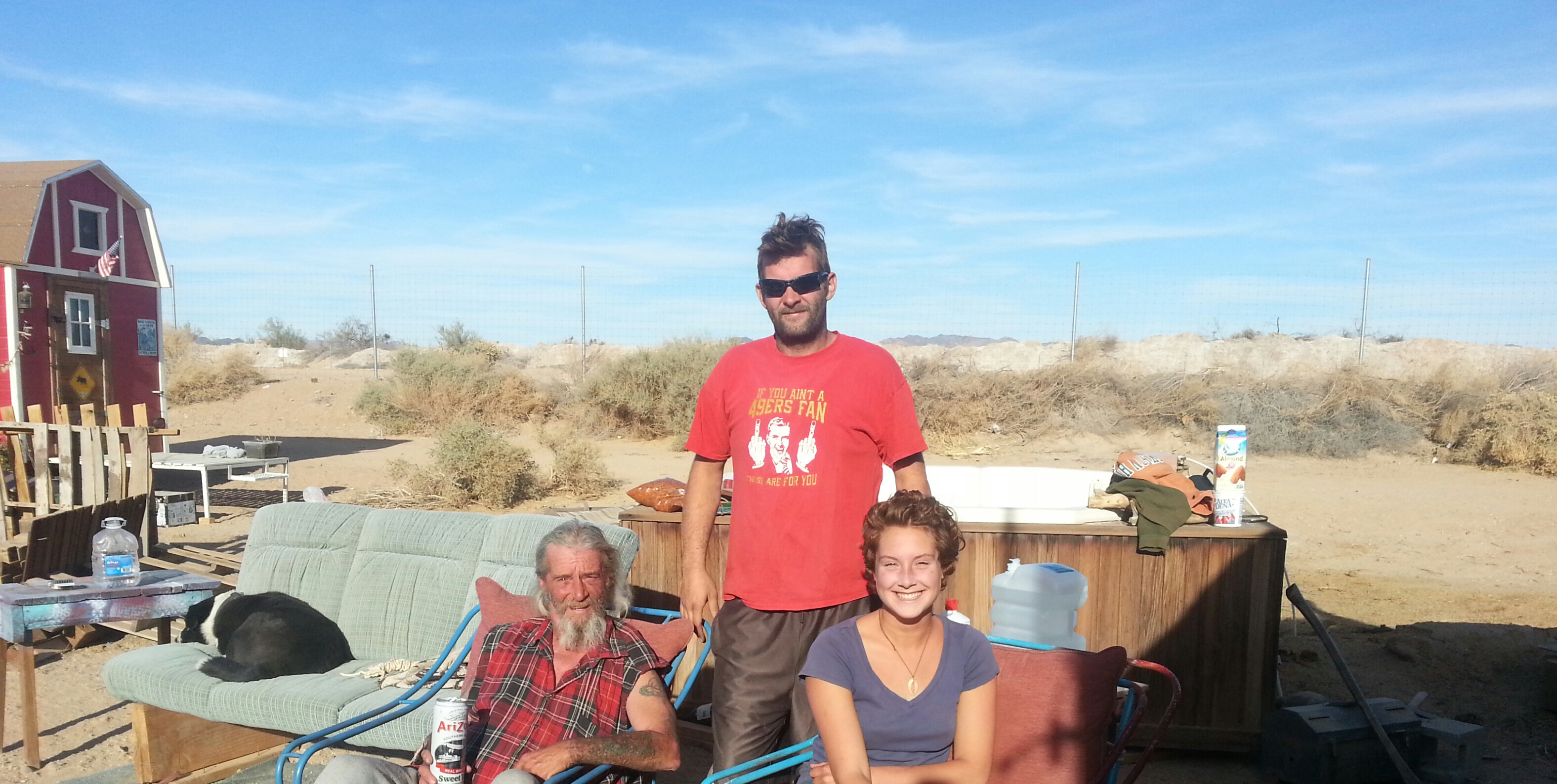 George, Bubba and Marie
A few weeks ago around the campfire I had opportunity to chat with one of George's boarders, a young lady named Emily. She had recently set out on her own in a rental car to return home to the east coast after an unsuccessful stint of life in a van. She is an attractive 30-something, articulate as she relates her experiences and asks for advice and recommendations for "must-see/do" on her route home. She is a delightful person who is interested in meeting new people and interacting with others. Emily explained to me that, while she had enjoyed the boondocking lifestyle very much, the person she had set out with on the adventure did not share the same goals and/or travel "style" so she (wisely, in my humble opinion) decided to cut her losses and return home for now.  As I write this she is, hopefully, back in her hometown in Maine where she had to return her rental car and decide what she wants to do next. (Fortunately, she didn't sell everything she owns before heading across the country.) I hope our paths cross again some time in the future, as I would love to know this venturesome soul was able to follow her dream.
Hearing Emily's story reminded me of how lucky I am to be with someone who is like-minded (mostly — smile) and with whom I am very compatible. Sharing life's adventures with another human being you enjoy spending lots of time with — the one you love and receive love from in return — well, it just doesn't get much better than this.
I leave you with yet another desert sunset.